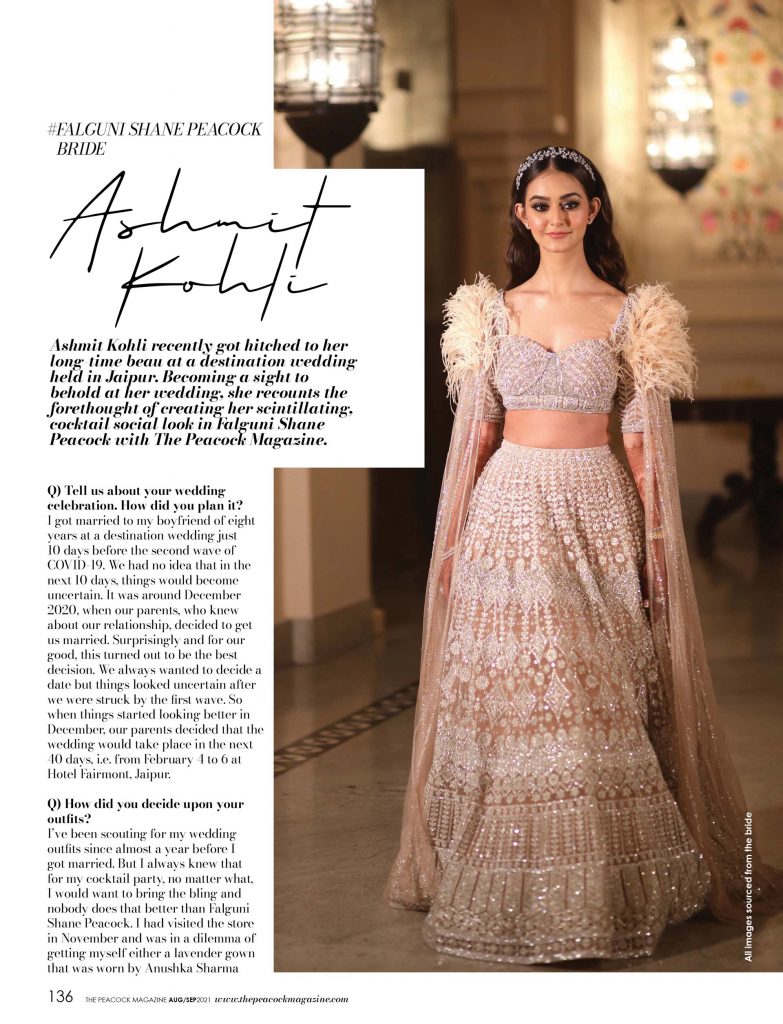 CREDITS-
ALL IMAGES SOURCED FROM THE BRIDE

Ashmit Kohli recently got hitched to her long-time beau at a destination wedding held in Jaipur. Becoming a sight to behold at her wedding, she recounts the forethought of creating her scintillating, cocktail social look in Falguni Shane Peacock with The Peacock Magazine.

[Q] Tell us about your wedding celebration. How did you plan it?
I got married to my boyfriend of eight years at a destination wedding just 10 days before the second wave of COVID-19. We had no idea that in the next 10 days, things would become uncertain. It was around December 2020, when our parents, who knew about our relationship, decided to get us married. Surprisingly and for our good, this turned out to be the best decision. We always wanted to decide a date but things looked uncertain after we were struck by the first wave. So when things started looking better in December, our parents decided that the wedding would take place in the next 40 days, i.e. from February 4 to 6 at Hotel Fairmont, Jaipur.
[Q] How did you decide upon your outfits?
I've been scouting for my wedding outfits since almost a year before I got married. But I always knew that for my cocktail party, no matter what, I would want to bring the bling and nobody does that better than Falguni Shane Peacock. I had visited the store in November and was in a dilemma of getting myself either a lavender gown that was worn by Anushka Sharma or a beige-based, crystal-encrusted Lehenga. I'd decide that if I were to wear a gown for my wedding reception, it would be the lavender one, and if I had to wear a Lehenga for my cocktail party, then it would be that Lehenga. When the dates were decided a month later in December, I went back to the store the next morning and booked the Lehenga within a minute. Fortunately, Shane Peacock was also at the store at that time and validated my choice, assuring me that the ensemble will be altered as per my measurements.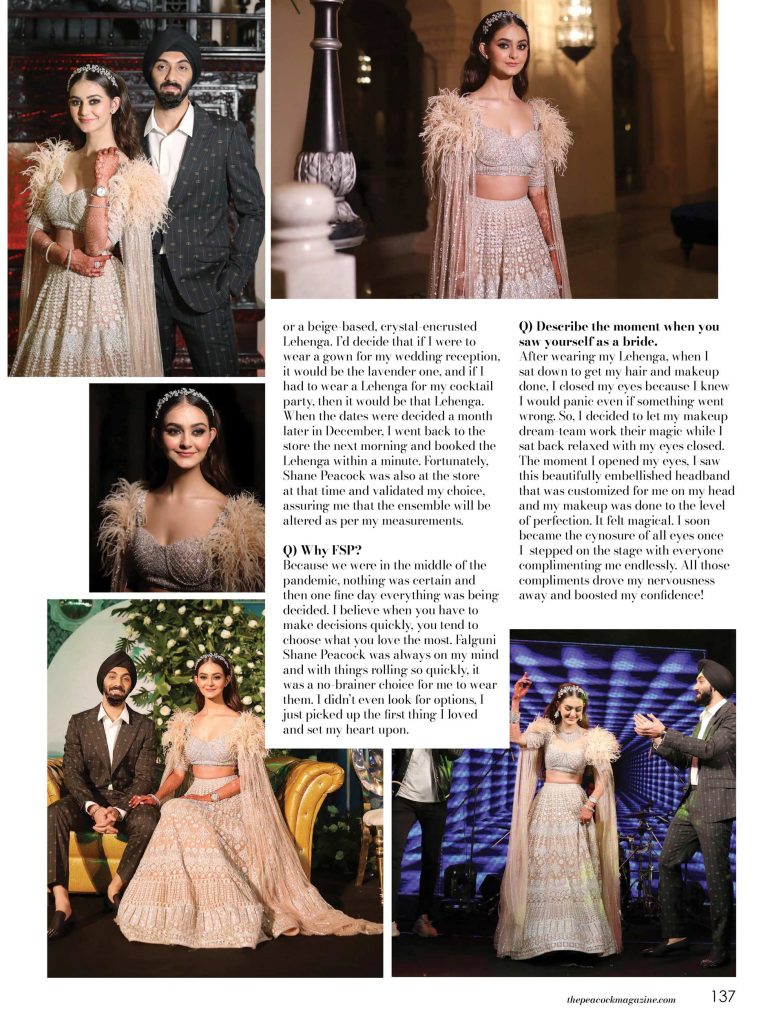 [Q] Why FSP?
Because we were in the middle of the pandemic, nothing was certain and then one fine day everything was being decided. I believe when you have to make decisions quickly, you tend to choose what you love the most. Falguni Shane Peacock was always on my mind and with things rolling so quickly, it was a no-brainer choice for me to wear them. I didn't even look for options, I just picked up the first thing I loved and set my heart upon.
[Q] Describe the moment when you saw yourself as a bride.
After wearing my Lehenga, when I sat down to get my hair and makeup done, I closed my eyes because I knew I would panic even if something went wrong. So, I decided to let my makeup dream-team work their magic while I sat back relaxed with my eyes closed. The moment I opened my eyes, I saw this beautifully embellished headband that was customized for me on my head and my makeup was done to the level of perfection. It felt magical. I soon became the cynosure of all eyes once I stepped on the stage with everyone complimenting me endlessly. All those compliments drove my nervousness away and boosted my confidence!