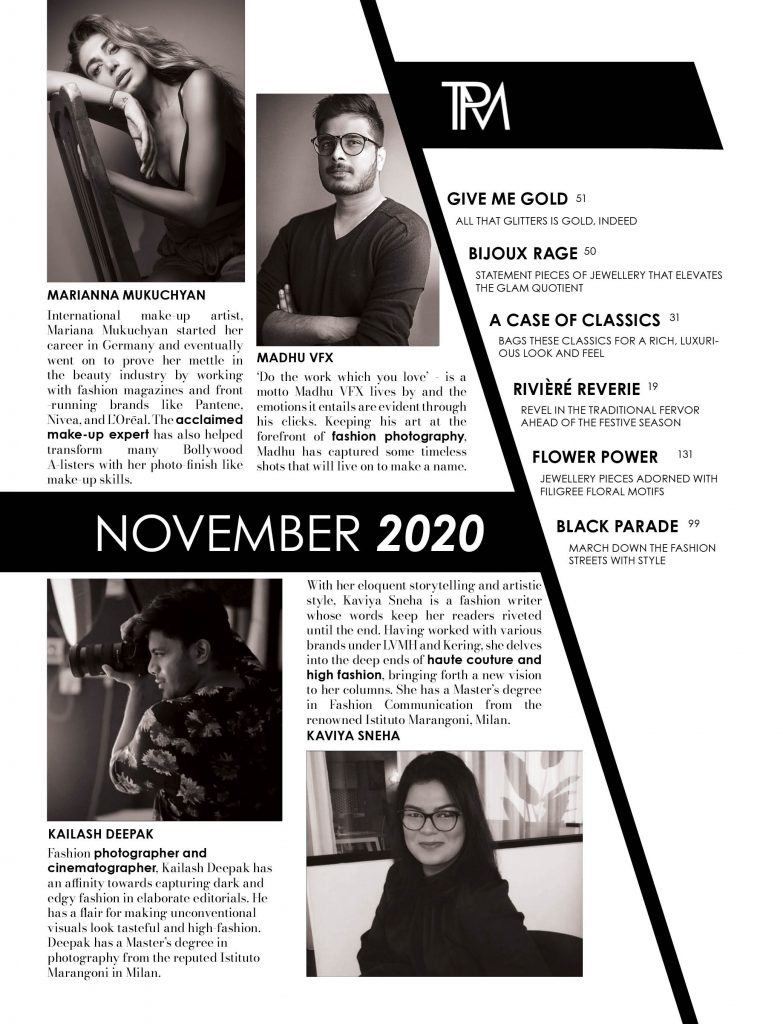 EXPLORE THE NOV ISSUE, 2020 – CONTRIBUTORS
Marianna Mukuchyan
International make-up artist, Mariana Mukuchyan started her career in Germany and eventually went on to prove her mettle in the beauty industry by working with fashion magazines and front running brands like Pantene, Nivea, and L'Oréal. The acclaimed make-up expert has also helped transform many Bollywood A-listers with her photo-finish like make-up skills.
Madhu VFX
'Do the work which you love' – is a motto Madhu VFX lives by and the emotions it entails are evident through his clicks. Keeping his art at the forefront of fashion photography, Madhu has captured some timeless shots that will live on to make a name.
Kailash Deepak
Fashion photographer and cinematographer, Kailash Deepak has an affinity towards capturing the dark and edgy fashion in elaborate editorials. He has a flair for making unconventional visuals look tasteful and high-fashion. He has a master's degree in photography from the reputed Instituto Marangoni in Milan.
Kaviya Sneha
With her eloquent storytelling and artistic style, Kaviya Sneha is a fashion writer whose words keep her readers riveted until the end. Having worked with various brands under LVMH and Kering, she delves into the deep ends of haute couture and high fashion, bringing forth a new vision to her columns. She has a Master's degree in Fashion Communication from the renowned Istituto Marangoni, Milan.