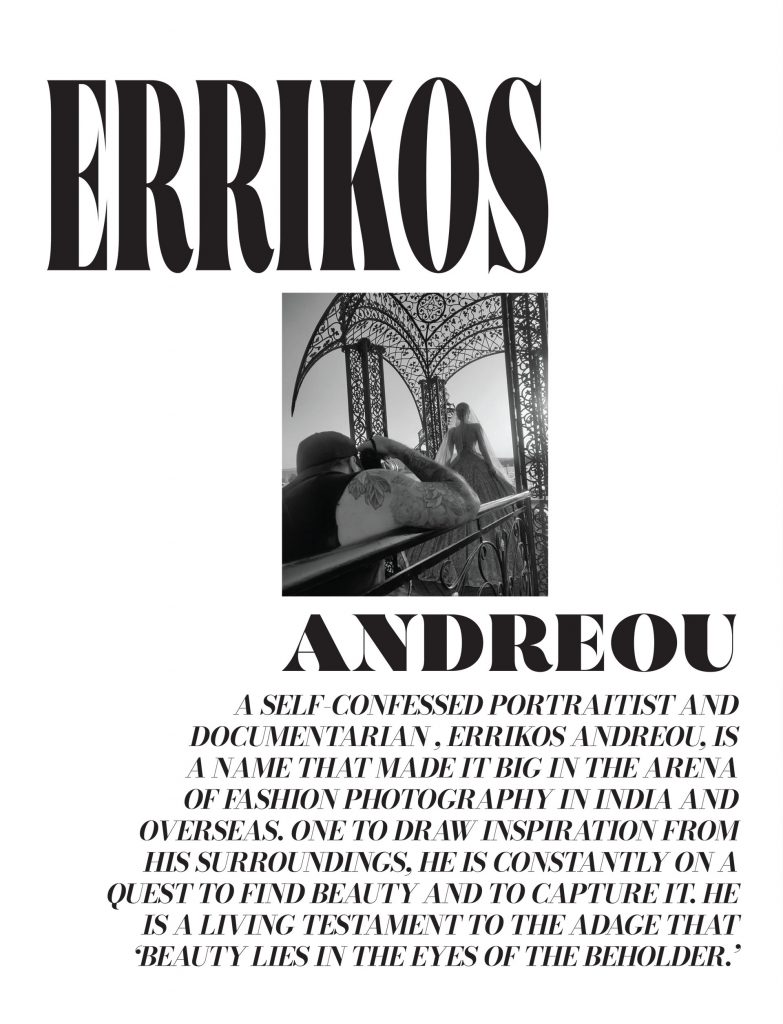 A SELF-CONFESSED PORTRAITIST AND DOCUMENTARIAN , ERRIKOS ANDREOU, IS A NAME THAT MADE IT BIG IN THE ARENA OF FASHION PHOTOGRAPHY IN INDIA AND OVERSEAS. ONE TO DRAW INSPIRATION FROM HIS SURROUNDINGS, HE IS CONSTANTLY ON A QUEST TO FIND BEAUTY AND TO CAPTURE IT. HE IS A LIVING TESTAMENT TO THE ADAGE THAT 'BEAUTY LIES IN THE EYES OF THE BEHOLDER.'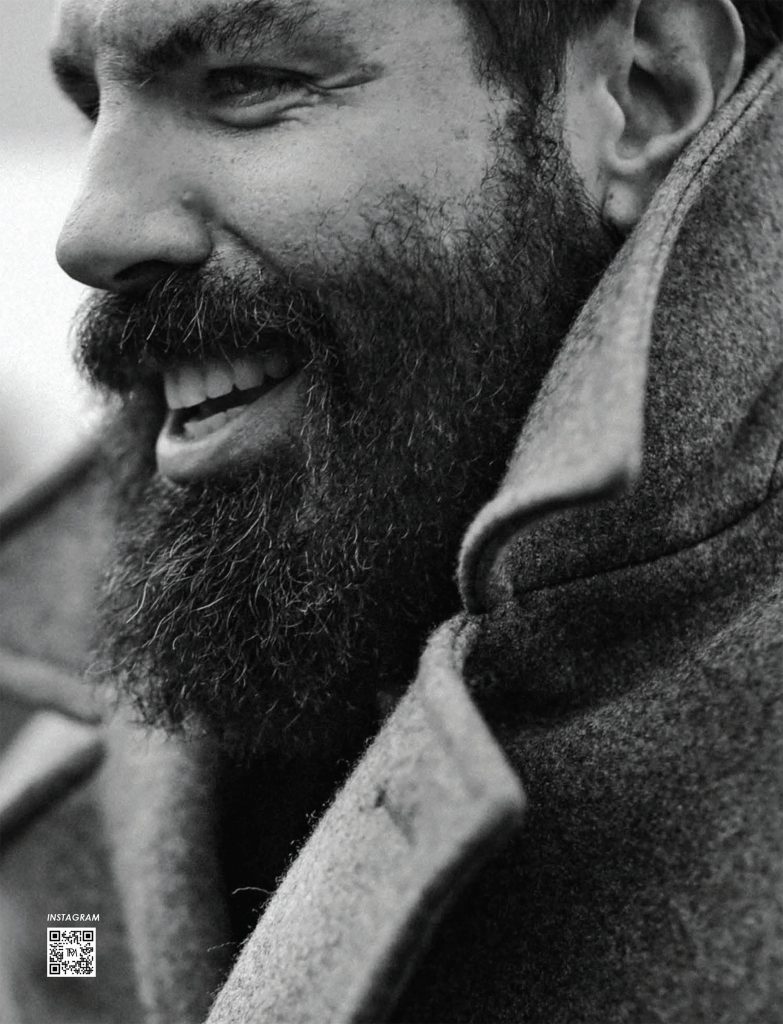 CREDITS-
Images sourced from the artist.

[Q] How were your growing up years like?
Happy! I did whatever boring things kids would do.
[Q] When and how did you find yourself taking interest in fashion photography?
I found myself being extremely interested in fashion from the age of 12 or 13. I wanted to study fashion design, which I did, eventually. I would buy whatever fashion magazines I could get my hands on at that time and I would study everything about fashion. I would look at the work of the photographers, of course, but I would mostly examine other elements as well. I didn't think photography would become a profession until much later, but my interest in fashion was there from a very early stage in my life!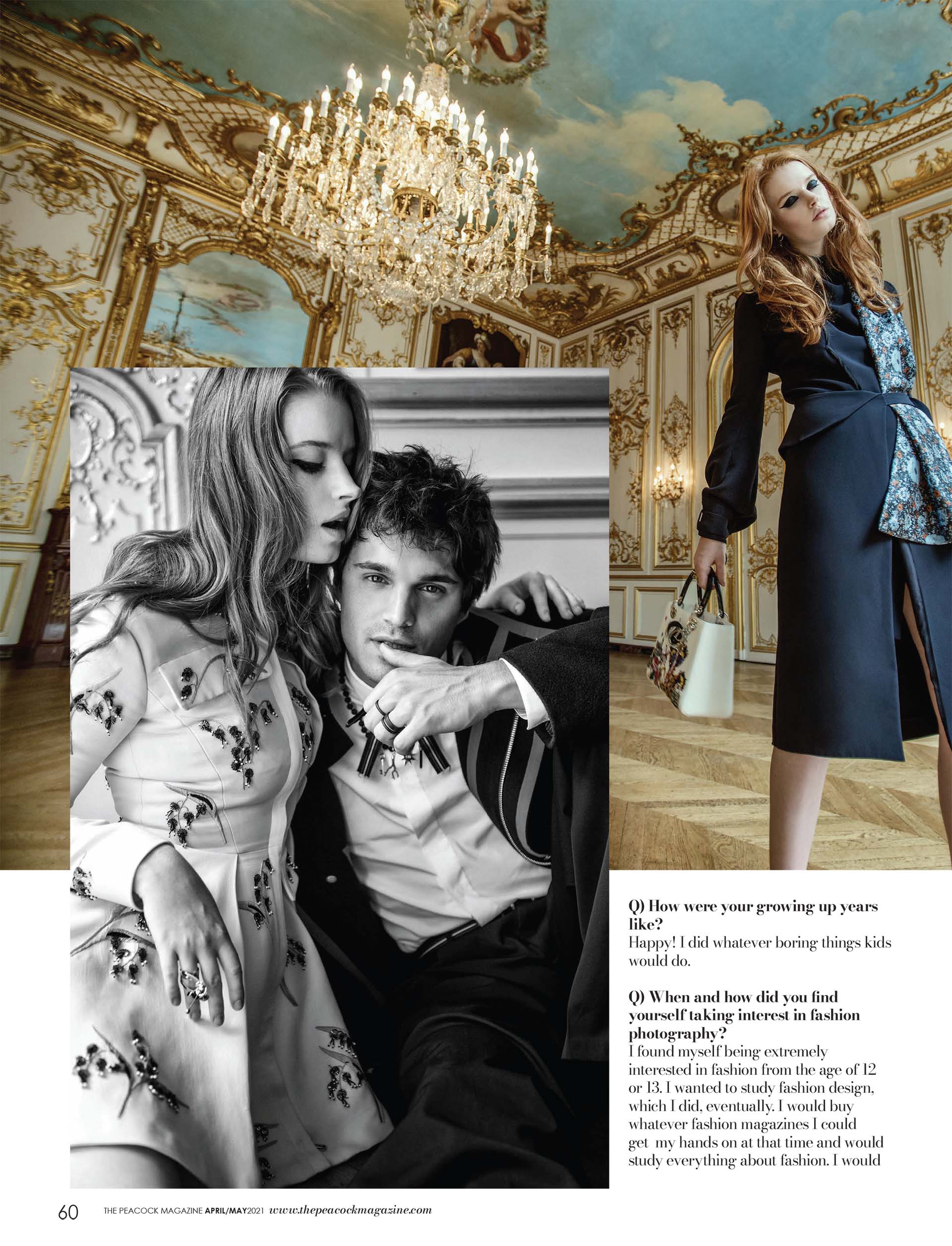 [Q] How does the location of the shoot inspire the photographer/artist in you?
I am a very instinctive photographer. I get inspired very much by what I have in front of me, by my surroundings and by the light. I prefer to pick and choose the areas I will be shooting at, right there on the spot rather than plan in advance. That said, a great location does play a huge part. You can build a good shoot based on the location itself.
[Q] Where/in whom do you find your photography muse?
I find my muse in those who inspire me to be creative and those who see themselves as co-creators of the final image. I believe that's what turns a simple model into a muse.
[Q] What sets your mood for photographing?
To be honest, anything can! Good chemistry and a good mood amongst the team is very important. Once I start working, I go into a state of trance, really. Even if I am upset about something before, I forget about everything. That, and some good coffee!
[Q] Do you always stick to the concept you have had in your mind or do you tend to improvise?
Unless I am working on an advertising project with big clients, marketing strategies, advertising companies and celebrities where the visuals have been pre-decided before the shoot, I improvise. Very much so, in fact! I will keep the main idea of what I want to do in my head but I will definitely improvise. Even the editorial shoot we did for this magazine was done in the same way.
[Q] What has been your most coveted photography project so far?
Different shoots have had different importance for me in the past, but once they are finished I move on. I look at the photographs I have done as a part of my creative journey but I don't wonder about the importance of the projects themselves.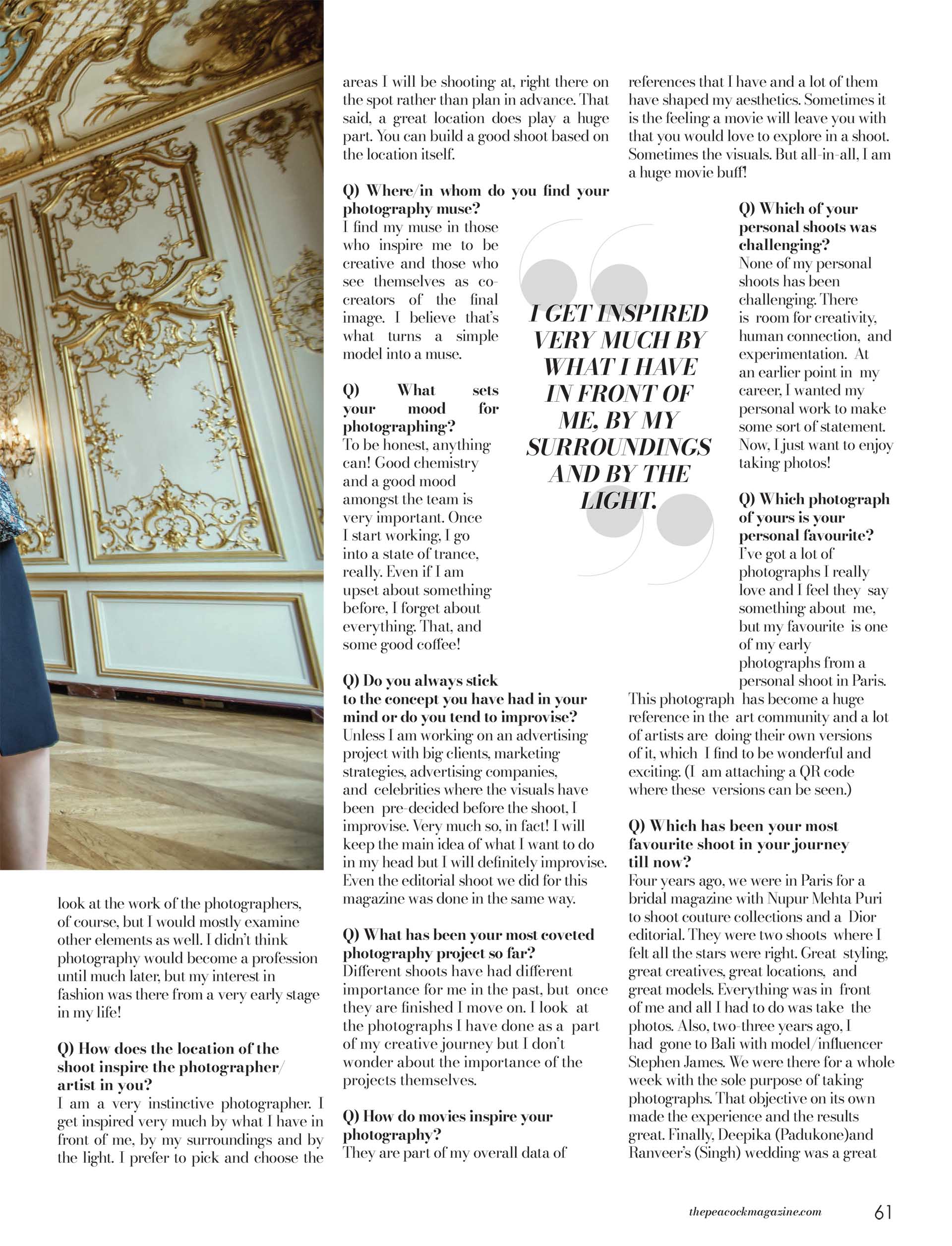 [Q] How do movies inspire your photography?
They are part of my overall data of references that I have and a lot of them have shaped my aesthetics. Sometimes it is the feeling a movie will leave you with that you would love to explore in a shoot. Sometimes the visuals. But all-in-all, I am a huge movie buff!
[Q] Which of your personal shoots was challenging?
None of my personal shoots have been challenging. There is room for creativity, for a human connection, for experimentation. At an earlier point in my career, I wanted my personal work to make some sort of statement. Now I just want to enjoy taking photos!
[Q] Which photograph of yours is your personal favourite?
I've got a lot of photographs I really love and I feel they say something about me, but my favourite is one of my early photographs from a personal shoot in Paris. (Picture attached) This photograph has become a huge reference in the art community and a lot of artists are doing their own versions of it, which I find to be wonderful and exciting. (I am attaching a QR code where these versions can be seen.)
[Q] Which has been your most favourite shoot in your journey till now?
Four years ago, we were in Paris for a bridal magazine with Nupur Mehta Puri to shoot the Couture collections and a Dior editorial. They were two shoots where I felt all the stars were right. Great styling, great creatives, great locations and great models. Everything was in front of me and all I had to do is take the photos. Also, 2-3 years ago, I had gone to Bali with model/influencer Stephen James. We were there for a whole week with the sole purpose of taking photographs. That objective on its own made the experience and the results great. Finally, Deepika and Ranveer's wedding was a great shooting experience for me. There were no instructions and no requirements. There was so much happiness, love and good fun in the air. It was wonderful to be able to capture something like that.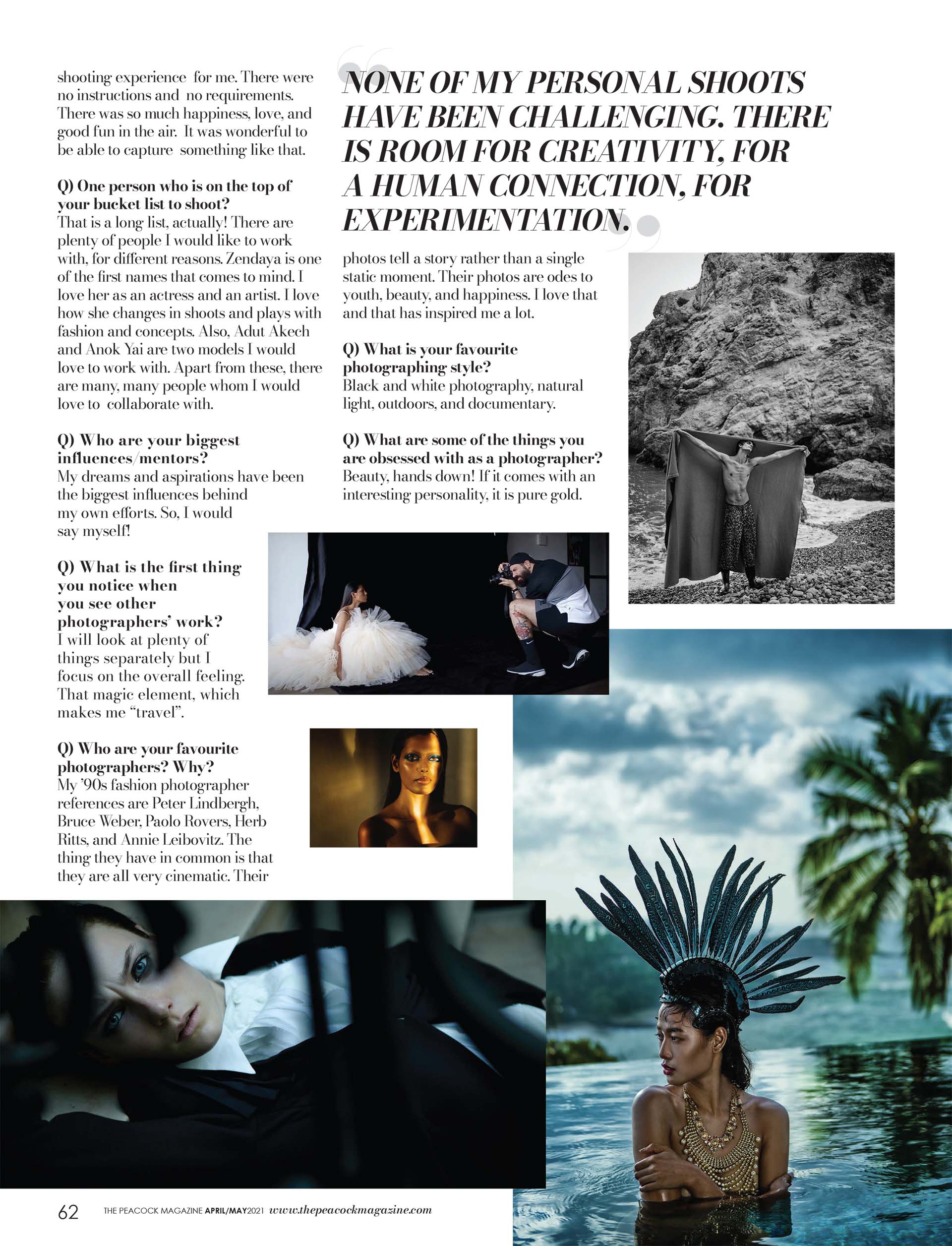 [Q] One person who is on the top of your bucket list to shoot?
That is a long list, actually! There are plenty of people I would like to work with, for different reasons. Zendaya is one of the first names that come to mind. I love her as an actress and an artist. I love how she changes in shoots and plays with fashion and concepts. Also, Adut Akech and Anok Yai are two models I would love to work with. Apart from these, there are many, many people I would love to collaborate with.
[Q] Who are your biggest influences/mentors?
My dreams and aspirations have been the biggest influences behind my own efforts. So, I would say myself!
[Q] What is the first thing you notice when you see other photographers' work?
I will look at plenty of things separately but I focus on the overall feeling. That magic element, which makes me "travel".
[Q] Who are your favourite photographers? Why?
My 90's fashion photographer references viz. Peter Lindbergh, Bruce Weber, Paolo Rovers, Herb Ritts, and Annie Leibovitz. The thing they have in common is that they are all very cinematic. Their photos tell a story than a single static moment. Their photos are odes to youth, beauty and happiness. I love that and that has inspired me a lot.
[Q] What is your favourite photographing style?
Black and white photography, natural light, outdoors and documentary.
[Q] What are some of the things you are obsessed with as a photographer?
Beauty, hands down! If it comes with an interesting personality, it is pure gold.
[Q] What are your future plans?
After 2020, I don't answer that question!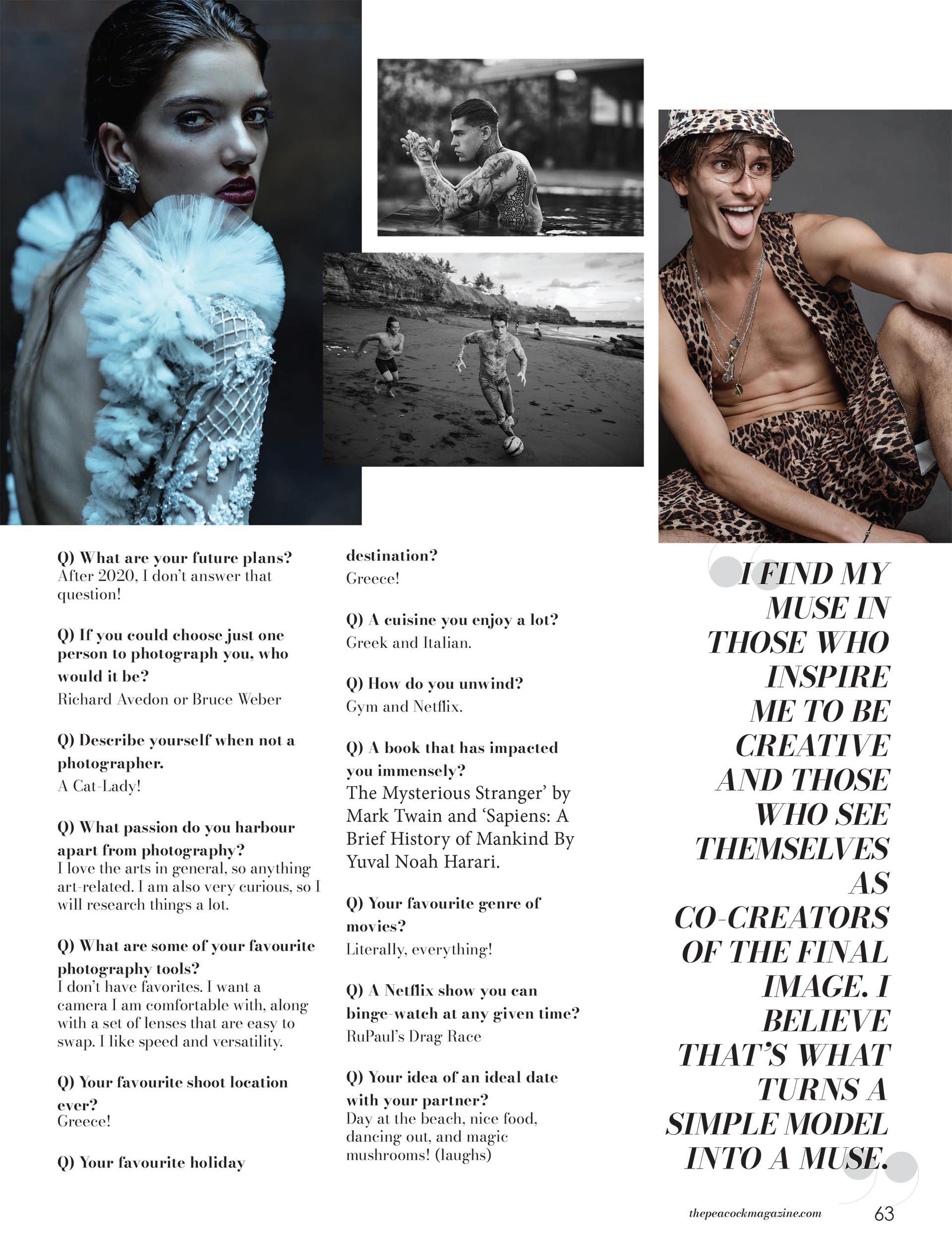 FUN QUESTIONS:-
[Q] If you could choose just one person to photograph you, who would it be?
Richard Avedon or Bruce Weber
[Q] Describe yourself when not a photographer.
A Cat-Lady!
[Q] What passion do you harbour apart from photography?
I love the arts in general, so anything art-related. I am also very curious, so I will research things a lot.
[Q] What are some of your favourite photography tools?
I don't have favourites. I want a camera I am comfortable with, along with a set of lenses that are easy to swap. I like speed and versatility.
[Q] Your favourite shoot location ever?
Greece!
[Q] Your favourite holiday destination?
Greece!
[Q] A cuisine you enjoy a lot?
Greek and Italian.
[Q] How do you unwind?
Gym and Netflix.
[Q] A book that has impacted you immensely?
'The Mysterious Stranger' by Mark Twain and 'Sapiens' by Yuval Noah Harari.
[Q] Your favourite genre of movies?
Literally, everything!
[Q] A Netflix show you can binge-watch at any given time?
Ru Paul's Drag Race
[Q] Your idea of an ideal date with your partner?
Day at the beach, nice food, dancing out, and magic mushrooms! (laughs)