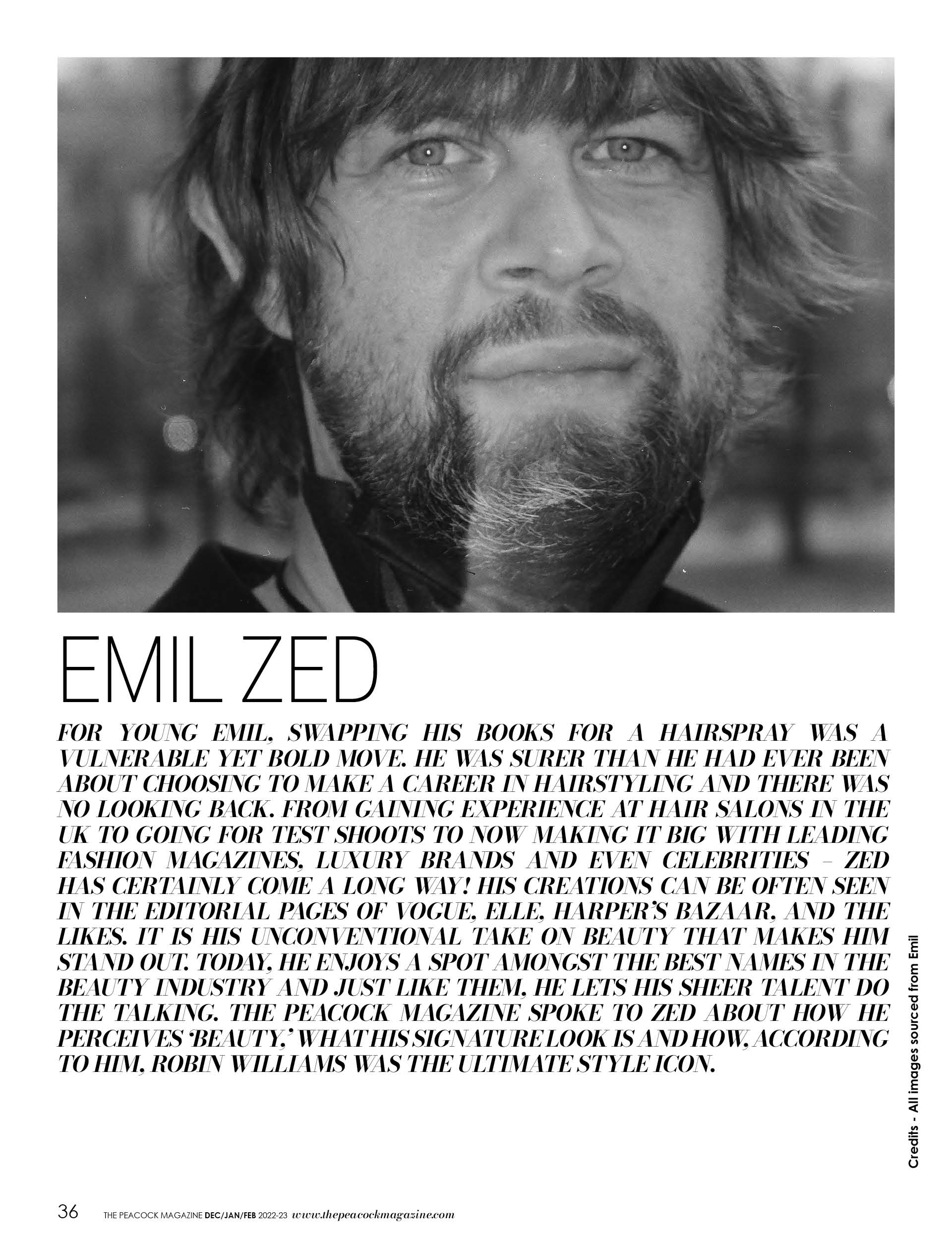 CREDITS: All images sourced from Emil
For young Emil, swapping his books for a hairspray was a vulnerable yet bold move. He was surer than he had ever been about choosing to make a career in hairstyling and there was no looking back. From gaining experience at hair salons in the UK to going for test shoots to now making it big with leading fashion magazines, luxury brands and even celebrities — Zed has certainly come a long way! His creations can be often seen in the editorial pages of Vogue, ELLE, Harper's Bazaar, and the likes. It is his unconventional take on beauty that makes him stand out. Today, he enjoys a spot amongst the best names in the beauty industry and just like them, he lets his sheer talent do the talking. The Peacock Magazine spoke to Zed about how he perceives 'beauty,' what his signature look is and how, according to him, Robin Williams was the ultimate style icon.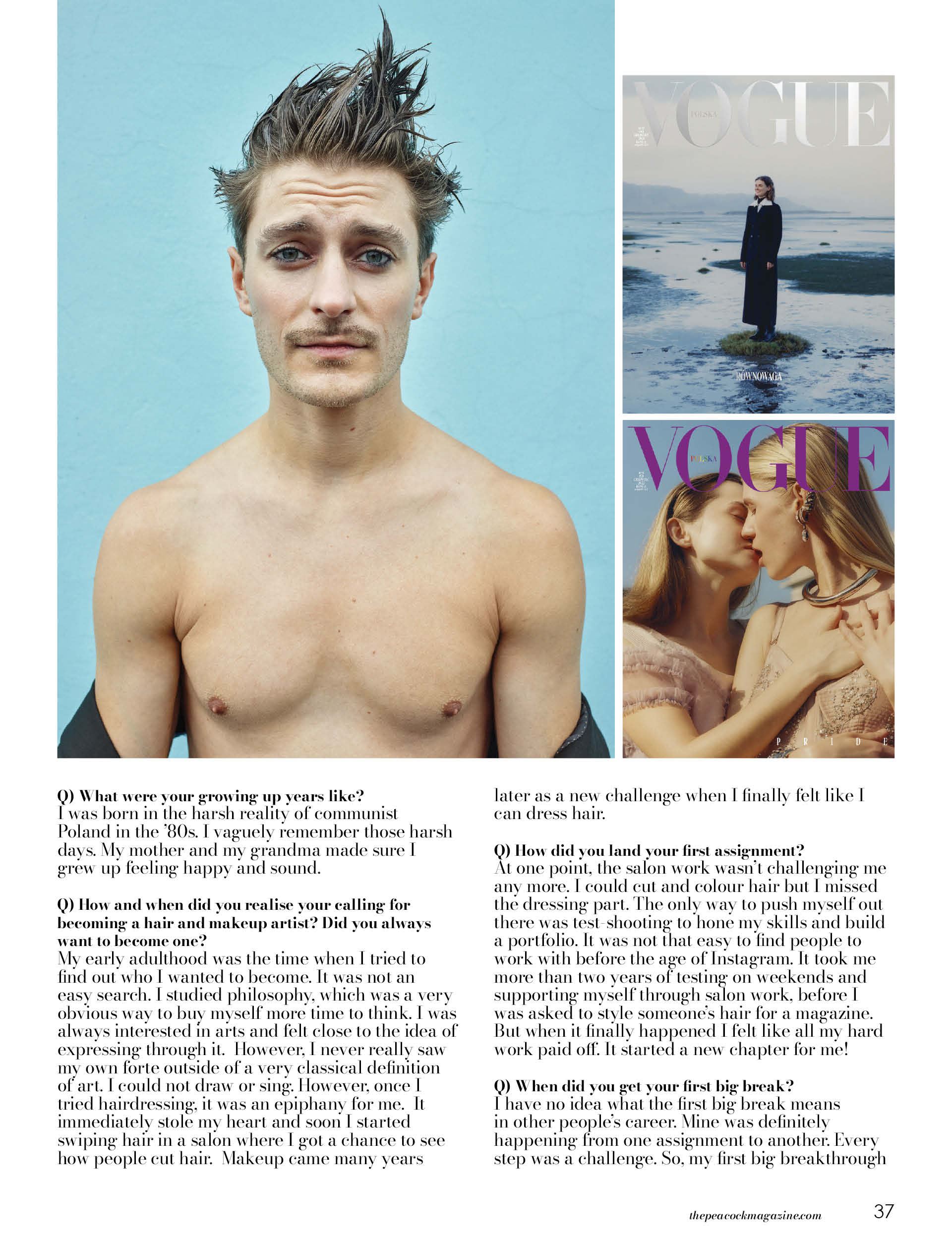 Q) What were your growing up years like?
I was born in the harsh reality of communist Poland in the '80s. I vaguely remember those harsh days. My mother and my grandma made sure I grew up feeling happy and sound.
Q) How and when did you realise your calling for becoming a hair and makeup artist? Did you always want to become one?
My early adulthood was the time when I tried to find out who I wanted to become. It was not an easy search. I studied philosophy, which was a very obvious way to buy myself more time to think. I was always interested in arts and felt close to the idea of expressing through it. However, I never really saw my own forte outside of a very classical definition of art. I could not draw or sing. However, once I tried hairdressing, it was an epiphany for me. It immediately stole my heart and soon I started swiping hair in a salon where I got a chance to see how people cut hair. Makeup came many years later as a new challenge when I finally felt like I can dress hair.
Q) How did you land your first assignment?
At one point, the salon work wasn't challenging me any more. I could cut and colour hair but I missed the dressing part. The only way to push myself out there was test-shooting to hone my skills and build a portfolio. It was not that easy to find people to work with before the age of Instagram. It took me more than two years of testing on weekends and supporting myself through salon work, before I was asked to style someone's hair for a magazine. But when it finally happened I felt like all my hard work paid off. It started a new chapter for me!
Q) When did you get your first big break?
I have no idea what the first big break means in other people's career. Mine was definitely happening from one assignment to another. Every step was a challenge. So, my first big breakthrough could as well be a chance to get paid for a shoot, or have work published under my name in a magazine. It led to work for titles I could only admire earlier and finally being asked to work on cover shoots for them or camping for a world-famous designer that I never even dreamed I would be able to see their work outside of pages of editorial. Every new shoot is a big challenge and can lead to a big breakthrough.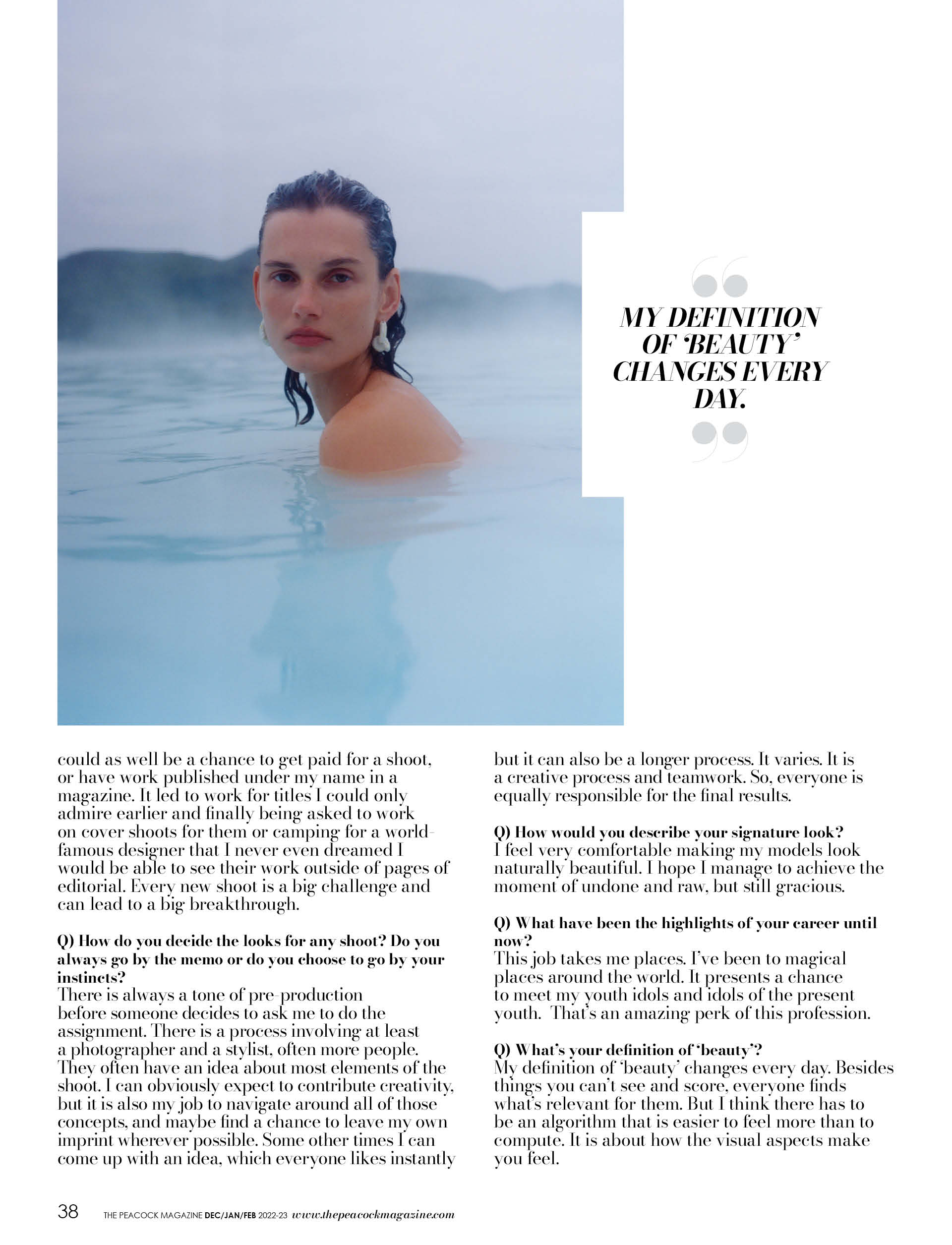 Q) How do you decide the looks for any shoot? Do you always go by the memo or do you choose to go by your instincts?
There is always a tone of pre-production before someone decides to ask me to do the assignment. There is a process involving at least a photographer and a stylist, often more people. They often have an idea about most elements of the shoot. I can obviously expect to contribute creativity, but it is also my job to navigate around all of those concepts, and maybe find a chance to leave my own imprint wherever possible. Some other times I can come up with an idea, which everyone likes instantly but it can also be a longer process. It varies. It is a creative process and teamwork. So, everyone is equally responsible for the final results.
Q) How would you describe your signature look?
I feel very comfortable making my models look naturally beautiful. I hope I manage to achieve the moment of undone and raw, but still gracious.
Q) What have been the highlights of your career until now?
This job takes me places. I've been to magical places around the world. It presents a chance to meet my youth idols and idols of the present youth. That's an amazing perk of this profession.
Q) What's your definition of 'beauty'?
My definition of 'beauty' changes every day. Besides things you can't see and score, everyone finds what's relevant for them. But I think there has to be an algorithm that is easier to feel more than to compute. It is about how the visual aspects make you feel.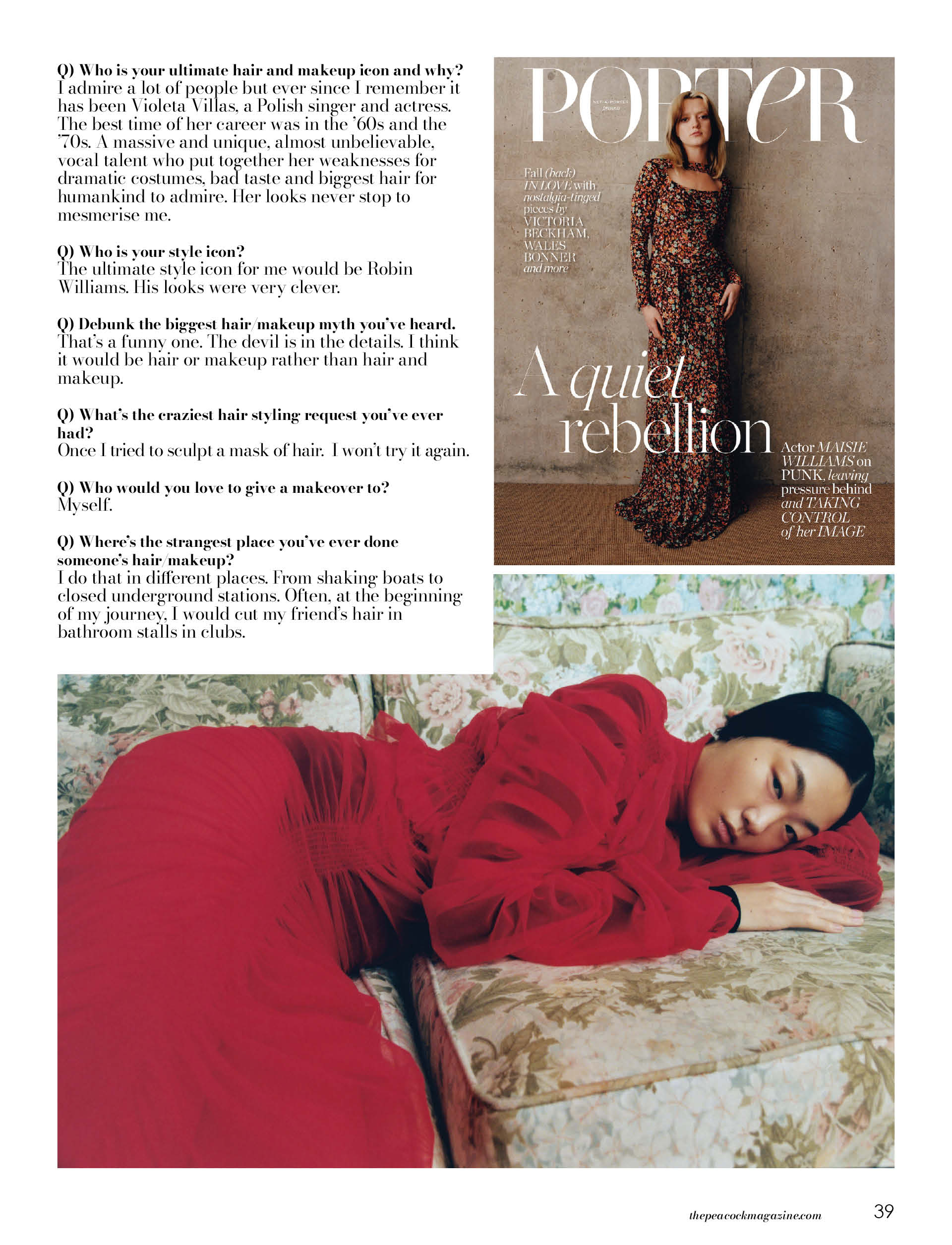 Q) Who is your ultimate hair and makeup icon and why?
I admire a lot of people but ever since I remember it has been Violeta Villas, a Polish singer and actress. The best time of her career was in the '60s and the '70s. A massive and unique, almost unbelievable, vocal talent who put together her weaknesses for dramatic costumes, bad taste and biggest hair for humankind to admire. Her looks never stop to mesmerise me.
Q) Who is your style icon?
The ultimate style icon for me would be Robin Williams. His looks were very clever.
Q) Debunk the biggest hair/makeup myth you've heard.
That's a funny one. The devil is in the details. I think it would be hair or makeup rather than hair and makeup.
Q) What's the craziest hair styling request you've ever had?
Once I tried to sculpt a mask of hair. I won't try it again.
Q) Who would you love to give a makeover to?
Myself.
Q) Where's the strangest place you've ever done someone's hair/makeup?
I do that in different places. From shaking boats to closed underground stations. Often, at the beginning of my journey, I would cut my friend's hair in bathroom stalls in clubs.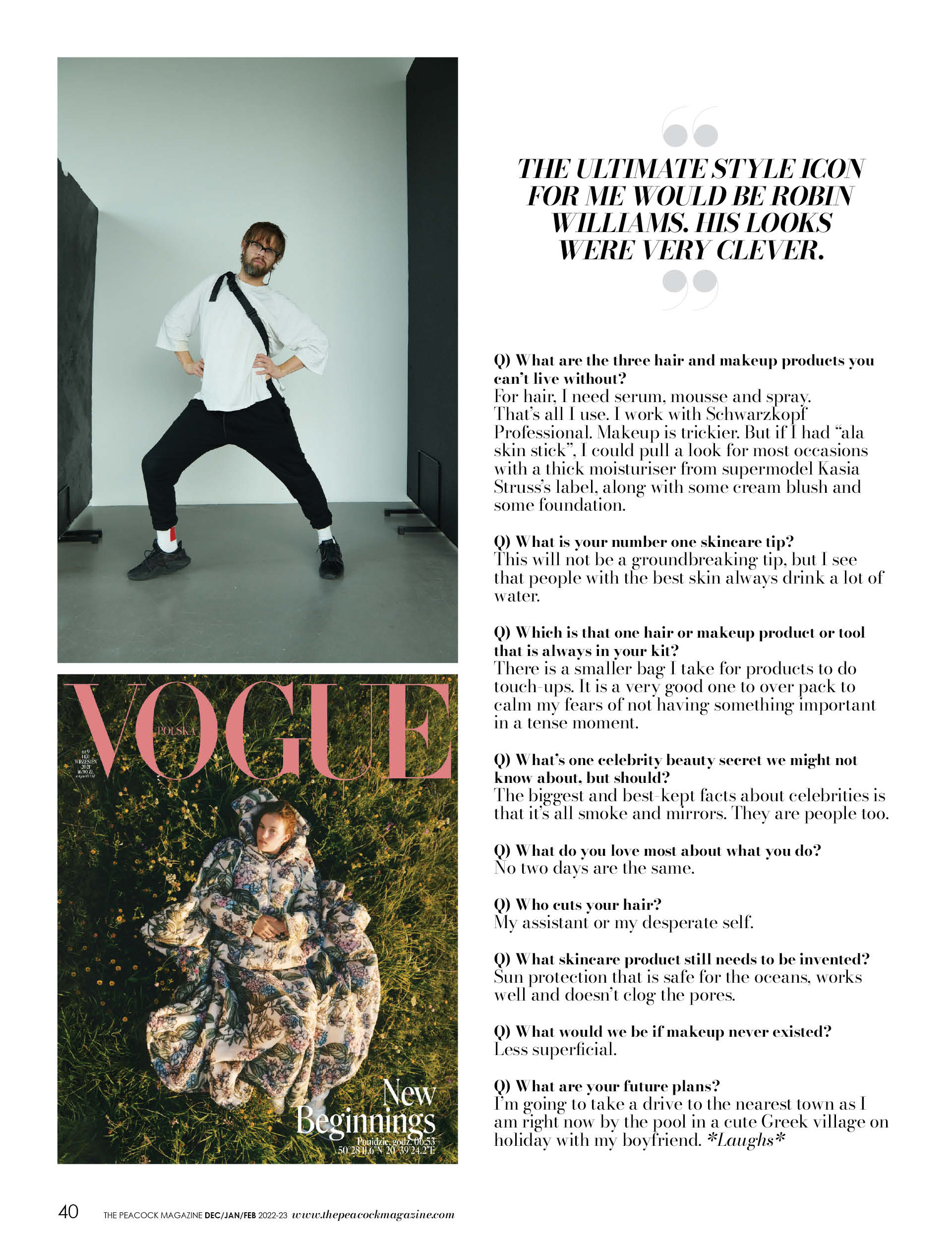 Q) What are the three hair and makeup products you can't live without?
For hair, I need serum, mousse and spray. That's all I use. I work with Schwarzkopf Professional. Makeup is trickier. But if I had "ala skin stick", I could pull a look for most occasions with a thick moisturiser from supermodel Kasia Struss's label, along with some cream blush and some foundation.
Q) What is your number one skincare tip?
This will not be a groundbreaking tip, but I see that people with the best skin always drink a lot of water.
Q) Which is that one hair or makeup product or tool that is always in your kit?
There is a smaller bag I take for products to do touch-ups. It is a very good one to over pack to calm my fears of not having something important in a tense moment.
Q) What's one celebrity beauty secret we might not know about, but should?
The biggest and best-kept facts about celebrities is that it's all smoke and mirrors. They are people too.
Q) What do you love most about what you do?
No two days are the same.
Q) Who cuts your hair?
My assistant or my desperate self.
Q) What skincare product still needs to be invented?
Sun protection that is safe for the oceans, works well and doesn't clog the pores.
Q) What would we be if makeup never existed?
Less superficial.
Q) What are your future plans?
I'm going to take a drive to the nearest town as I am right now by the pool in a cute Greek village on holiday with my boyfriend. *Laughs*