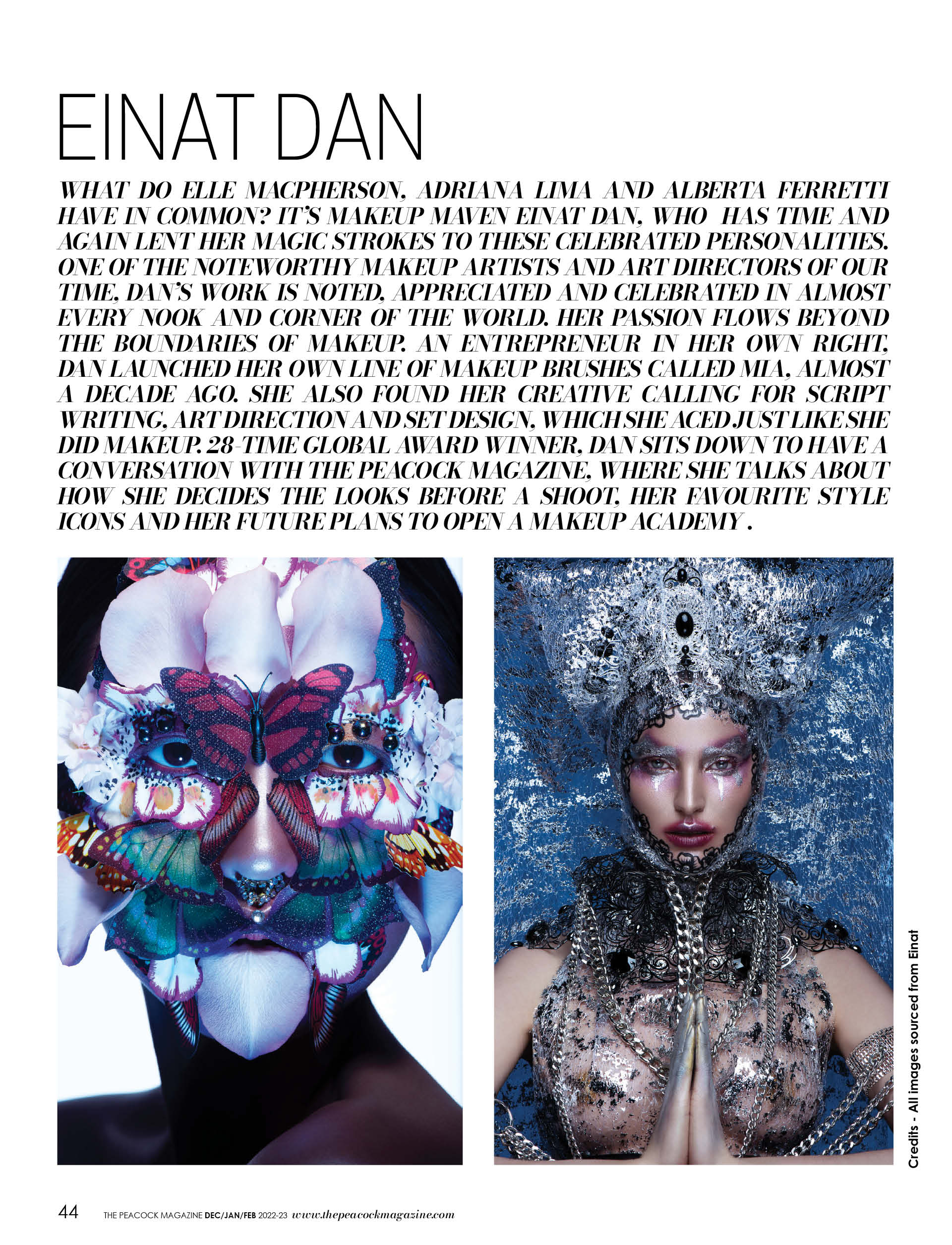 CREDITS: All images sourced from Einat
What do Elle Macpherson, Adriana Lima and Alberta Ferretti have in common? It's makeup maven Einat Dan, who has time and again lent her magic strokes to these celebrated personalities. One of the noteworthy makeup artists and art directors of our time, Dan's work is noted, appreciated and celebrated in almost every nook and corner of the world. Her clientele isn't limited to celebrities only. Leading fashion brands, designer labels and fashion glossies all over the world rope in Dan for their campaigns and shoots. Her passion flows beyond the boundaries of makeup. An entrepreneur in her own right, Dan launched her own line of makeup brushes called MIA, almost a decade ago. She also found her creative calling for script writing, art direction and set design, which she aced just like she did makeup. 28-time global award winner, Dan sits down to have a conversation with The Peacock Magazine, where she talks about how she decides the looks before a shoot, her favourite style icons and her future plans to open a makeup academy .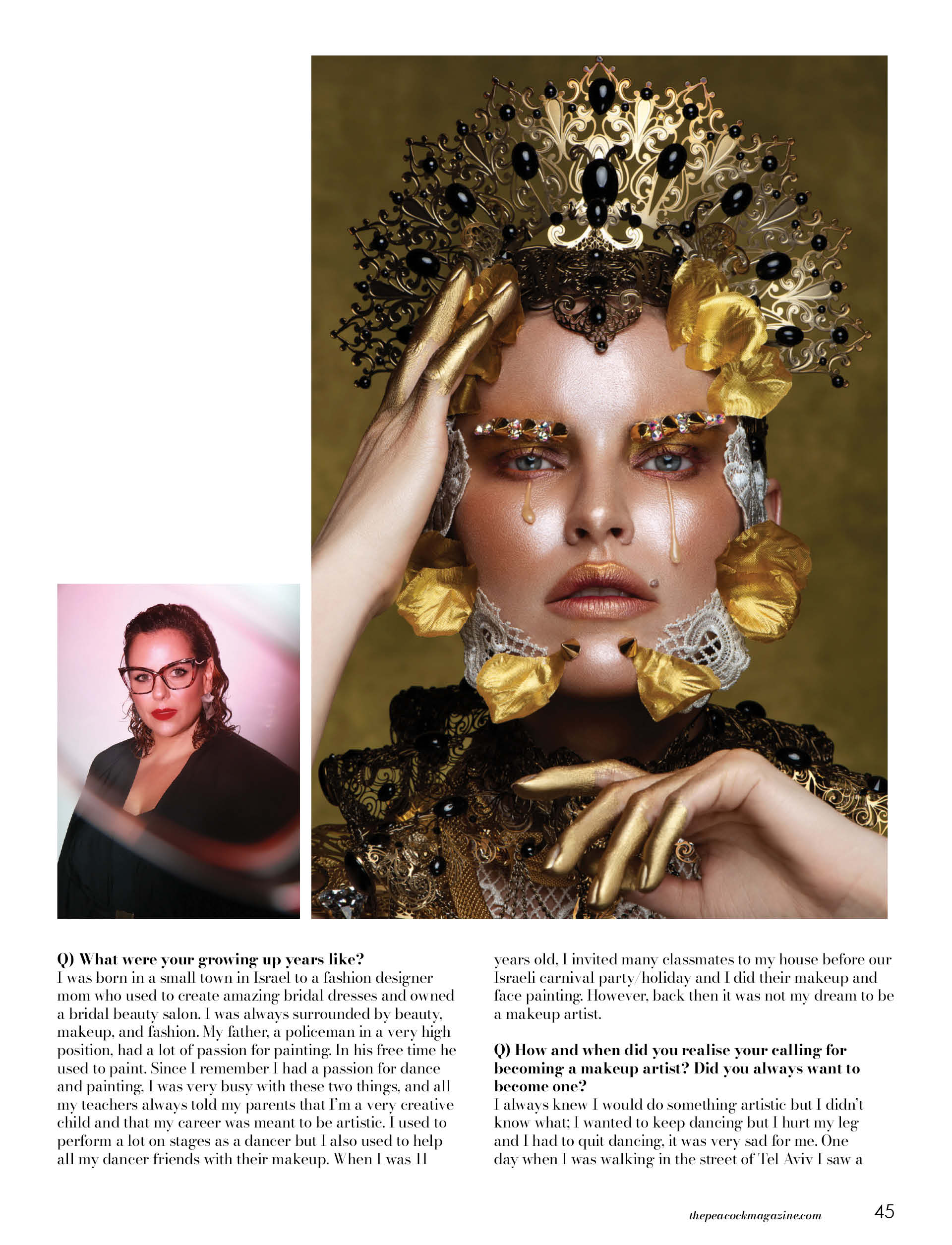 Q) What were your growing up years like?
I was born in a small town in Israel to a fashion designer mom who used to create amazing bridal dresses and owned a bridal beauty salon. I was always surrounded by beauty, makeup, and fashion. My father, a policeman in a very high position, had a lot of passion for painting. In his free time he used to paint. Since I remember I had a passion for dance and painting, I was very busy with these two things, and all my teachers always told my parents that I'm a very creative child and that my career was meant to be artistic. I used to perform a lot on stages as a dancer but I also used to help all my dancer friends with their makeup. When I was 11 years old, I invited many classmates to my house before our Israeli carnival party/holiday and I did their makeup and face painting. However, back then it was not my dream to be a makeup artist.
Q) How and when did you realise your calling for becoming a makeup artist? Did you always want to become one?
I always knew I would do something artistic but I didn't know what; I wanted to keep dancing but I hurt my leg and I had to quit dancing, it was very sad for me. One day when I was walking in the street of Tel Aviv I saw a makeup school and in the window of the building I saw a lot of bodypainting and makeup photos. I fell in love with it immediately, and at that moment I just felt that this is what I wanted to do for the rest of my life as I've always been the one to follow my intuition. I went inside and registered for the next makeup course, which was 27 years ago.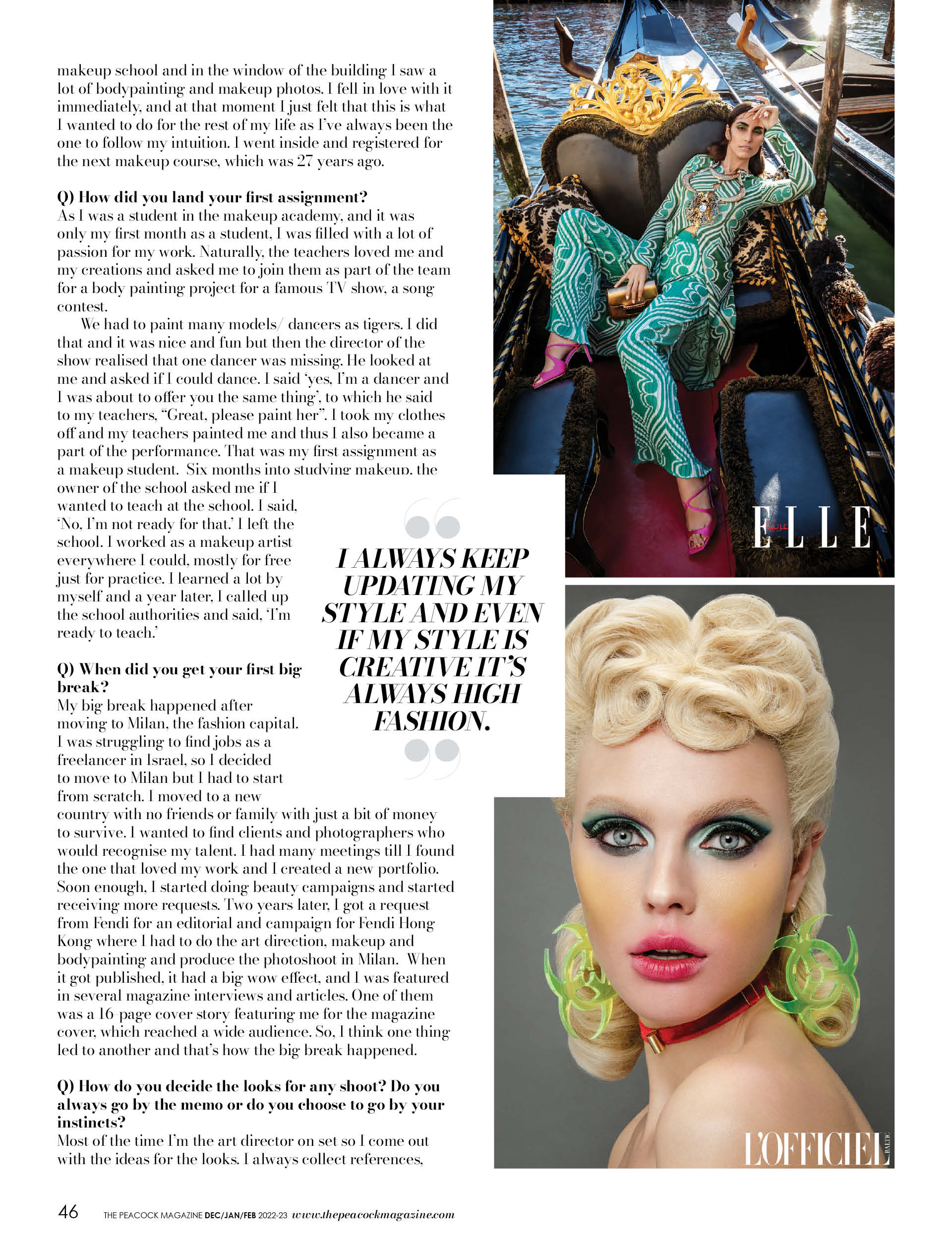 Q) How did you land your first assignment?
As I was a student in the makeup academy, and it was only my first month as a student, I was filled with a lot of passion for my work. Naturally, the teachers loved me and my creations and asked me to join them as part of the team for a body painting project for a famous TV show, a song contest.
We had to paint many models/ dancers as tigers. I did that and it was nice and fun but then the director of the show realised that one dancer was missing. He looked at me and asked if I could dance. I said 'yes, I'm a dancer and I was about to offer you the same thing', to which he said to my teachers, "Great, please paint her". I took my clothes off and my teachers painted me and thus I also became a part of the performance. That was my first assignment as a makeup student. Six months into studying makeup, the owner of the school asked me if I wanted to teach at the school. I said, 'No, I'm not ready for that.' I left the school. I worked as a makeup artist everywhere I could, mostly for free just for practice. I learned a lot by myself and a year later, I called up the school authorities and said, 'I'm ready to teach.'
Q) When did you get your first big break?
My big break happened after moving to Milan, the fashion capital. I was struggling to find jobs as a freelancer in Israel, so I decided to move to Milan but I had to start from scratch. I moved to a new country with no friends or family with just a bit of money to survive. I wanted to find clients and photographers who would recognise my talent. I had many meetings till I found the one that loved my work and I created a new portfolio. Soon enough, I started doing beauty campaigns and started receiving more requests. Two years later, I got a request from Fendi for an editorial and campaign for Fendi Hong Kong where I had to do the art direction, makeup and bodypainting and produce the photoshoot in Milan. When it got published, it had a big wow effect, and I was featured in several magazine interviews and articles. One of them was a 16-page cover story featuring me for the magazine cover, which reached a wide audience. So, I think one thing led to another and that's how the big break happened.
Q) How do you decide the looks for any shoot? Do you always go by the memo or do you choose to go by your instincts?
Most of the time I'm the art director on set so I come out with the ideas for the looks. I always collect references, create a mood board and share it beforehand with my team but my team also knows that I work with feelings, instincts and intuition on set, going by what feels right at the specific photo shooting and in that moment.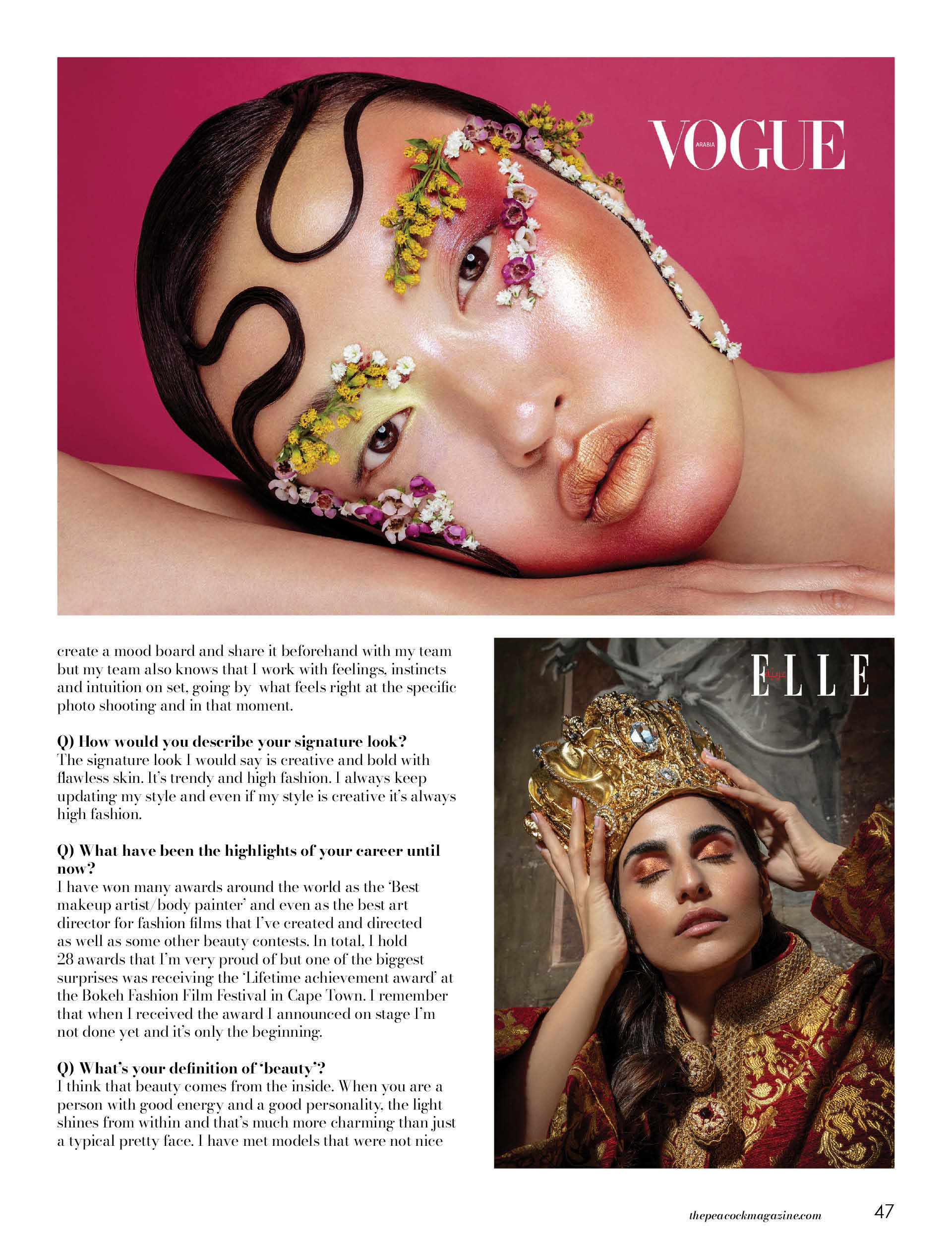 Q) How would you describe your signature look?
The signature look I would say is creative and bold with flawless skin. It's trendy and high fashion. I always keep updating my style and even if my style is creative it's always high fashion.
Q) What have been the highlights of your career until now?
I have won many awards around the world as the 'Best makeup artist/body painter' and even as the best art director for fashion films that I've created and directed as well as some other beauty contests. In total, I hold 28 awards that I'm very proud of but one of the biggest surprises was receiving the 'Lifetime achievement award' at the Bokeh Fashion Film Festival in Cape Town. I remember that when I received the award I announced on stage I'm not done yet and it's only the beginning.
Q) What's your definition of 'beauty'?
I think that beauty comes from the inside. When you are a person with good energy and a good personality, the light shines from within and that's much more charming than just a typical pretty face. I have met models that were not nice with a bad personality or vibes and even if she was the most beautiful model, her character made her look the opposite, in my eyes, of course.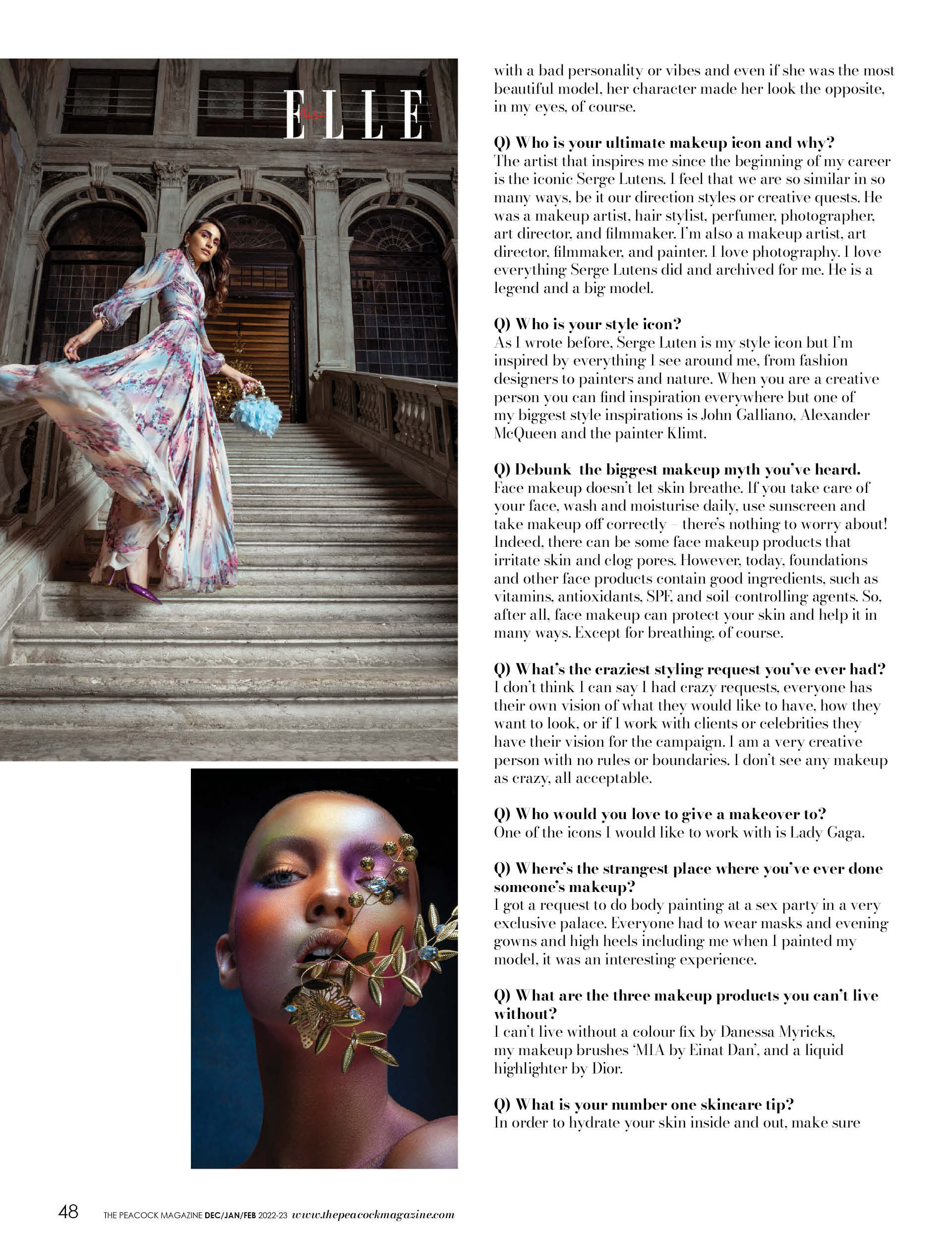 Q) Who is your ultimate makeup icon and why?
The artist that inspires me since the beginning of my career is the iconic Serge Lutens. I feel that we are so similar in so many ways, be it our direction styles or creative quests. He was a makeup artist, hair stylist, perfumer, photographer, art director, and filmmaker. I'm also a makeup artist, art director, filmmaker, and painter. I love photography. I love everything Serge Lutens did and archived for me. He is a legend and a big model.
Q) Who is your style icon?
As I wrote before, Serge Luten is my style icon but I'm inspired by everything I see around me, from fashion designers to painters and nature. When you are a creative person you can find inspiration everywhere but one of my biggest style inspirations is John Galliano, Alexander McQueen and the painter Klimt.
Q) Debunk the biggest makeup myth you've heard.
Face makeup doesn't let skin breathe. If you take care of your face, wash and moisturise daily, use sunscreen and take makeup off correctly — there's nothing to worry about! Indeed, there can be some face makeup products that irritate skin and clog pores. However, today, foundations and other face products contain good ingredients, such as vitamins, antioxidants, SPF, and soil-controlling agents. So, after all, face makeup can protect your skin and help it in many ways. Except for breathing, of course.
Q) What's the craziest styling request you've ever had?
I don't think I can say I had crazy requests, everyone has their own vision of what they would like to have, how they want to look, or if I work with clients or celebrities they have their vision for the campaign. I am a very creative person with no rules or boundaries. I don't see any makeup as crazy, all acceptable.
Q) Who would you love to give a makeover to?
One of the icons I would like to work with is Lady Gaga.
Q) Where's the strangest place where you've ever done someone's makeup?
I got a request to do body painting at a sex party in a very exclusive palace. Everyone had to wear masks and evening gowns and high heels including me when I painted my model, it was an interesting experience.
Q) What are the three makeup products you can't live without?
I can't live without a colour fix by Danessa Myricks, my makeup brushes 'MIA by Einat Dan', and a liquid highlighter by Dior.
Q) What is your number one skincare tip?
In order to hydrate your skin inside and out, make sure to clean and then hydrate your face with a cream that suits your skin type twice a day. Drink a lot of water, it's important!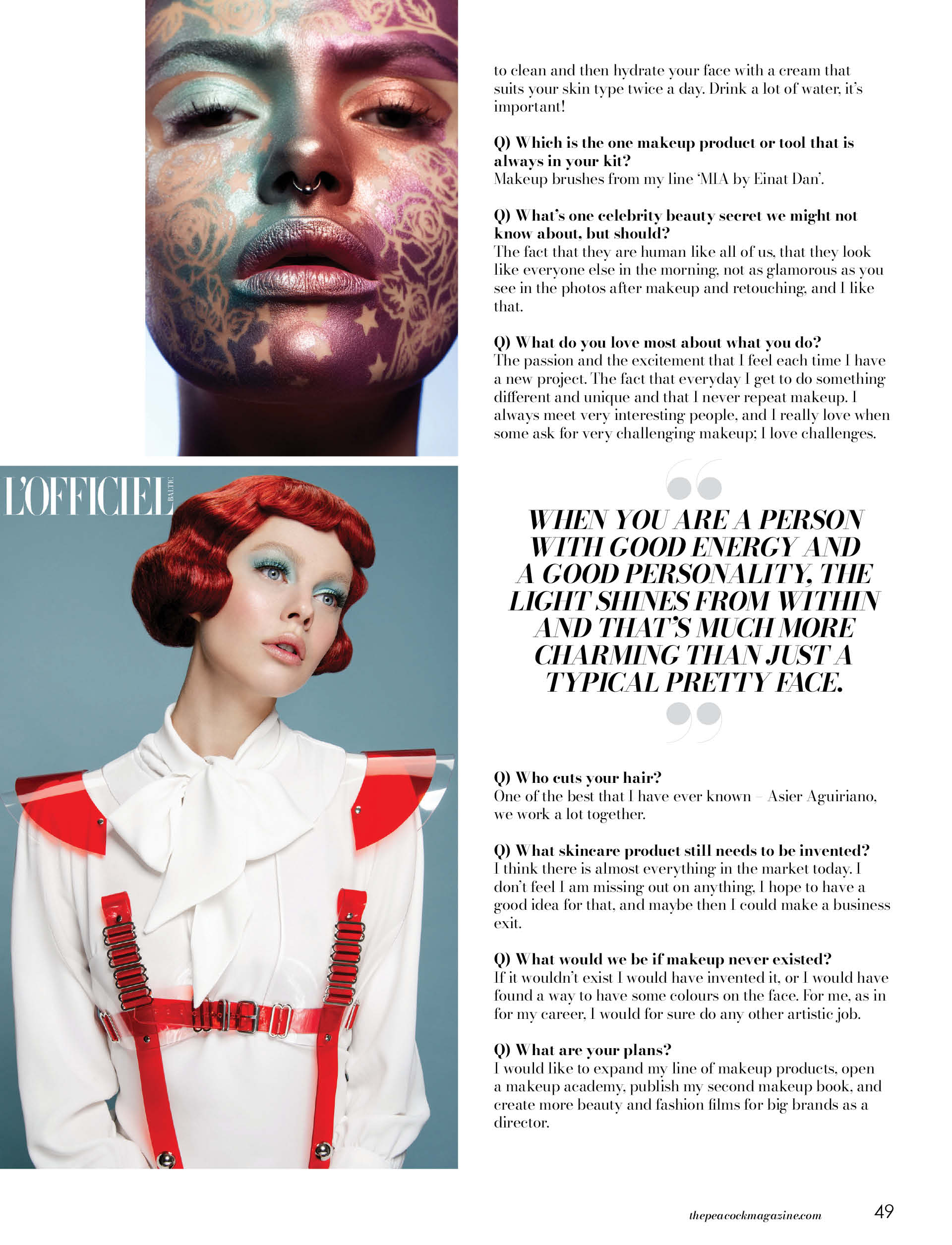 Q) Which is the one makeup product or tool that is always in your kit?
Makeup brushes from my line 'MIA by Einat Dan'.
Q) What's one celebrity beauty secret we might not know about, but should?
The fact that they are human like all of us, that they look like everyone else in the morning, not as glamorous as you see in the photos after makeup and retouching, and I like that.
Q) What do you love most about what you do?
The passion and the excitement that I feel each time I have a new project. The fact that everyday I get to do something different and unique and that I never repeat makeup. I always meet very interesting people, and I really love when some ask for very challenging makeup; I love challenges.
Q) Who cuts your hair?
One of the best that I have ever known — Asier Aguiriano, we work a lot together.
Q) What skincare product still needs to be invented?
I think there is almost everything in the market today. I don't feel I am missing out on anything, I hope to have a good idea for that, and maybe then I could make a business exit.
Q) What would we be if makeup never existed?
If it wouldn't exist I would have invented it, or I would have found a way to have some colours on the face. For me, as in for my career, I would for sure do any other artistic job.
Q) What are your plans?
I would like to expand my line of makeup products, open a makeup academy, publish my second makeup book, and create more beauty and fashion films for big brands as a director.