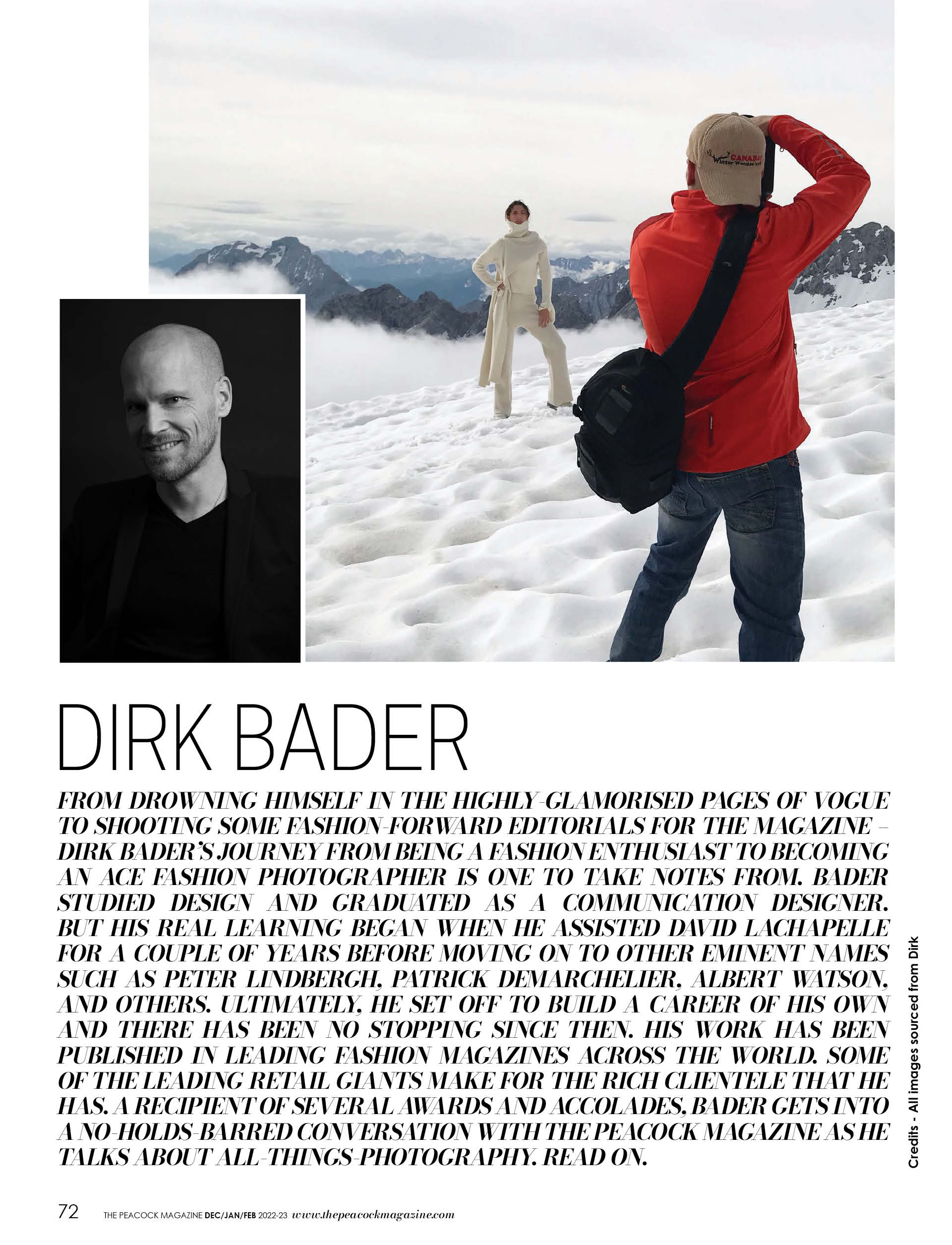 CREDITS: All images sourced from Dirk
From drowning himself in the highly-glamorised pages of Vogue to shooting some fashion-forward editorials for the magazine — Dirk Bader's journey from being a fashion enthusiast to becoming an ace fashion photographer is one to take notes from. Bader studied design and graduated as a communication designer. But his real learning began when he assisted David LaChapelle for a couple of years before moving on to other eminent names such as Peter Lindbergh, Patrick Demarchelier, Albert Watson, and others. Ultimately, he set off to build a career of his own and there has been no stopping since then. His work has been published in leading fashion magazines across the world. Some of the leading retail giants make for the rich clientele that he has. A recipient of several awards and accolades, Bader gets into a no-holds-barred conversation with The Peacock Magazine as he talks about all-things-photography. Read on.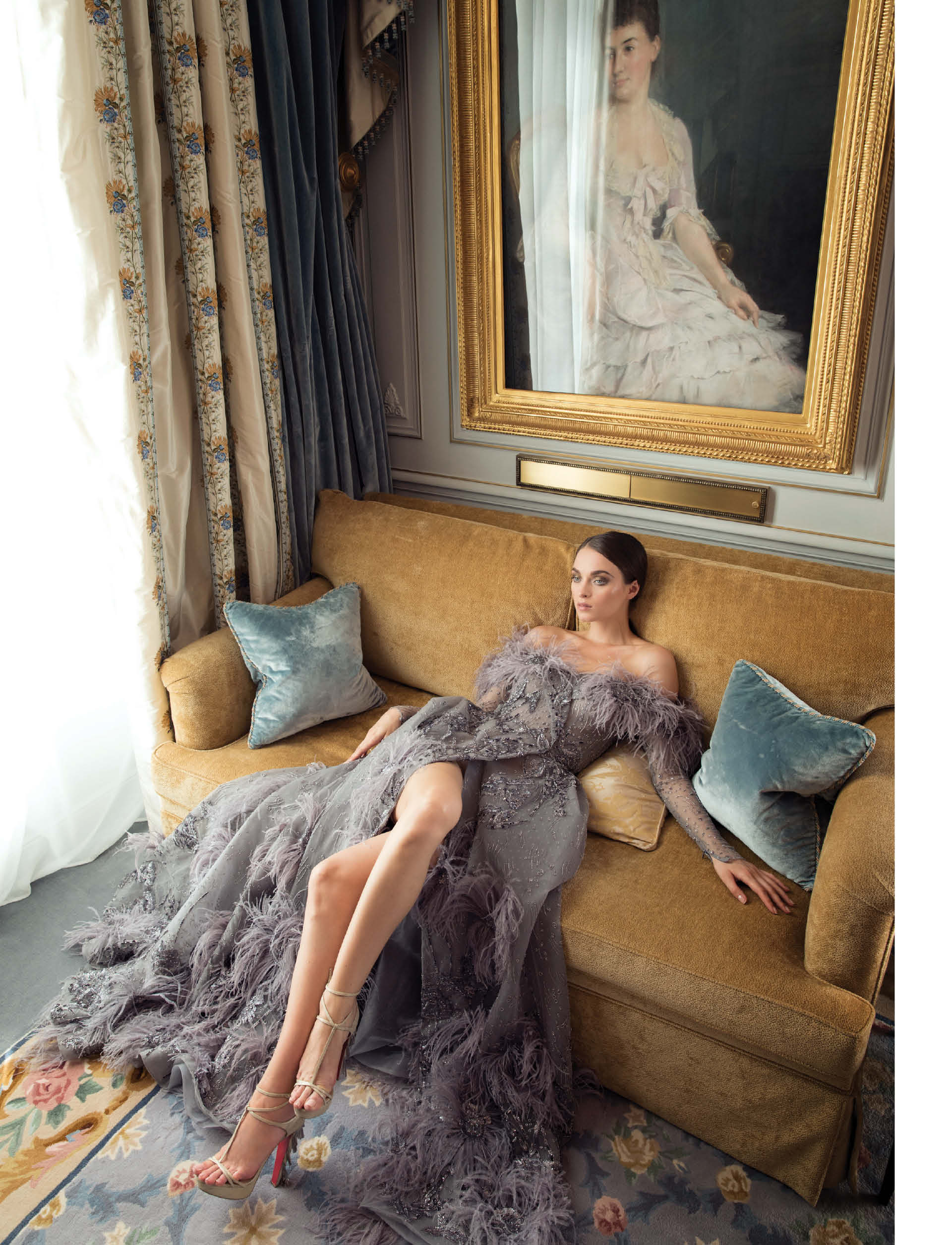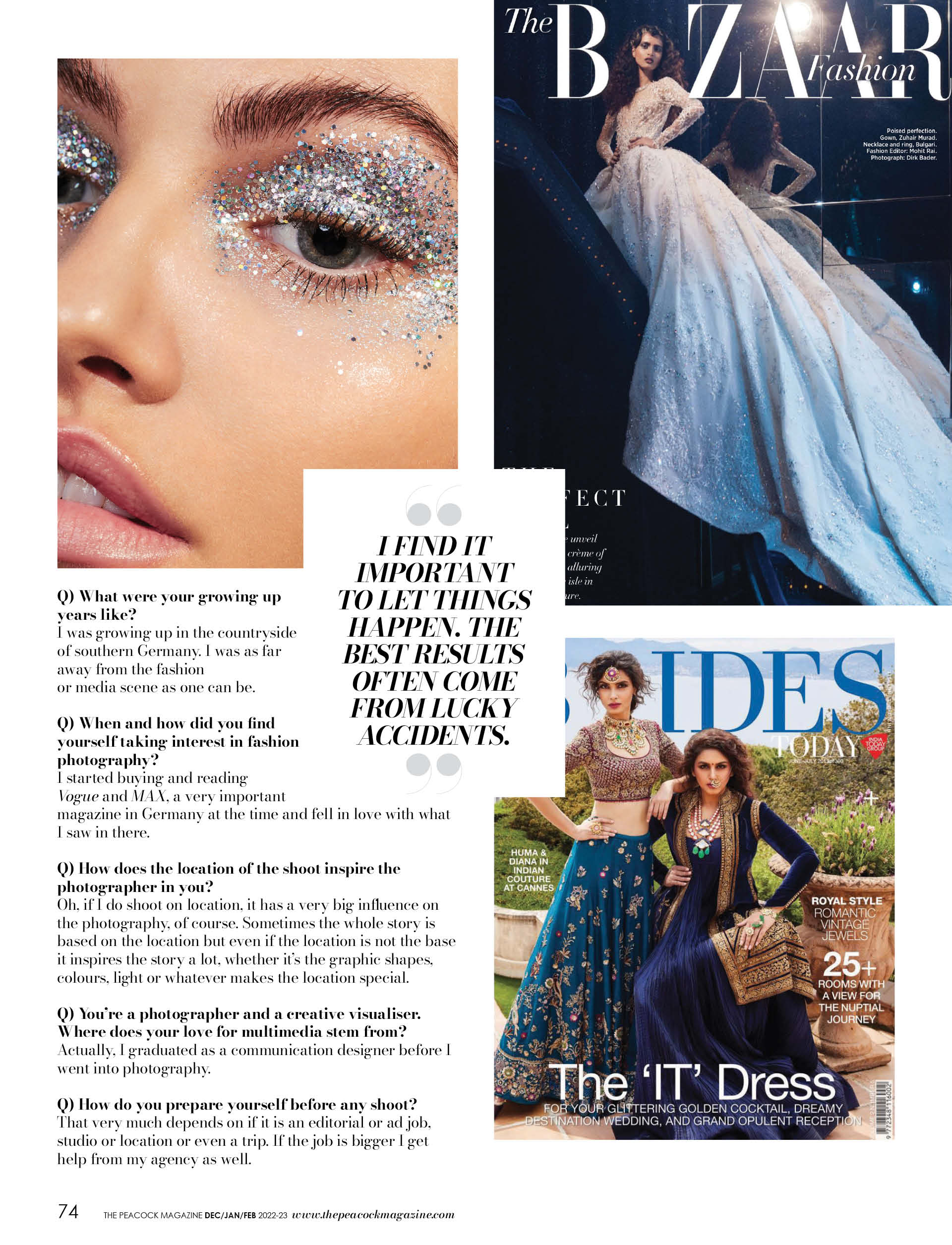 Q) What were your growing up years like?
I was growing up in the countryside of southern Germany. I was as far away from the fashion
or media scene as one can be.
Q) When and how did you find yourself taking interest in fashion photography?
I started buying and reading Vogue and MAX, a very important magazine in Germany at the time and fell in love with what I saw in there.
Q) How does the location of the shoot inspire the photographer in you?
Oh, if I do shoot on location, it has a very big influence on the photography, of course. Sometimes the whole story is based on the location but even if the location is not the base it inspires the story a lot, whether it's the graphic shapes, colours, light or whatever makes the location special.
Q) You're a photographer and a creative visualiser. Where does your love for multimedia stem from?
Actually, I graduated as a communication designer before I went into photography.
Q) How do you prepare yourself before any shoot?
That very much depends on if it is an editorial or ad job, studio or location or even a trip.
If the job is bigger I get help from my agency as well.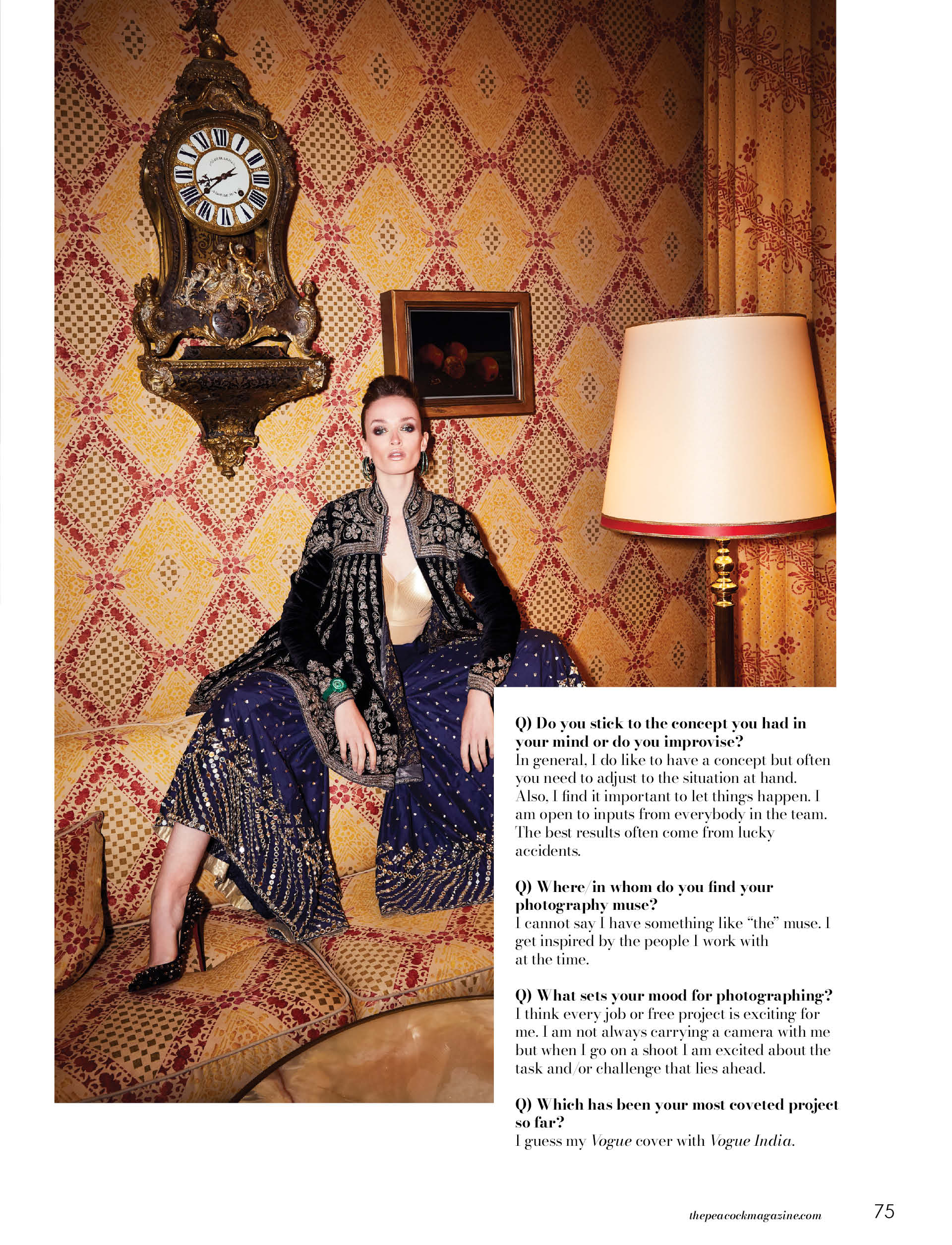 Q) Do you stick to the concept you had in your mind or do you improvise?
In general, I do like to have a concept but often you need to adjust to the situation at hand.
Also, I find it important to let things happen. I am open to inputs from everybody in the team.
The best results often come from lucky accidents.
Q) Where/in whom do you find your photography muse?
I cannot say I have something like "the" muse. I get inspired by the people I work with
at the time.
Q) What sets your mood for photographing?
I think every job or free project is exciting for me. I am not always carrying a camera with me but when I go on a shoot I am excited about the task and/or challenge that lies ahead.
Q) Which has been your most coveted project so far?
I guess my Vogue cover with Vogue India.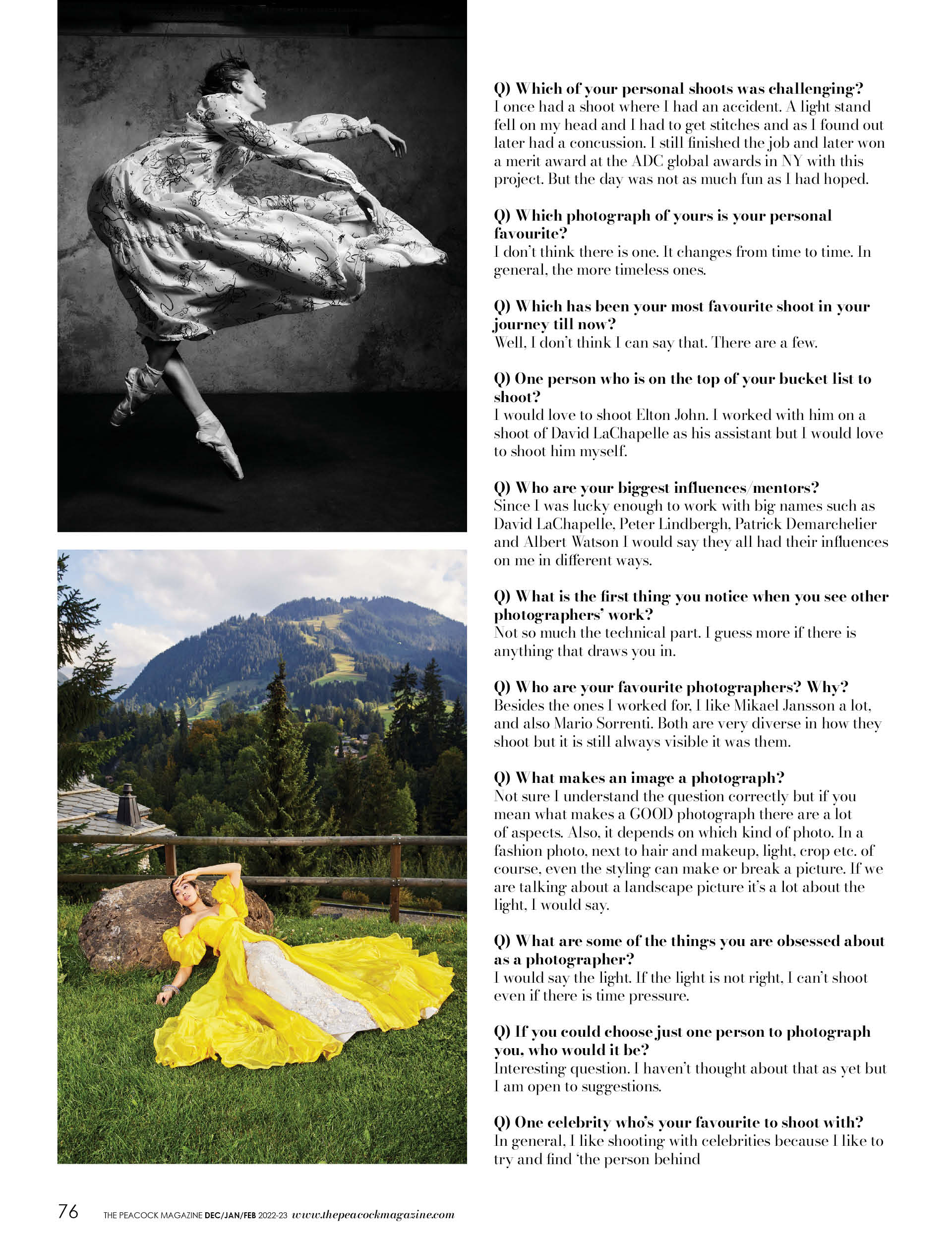 Q) Which of your personal shoots was challenging?
I once had a shoot where I had an accident. A light stand fell on my head and I had to get
stitches and as I found out later had a concussion. I still finished the job and later won a merit award at the ADC global awards in NY with this project. But the day was not as much fun as I had hoped.
Q) Which photograph of yours is your personal favourite?
I don't think there is one. It changes from time to time. In general, the more timeless ones.
Q) Which has been your most favourite shoot in your journey till now?
Well, I don't think I can say that. There are a few.
Q) One person who is on the top of your bucket list to shoot?
I would love to shoot Elton John. I worked with him on a shoot of David LaChapelle as his assistant but I would love to shoot him myself.
Q) Who are your biggest influences/mentors?
Since I was lucky enough to work with big names such as David LaChapelle, Peter Lindbergh, Patrick Demarchelier and Albert Watson I would say they all had their influences on me in different ways.
Q) What is the first thing you notice when you see other photographers' work?
Not so much the technical part. I guess more if there is anything that draws you in.
Q) Who are your favourite photographers? Why?
Besides the ones I worked for, I like Mikael Jansson a lot, and also Mario Sorrenti. Both are very diverse in how they shoot but it is still always visible it was them.
Q) What makes an image a photograph?
Not sure I understand the question correctly but if you mean what makes a GOOD photograph there are a lot of aspects. Also, it depends on which kind of photo. In a fashion photo, next to hair and makeup, light, crop etc. of course, even the styling can make or break a picture. If we are talking about a landscape picture it's a lot about the light, I would say.
Q) What are some of the things you are obsessed about as a photographer?
I would say the light. If the light is not right, I can't shoot even if there is time pressure.
Q) If you could choose just one person to photograph you, who would it be?
Interesting question. I haven't thought about that as yet but I am open to suggestions.
Q) One celebrity who's your favourite to shoot with?
In general, I like shooting with celebrities because I like to try and find 'the person behind
the public image' (doesn't always work though) as all of them have their own appeal.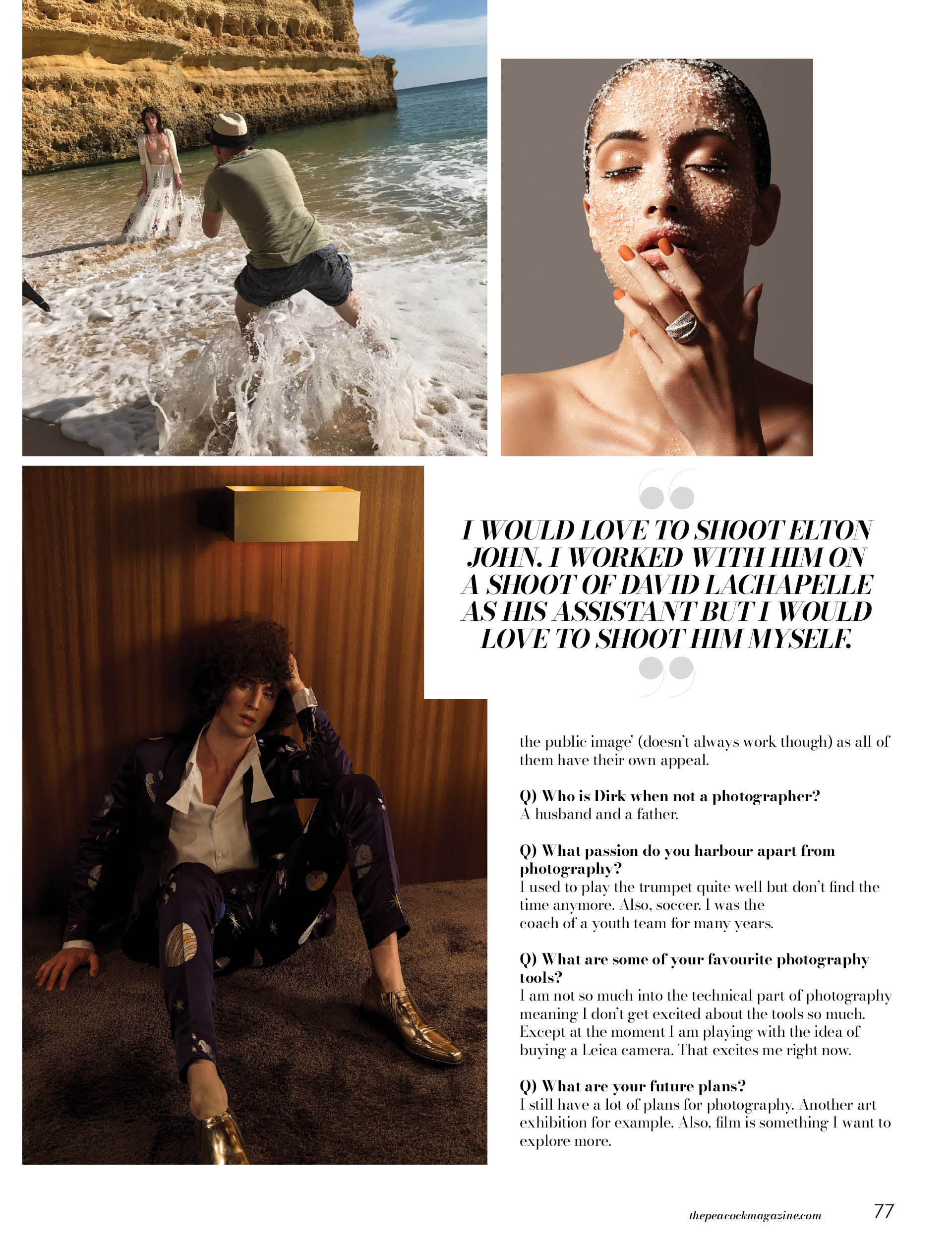 Q) Who is Dirk when not a photographer?
A husband and a father.
Q) What passion do you harbour apart from photography?
I used to play the trumpet quite well but don't find the time anymore. Also, soccer. I was the
coach of a youth team for many years.
Q) What are some of your favourite photography tools?
I am not so much into the technical part of photography meaning I don't get excited about the
tools so much. Except at the moment I am playing with the idea of buying a Leica camera. That excites me right now.
Q) What are your future plans?
I still have a lot of plans for photography. Another art exhibition for example. Also, film is something I want to explore more.