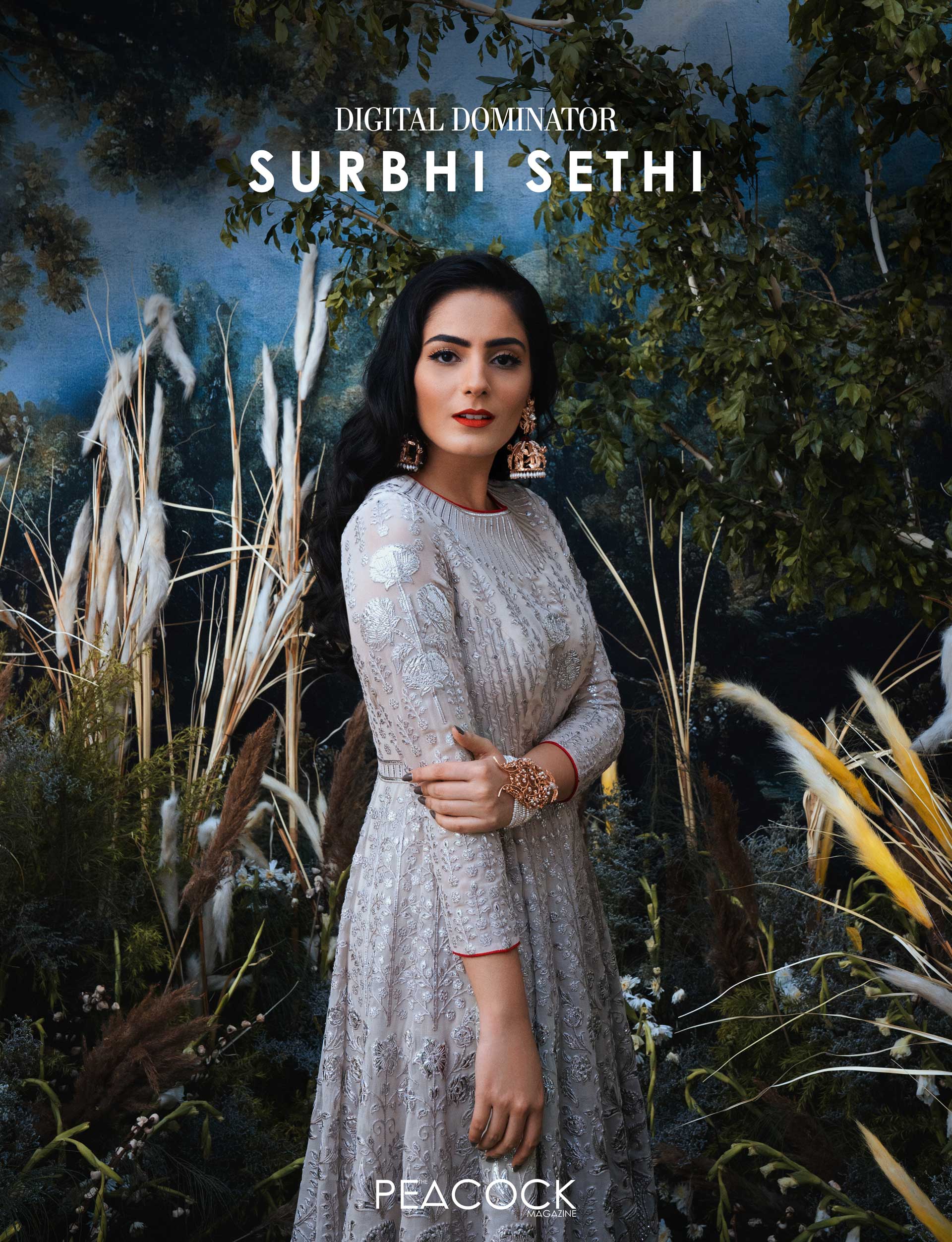 Curator of the blog, HeadTilt, Delhi bases influencer Surbhi Sethi has been channelizing all her creative musing through this platform since 2012. Fashion, beauty, travel, lifestyle, food and décor, she juggles between all these different beats to present innovative content for her followers. Her personal style is a balanced mix of western and traditional sensibilities, which she commendably executes on her Instagram. Apart from her official account, she also runs two specific accounts focusing on home décor and fashion runways, segregating the best of both worlds for her audiences. Sethi's popularity has been growing from strength to strength; she has successfully managed to find her voice and her aesthetic in this competitive field. As a part of the feature story for the May issue of The Peacock Magazine, Surbhi Sethi talks about the importance of social media and what a day in a blogger's life looks like.
1) WHAT IS THE DAY LIKE IN THE LIFE OF AN INFLUENCER?
"My days are very colourful to be honest, it's like every day is a different adventure altogether, there's no fixed routine. I start my mornings with frantic calls, Instagram post obviously and then it leads on to the shoots that are lined up, sometimes there are events, but all my days are fun in their own ways."
2) HOW DOES FEEL LIKE TO BE A WELL KNOWN INFLUENCER IN TODAY'S TIME?
"Well, I'm just full of gratitude, honestly when I started out thinking of it as a passion project, I had no idea I would be doing this and be recognized for my efforts, it's very humbling, it feels great and I can't be more thankful for all the opportunities and where I am today."
3) HOW HAS SOCIAL MEDIA CHANGED YOUR LIFE?
"Social media has had a lot of impact on everyone's life and just like everyone's life, it has had a positive and a negative impact on my life, mostly positive, obviously it has led to me taking blogging full time and I couldn't have been happier doing what I'm doing today. Sometimes it does get to you a little bit, there are days when I eat, sleep, breathe Instagram and I don't do anything else, that's there, but I've learnt to have my social media detoxes every once in a while where I just go off the grid for a couple of hours, a day, 2 days, whatever is required and then it works out just fine."
4) YOUR FAVOURITE MAKEUP TRICK?
"I have way too many, but a bold lip and winged eyeliner are my signature makeup moves."
5) YOUR GO-TO FITNESS ROUTINE?
"I'm a yoga person, so if you want to get a quick workout done, do a few suryanamaskars or go running, I love dancing as well.
6) WHAT YOUR CLOSET MUST HAVES?
"I'm a dress person, so definitely lots of dresses, especially in summers you can't do jeans and t-shirts it gets a bit much, it's too hot. Other basics like a white shirt, I can't do without my white shirt, a good pair of denim, for summers I prefer flared denim as skinny jeans are not my thing. Investment pieces, I like picking fewer things but quality things.
7) WHO IS YOUR FASHION INSPIRATION?
"I have too many inspirations honestly, it could be a friend, a celebrity, a fellow blogger, I find my inspiration in strong women who have a voice and an individual personalities.
8) A SOCIAL MEDIA TIP?
"Be real, and if you're trying to make a career on social media, learn how to be interactive, be nice to people and learn to develop a thick skin so you can get past all the trolls.
9) WHAT WOULD YOU LIKE TO SAY ABOUT THE ATTIRE YOU'RE WEARING TODAY?
"This outfit is literally a dream, so it's like love at first sight. I just tried it for the first time and it fit me like a glove, I'm wearing this colour for the first time, even the embroidery and everything else about this outfit is so unique, this is just pure love, I love everything about it.