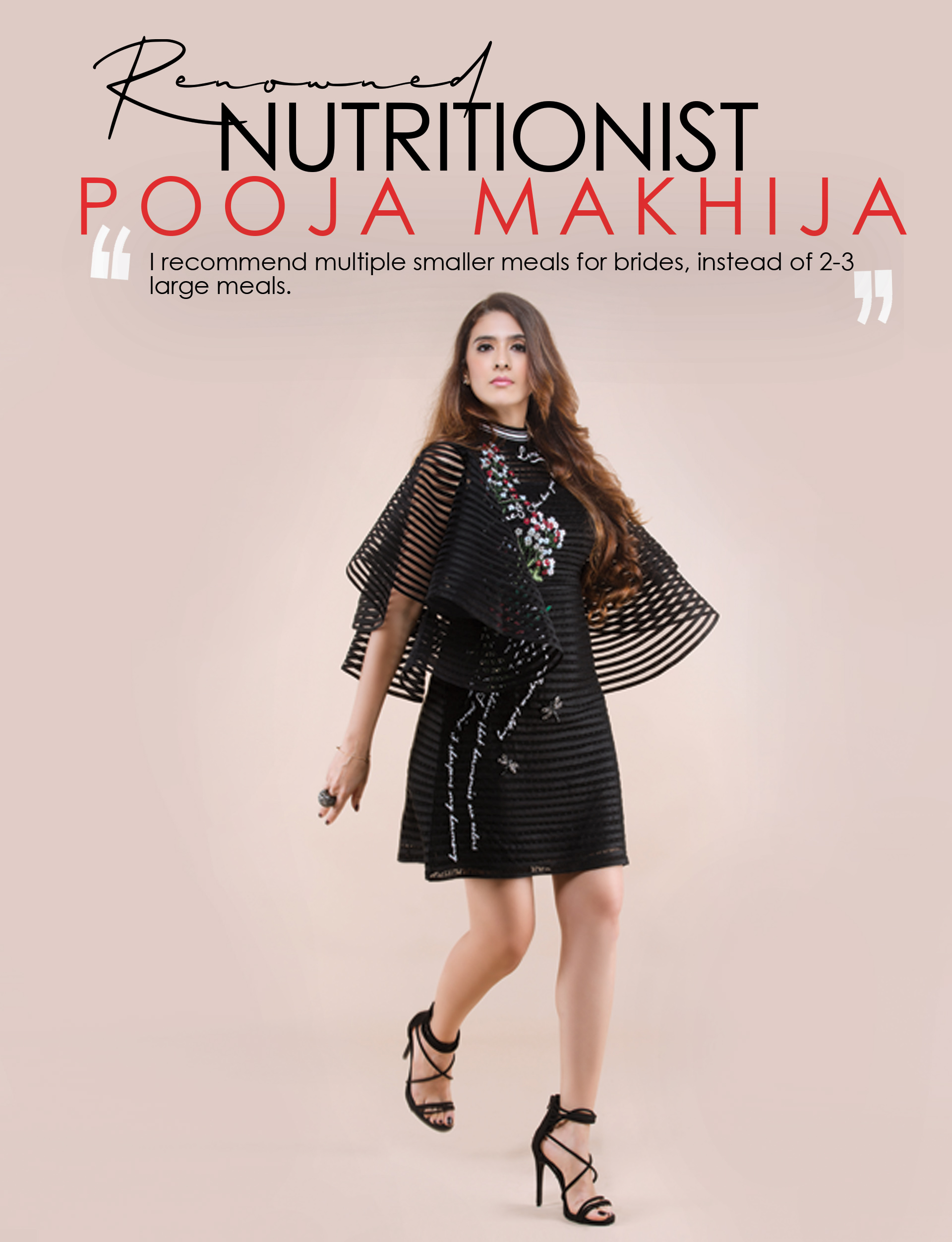 Celebrity nutritionist to celebrities like Deepika Padukone and Shahid Kapoor, Pooja Makhija is a renowned name in the business. With years of experience and health knowledge behind her, in a detailed conversation, Pooja busts some weight loss myths, while directing towards the right way to go about it.
1) WHAT ARE SOME MYTHS ABOUT LOSING WEIGHT WITH A DIET THAT YOU WANT TO BUST?
"The most important myth that I want to bust is that you have to give up eating in order to lose weight, or you have to starve in order to lose weight, or you have to reduce the amount of food you eat in order to lose weight, that's the wrong way to go about it. If you under-eat the right food at the right time, you will end up eating the wrong food at the wrong time, and that weight loss is never a sustainable weight loss. So, if any type of diet that makes you cut-down most of the food you eat or eat lesser is non-sustainable, if you aren't able to sustain the path you took to lose the weight, you will never be able to maintain it. You are only playing with your health if you are going to give up on a lifestyle approach and starve yourself."
2) HOW LONG BEFORE WOULD YOU SUGGEST BRIDES BE ON A DIET BEFORE IT GETS EFFECTIVE?
"I would say, if they have 6 months in hand it would be a great buffer, 6 months will give them enough time to lose the weight if they do extremely well, sustainable amount of fat loss, and not lose their hair or make their skin wrinkly, or make their PMS bad. So, 6 months is a good time frame, to do it the right way. Usually, when they have a limited amount of time, they do short-cuts, and they always land up in trouble."
3) WHAT ARE SOME DIETARY DOS AND DON'TS THAT YOU WOULD RECOMMEND FOR BRIDES FOR GOOD SKIN?
"I would recommend you to have 3-4 servings of vegetables every day, at least 2-3 servings of fruits every day, I would also recommend you to have a glass of raw vegetable juice every day. This vegetable juice should have a minimum of 3 colours of vegetables induced, mixed in a blender, with a little bit of water, blend it, strain it, put 50 % of the roughage back into the blender, add a squeeze of lime, salt and pepper, and slurp it down. It would be a good combination in this weather, to add a piece of ginger, a piece of fresh haldi is really good as an antiseptic, it is very good for people who have acne problem, it is also very good for people who have constant cold and sinus problems, it helps you build your immunity and also helps you improve your skin. Drink at least 8-10 glasses of water every day; these are some important things to do for good skin."
4) A LOT OF PEOPLE ARE FOLLOWING KETOGENIC DIETS, DO YOU ENDORSE IT?
"No, I don't, because I find it be a very difficult diet to sustain, I believe if you take a certain path, to attain a certain weight that is unsustainable, the result is not going to be sustained. If you want to be able to maintain the weight loss even after you get married, you need to follow a path that is sustainable and for that, you need a healthy eating plan."
5) BRIDES TEND TO TAKE SHORTER ROUTES IN ORDER TO LOSE WEIGHT, WHAT WOULD YOU SUGGEST FOR A MORE LONG-LASTING EFFECT? AND HOW CAN THEY MAINTAIN THEMSELVES?
"That's exactly what I said above, if you want a long-lasting effect, the path you take for weight loss also has to be sustainable in the long run. So if you are going to give up on major food groups like carbs, or fruits, how long will you be able to do that for? And the moment you break the pattern, all the results you got from it, will go for a toss. If you want it to be everlasting, then the route you take should also be practical.
6) WHAT ARE SOME ALTERNATIVES TO JUNK EATING DURING WEDDING STRESS?
"You need to keep hunger at bay, if you're going to be hungry, for e.g, if you're planning to not have carbs for dinner and you're not full, you will later reach out for whatever you junk you get, because you're hungry. But if your stomach is full, and if you're eating the right food at the right time, you won't land you eating the wrong food at the wrong time. If your stomach is constantly full stress or not, you are not going to reach out for food, it's only when we are hungry, stress makes us reach out for food."
7) FOR BRIDES WHO RIGOROUSLY EXERCISING, WHAT ARE SOME AT HOME LIFESTYLE CHANGES WOULD YOU SUGGEST?
"So if you're working out rigorously at the gym, you need to back it up with a good diet. Just because you're sweating it out at the gym, doesn't mean you can eat anything and everything that will nullify your hard work. Eat wisely, don't over-eat but also don't under eat, because otherwise, you will end up losing muscle. So you have to eat, don't deliberately under eat because then your body will go into the starving mode and you will lose your muscle. If your expenditure is good, make sure your intake is also good, adequate to your BMR (Basal metabolic rate) which can be calculated online, so according to your BMR you need to eat right. I don't recommend 2-3 large meals, I recommend multiple smaller meals instead, your appetite also stays in control, your sugar levels are balanced and you will be in a good mood, which will help you plan your whole wedding stress-free."
8) PEOPLE WHO WANT TO LOSE WEIGHT CAN OFTEN GET OFF TRACK. WHAT WOULD YOU SUGGEST TO KEEP THEM MOTIVATED?
"To keep small goals, if the idea is to be 20kgs lighter before I get married, that feels like a huge task, if you keep smaller goals you tend to achieve them and are less bound to be frustrated. For example, if you say every month you want to lose x amount of weight, so you set yourself up for a smaller goal, and lesser disappointment, and if you still don't match your goal, cut yourself some slack, you're only human. There are going to be highs and there are going to be lows, and at the end of the day, you still want to look gorgeous on your big day, and not harrowed, troubles and stressed. If you are 1-2 kg's heavier than what you planned to be, it's not the end of the world, you will still look as stunning as ever, but if you're going to be worked up about it, paranoid and disheartened, you will not be able to enjoy your own wedding. I suggest you do your best and your body will give you the best, don't get stressed because that is only going to counteract all the good that you've done."
9) SUPERFOODS YOU SUGGEST THAT HELP IN WEIGHT LOSS?
"I don't believe in any super-food that helps in weightless, good food helps in weight loss. There is no one such magical food that you will eat and it will help you lose weight, it's a whole balanced array of nutrients that help you lose weight. Have sufficient amount of proteins, carbs, vitamins, minerals; there is no one quick-fix that will help you lose weight. That's a shortcut and a gimmick most people get lured into, no such things work. What works is, long lasting nurturing of your beautiful body, because whatever has shortcuts has short results. I don't believe in them."
10) WHAT SORT OF A DIET PLAN WOULD YOU RECOMMEND FOR BRIDES TO BE?
"A general diet cannot be recommended because that would be very vague, it depends on the person's metabolic rate, body type if they're overweight, massively overweight if they have PCOD, hormonal imbalance, no one diet can be right for all of them. But like I suggested, drink enough water, have a glass of vegetable juice, consume fruits and vegetables, these are all small ingredients that work towards a big lifestyle change. There is no blanket diet."