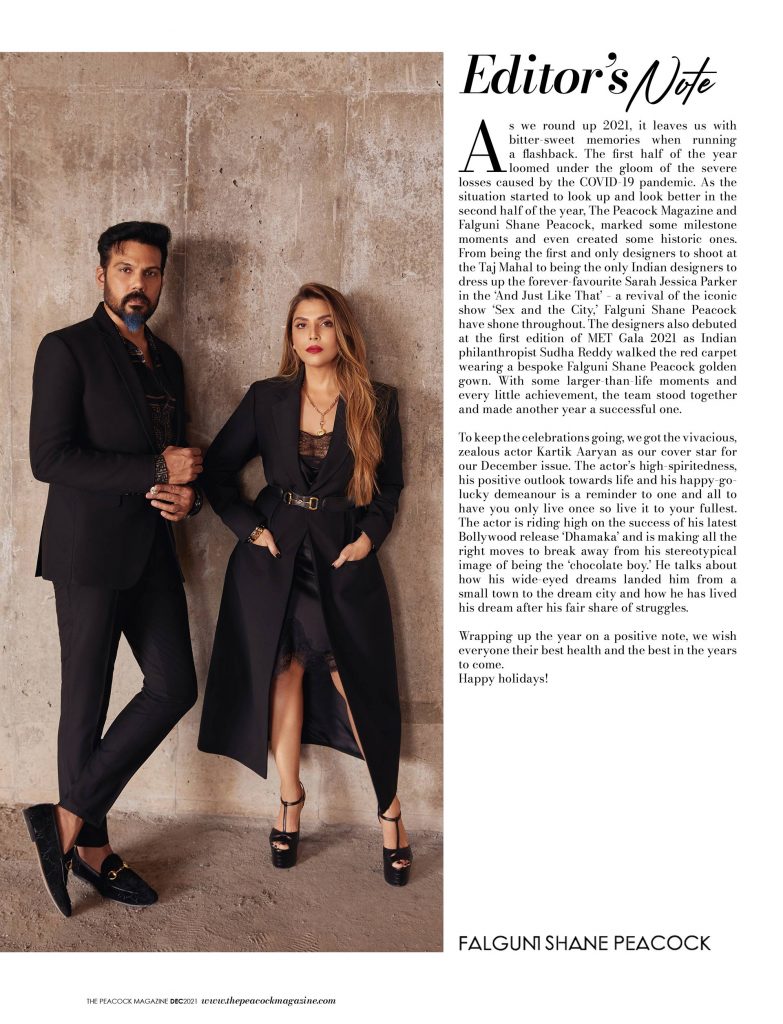 DECEMBER 2021 | EDITORS NOTE
As we round up 2021, it leaves us with bitter-sweet memories when running a flashback. The first half of the year loomed under the gloom of the severe losses caused by the COVID-19 pandemic. As the situation started to look up and look better in the second half of the year, The Peacock Magazine and Falguni Shane Peacock, marked some milestone moments and even created some historic ones. From being the first and only designers to shoot at the Taj Mahal to being the only Indian designers to dress up the forever-favourite Sarah Jessica Parker in the 'And Just Like That' – a revival of the iconic show 'Sex and the City,' Falguni Shane Peacock have shone throughout. The designers also debuted at the first edition of MET Gala 2021 as Indian philanthropist Sudha Reddy walked the red carpet wearing a bespoke Falguni Shane Peacock golden gown. With some larger-than-life moments and every little achievement, the team stood together and made another year a successful one.
To keep the celebrations going, we got the vivacious, zealous actor Kartik Aaryan as our cover star for our December issue. The actor's high-spiritedness, his positive outlook towards life and his happy-go-lucky demeanour is a reminder to one and all to have you only live once so live it to your fullest. The actor is riding high on the success of his latest Bollywood release 'Dhamaka' and is making all the right moves to break away from his stereotypical image of being the 'chocolate boy.' He talks about how his wide-eyed dreams landed him from a small town to the dream city and how he has lived his dream after his fair share of struggles.
Wrapping up the year on a positive note, we wish everyone their best health and the best in the years to come. Happy holidays!