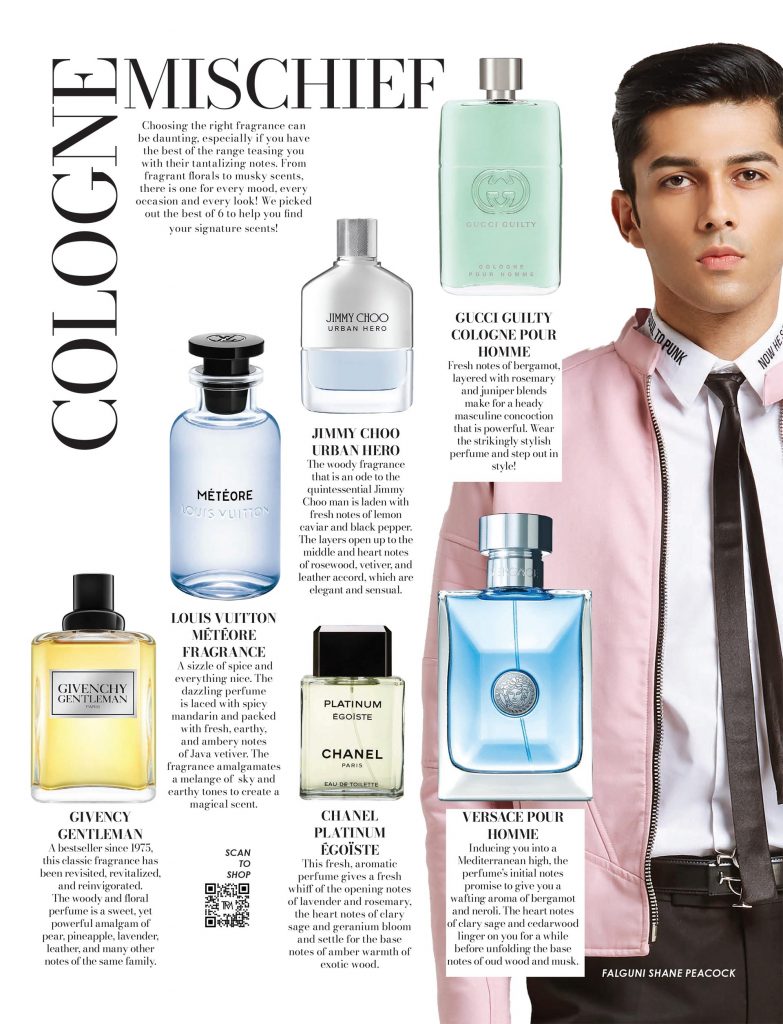 Choosing the right fragrance can be daunting, especially if you have the best of the range teasing you with their tantalizing notes. From fragrant florals to musky scents, there is one for every mood, every occasion and every look! We picked out the best of six to help you find your signature scents!
1) Gucci – Fresh notes of bergamot, layered with rosemary and juniper blends make for a heady masculine concoction that is powerful, thanks to the contemporary twist the brand has introduced. Wear the strikingly stylish perfume and step out in style!
2) Jimmy Choo – The woody fragrance that is an ode to the quintessential Jimmy Choo man is laden with fresh notes of lemon caviar and black pepper. The layers open up to the middle and heart notes of rosewood, vetiver, and leather accord, which are elegant and sensual.
3) LV – A sizzle of spice and everything nice. The dazzling perfume is laced with spicy mandarin and packed with fresh, earthy, and ambery notes of Java vetiver. The fragrance amalgamates a melange of sky and earthy tones to create a magical scent.
4) Givenchy – A bestseller since 1975, this classic fragrance has been revisited, revitalized, and reinvigorated. The woody and floral perfume is a sweet, yet powerful amalgam of pear, pineapple, lavender, leather, and many other notes of the same family.
5) Chanel – If strong, assertive, and heady is your vibe, this fresh, aromatic, and distinctly modern perfume is just what you need. After the fresh whiff of the opening notes of lavender and rosemary, the heart notes of clary sage and geranium bloom and settle for the base notes of amber warmth emanating from exotic wood.
6) Versace – Trust this one to induce you into a Mediterranean high! The perfume's initial notes promise to give you a wafting aroma of bergamot and neroli. The heart notes of clary sage and cedarwood linger on you for a while before unfolding the base notes of oud wood and musk.