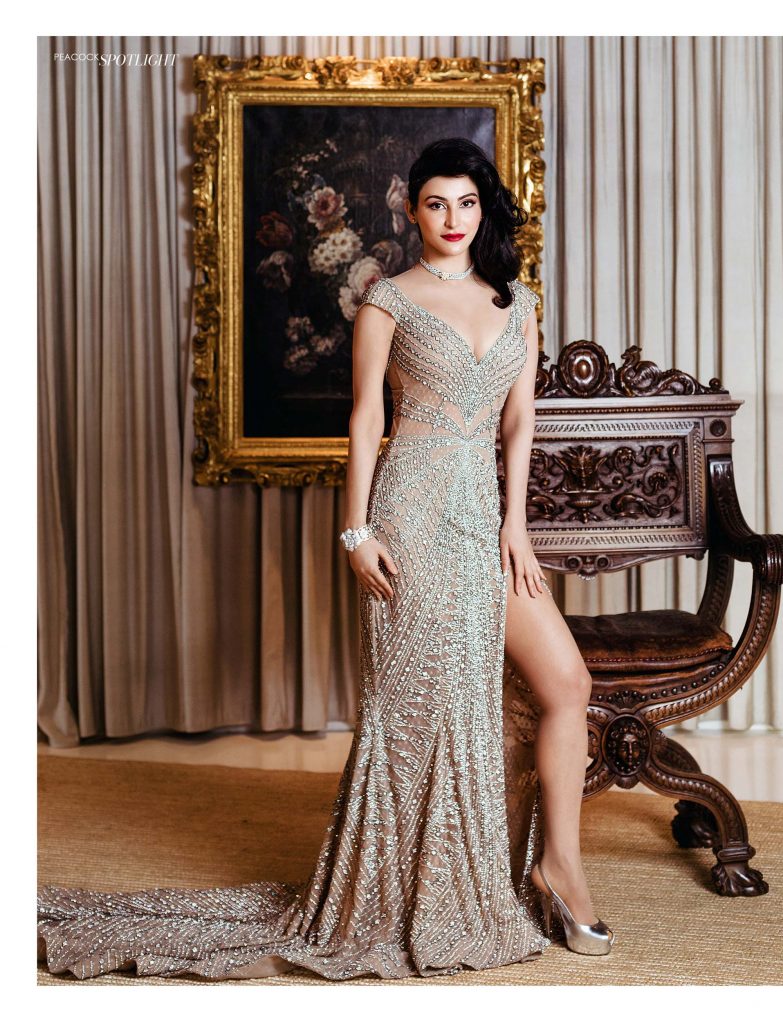 CLASSY CONNOISSEUR
PHILANTHROPIST | ART COLLECTOR & PATRON
In a tête-à-tête with this wonder woman, she tells us more about the unknown facets of her, her immense love for art, and the fashionista in her.
Credits-
Photography- Nayantara Parikh
Jewellery – Hazoorilal Sandeep Narang
Styling – Nupur Mehta Puri
Production – N2root
Clothing – Falguni Shane Peacock
"Art enables us to find ourselves and lose ourselves at the same time." – Thomas Merton
Merton was right. Who made him right is the woman who has our respect for noiselessly taking art to heights that were earlier unimaginable. Yes, we are talking about Shalini Passi. The world may breezily call her a 'connoisseur,' but for those who have a relationship with art, she's that activist who has selflessly used art as a means to make greater things happen.
Passi, apart from being the creative director of the Pasco group of companies, is an art collector and an Indian Art Patron, and a philanthropist. She was born with an eye for art, laying them only on exquisite, coveted artworks. An avid art collector that she is, her collection comprises of works by Indian contemporary artists including Riyas Komu, M. F. Husain, Anita Dube, Zarina Hashmi, Subodh Gupta, Atul Dodiya, and Bharti Kher amongst others. Not many know that in 1993, M. F. Husain painted one of his pieces in at Shalini's house, and the painting has ever since held a special place in her abode. Adjacent to the painting is a picture of Husain being engrossed in his art while business tycoon Ratan Tata sits and admires the noted artist.
Her 'all-embracing' taste in art put her as an eminent member of the Advisory Board of Khoj (the not-forprofit contemporary arts organization based in Delhi) since 2012. She is also the Patron of FICA (Foundation of Indian Contemporary Art) and an important Patron of the Kochi-Muziris Biennale. Furthering her ambition if art, she set up 'The Shalini Passi Art Foundation' and MASH, to encourage artists from all walks of life and take art to newer avenues. Shalini is also a noted philanthropist who has been actively participating in getting the underprivileged children of Delhi educated for a decade. She is also known to support 'The Delhi Society for the Welfare of Special Children.'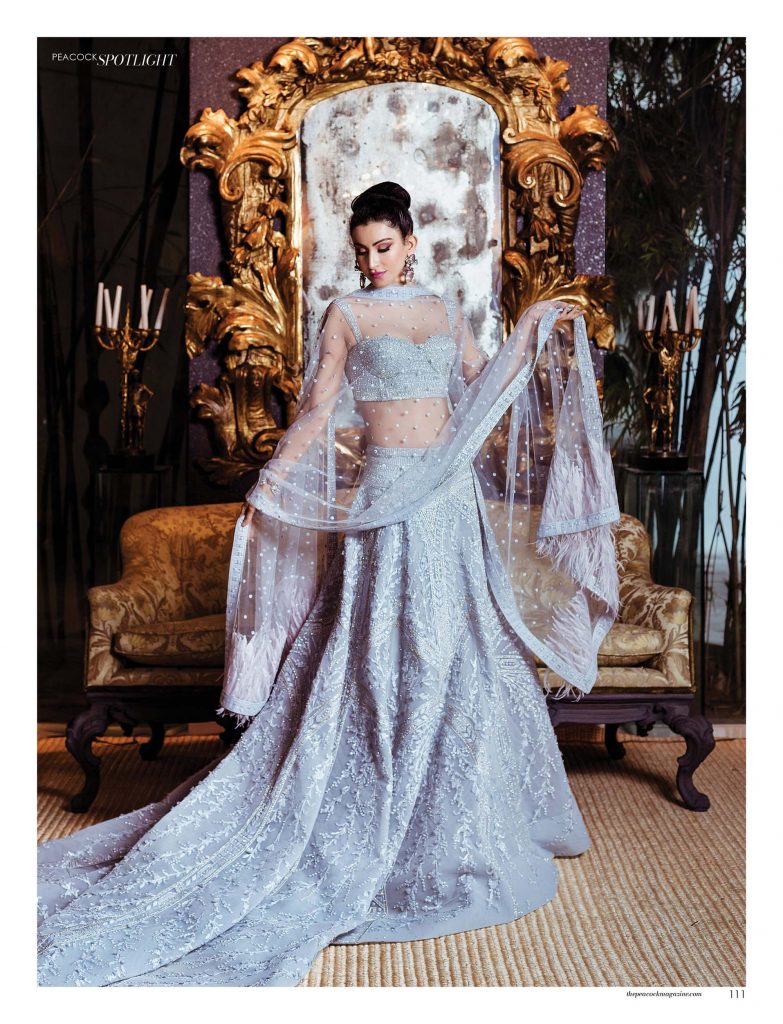 [Q] WHAT IS YOUR EARLIEST MEMORY OF ART?
"My earliest memory of art is of a landscape painting by my father – black and white with fir trees – produced in oil on canvas.
[Q] WHAT WAS THE FIRST PIECE OF ART THAT YOU COLLECTED? WHAT LED YOU TO ACQUIRE IT?
"The first piece of art was not collected as such but gifted to me. It was a portrait of me by Manjit Bawa, who was a friend of my art teacher at Modern School. I think that this is probably the first piece of art that I owned.
[Q] DID YOU STUDY ART?
"I studied painting at school, working in watercolors, oils, and acrylics, as well as drawings in charcoal too.
[Q] HOW WOULD YOU DESCRIBE YOURSELF AS AN ART COLLECTOR?
"I am not just a collector of art; I also collect design, as well as fashion, so in that way, my collection is highly eclectic.
[Q] DOES EACH OF THE ART PIECES IN YOUR COLLECTION HAVE A STORY BEHIND IT? IS IT NECESSARY FOR ANY PIECE TO HAVE A STORY TO MAKE IT SPECIAL?
"Yes, of course, nearly all of the works have a story behind them, whether it is how I encountered the work, how the work moved me, or how it was procured.
[Q] HOW YOU MAINTAIN ALL YOUR ART PIECES?
"Many of the art pieces are in different mediums; for example, my collection includes everything from hemp to velvet, to metal, which means that each has different requirements for its care and preservation.
[Q] HOW DID THE TRADITION OF AN ARTISTS' LUNCH BEFORE THE 'INDIA ART FAIR' BEGAN? WHAT DO YOU LOOK FORWARD TO AT THIS LUNCH GET-TOGETHER?
"For many years I hosted a dinner the night before India Art Fair, which would invariably last late into the evening, and could be very exhausting the next day – especially when I wanted to be up and about at the Fair itself or needed to host an international museum group in the day. So I decided that it would be better for me to host a lunch the day before the Fair instead, and it's been a great success ever since.
[Q] DO YOU COLLECT PIECES OF EMERGING ARTISTS? WHAT DO YOU LOOK FOR WHILE SELECTING THEIR ARTWORK?
"Yes, I absolutely do collect the work of emerging artists. The work has to be meaningful and has to speak to me. It has to be executed to a very high standard. I also look at the background of the artist – their education, how long they've worked for, and where they've exhibited.
[Q] WHAT HAPPENS TO THE PAINTINGS YOU REPLACE DURING SPRING CLEAN?
"Everything is either covered or packed during cleaning. These works are precious to me, and I am careful to take extremely good care of them.
[Q] WHAT ARE SOME ART PIECES THAT ARE CLOSE TO YOUR HEART?
"I'm particularly fond of Anita Dube's work, notably her installation 'The Theatre of Sade', which is about the triumph of will. It is an extremely powerful piece.
[Q] IF YOU HAD TO PICK ONE ULTIMATE FAVORITE ART PIECE FROM YOUR HOME DÉCOR, WHICH WOULD THAT BE?
"For me, art is not a piece of home decor – art is the soul of architecture! It is not merely about decorating a space, but about bringing it to life. Art brings meaning to life for me.
[Q] TELL US ABOUT 'THE SHALINI PASSI ART FOUNDATION'?
'The Shalini Passi Art Foundation' endeavors to create a new paradigm for artistic expression in India, by supporting, educating and encouraging experimental new practices in the field of arts – including art, craft, design, architecture, fashion and jewellery – that take inspiration from India's rich cultural traditions to create a contemporary aesthetic for the region.
[Q] HOW DO YOU LEVERAGE YOUR PASSION FOR ART TO SUPPORT THE CAUSES YOU CHAMPION?
"We've recently launched an online magazine called MASH Mag, which includes: interviews with artists, designers, and architects from all over the world, exhibition reviews, upcoming exhibition listings, and a guide to museums, galleries, and events around the world. The idea is to make arts writing more accessible, and we will continue expanding the content so that it is more inclusive, inspiring, and influential.
[Q] YOU ARE ASSOCIATED WITH THE 'THE DELHI SOCIETY FOR THE WELFARE OF SPECIAL CHILDREN.' COULD YOU TELL US MORE ABOUT IT?
"We have been supporting 'The Delhi Society for the Welfare of Special Children,' run by Chitrangada Raje, which is for children with learning difficulties. I was greatly moved by the way that the school is being run and the way in which they support the children, which is why we decided to support them. We have been supporting them for some time now, and it is very encouraging to see the positive impact that the organization has had in this time.
[Q] YOU HAVE BEEN INCULCATING ART AND CRAFT EDUCATION TO THE UNDERPRIVILEGED CHILDREN ACROSS DELHI FOR A DECADE NOW. IN FUTURE, HOW DO YOU PLAN TO TAKE THIS A STEP FURTHER?
"We have been educating children across Delhi for a decade now. It's a very simple plan but extremely effective. This is an ongoing project that we want to continue so that we can keep on educating more children in the same field.
[Q] WHAT IS YOUR FAVORITE ART EVENT OF THE YEAR?
"My favorite art event of the year would have to be the India Art Fair, which happens in January each year. I've been actively involved in the Fair for many years now, and last year MASH curated a booth for the first time, supported by The Shalini Passi Art Foundation. The Fair is the country's largest commercial arts platform and it has been instrumental in fostering the growth and development of the contemporary Indian art world – as such, it is an extremely important event to me.
[Q] WHO IS YOUR BIGGEST INFLUENCE AS A PHILANTHROPIST?
"As a philanthropist, I have been very inspired by JRD Tata and the whole of the TATA group. I think that they have done incredible work in terms of philanthropy. Of course, in the US, they are at a different level altogether as philanthropy in this region is much more structured and developed, and it is something from which we can learn a great deal.
[Q] HOW ART-FORWARD ARE WE AS A NATION?
"As a nation, we need to do a lot more to make art accessible to younger generations. Firstly, we need to improve the quality of and access to art education significantly. India is a culturally rich country, but we need to educate more people in this heritage of art, culture, and design, and allow them to be more creative in their learning. This shouldn't be exclusive; it should be able to percolate to all levels.
[Q] WHEN NOT AN ART COLLECTOR, PHILANTHROPIST, ARTIST, WHO IS SHALINI PASSI?
"When I am not an art collector, philanthropist, and an artist, then I am a dancer, I am a creator. I think creative people find ways to channel this energy into everything that they do. I love to try different things, so for me, traveling, learning, and discovering new things is always very exciting. I have many different interests, so the only real challenge is finding the time to fit it all in!
[Q] WHAT IS YOUR ADVICE TO UPCOMING ART COLLECTORS IN INDIA?
"My advice to upcoming art collectors in India would be that you must visit galleries, study the artist's work, and even visit the artist studio – if possible – to have a conversation and engage with them directly. I read a lot of art books, and there is so much information readily available online right now that it is easy to find and look through. Ultimately, I think the best advice to any art collector is to go by their own eye. I have never taken anybody's advice on the pieces that I collect or the clothes that I wear. Art, design, and fashion are very personal things, so I think it's important to go with your instinct.
[Q] AS A KEY PATRON, WHAT ARE YOUR PLANS FOR THE NEXT EDITION OF KOCHI-MUZIRIS BIENNALE?
"Kochi will next be happening in 2020, and we are speaking with the team at present about our participation. Kochi is often referred to as the "People's Biennale," created to open up an artistic appreciation for all, and that is exactly what we seek to do through 'The Shalini Passi Art Foundation.' Kochi's grassroots support of new and experimental art practices, which is also very much in keeping with the work of MASH – so I think we are very much aligned in our vision and our mission.
[Q] WHICH ARE YOUR TOP THREE ART DESTINATIONS?
"My top three art destinations would be Paris, London, and Berlin. They have been creative hubs for decades, if not centuries, and continue to show exciting and inspiring work today.
[Q] HOW WOULD YOU DESCRIBE YOUR STYLE?
"I've always tried to style myself with something that I am very comfortable wearing. It's a very personal style; it's not based on the latest catwalk shows or the trends that everybody is wearing. It usually comes from what everybody is not wearing; I prefer not to be in the fashion race. My style is often classic and usually fun; it's very eclectic, just like my personality.
[Q] TELL US ABOUT YOUR FIRST FASHION MEMORY.
"My fashion memory is as a child looking at pictures of my mother and my aunt in their most elegant clothes, sometimes their beautiful chiffon sarees, or dressed in white trousers and white polo necks in the 70s. I love that look! I think my mum is one of the most stylish people I have known.
[Q] HOW DO YOU DECIDE WHAT LOOKS WORK FOR YOU? OR DO YOU RESORT TO A STYLIST'S CHOICE?
"Just like my art and my home, I have never worked with a stylist. I decide my own looks and my clothes. If I'm going out to an event, then I always keep two or three options, and by the evening, I decide what I feel like wearing – what colors and what style. It mostly depends on how I feel at the moment, as well as what is fitting for the occasion.
[Q] WHAT IS YOUR FAVORITE HACK FOR THE RED CARPET?
"Classic always works for the red carpet. I often like to wear something in white, as it's striking and stands out in the setting. I love bold jewellery also. It completes the look and adds to the glamour of the night.
[Q] WHAT'S YOUR FAVORITE FASHION TREND?
"I tend not to follow trends, but if I had to pick one, I would say big earrings. I am really enjoying these at the moment.
[Q] WHAT'S THAT ONE FASHION TREND YOU'D NOT DARE TO BE SEEN IN?
"That would be green color probably, a neon green, I guess.
[Q] WHAT IS YOUR FAVORITE PERFUME?
"I am allergic to perfumes, so I don't wear perfume.
[Q] WHAT ARE YOUR WARDROBE STAPLES?
"My favorite wardrobe staples would be lots of whites and off-whites. You'd be surprised how many different shades there are!
[Q] WHAT WOULD YOU CHOOSE – VINTAGE AND CLASSIC OR LATEST OFF THE RUNWAY AND TRENDY?
"I would choose all, actually. I do wear a lot of vintage clothing, which is handed from my mom and my grandmother's closet, as well as vintage jewellery. But I'm always updating my wardrobe and mixing contemporary pieces into these looks.
[Q] DO YOU SPLURGE WHILE SHOPPING? WHAT ARE SOME ITEMS THAT ARE TOTALLY WORTH THE OVERSPEND?
"Yes, I do sometimes splurge while shopping. A welltailored jacket or a beautiful dress in a luxurious fabric that drapes perfectly is always worth it..
[Q] DO YOU WEAR YOUR FAVORITE PIECE TILL ITS DEATH? IF YES, WHAT WAS THE LAST PIECE YOU WORE TILL IT RAGGED?
"I care for my clothes as I care for my art, so I have many dresses and gowns that I have kept for a number of years and are still in great condition. That is also the beauty of good tailoring and high-quality textiles.
[Q] ARE YOU A CLOSET EDITOR OR CLOSET BUILDER?
"I would consider myself both; there are times when I take out everything and have a spring clean, but of course I am always building my wardrobe of beautiful clothes, shoes, and accessories – I am a collector at heart!
[Q] ONE PERSON WHOSE WARDROBE YOU WOULD LIKE TO BUY OUT.
"I think this would have to be Queen Victoria. She was such an incredible patron of the arts and appreciated many forms of creativity.