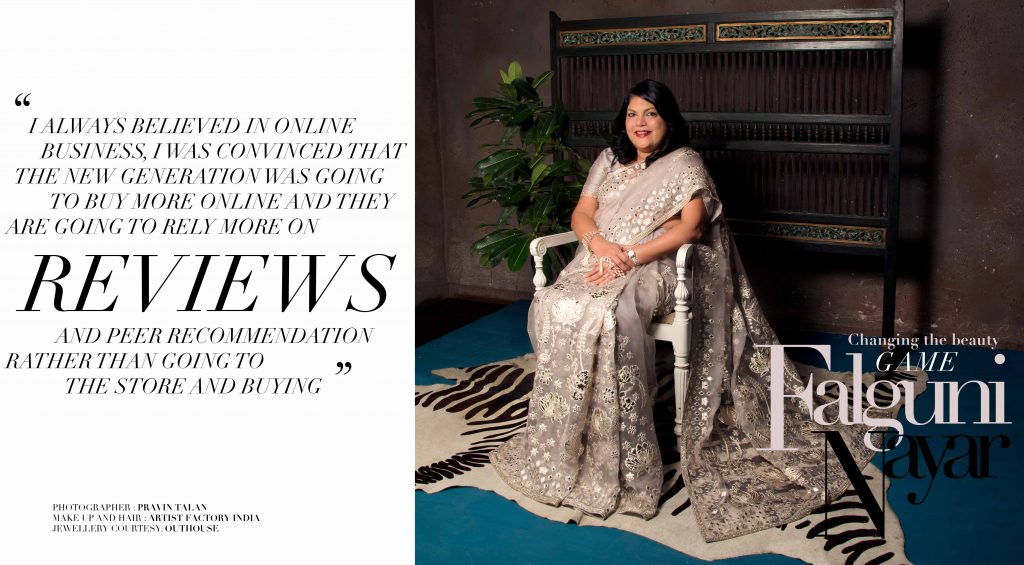 CHANGING THE BEAUTY GAME
Former investment banker and the current beauty Moghul of India, Falguni Nayar is the brain power behind the successful beauty and skin-care site Nykaa.com. Nayar has single handedly changed the face of beauty business in India. Having an 18 year long career as a former banker has helped Falguni strategize the module of Nykaa differently from an entrepreneurial perspective. From popular luxury brands like Estee Lauder to home grown beauty labels like the forest Essentials and Lakme are all available on the same portal, crediting the sheer genius of this boss lady. Her idea was to bridge the gap between Indian women and their love for all things beauty.

Having said that, Nykaa has also managed to develop an independent beauty brand to cater to the mass audience. Their cosmetic, skin-care and perfume ranges have been a huge hit with the consumers. The in-house venture is a definite knockout. Her strategy was to create a brand that is trustworthy and has all the qualities to stand independently as a retail label in this cut-throat beauty sector. After making the bestselling Middle Eastern beauty brand, Huda Beauty, finally available for the Indian buyer, Falguni has her sight on Benefit Cosmetics to be the next big thing on Nykaa. In a recent interview with us, the humble head honcho spoke about her desire to see Ayurveda based brands on the global map and the story behind naming the online site 'Nykaa'.
[Q] INDIA'S ONLINE MARKET IS STILL GROWING, WHY DID YOU CHOOSE TO GO ONLINE FIRST? THAT TOO WITH LUXURY BRANDS?
I always believed in online businesses. I was convinced that the new generation was going to buy more online and they are going to rely more on reviews and peer recommendation rather than going to the store and buying. It was with this belief that we started an online business and we are really glad that the consumers are embracing that trend. Today online is growing rapidly as compared to the other businesses.
[Q] AFTER A MAGNIFICENT 18 YEAR LONG CAREER AS AN INVESTMENT BANKER YOU DECIDED TO BECOME AN ENTREPRENEUR. TELL US SOMETHING ABOUT THE THOUGHT AND THE JOURNEY THAT FOLLOWED.
So, during my time as an investment banker and a stock broker I met a lot of entrepreneurs who started their companies. I remember when Ronnie Screwvala used to say that he wanted to build a Disney style studio in India (in those early days, about 20 years ago), a lot of investors would say, "how can a Disney like studio be built in India?". It sparked a desire in me to start a business I believed in and really make it big in India. And I saw that opportunity in beauty, where I believed the business would be big."
[Q] WHAT MADE YOU TAKE THE DECISION OF GETTING INTO THE COSMETICS AND MAKE-UP MARKET SPACE?
I used to live in the U.S and I had travelled to both, Japan and Korea. I saw consumers buy a lot of beauty products. So when I moved back to India in 2001, I generally observed that there was not adequate availability of the beauty products, and the kind of environment in which these had to be bought faced a certain challenges. Since beauty is a long tail business, it was difficult to service the market in the absence of an online business. So with all that conviction, I wanted to set up a large multi-brand retailer for beauty and I went about trying to build that business in India.
[Q] YOU HAVE HAD A TREMENDOUS CAREER SO FAR, BACKED UP BY A VERY SUPPORTIVE FAMILY. HOW DO YOU MANAGE TO BALANCE IT ALL? WHAT WOULD BE YOUR ADVICE TO WOMEN WHO SEEK INSPIRATION FROM YOU?
I think the seeds of where I am today were sown by my parents who treated me as an equal with my brother. I never thought girls needed to be constrained by anything and that same spirit was supported when I got married to my husband. I think it was always known that I will continue to work after marriage, but I faced no restriction as a woman. I was never told, "Oh well, now that you have young kids you should slow down at work." My husband always treated me like a true professional, giving me advice. He understood as a professional, one needs to commit themselves to work and that's what I continued to do. So some early seeds were sown with that. I also should appreciate my parents who made me an adventurer and a pretty good risk taker. So when the time came to start my business, how I grew up and how I was treated- it all came to play to be where I am today.
My advice to young women is summarised in our brand name 'Nykaa'- which means you are the actress of your own life. Women need to be at the centre of their own life. For too long I have seen women who try to meet the requirement of their family and optimise their life for the sake of their family. They don't really pursue their dreams, so my message to young women is that you should be the most important person in your life and it should be optimised for what you want out of life. It's important to dream and pursue your dreams.
[Q] IF YOU LOOK AT YOUR NYKAA JOURNEY SO FAR, WHAT WOULD YOU CONSIDER TO BE THE GREATEST ACHIEVEMENT ? WAS THERE SOMETHING YOU NEVER THOUGHT WOULD HAPPEN, BUT ENDED UP HAPPENING ANYWAY?
When I started Nykaa, it started as an e-commerce business. I was quite keen on building a brand and I knew building a brand is not easy. It takes a long time. I knew that customer trust is very important and I also wanted some amount of "virality" so that we can reach customers far beyond what we were trying to reach through what we call is paid medium. In my early days, I used to consciously study- how to get virality, and all my research told me it's very hard to get virality. So today when we built a brand in such a short period of time, it's something I thought that would never come easily. For that, it's important to have a brand message. Earlier today, even Falguni Peacock said that brand messaging and the brand's soul is important. At Nykaa we search very hard for what is our soul, what is our message and what does our brand represent. Once you truly believe you are an honest brand, and what you say, what you believe and what you do is all folding into one, it goes a long way. When all this started falling into place, it was a big discovery for me.
[Q] WERE THERE ANY MAJOR STRUGGLES/ CHALLENGES ALONG? HOW DID YOU OVERCOME THEM?
Building a start-up from scratch is not easy, I was very lucky it got started very quickly. I got what I call-"a dream team", within a month of starting the business. However, as we went along and as we started scaling up, that's when the challenges came. A lot of my team members who I thought were perfect for the brand, either could not cope with the business or decided to move on. I think about 2 years into the business, exactly when we were scaling up, I saw some challenges. And I always joke about it but that's when my daughter came back from the U.S and I call her my "just-in-time resource". We both decided to roll up our sleeves! During the early days we used to work until 3:00 AM in the morning and the first time we use to lift our head to order for dinner was around 9-9:30 PM. There were some really busy days and we used to do some really heavy lifting to be where we are today.
[Q] YOUR FASHION CHOICES HAVE ALWAYS BEEN VERY CLASSIC. TELL US SOMETHING ABOUT YOUR PERSONAL STYLE.
I have always enjoyed wearing Indian clothes, especially sarees. They have been a big favourite. I love good fabrics! I have always been very fond traditional sarees with good textures, great weaves and hand embroidered stuff. I go at lengths to collect these. Natural fabrics that we get in India like cotton and silks are a favourite. But I must admit, that in the recent years, Indian designer's cuts and embroidery also inspires me.
[Q] TALKING ABOUT MAKE-UP, WHAT ARE YOUR TOP 3 GO-TO MAKE-UP PRODUCTS?
My top 3 makeup products that I can't do without are:
Brow products- I give a lot of importance to great brows, I recommend that on the site also as it has been my favourite.

Kajal – it has been my favourite from day 1. I Look sleepy when I don't wear my Kajal, it is a must if I want to step out.

Tinted moisturiser or a light weight foundation – They go a long way in giving you a really nice look.
[Q] WHAT BRAND IS NEXT ON YOUR LIST TO GET TO INDIA?
I just talked about how I love brows, so we are feverishly chasing Benefit Cosmetics to be on our site. We are hoping that it happens soon.
[Q] WHICH BRAND'S PRODUCTS DO YOU PERSONALLY LOOK OUT FOR?
My favourite brand has always been Channel- from their perfumes, cosmetics, to their couture. I am personally inspired by Coco Chanel's story. I love the simplicity and elegance of the brand.
[Q] WHAT SEGMENT OF WOMEN DO YOU CONSIDER TO BE YOUR TARGET AUDIENCE?
In India- digitalisation was embraced by youngsters. Our costumers are between the age group of 19 to 30-32. That's a great millennial audience to have. I do hear from the global companies how every one is chasing to get the millennial as their customer. After we discovered our customer base is so young, we realised it is a lot of fun to serve such a customer base.
[Q] IS THERE SOMETHING YOU WISH YOU HAD DONE DIFFERENTLY?
Not being from the technological field, I felt my pace was a little slow in the early years. Now we are a very strong firm technologically, but I wish had a co-founder from the technological field, when I started the company.
[Q] NYKAA'S NAIL COLOURS ARE QUITE A HIT. WHAT CAN WE EXPECT NEXT?
Our nail colours were an instant hit because we gave choice. We started with mattes. We introduced and played with nude colours. Then we kept experimenting with the amazonian adventures, to more recently- the unicorn range. We want to do something similar for the lip area, we just introduced our liquid lipsticks that are a huge hit! We will continue to offer a wide range in lip colours. I hope it becomes a big trend.
[Q] TELL US SOMETHING NOT MANY PEOPLE KNOW ABOUT YOU.
I am an avid trekker, I love the Himalayas. I used to say that- "anyone who goes to the Himalayas lives the life and everything else is time in between.
[Q] WHEN NOT HANDLING A MULTI-MILLION DOLLAR BUSINESS, WHAT DO YOU DO IN YOUR LEISURE TIME?
I love travelling, I have a weekend home with a pond which has birds that come in and I like watching that. Other than that I like watching Hindi movies.
[Q] ONLINE, WHICH BRAND SELLS THE MOST?
It is a difficult question for me to answer, but what I can tell you is that lipstick is the highest category we sell and of course the mass brands sell a lot.
[Q] WHICH BRAND DO YOU THINK FAILED TO SELL ONLINE AND WHY?
It's not brand specific but more product specific on our site. What we find is the products that are well marketed across India and are easily available- customers do their research on our site and buy them from next door. Those are the adversities we face and in terms of being able to sell online. Otherwise, much against the popular belief we've been able to built the luxury business. 15% of the sales on our site is from the luxury products, which no one in India expected. It's been a big revolution, where people are now willing to launch more luxury product on the internet.
[Q] AMONG ALL, WHICH BRAND HAS THE HIGHEST CUSTOMER SATISFACTION AND BRAND LOYALTY?
Days of brands chasing customer loyalty is changing. Todays consumer wants to buy the best products. They want to experience a number of brands. On our site we have noticed, customers are buying 10-15 products of different brands. They are accepting the best-sellers. Consumer experience the hero product from a brand, and as a result, the brand has to work really hard to give them a hero product.
[Q] ACCORDING TO YOU, WHICH INDIAN COSMETIC BRAND WILL BE BIG IN THE FUTURE?
It is a difficult question for me to answer, but I do want an Ayurveda based based brand to be a top seller not only in India but in many other countries. Indian Ayurveda, and Ayurveda inspired science for beauty care has that power. We have a couple of brands in India right now like Kama and Forest Essentials, but there will be more and they will make it big globally.
[Q] DO YOU THINK NYKAA'S IN HOUSE COSMETIC BRAND WILL BE A BIG THREAT TO THE OTHERS?
When I started the brand I believed in Muti-brand retail and I still believe that in beauty there are lots of brands. You can see a lot of indie brands being introduced by famous personalities from fashion or by actresses. They are all important people with perspective a on beauty. Likewise, we wanted Nykaa to be on of the brands on the site. We saw some gaps in the market we wanted to fill. There was a big gap for nail products, bath and body mists. Efforts were involved in creating products that the market needed. We don't look at ourselves as a threat to other brands, we just want to get the best product for the consumers from all over the world.
[Q] WHAT DO YOU THINK HAS BEEN THE KEY STRATEGY THAT MADE NYKAA SO SUCCESSFUL?
I think at Nykaa we believe that assortment is the most important thing in e-commerce, even ahead of price. And from day 1 we went about building an assortment which was customer demand led rather than push strategy and it has been a key pillar of our success. We also relied on digital marketing from day 1. We used all digital mediums including influencer marketing. A number of these have come into play for our success. The kind of quality customer base we have built has been because of our successful marketing strategy.
[Q] WHY DID YOU DECIDE TO NAME IT 'NYKAA'?
When I launched the website in 2012 we came across a name called 'Nayikaa' which meant an actress. 'Nayikaa' was morphed into Nykaa and it gave a meaning to our brand. Today where we are, quite a bit of the credit goes to the name.
[Q] LASTLY, WHAT IS NYKAA'S TAKE ON THE NEW-AGE MARKETING TECHNIQUES?
I think at Nykaa, thanks to being in the digital business, we have embraced all the digital marketing mediums. We started with google and moved on to Facebook. We use all of social media which includes Facebook, Instagram and Youtube. . We further moved on to using influencer marketing with bloggers than moving on to important media and film personalities. We have also used a very strong CRM tool to be in touch with our customers. We chase SEO to drive organic traffic . We use a lot of non-digital marketing through- on- ground events, prints and T.V. We have pretty much used everything. We do believe that there should be a customer funnel. Digital marketing is very influential on the performance marketing area. However, at the top end of the funnel you need to add the customers to that base and it can be done through campaign marketing, which could take a form of mass mediums like T.V or Youtube. And through that upper funnel, which could also include content marketing, we bring the customer into our marketing net and then through those we convince the consumer to buy our product.