BY REBECCA N. SUHRAWARDI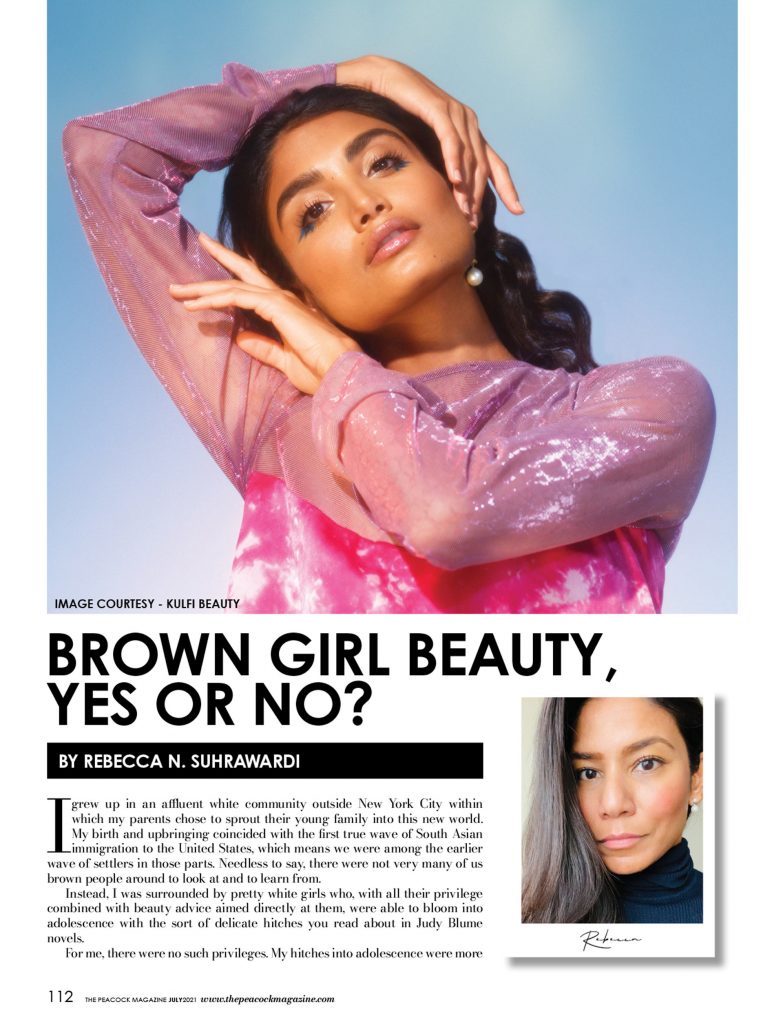 I grew up in an affluent white community outside New York City within which my parents chose to sprout their young family into this new world. My birth and upbringing coincided with the first true wave of South Asian immigration to the United States, which means we were among the earlier wave of settlers in those parts. Needless to say, there were not very many of us brown people around to look at and to learn from.
Instead, I was surrounded by pretty white girls who, with all their privilege combined with beauty advice aimed directly at them, were able to bloom into adolescence with the sort of delicate hitches you read about in Judy Blume novels.
For me, there were no such privileges. My hitches into adolescence were more like the sort that happen when you're learning how to drive stick. Uphill. During an ice storm. In the French Alps. There was no one to help tame my wild brows into those like the girls on Saved By the Bell. There weren't makeup palettes to help me successfully cover up my teenage acne. There weren't hairdressers who knew how to work with my thick, South Asian hair that we so coveted in our culture, but can be impossible to tame in the West.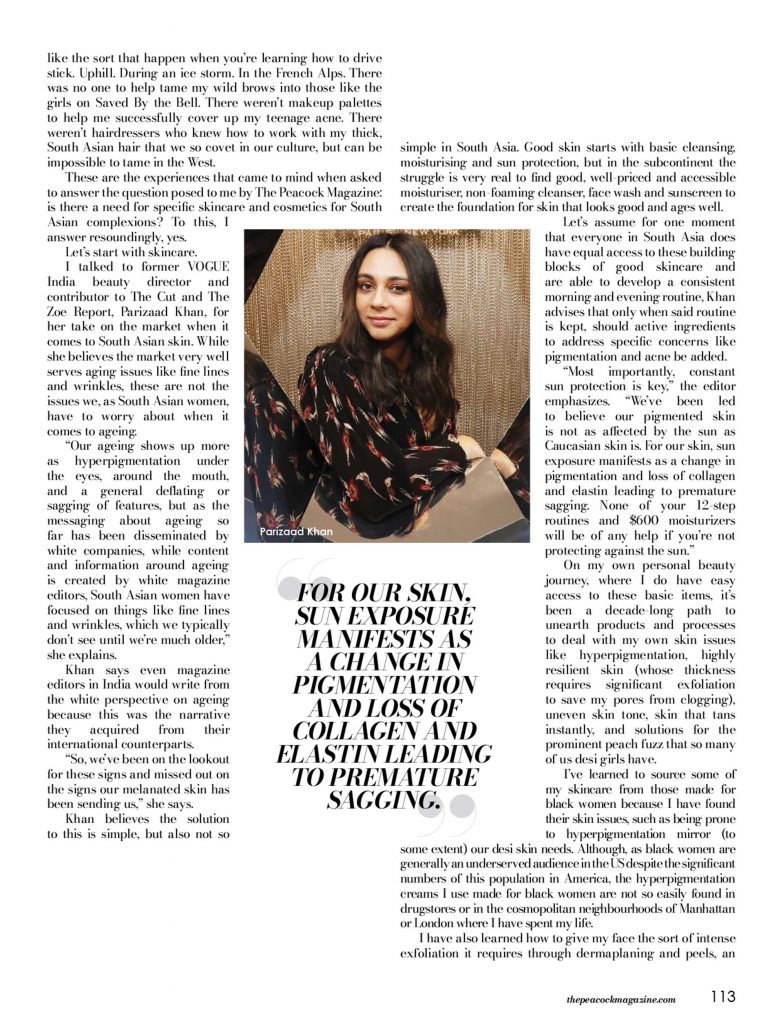 These are the experiences that came to mind when asked to answer the question posed to me by The Peacock Magazine: is there a need for specific skincare and cosmetics for South Asian complexions? To this, I answer resoundingly, yes.
Let's start with skincare.
I talked to former VOGUE India beauty director and contributor to The Cut and The Zoe Report, Parizaad Khan, for her take on the market when it comes to South Asian skin. While she believes the market very well serves aging issues like fine lines and wrinkles, these are not the issues we, as South Asian women, have to worry about when it comes to ageing.
"Our ageing shows up more as hyperpigmentation under the eyes, around the mouth, and a general deflating or sagging of features, but as the messaging about ageing so far has been disseminated by white companies, while content and information around ageing is created by white magazine editors, South Asian women have focused on things like fine lines and wrinkles, which we typically don't see until we're much older," she explains.
Khan says even magazine editors in India would write from the white perspective on ageing because this was the narrative they acquired from their international counterparts.
"So, we've been on the lookout for these signs and missed out on the signs our melanated skin has been sending us," she says.
Khan believes the solution to this is simple, but also not so simple in South Asia. Good skin starts with basic cleansing, moisturising and sun protection, but in the subcontinent the struggle is very real to find good-quality, well-priced and accessible moisturiser, non-foaming cleanser, face wash and sunscreen to create the foundation for skin that looks good and ages well.
Let's assume for one moment that everyone in South Asia does have equal access to these building blocks of good skincare and are able to develop a consistent morning and evening routines, Khan advises that the said routine should have active ingredients to address specific concerns like pigmentation and acne.
"Most importantly, constant sun protection is key," the editor emphasizes. "We've been led to believe our pigmented skin is not as affected by the sun as Caucasian skin is. For our skin, sun exposure manifests as a change in pigmentation and loss of collagen and elastin leading to premature sagging. None of your 12-step routines and $600 moisturizers will be of any help if you're not protecting against the sun."
On my own personal beauty journey, where I do have easy access to these basic items, it's been a decade-long path to unearth products and processes to deal with my own personal skin issues like hyperpigmentation, highly resilient skin (whose thickness requires significant exfoliation to save my pores from clogging), uneven skin tone, skin that tans instantly, and solutions for the prominent peach fuzz that so many of us desi girls have.
I've learned to source some of my skincare from those made for black women because I have found their skin issues, such as being prone to hyperpigmentation mirror (to some extent) our desi skin needs. Although, as black women are generally an underserved audience in the US despite the significant numbers of this population in America, the hyperpigmentation creams I use made for black women are not so easily found in drugstores or in the cosmopolitan neighbourhoods of Manhattan or London where I have spent my life.
I have also learned how to give my face the sort of intense exfoliation it requires through dermaplaning and peels, an expensive education I picked up from my medical aesthetician (I love you, Michelle Sabino!). In spite of serving nearly an all-white, wealthy clientele on New York's Upper East Side, my aesthetician took great interest to support and understand the needs of my dark skin and over the course of several years, helped me discover methods that worked for my skin.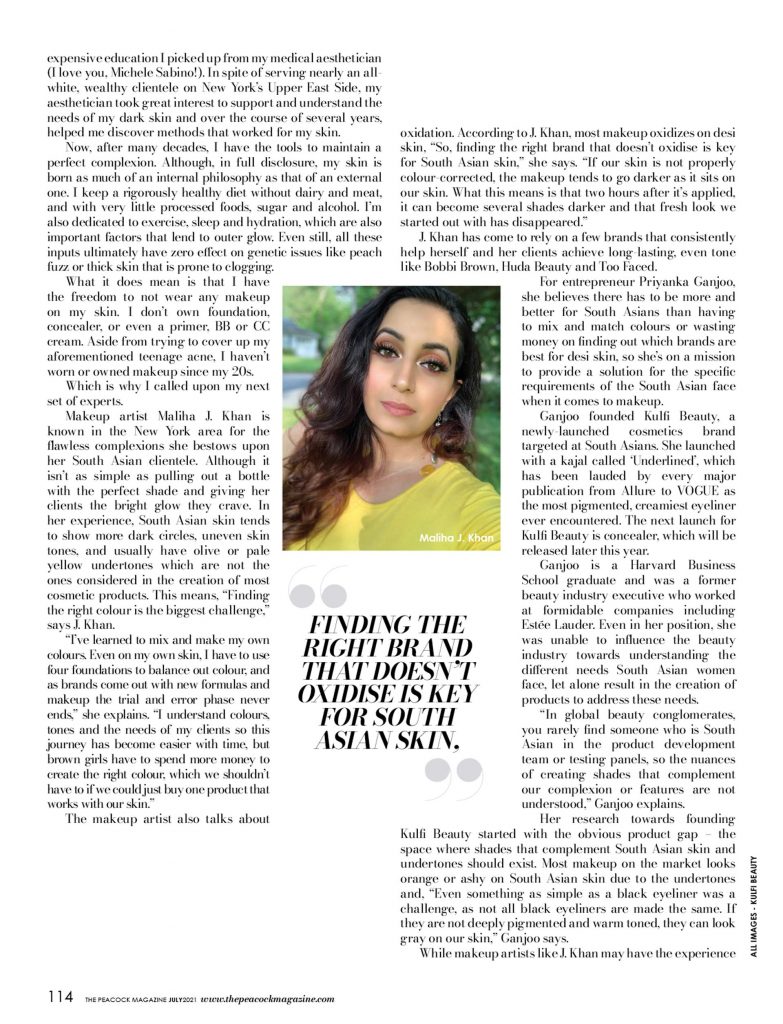 Now, after many decades, I have the tools to maintain a perfect complexion. Although, in full disclosure, my skin is born as much of an internal philosophy as that of an external one. I keep a rigorously healthy diet without dairy and meat, and with very little processed foods, sugar and alcohol. I'm also dedicated to exercise, sleep and hydration, which are also important factors that lend to outer glow. Even still, all these inputs ultimately have zero effect on genetic issues like peach fuzz or thick skin that is prone to clogging.
What it does mean is that I have the freedom to not wear any makeup on my skin. I don't own foundation, concealer, or even a primer, BB or CC cream. Aside from trying to cover up my aforementioned teenage acne, I haven't worn or owned makeup since my 20s.
Which is why I called upon my next set of experts.
Makeup artist Maliha J Khan, is known in the New York area for the flawless complexions she bestows upon her South Asian clientele. Although it isn't as simple as pulling out a bottle with the perfect shade and giving her clients the bright glow they crave. In her experience, South Asian skin tends to show more dark circles, uneven skin tones, and usually have olive or pale yellow undertones which are not the undertones considered in the creation of most cosmetic products. This means, "Finding the right colour is the biggest challenge," says J Khan.
"I've learned to mix and make my own colours. Even on my own skin, I have to use four foundations to balance out colour, and as brands come out with new formulas and makeup the trial and error phase never ends," she explains. "I understand colours, tones and the needs of my clients so this journey has become easier with time, but brown girls have to spend more money to create the right colour, which we shouldn't have to if we could just buy one product that works with our skin."
The makeup artist also talks about oxidation. According to J. Khan, most makeup oxidizes on desi skin, "So, finding the right brand that doesn't oxidise is key for South Asian skin," she says. "If our skin is not properly colour-corrected, the makeup tends to go darker as it sits on our skin. What this means is that two hours after it's applied, it can become several shades darker and that fresh look we started out with has disappeared."
J Khan has come to rely on a few brands that consistently help herself and her clients achieve long-lasting, even tone like Bobbi Brown, Huda Beauty and Too Faced.
For entrepreneur Priyanka Ganjoo, she believes there has to be more and better for South Asians than having to mix and match colours or wasting money on finding out which brands are best for desi skin, so she's on a mission to provide a solution for the specific requirements of the South Asian face when it comes to makeup.
Ganjoo founded Kulfi Beauty, a newly-launched cosmetics brand targeted at South Asians. She launched with a kajal called 'Underlined', which has been lauded by every major publication from Allure to VOGUE as the most pigmented, creamiest eyeliner ever encountered. The next launch for Kulfi Beauty is concealer, which will be released later this year.
Ganjoo is a Harvard Business School graduate and was a former beauty industry executive who worked at formidable companies including Estée Lauder. Even in her position, she was unable to influence the beauty industry towards understanding the different needs South Asian women face, let alone result in the creation of products to address these needs.
"In global beauty conglomerates, you rarely find someone who is South Asian in the product development team or testing panels, so the nuances of creating shades that complement our complexion or features are not understood," Ganjoo explains.
Her research towards founding Kulfi Beauty started with the obvious product gap—the space where shades that complement South Asian skin and undertones should exist. Most makeup on the market looks orange or ashy on South Asian skin due to the undertones and, "Even something as simple as a black eyeliner was a challenge, as not all black eyeliners are made the same. If they are not deeply pigmented and warm toned, they can look gray on our skin," Ganjoo says.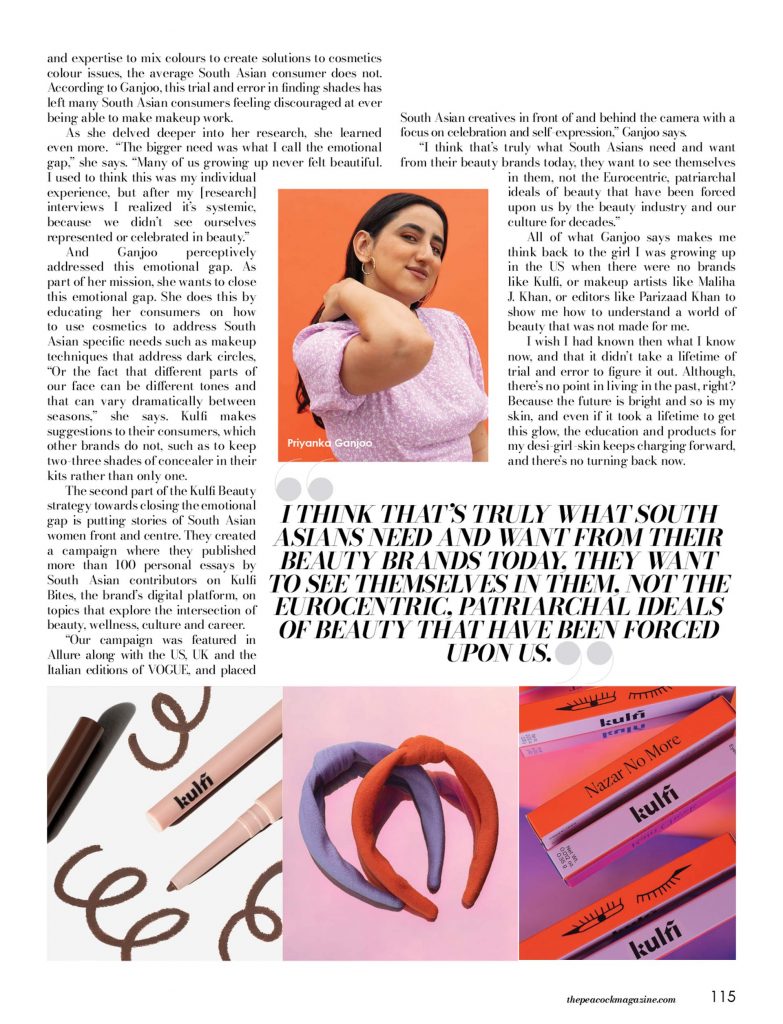 While makeup artists like J Khan may have the experience and expertise to mix colours to create solutions to cosmetics colour issues, the average South Asian consumer does not. According to Ganjoo, this trial and error in finding shades has left many South Asian consumers feeling discouraged at ever being able to make makeup work.
As she delved deeper into her research, she learned even more. "The bigger need was what I call the emotional gap," she says. "Many of us growing up never felt beautiful. I used to think this was my individual experience, but after my [research] interviews I realized it's systemic, because we didn't see ourselves represented or celebrated in beauty."
And Ganjoo perceptively addressed this emotional gap. Part of this was to educate her consumers on how to use makeup to address South-Asian-specific needs such as makeup techniques that address dark circles, "Or the fact that different parts of our face can be different tones and that can vary dramatically between seasons," she says. Kulfi makes suggestions to their consumers, which other brands do not, such as to keep two-three shades of concealer in their kits rather than only one.
The second part of the Kulfi Beauty strategy towards closing the emotional gap is putting stories of South Asian women front and centre. They created a campaign where they published more than 100 personal essays by South Asian contributors on Kulfi Bites, the brand's digital platform, on topics that explore the intersection of beauty, wellness, culture and career.
"Our campaign was featured in Allure along with the US, UK and the Italian editions of VOGUE, and placed South Asian creatives in front of and behind the camera with a focus on celebration and self-expression," Ganjoo says.
"I think that's truly what South Asians need and want from their beauty brands today, they want to see themselves in them, not the Eurocentric, patriarchal ideals of beauty that have been forced upon us by the beauty industry and our culture for decades."
All of what Ganjoo says makes me think back to the girl I was growing up in the US when there were no brands like Kulfi, or makeup artists like Maliha J Khan, or editors like Parizaad Khan to show me how to understand a world of beauty that was not made for me.
I wish I had known then what I know now, and that it didn't take a lifetime of trial and error to figure it out. Although, there's no point in living in the past, right? Because the future is bright and so is my skin, and even if it took a lifetime to get this glow, the education and products for my desi-girl-skin keeps charging forward, and there's no turning back now.