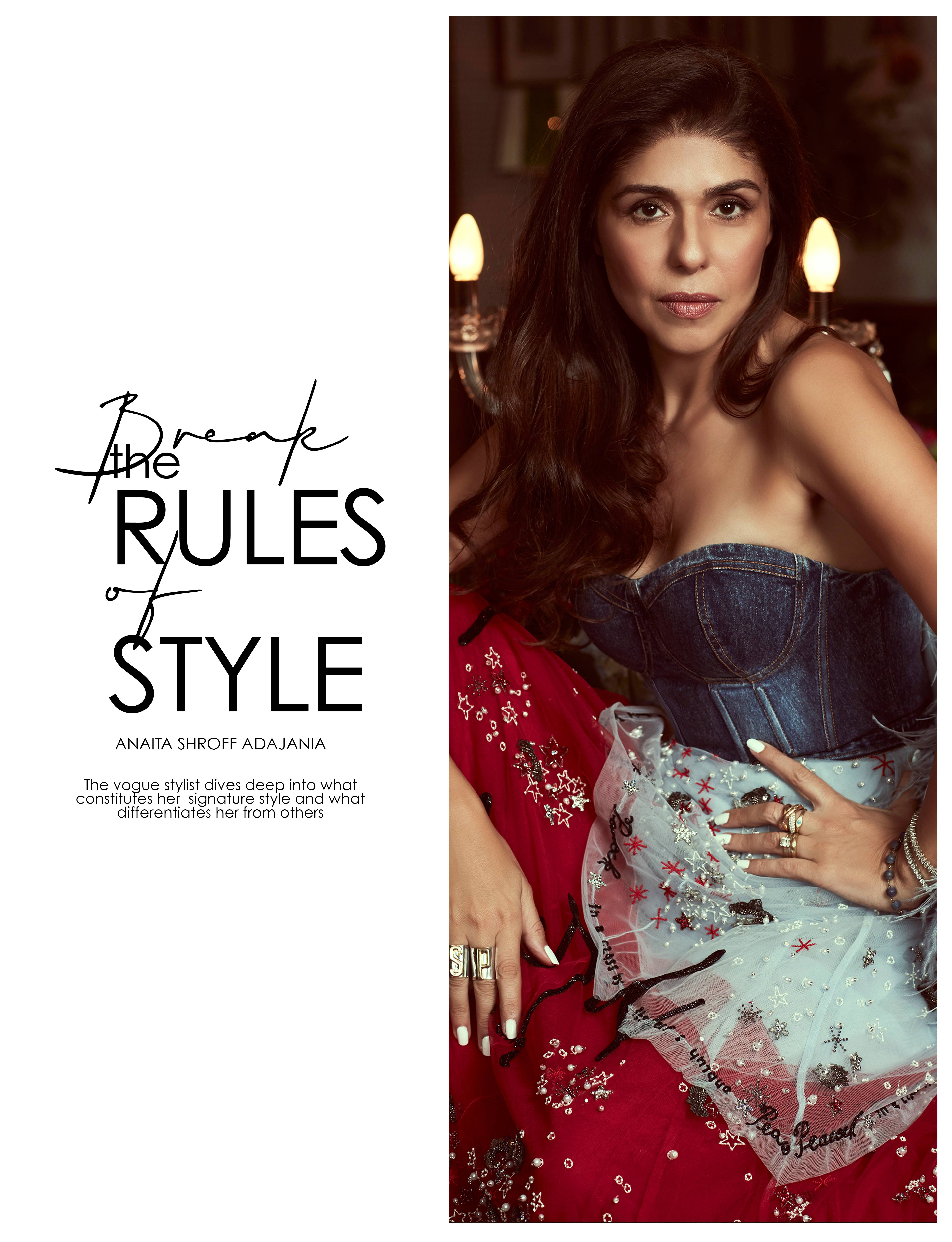 Credits-
Photography by- Abheet Gidwani
Makeup- Priya Lahon
Hamper Courtesy- Sova, Decleor, Moroccan Oil
Beverage Courtesy- Black Water
Calligraphy By- Dancing Pen & Co
Desserts By- Toujours
Decor- Fiorella India
Clothing by – Falguni Shane Peacock
BREAK THE RULES OF STYLE WITH ANAITA SHROFF ADAJANIA
1) EVERYONE HAS A SENSE OF STYLE
I don't try to set myself apart at all. I try to be me. Comfort is very important for me. I am usually in a pair of jeans, a loose shirt or a ganji and slippers. I always have a pair of heels handy if I need an instant pick up. What makes me feel amazing is a good blow dry regardless of what I am wearing! I love dressing up if it is a wedding or red carpet event, but my shoes need to be really comfortable so I can dance for many hours and have a good time!
2) FOLLOW TRENDS THAT WORK FOR YOU
I do follow trends. I follow trends that work for me. Because I work in a fashion magazine, I am following trends 6 months before they are trends! What tends to happen to me is that when I am styling characters for a film, I feel like I start dressing like them! I do become a bit of a clone. A lot of who I am in terms of my styling, tends to come in the characters I am styling as well. I follow trends to suit me and I feel that is how everyone should follow trends. Trends are big ideas and you need to take it and mix it with what you are as a person!
3) BREAK THE RULES
People say don't mix stripes and checks but I love mixing prints! I wear denim at night. Denim is a big part of my staple. I love to wear distressed jeans with a really dressy top, heels and a nice bag. Denim for me is not just casual. I like wearing long dresses in the day too.
4) TRUE TO THE OCCASION
I don't have a signature sense of style, I keep going back to the basics very often. My style depends on what mood I wake up in and where I am going to be in the day. If I am going to the market area, I tend to be less conspicuous rather than being fashion forward. If I am going to fashion week, I try to be as fashionable as possible!
4) STYLE EVOLVES
I seamlessly mix high street and high fashion. It is something that I strongly prescribe to people that I work with. Fortunately, a lot more designers want to dress me now so I have better clothes! I borrow philosophies and aesthetics from designers and I love that. I am a bit bolder now to be who I am. I have evolved enough to be confident in my choices. I have also started trying things I have never tried before. I am slightly more experimental now. My fashion sense can be dynamic but within my comfort zone. I used to think I will never wear animal print but now I have to stop myself from wearing animal print everyday!