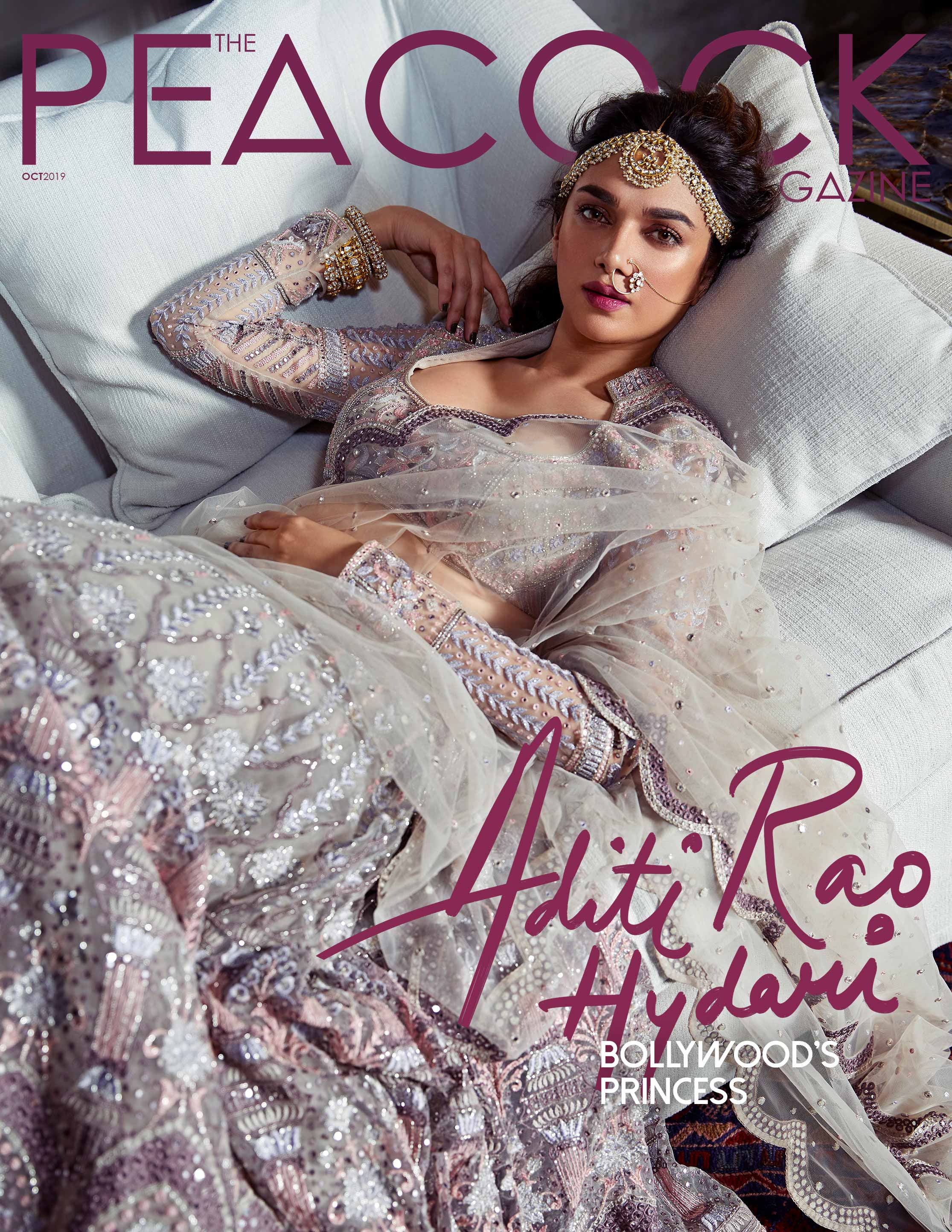 Her first glimpse is enough to make you stop in the path and take a moment to take in her beauty. And yet, when you compliment her about her beauty, she will smile in acknowledgment but without a full curve. Oddly enough but real to her core, she admittedly enjoys and smiles to all her glory when the compliments directed towards her are about the work she does via the roles she portrays; and that speaks volumes about the beautiful woman of mettle that our cover star Aditi Rao Hydari is.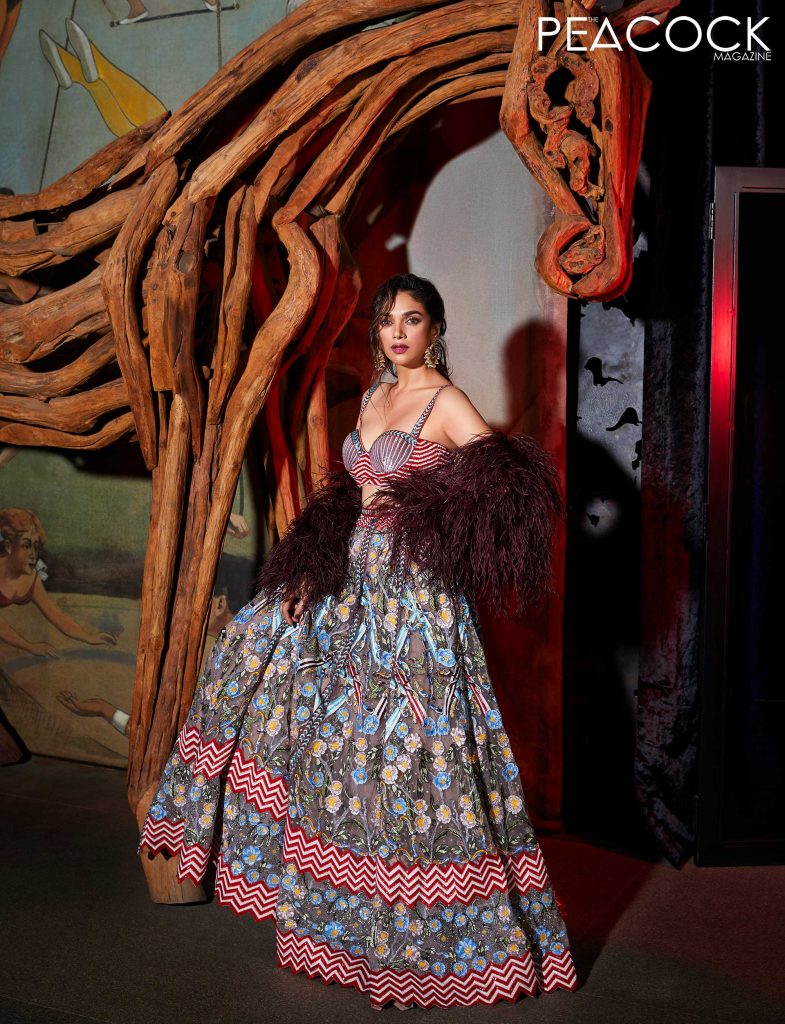 Aditi was born to parents Ehsaan Hydari and Vidya Rao, each being a powerhouse of talent and belonging to the royal families of Hyderabad. Aditi's mother, Vidya, is an acclaimed classical singer famous for the Thumri and Dadra genres of music, who is very much responsible for passing the singing gene to her versatile actor daughter.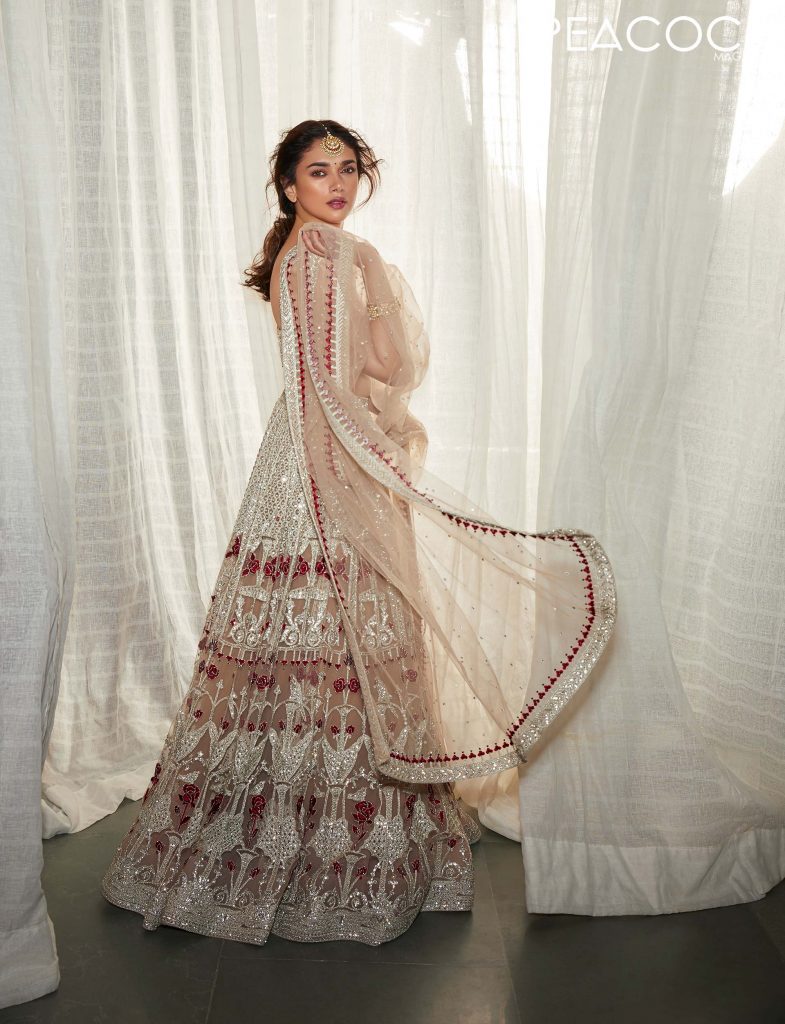 Aditi marked her debut in the Indian film industry in 2006 through regional cinema and her career took off north immediately. Soon after, she made her Bollywood debut in a small yet memorable role in Rakeysh Omprakash Mehra's, 'Delhi 6'. In no time, filmmakers took note of her acting proficiency, and there was no looking back. Her repertoire of work includes cinema from all regions in India which have bagged numerous awards.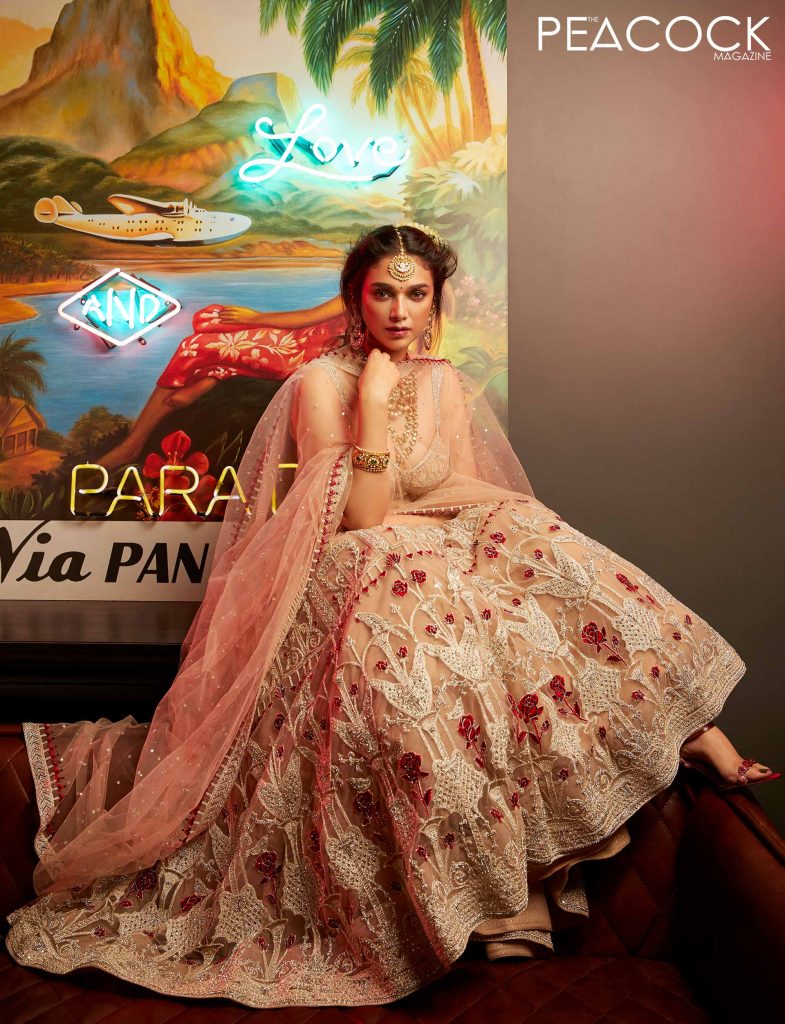 Aditi's acting skills speak essays about her artistry, but it is also her flawless beauty that leaves one and all agape. She looks every bit of the princess that she is, thus making even a casual, candid photograph look worth a thousand words. Aditi is vocal about thanking her mother and her royal lineage every time she is laden with praises. Dig deep, and she will open up about her beauty secrets that she swears by which are mostly products such as her everyday Chandan stick, a multi-purpose cream, and other organic products. That's when we know that the actress's gleam and the beam are about all-things-simple and au naturel.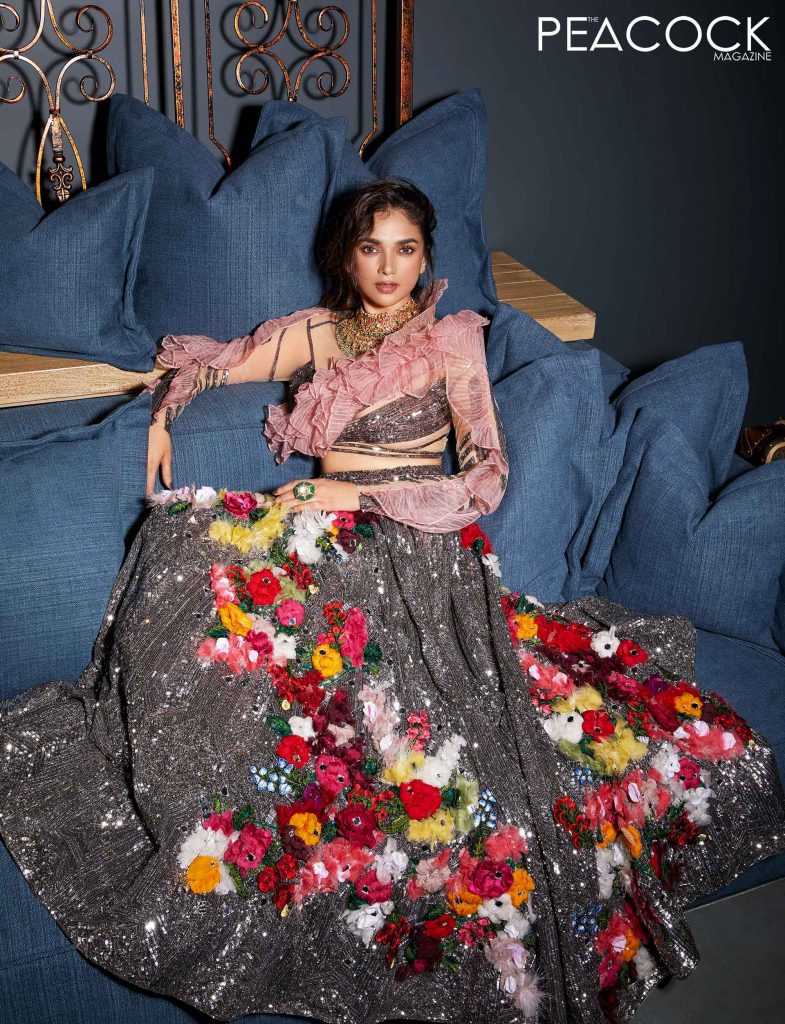 On the style front, Aditi's flair for fashion underwent a metamorphosis from the time she paved her way into Bollywood. It evolved from looking inherently glamorous in her early years to graduating it to keeping it as natural as possible and centered on the non-fussy individual that she is. When asked, she divulges on how she was counseled to dress up like a star all round the clock by donning the latest of the range outfits and heels; and that it was an ingredient to the recipe of standing out. Sooner than later, she realized that fashion for her was more about dressing up in her individualistic style and being comfortable in her skin. Aditi, today, holds her own for the non-conformist, liberal style that is just like her spirit – unconstrained. Much like the choices of her films, Aditi's style also reflects that she believes in herself and doesn't let the "what-is-is" or "what-is-out" affect her. For her, the role or the outfit should make her feel good about herself, and she is sorted. No wonder every time you look at her, you cannot help but applaud her on how effortlessly stylish she appears. Asserting this is celebrity stylist Sanam Ratansi, who is the woman behind many of Aditi's iconic looks. "Aditi's personal style is an extension of who she is. There is an effortlessness and freshness to her being even in the most hectic couture garment and that's what makes her unique. I've always enjoyed working with her. She drives me insane sometimes because she is very particular and so am I, and we fight like siblings but she always listens and trusts me completely and gives me a lot of freedom. Aditi and I have been working together for 4 years now. We think alike and have almost the same aesthetic choices. There are times when we go into stores and come back with the same stuff on different days in different cities. We have grown together and will hopefully keep growing and challenging each other. That's what makes this equation even more special," Sanam said. It doesn't come as a surprise to us when she tells us that her go-to style is the shabby-chic – a look that looks like it has not been thought out but in reality, she has consciously made it happen. It is evident from the fact that she ain't the one to follow the recently trending 'airport looks' and is generally seen wearing athleisure or the likes, opting for comfort over fashion. "What I love about Aditi and what I resonate with her personal style and her aesthetic is that there is total sense of effortlessness and minimalism in everything she picks, with just a touch of luxe. She will pick the most relaxed sweater or a relaxed silhouette but she will accent those with a beautiful Givenchy purse or thigh-high boots. She likes to add this one element of luxury to her effortless look, which I think is a very classic way to dress," says celebrity stylist Divyak D'Souza, who has styled Aditi on numerous occasions. He further adds, "There is a resonance with both of ours' aesthetic, and which makes it very easy for us to agree on the classics. We always veer towards the classics. Even right now as we are in Paris, for shopping, we picked up the classic Burberry trench, a classic Cartier love bracelet, but then just add a quirky sweater from Zadig & Voltaire which sort of makes it 2019 and relevant and contemporary. Classics with the 2019 twists – is the way she dresses and that's the way I like to dress her when we work together and that works out beautifully."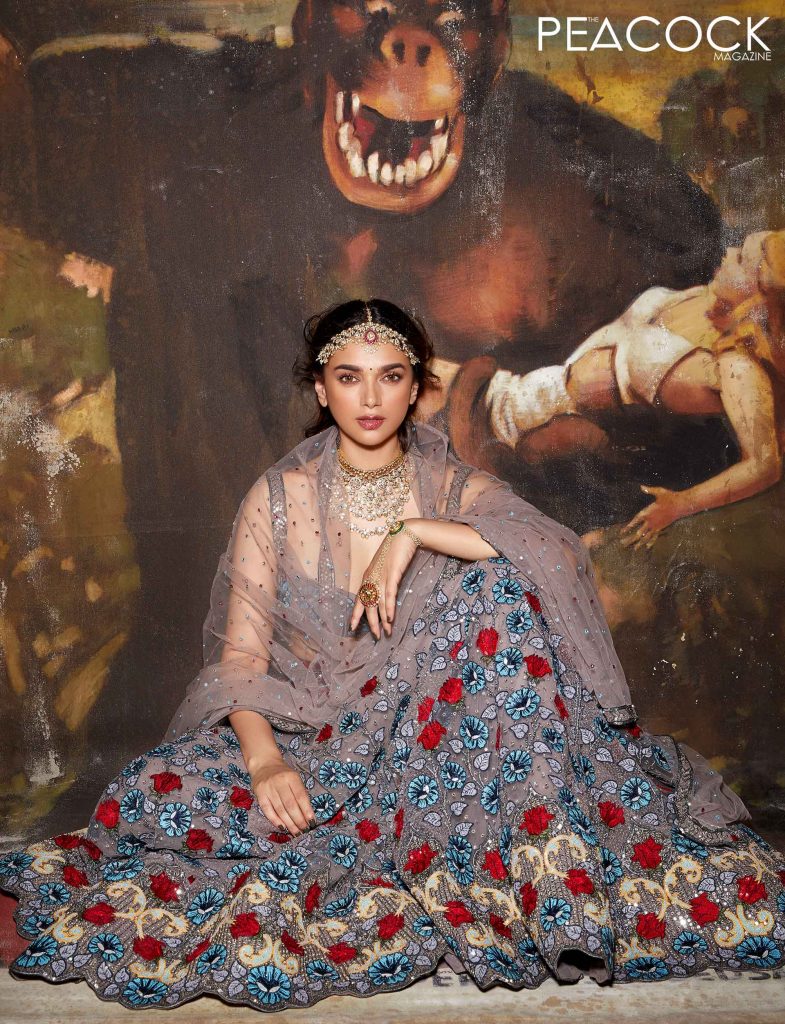 Aditi lends her personality and her singular style to every look she dons, be it that of girl-next-door or an out-n-out bridal avatar or even that of dressing up as Raja Ravi Verma's muse to recreate his famous paintings. For the digital issue of October, the actor is seen wearing the choicest of Falguni Shane Peacock bridal ensembles that flatters her beauty and makes her look every bit of visual delight. Noted photographer and lensman for the shoot, Taras Taraporvala, spoke about his muse with fondness galore. "Aditi is a joy to photograph. There are some people who are able to emote through their eyes alone and she is one of those for sure. We always have an entertaining shoot one way or the other and this shoot with Falguni and Shane was no different," he said. Aditi looked celestial, radiant, and straight out of a dream sequence as she posed for our cover shoot. She donned handpicked outfits in the hues of pink, peach, light mauve amongst many others that are replete with prints like those of chevrons, adorned with intricate embroidery work of foliage and regal motif; and signed off with the signature ruffles. Aditi brought out the best in the bridal collection as we get ready to embark upon the Indian wedding season.
Credits-
Photography – Taras Taraporvala
Direction & Styling – Nupur Mehta Puri for N2ROOT
Assistant – Ayesha Amin Nigam for N2ROOT
Hair & Makeup – Elton Fernandez
All Shoes – Dyuti Bansal
All Jewellery – Jadau Jewellery by Falguni Mehta, Mahesh Notandass Fine Jewellery, H. Ajoomal Fine Jewellery, Anmol Jewellers
Location Courtesy – The Charcoal Project
Clothing – Falguni Shane Peacock