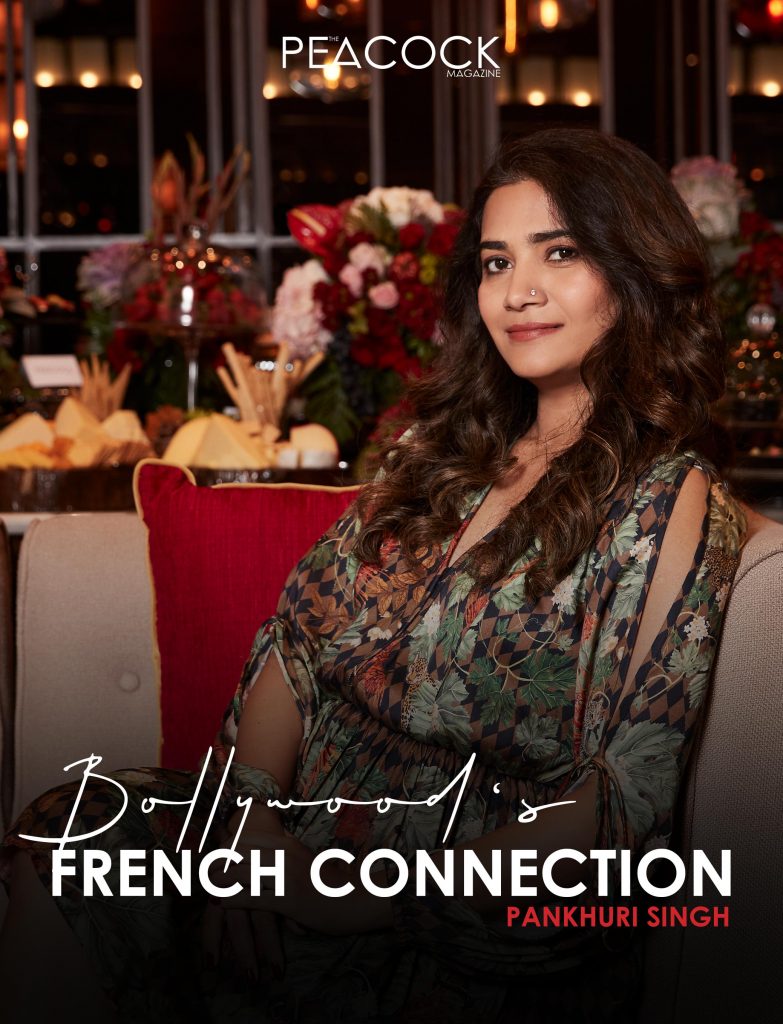 CREDITS-
PHOTOGRAPHY – ABHEET GIDWANI
MAKE-UP & HAIR – SNIGDHA
CLOTHING – FALGUNI SHANE PEACOCK

Talk about making smart collaborations out of chaos and Pankhuri Singh is acing at just that. Her brand Fetch Consulting started out as a one-woman army to a modest team that collaborates everything from creative to management. Along with Fetch being a dynamic organization, Pankhuri is versatile herself, channeling her love for novel collaborations to all her projects. With an experience of almost 18 years in the lifestyle space, Pankhuri is skillful in bringing people together to create one-of-a-kind projects, and she does all these with honestly as her policy.
Here's an excerpt of the conversation –
[Q] What is the story behind 'Fetch'?
I have been in the lifestyle space for nearly about 18 years now, and I've done everything – right from doing events to running a modeling agency for many years and then I got myself into PR. At some point, I just thought that it all needed to come together as a communication set up. I thought that all of this can be married very beautifully into communicating something very interesting for the brands, people, etc. and that's how 'Fetch' started.
[Q] When did you realize that your forte lied in bringing people together for brand collaborations?
When I used to be at 'Elite Model Management, we used to do a lot of interesting collaborations. At that point, I was in touch with a lot of fashion designers, photographers, models, and others from the fraternity. There was this show called 'Get Gorgeous' many, many years and Elite was a part of it. They were looking for a panel and asked us if we could help them put together one. I said okay and I suggested that we should have a designer, someone with a fashion publication background, etc. I'm talking about the time when things like these did not happen. That was the first time I really put together a panel and that worked out beautifully. After that, I got an opportunity to bring people together for many occasions, events, etc. I collaborated, their synergies matched, some interesting things happened and it all started falling in place wonderfully. It was then that I realized something interesting can be done like this.
[Q] What are some of the challenges you faced at the nascent stage of 'Fetch'?
Oh, there were a lot of challenges! You see it is almost like a second coming for me. I had done everything that was to do and I restarted saying 'You know, let me do this on my own and let it have a few of everything that I know.' I was just talking to Falguni and she said, 'Pankhuri, tell us what is it that you do, exactly?!'. It's not like we stand for one thing. We are curators. We come up with ideas and then we bring them to life, which is very hard to explain when you start. Once it all comes together and it's there for people to see, it's great. Although, when we started out, it was very difficult to explain what is it that we are exactly trying to do. Am I a PR agency? Am I an influencer agency? Am I a celebrity agency? Actually, I am a bit of all. The positioning seems a bit confusing but when it comes together, it comes together very beautifully.
[Q] What would you say is an important aspect of making collaborations a success?
You have to collaborate with people who like each other, or at least, have a great working synergy. If they don't, you know that energy is going to trickle into the project and you're never going to make a success of it. I'm always careful that whenever I bring people together, even if they are not friends, they must like each other's work. It's great if they're friends because then you get great content and you get great synergy on the set. It's nice when people who respect and like each other, come together because that really works.
[Q] Is that the thumb rule whenever you collaborate?
Always. Always!
[Q] Have you ever tried to go against it?
You know whenever I have tried to say, 'Oh it doesn't matter that they don't know each other, but they're just good at what they do, so let's put them together,' – it has not worked. It falls through.
[Q] Is this the only factor that plays a key role to make any collaborations?
Whoever we collaborate and whatever we curate to bring people together eventually should work out for the project. I'm clear from the very beginning as to what I want at the end of the project. There are times when you don't always get your wish list. But if you're true to what you're looking for and what you want to get eventually, you will find the right people for it. Even though I said people have to like each other and all of that has to be great, you can't let that guide you completely because the project has to work together, right? And, for that sometimes you may have to change the people but the ethos has to remain the same.
[Q] What innate characteristic of yours would you say helps you in making each collaboration a success?
I think I'm fearless! I don't really care what people personally think of me or what they don't. I care what they think of people who work with me professionally and I guard that very carefully. So, when I come to you for something that I'm doing professionally, I'm going to fearlessly put my project, my idea onto the table and I will do whatever it takes to get that person on the table. I pursue it very doggedly and I'm quite fearless about it. I pick up the phone on anybody in the world. I don't care. If I think that person is going to fit my project, I find a way of finding them and I pick up the phone (to talk to them).
[Q] What has been your career-defining moment so far?
I was all of 23 maybe when I began with 'Elite Model Management' and within a couple of years, I was already heading it. I was responsible for finding some of the best faces that you see in the country today, whether it's Anushka Sharma or Sidharth Malhotra. All of these things came to me very early in my life and I think that was one defining space in my career back then. What redefined my career is this project that I do at the Cannes Film Festival, where I curate an entire piece at the festival for Grey Goose.
[Q] What was the breakthrough moment for 'Fetch'?
It's the Cannes Film Festival, definitely. We had just begun and we were barely 8 months old as a company. I didn't even have an office, but I had this idea in my head which I planned and pitched to the client. Apart from L'Oréal, no other big brand had ever done this in France. Grey Goose comes from France and that's the heritage it comes from. So, when I saw synergy, I said I'm going to make this happen. I had three months to make this happen with my house terrace turning around to be our office and a very small team. But we had a vision and we made it happen. It was a breakthrough moment for us! You know when we made it happen, people thought that we were some very large company who was doing this large project when it was just a few of us sitting quietly in a corner and just making work happen.
[Q] How do you stay relevant in a field which is so dynamic subjected to constant change and upheavals?
I think the only way I like to stay relevant is by keeping on doing relevant work. While I am in the social space because of my work, I'm not a socialite or I'm not a blogger or I'm not an Instagrammer. I'm here because of my work. Whether it's you who are talking to me here today or anybody else who talks to me is because of the work I do. I believe we have to keep pushing the boundaries and keep doing new work. Like I have done 2 years of Cannes (Film Festival) already, how do I make a difference in the 3rd year? How do I do something that hits it out of the park? How do I get people going like, 'Hey, omg! She has changed it again!' I think that is very important for me and that's the pressure I put on myself to stay relevant.
[Q] Who has been your biggest influence in your career been?
I don't know about one particular influence but I have had a lot of supporters. One of my biggest supporters has been my ex-boss who I used to work with at Elite (Model Management). I learned most of my work from her. And then there's my family who supports me through days and nights. I don't go beyond that.
[Q] Who do you think is your biggest competition? Are you the kind to thrive on healthy competition, or do you simply ignore it and focus on yourself?
I don't know if there's a competition because I can't say who am I competing with. Am I competing with a PR agency? – I'm not. Am I competing with an influencer agency? – I'm not. We do so many things and pull them all together to make a big impact. I don't know if there any others who are doing something like this and maybe they are and I haven't seen them. We are constantly pushing ourselves, changing it up, and doing something different. I also feel like I'm at that place in life where I must bring value. I'm going to do what I did 10 years ago, then it's not worth my time. I've had so many younger people who have trained under me who can do it as well. For me to be available and putting my time to something, it has to be something that I feel great about. I'm a very fidgety person and I get bored very easily. I think I'm my biggest competition because I don't sit still. I'm not happy when one thing is done and it works out that I keep repeating it. So that's my biggest challenge!
[Q] What have been some of your biggest lessons you learned while collaborating?
I've had quite a journey! The biggest lesson I've learned is – whenever you go to people or a brand, you have to be honest. I believe that. You have to tell them what you can do, what you can bring to the table, and how you're going to make that difference because that is what stands true in the long term. We can all faff a little and lie a little but it's not going to get us too far. That is also what I'm always telling my team. I tell them that doesn't matter if we didn't get this project today because I told the client 'I'm sorry, that's not possible' because if I had said yes and gotten the job, and then not done it – that wouldn't have been okay. At some points, you might feel like you're losing out because you were too honest and that you should have played it differently, but I've always had a gut feeling and my gut stands by me. When I say 'No, let's be honest', always tell them what you can and can't do. If the other side has trust, belief, and faith – you will make things happen. That's really how I have been able to grow like this. There are always going to be those people who will say 'No, I like how you think'. I've always been the one who fights with the client and says sorry you're wrong. I have a strong personality so I come off like that. You know there will be people who say 'Omg, that's very intimidating' but there are others who say 'We like working this way because you show ownership'. So my biggest lesson has been – 'Be true to what you're doing and it will fall in your lap'.
[Q] Do you believe in doing the right things or things rightly?
You always have to do the right things! I have two kids and everything that I do, they see. They are only going to learn what they see. So, I have to always do the right things. And if you choose the right things, you will find a way to do them rightly. You will have to do the right things, always!
[Q] How do you manage to juggle your career with being a mom? Does the juggling part get easier with time or is it a whole new challenge at every phase?
It does get better when your kids are older. My kids are now 12 and 14. They understand that they have a working mother. They really appreciate my work and I love that.
[Q] How do you deal with your vulnerabilities? Do you often put up a strong-front?
We are all very vulnerable. The stronger the façade you put, the more vulnerable you are, and that is fairly true in my case. I'd be lying if I said I don't get affected by what others are saying about me or are doing something to me or behave da certain with me at work. But I try not to take it personally, it's a work-in-progress but I try. While I do get upset about it, I empathize by thinking that everybody is going through something and has their own journey. If you let these things bog you down, you won't be able to function. And if you're leading a team, then everybody goes down with you if you're going to go down. It's like a spiral and it does happen. But you just have to stop yourself and say 'Tomorrow will be another day' and stick with positive people in your life. I have got such people, who I know are truly happy about what I'm doing. So, whenever you feel vulnerable, stick to the people who make you feel better. It's an instant pick up and you can go right back to where you'd left.
[Q] What are some of the personal beliefs that you firmly stand by professionally?
I have very strong beliefs on how things should be done. I believe in doing things the right way. I don't think anybody gets too far by pushing others out of the way. I feel there is enough space for all of us here and we just have to focus on what we want to do. If we just focus on that and keep working, things do happen. Trying to grab somebody else's thing or their stuff is never going to take you too far.
[Q] What are your upcoming projects?
It's a big season time for us because we are gearing up for the Cannes Film Festival. We are hoping it doesn't get canceled due to the Coronavirus epidemic. Currently, that's what we are focused on that. We are also doing some interesting projects in Art in Delhi. Since Cannes a very, very large project, that itself takes a couple of months. The House of Grey Goose also takes up nearly 2-3 months of our time. In the remaining months, we try to take up a project that we can give time to. We are a small team and we like to focus on what we are doing. Amidst all this, I try to pick projects that make me happy. Anything that stresses me out negatively, is a no-no. Of course, big projects do stress you out but I like to have that positive energy around what I do. So, if something is pulling me in a different direction which is just leaving me very breathless, I don't like to do it. I walk away. Now that I work for myself, I can do that. Although, it's not the best business decision, I believe what's the fun of picking up something that is making you unhappy. With my experience, I can now gauge if things are going to go downhill. This is not the kind of vibe that I want to work with. There's enough work out there, somebody else will pick it up and I can pick up something that works for me, so it's all good.