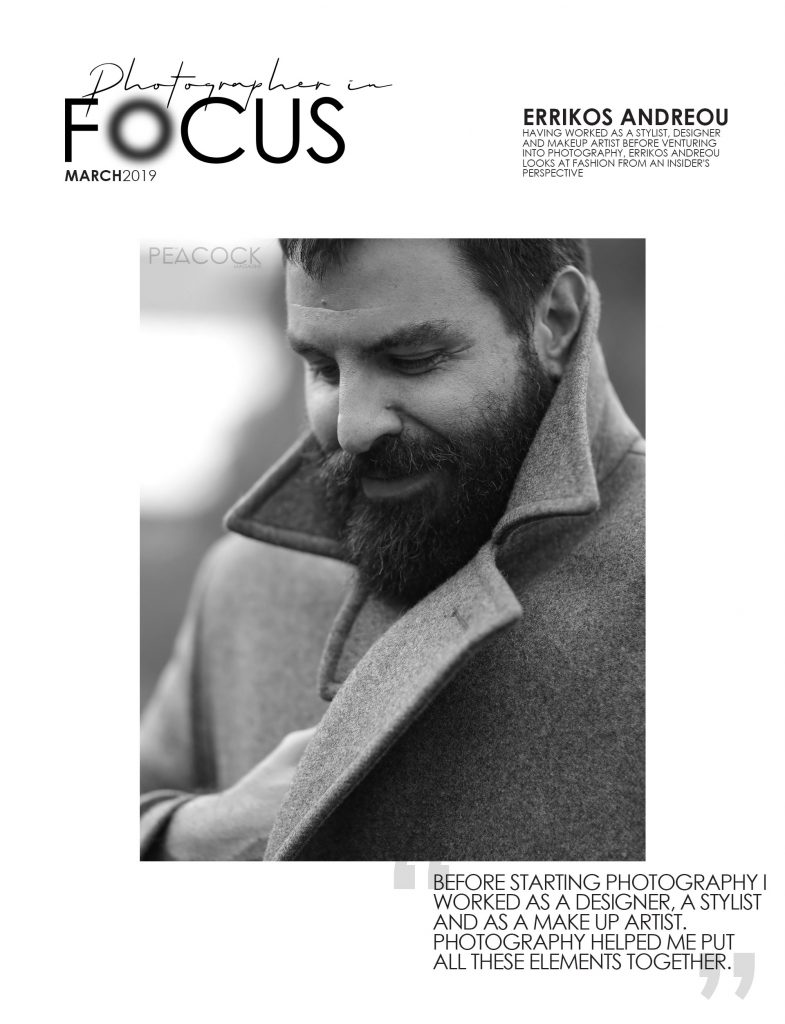 Before venturing into photography, Errikos Andreou studied fashion, worked as a designer, stylist and makeup artist, which has shaped his creative perspective differently from his contemporaries. The Greek photographer who is famous for capturing celebrities like Deepika Padukone, Ranveer Singh, Katrina Kaif and Kareena Kapoor Khan for covers of magazines like Vogue, Elle and GQ has a penchant for creating an escape from reality through his work. Although he is known for his glamorous body of work, Andreou's inclines more towards photographing his subjects in their raw vulnerable form. The celebrated photographer, in a conversation for the April issue of The Peacock Magazine, talks about his inspiration, his best work and the celebrities he would like to shoot in the future.
1) HOW WOULD YOU DISTINGUISH YOURSELF/ YOUR PHOTOGRAPHY STYLE FROM OTHER PHOTOGRAPHERS IN THE COUNTRY?
"I come from a fashion background. I studied fashion design at the University of Westminster and College of Central St Martin's. Before starting photography I worked as a designer, a stylist and as a make up artist. Photography helped me put all these elements together. I saw photography as a similar way to fashion to create an alternative universe. For me, this was the main reason I wanted to do this job, a way to escape reality. I use all those elements (photography, fashion, make up, etc) in an equal balance in an effort to look for beauty or to create something that will make me, first and foremost, escape and to create a story that will make me travel. I don't know if that distinguishes me from anyone else, but it's how I go about it."
2) HOW DO YOU MANAGE TO DO SOMETHING DIFFERENT WITH CELEBRITIES WHO HAVE ALREADY BEEN PHOTOGRAPHED BY VARIOUS PHOTOGRAPHERS IN VARIOUS DIFFERENT WAYS?
"Every photographer does something different and that is because we all have a different own point of view, our own aesthetics and our own references. And that is the great thing about seeing the work of different photographers. Even if you had 10 photographers in the same room and the brief was to photograph the same person, with the same look, all photographs would look different and that is because they would reflect the photographers who took them. I try to look at them differently every time, let myself be carried away, have fun and be organic."
3) TELL US ABOUT A SHOOT THAT ABSOLUTELY DID NOT GO AS PLANNED/ WENT ABSOLUTELY HAYWIRE!
"Shoots in which I was involved with and didn't go as planned were usually advertising shoots. "Advertising" is a very particular type of photography. Everything has been studied and controlled, discussed and agreed on in so many ways before even reaching the shooting day. Exactly because there is a very "expected" result, there is an entire chain of elements that need to fall into place in a particular order. If that doesn't happen, things can go wrong.
I personally am against too much preparation. I think it kills spontaneity which gives you emotion and very often amazing results.
Never in my experience has a shoot which was operating on instinct gone haywire. The opposite has happened though. You just need to be quick on your feet and flexible enough to go around whatever isn't working, which ironically enough is a skill you develop by working on an instinctive mode."
4) WHAT ACCORDING TO YOU HAS BEEN YOUR BEST WORK?
"There are quite a few shoots I have done with various teams I love, but usually, personal shoots are what I would categorise as my best work. I like to shoot nudes. I think they are a form of extremely personal portraits. There is such a high level of connection and trust between me and my models on such shoots. I always feel privileged and grateful by the trust they are giving me for sitting for me like that and I think this always comes across."
5) IS THERE SOMETHING YOU REALLY WANTED TO DO BUT STILL HAVEN'T GOTTEN THE OPPORTUNITY TO DO?
"There are a lot of things I haven't done yet. People I would like to shoot, places to would like to shoot at. There are photographs I have done I would like to exhibit. But this is one of the things I love about photography, it can always keep you hungry if you let it."
6) WHO DID YOU LOVE WORKING WITH THE MOST?
"I don't have specific people, it's a lame answer I know! I loved the collaborations with teams or individuals who allowed me to be myself, inspired me and pushed me forward creatively."
7)WHO ACCORDING TO YOU IS THE MOST PHOTOGENIC PERSON YOU HAVE PHOTOGRAPHED? / WHO WOULD YOU LOVE TO PHOTOGRAPH AND STILL HAVEN'T GOTTEN THE CHANCE TO?
"Deepika Padukone is one of the most beautiful women I have seen and photographed. Alia Bhatt is also a girl who is extremely photogenic. Impossible to make a bad photo of her.
From the Bollywood crowd, I would love to work with Priyanka Chopra who I still haven't worked with. From the international scene, Cate Blanchett, Zoe Kravitz, Jennifer Lawrence and Jennifer Lopez are some of the ladies I would love to photograph. Maybe in the future, if I'm lucky."
8) WHAT IS YOUR FAVOURITE PHOTOGRAPHING STYLE OF ALL TIMES?
"Documentary! No lights, no flashes, no fancy gimmicks… Just you, your camera and whatever is in front of you. And a high pace!"
9) IF NOT A PHOTOGRAPHER, WHAT WOULD YOU BE?
"I have very often thought of that myself. It is actually one of my favourite "escape" fantasies. The answer changes every time according to my mood. Sometimes I think I would love to be a painter or an artist in general… I have this fantasy of doing mosaics later on. I would love to be a decorator, I have thought of becoming a pastry chef and even though my skills don't go much further spreading Nutella on a piece of bread it's still a good fantasy. I have thought of designing shoes, of becoming a tattoo artist… I also think doing nothing is something I would be quite good at. :-)"
10) WHICH IS THE MOST PICTURESQUE LOCATION IN THE WORLD?
"Iceland is pretty amazing in terms of locations it has to offer. I have recently shot in Seychelles and the light and sky were spectacular. And of course Greece! Some of the best locations and the best sunlight anywhere!"
11) WHERE DO YOU SEEK INSPIRATION FROM?
"People mostly! Beauty. Movies, paintings, music sometimes. And travelling. Being physically present somewhere!"
12) ONE THING YOU LOVE AND ONE THING YOU HATE ABOUT YOUR JOB?
"There are many things I love about my job! I love being creative. I love I can make other people part of my art and some people part of my journey there. I love how photography has changed me and how it allows me to have good days and bad days. I love it allows me to go wherever I want. How it allows me to see people differently and how I can make people see themselves through my eyes.
Working with people all the time, however, makes me hate them also. There are days where it is so intense I feel like quitting. But the positives definitely outshine the negatives, so here I am baby!"
13) YOUR FAVOURITE PLACE IN THE WORLD?
"Greece and Italy. Blue skies, amazing sea and GREAT pizza! Heaven!!!!"
14) THE WORD/PHRASE YOU USE THE MOST?
"Bravo". The word posses me when I shoot and comes out of me almost unwillingly. And the word "Kala" which means good in Greek. Pretty positive guy, don't you think?
15) WHICH PICTURE TAKEN BY YOU "SAYS A THOUSAND WORDS"?