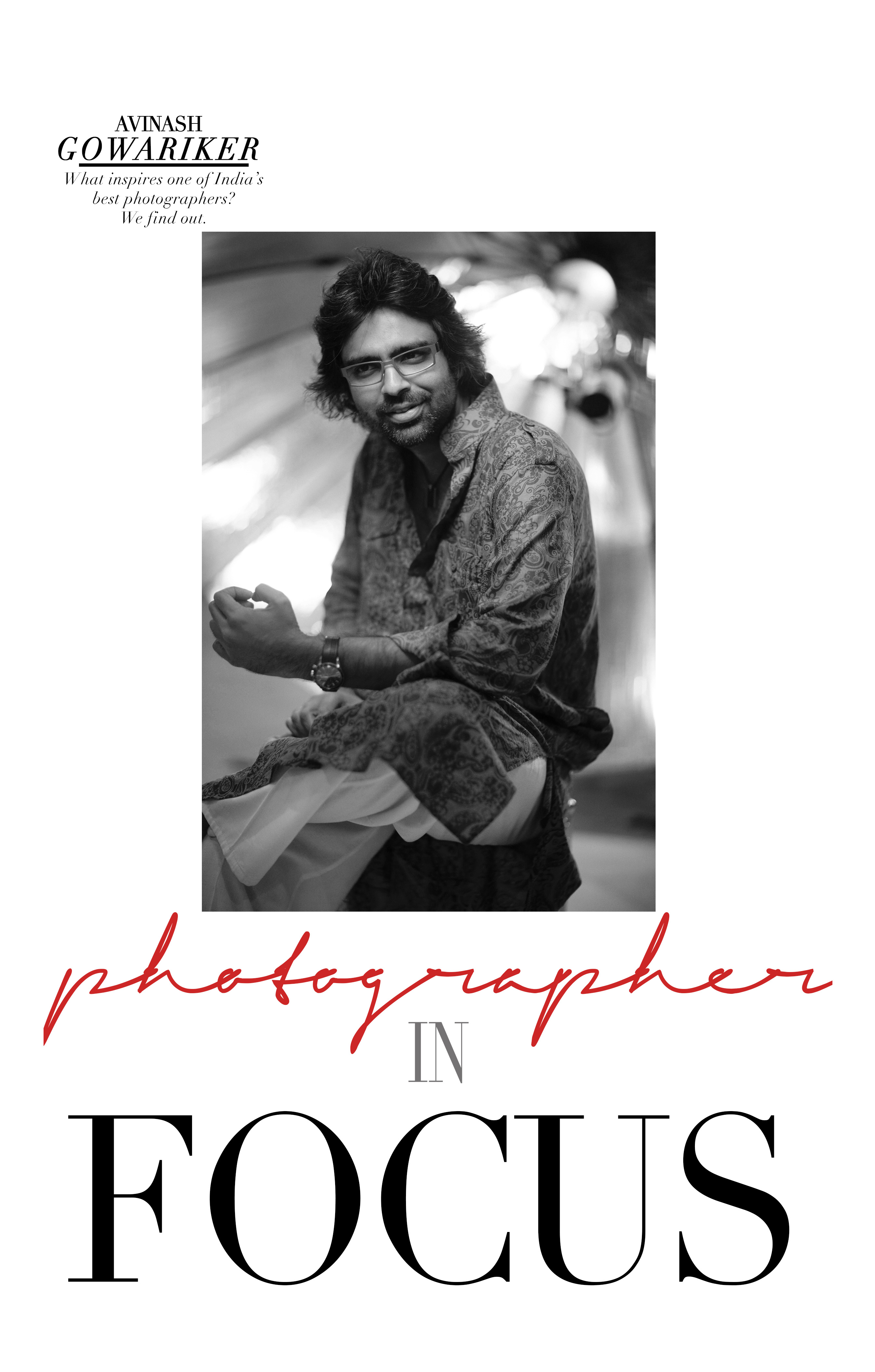 1. HOW WOULD YOU DISTINGUISH YOURSELF/ YOUR PHOTOGRAPHY STYLE FROM OTHER PHOTOGRAPHERS IN THE COUNTRY ?
"I take great pride in my spontaneity. Give me any kind of situation, I will quickly adapt to it. I see any given situation in a different way and I think that is my asset."
2. HOW DO YOU MANAGE TO DO SOMETHING DIFFERENT WITH CELEBRITIES WHO HAVE ALREADY BEEN PHOTOGRAPHED BY VARIOUS PHOTOGRAPHERS IN VARIOUS DIFFERENT WAYS?
"That is always a very big challenge.I always try to keep it simple. What is happening is, most photographers/ technicians/ stylists/ make-up artists try to do a lot more. So much has been done that they want to do more. I go reverse, I try to keep it very simple. As a result of which, it looks very real. If you see my 'post pack-up shots' on Instagram, you will see that I try to bring down the entire larger-than-life image of a celebrity."
3. TELL US ABOUT A SHOOT THAT ABSOLUTELY DID NOT GO AS PLANNED/ WENT ABSOLUTELY HAYWIRE?
"I was in one of those small islands in Thailand, in the middle of a shoot. I was doing an evening shot my light stopped working. We were on a small boat with no way out! So that was a big downer. I won't forget. That was one bad day!"
4. WHAT HAS BEEN YOUR MOST MEMORABLE SHOOT SO FAR? / BEST WORK?
"I ask myself that question many times and it always difficult to answer. But I would say this one shoot that I did with Amir Khan on the old Mumbai-Pune highway. Amir This was in the 90's and I did not have a studio or any great equipment at that time. But that shot got me a lot of appreciation and work."
5. IS THERE SOMETHING YOU REALLY WANTED TO DO BUT STILL HAVEN'T GOTTEN THE OPPORTUNITY TO DO?
"I want to shoot international fashion and international celebrities. I want to shoot a James Bond movie poster. I would love to shoot the Pirates of the Carribean movie poster!"
6. WHO DID YOU LOVE WORKING WITH THE MOST?
"Salman Khan will be very special to me. He gave me a lot of encouragement and took me under his wings at the beginning of my career. He shot a lot with me and he shoots like a dream! I learnt so much from all of those shoots. He does not give you too much time and he is not easy to shoot with. I trained under him in trying circumstances."
7. WHO ACCORDING TO YOU IS THE MOST PHOTOGENIC PERSON YOU HAVE PHOTOGRAPHED? / WHO WOULD YOU LOVE TO PHOTOGRAPH AND STILL HAVEN'T GOTTEN THE CHANCE TO?
"I think photogenic is a very overrated word. I really feel there is nothing like photogenic. Everyone can be photographed well and everyone can be photographed badly. I don't want to take names but there are so many celebrities that look so bad in so many pictures. And there are so many times when you feel an ordinary person is looking so good. It happens to everyone. So I feel beauty lies in the eyes of the beholder.
I would like to shoot Rekha in India and I would love to shoot internationally. I want to shoot Daniel Craig."
8. WHO IS YOUR FAVOURITE PHOTOGRAPHER OF ALL TIMES?
"I like Richard Avedon's work a lot. He is like god to me. If you see, his career was from 1944 to 2002 . Which is crazy! To be relevant in the 40's and be relevant in the 2000's is amazing. His work was extremely real, simple and solid. It was not about concepts or elaborate sets or post production. It was just very classic simple work. He brought out fashion, portraiture and close-ups brilliantly."
9. IF NOT A PHOTOGRAPHER, WHAT WOULD YOU BE?
"I always want to be a cricket commentator while growing up. I loved cricket and I thought there was no better thing than to watch cricket everyday and earn money."
10. WHAT IS THE MOST PICTURESQUE LOCATION IN THE WORLD?
"Ladakh. For sure. It is a dream. The colours, the colour temperature, the angles of light. Everything is just amazing."
11. WHERE DO YOU SEEK INSPIRATION FROM?
"I am not a person who goes looking out for inspiration. I take inspiration from anything that is successful. When I was in London, I saw this campaign on the Jaeger store which said- "Shot by David Bailey". Now I think that is inspiration. It is like the photographer is bigger than everything else."
12. ONE THING YOU LOVE AND ONE THING YOU HATE ABOUT YOUR JOB?
"I don't hate anything about my job. I totally love my job. If you see my website/ social media, I have written- "Blessed that my passion is my profession". So I genuinely love everything. I love the fact that I am my own boss, there are no hours and creativity has no boundary. I think the only one thing I dislike is the inconsistency of work."
13. YOUR GO-TO PLACE IN MUMBAI?
"I love Mehboob studio. It has got a very deep meaning. I love the vibe and If I am in Mehboob Studio, it means I am shooting. And if I am shooting, it means I am busy. Nothing in the world gives me more pleasure than being busy because of shooting. It is multi-layered! And I also love coming to my studio!"
14. THE WORD/PHRASE YOU USE THE MOST?
"Mind Blowing!"
15. THE BIGGEST MISCONCEPTION ABOUT YOU/ YOUR WORK ?
"That I am a very celebrity-oriented/ 'filmy' photographer. I hate it and I have been branded for that. I love the fact that I get to shoot film stars/ films but because of that the fashion industry think I am very 'filmy'. Which is not true! because I feel I shoot fashion very well."