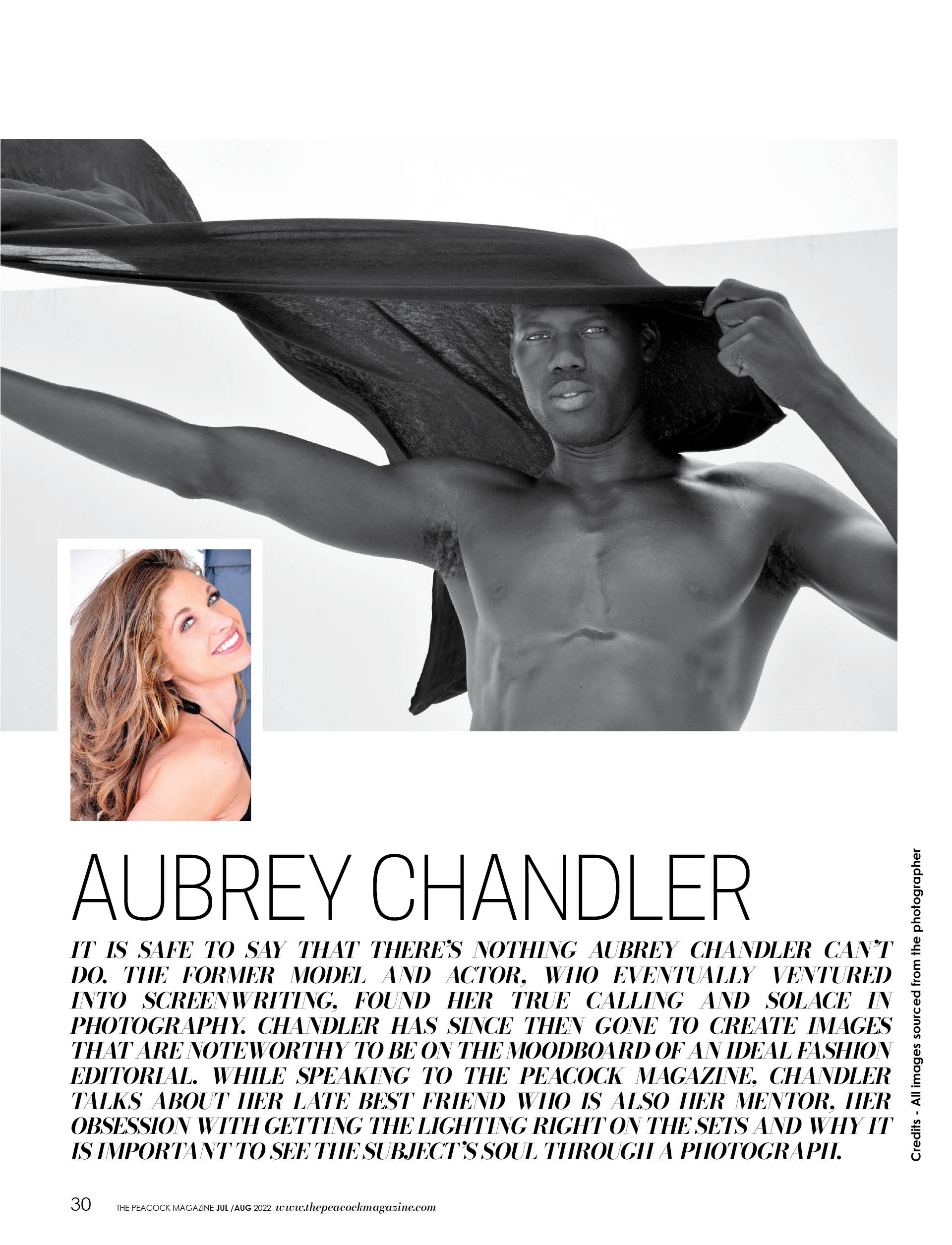 CREDITS: All images sourced from the photographer

It is safe to say that there's nothing Aubrey Chandler can't do. The former model and actor, who eventually ventured into screenwriting, found her true calling and solace in photography. Chandler has since then gone to create images that are noteworthy to be on the moodboard of an ideal fashion editorial. While speaking to The Peacock Magazine, Chandler talks about her late best friend who is also her mentor, her obsession with getting the lighting right on the sets and why it is important to see the subject's soul through a photograph.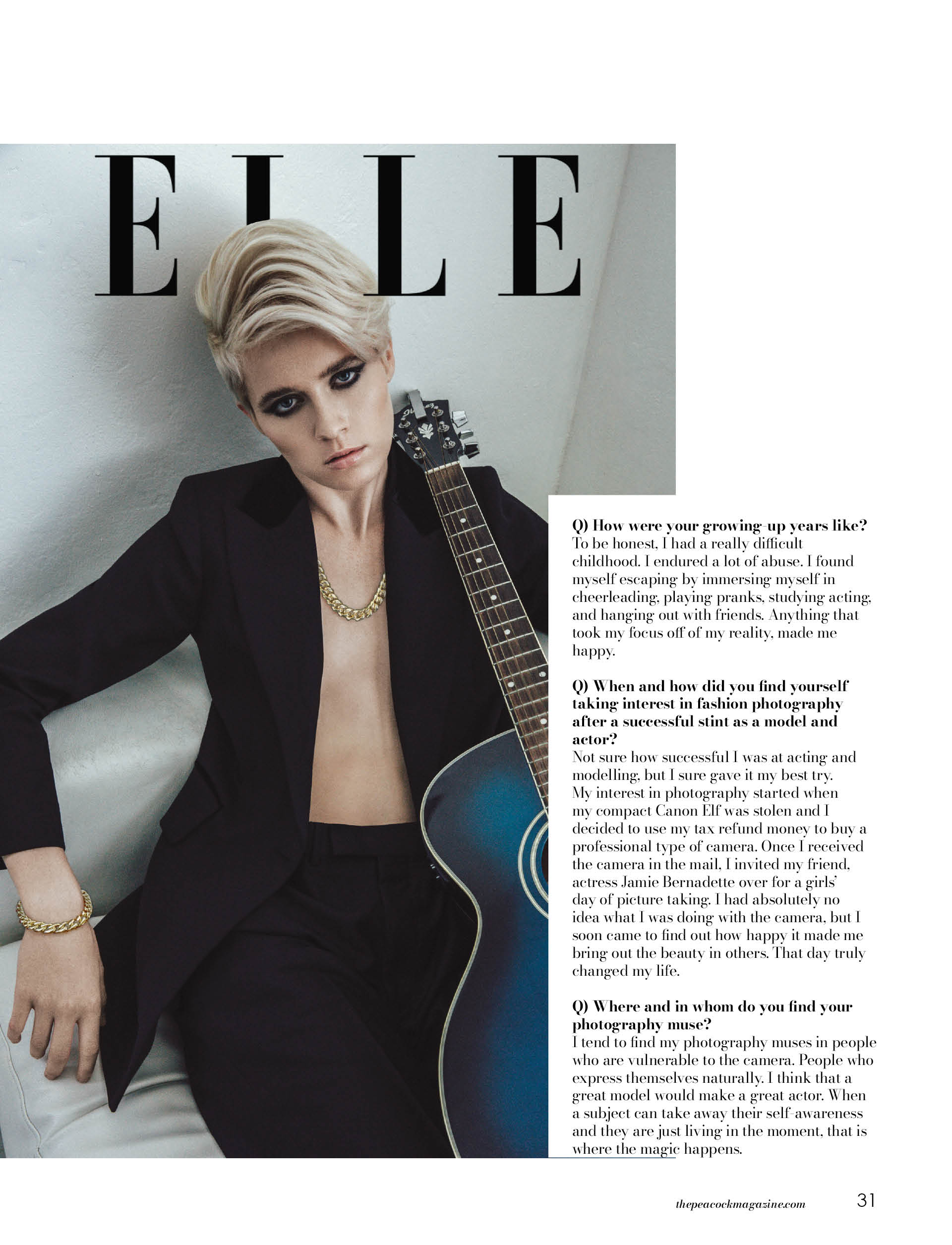 Q) HOW WERE YOUR GROWING-UP YEARS LIKE?
To be honest, I had a really difficult childhood. I endured a lot of abuse. I found myself escaping by immersing myself in cheerleading, playing pranks, studying acting, and hanging out with friends. Anything that took my focus off of my reality, made me happy.
Q) WHEN AND HOW DID YOU FIND YOURSELF TAKING INTEREST IN FASHION PHOTOGRAPHY AFTER A SUCCESSFUL STINT AS A MODEL AND ACTOR?
Not sure how successful I was at acting and modelling, but I sure gave it my best try. My interest in photography started when my compact Canon Elf was stolen and I decided to use my tax refund money to buy a professional type of camera. Once I received the camera in the mail, I invited my friend, actress Jamie Bernadette over for a girls' day of picture taking. I had absolutely no idea what I was doing with the camera, but I soon came to find out how happy it made me bring out the beauty in others. That day truly changed my life.
Q) WHERE AND IN WHOM DO YOU FIND YOUR PHOTOGRAPHY MUSE?
I tend to find my photography muses in people who are vulnerable to the camera. People who express themselves naturally. I think that a great model would make a great actor. When a subject can take away their self-awareness and they are just living in the moment, that is where the magic happens.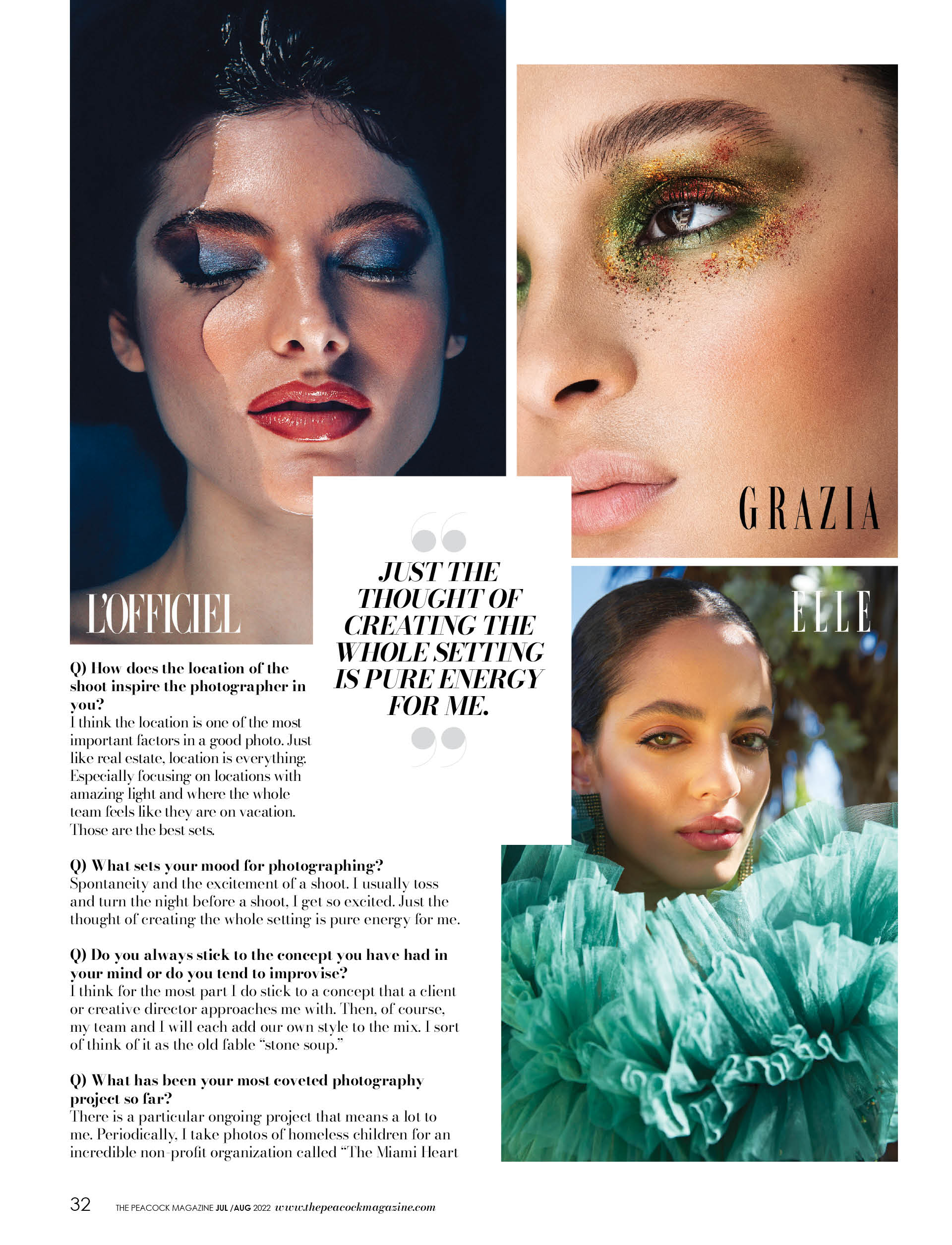 Q) HOW DOES THE LOCATION OF THE SHOOT INSPIRE THE PHOTOGRAPHER IN YOU?
I think the location is one of the most important factors in a good photo. Just like real estate, location is everything. Especially focusing on locations with amazing light and where the whole team feels like they are on vacation. Those are the best sets.
Q) WHAT SETS YOUR MOOD FOR PHOTOGRAPHING?
Spontaneity and the excitement of a shoot. I usually toss and turn the night before a shoot, I get so excited. Just the thought of creating the whole setting is pure energy for me.
Q) DO YOU ALWAYS STICK TO THE CONCEPT YOU HAVE HAD IN YOUR MIND OR DO YOU TEND TO IMPROVISE?
I think for the most part I do stick to a concept that a client or creative director approaches me with. Then, of course, my team and I will each add our own style to the mix. I sort of think of it as the old fable "stone soup."
Q) WHAT HAS BEEN YOUR MOST COVETED PHOTOGRAPHY PROJECT SO FAR?
There is a particular ongoing project that means a lot to me. Periodically, I take photos of homeless children for an incredible non-profit organization called "The Miami Heart Gallery" Many of these children come from abusive home life. It's so important to recognize that these children did not choose their situations. They were born into hardship. So when it comes to photography, I love capturing their personality in hopes it will find them a forever home. Too many kids get flipped from one foster home to another. They all deserve to have a family that genuinely loves them.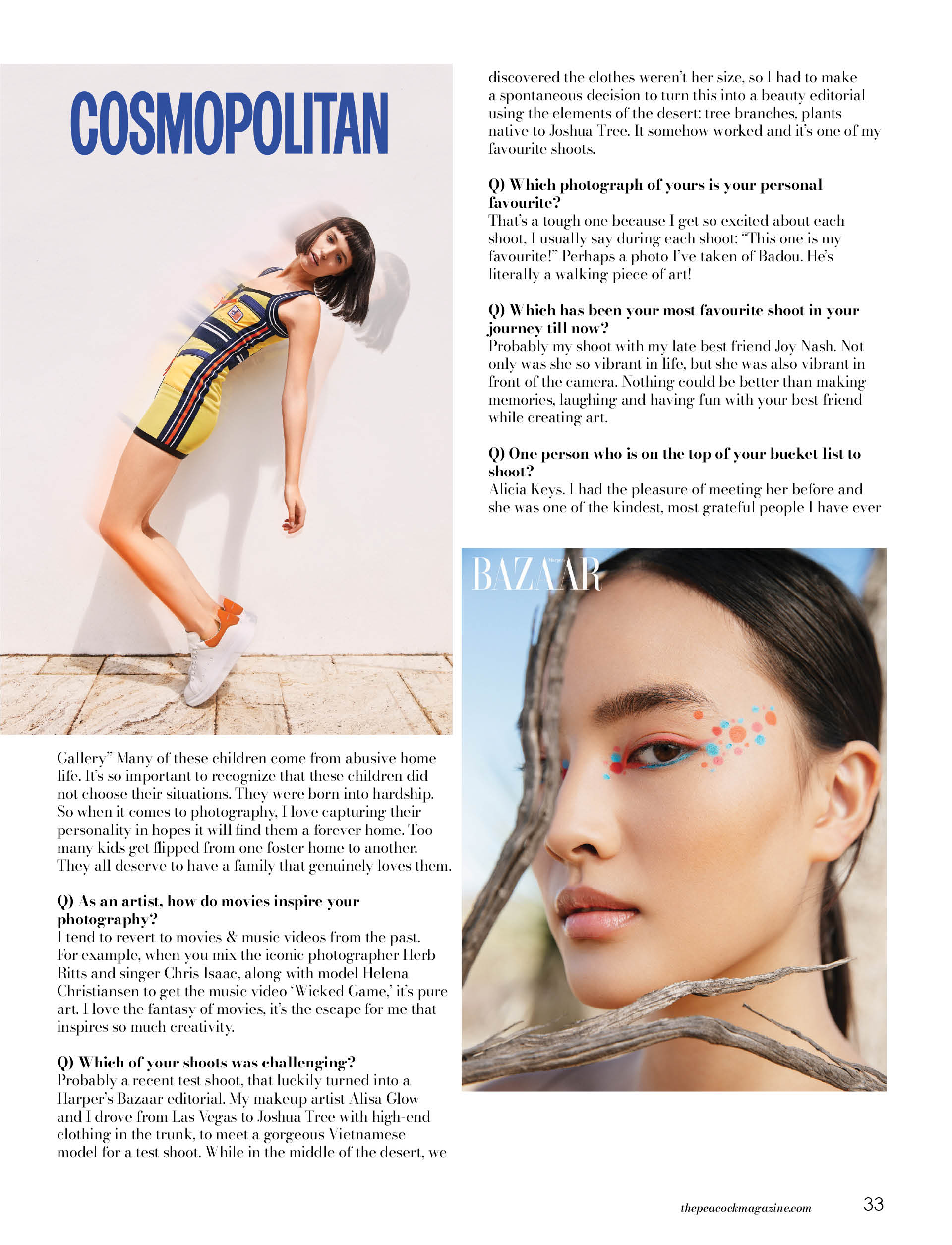 Q) AS AN ARTIST, HOW DO MOVIES INSPIRE YOUR PHOTOGRAPHY?
I tend to revert to movies & music videos from the past. For example, when you mix the iconic photographer Herb Ritts and singer Chris Isaac, along with model Helena Christiansen to get the music video 'Wicked Game,' it's pure art. I love the fantasy of movies, it's the escape for me that inspires so much creativity.
Q) WHICH OF YOUR SHOOTS WAS CHALLENGING?
Probably a recent test shoot, that luckily turned into a Harper's Bazaar editorial. My makeup artist Alisa Glow and I drove from Las Vegas to Joshua Tree with high-end clothing in the trunk, to meet a gorgeous Vietnamese model for a test shoot. While in the middle of the desert, we discovered the clothes weren't her size, so I had to make a spontaneous decision to turn this into a beauty editorial using the elements of the desert: tree branches, plants native to Joshua Tree. It somehow worked and it's one of my favourite shoots.
Q) WHICH PHOTOGRAPH OF YOURS IS YOUR PERSONAL FAVOURITE?
That's a tough one because I get so excited about each shoot, I usually say during each shoot: "This one is my favourite!" Perhaps a photo I've taken of Badou. He's literally a walking piece of art!
Q) WHICH HAS BEEN YOUR MOST FAVOURITE SHOOT IN YOUR JOURNEY TILL NOW?
Probably my shoot with my late best friend Joy Nash. Not only was she so vibrant in life, but she was also vibrant in front of the camera. Nothing could be better than making memories, laughing and having fun with your best friend while creating art.
Q) ONE PERSON WHO IS ON THE TOP OF YOUR BUCKET LIST TO SHOOT?
Alicia Keys. I had the pleasure of meeting her before and she was one of the kindest, most grateful people I have ever met. Based on her actions, she left an incredible impression on me. So taking her photos would be an absolute thrill.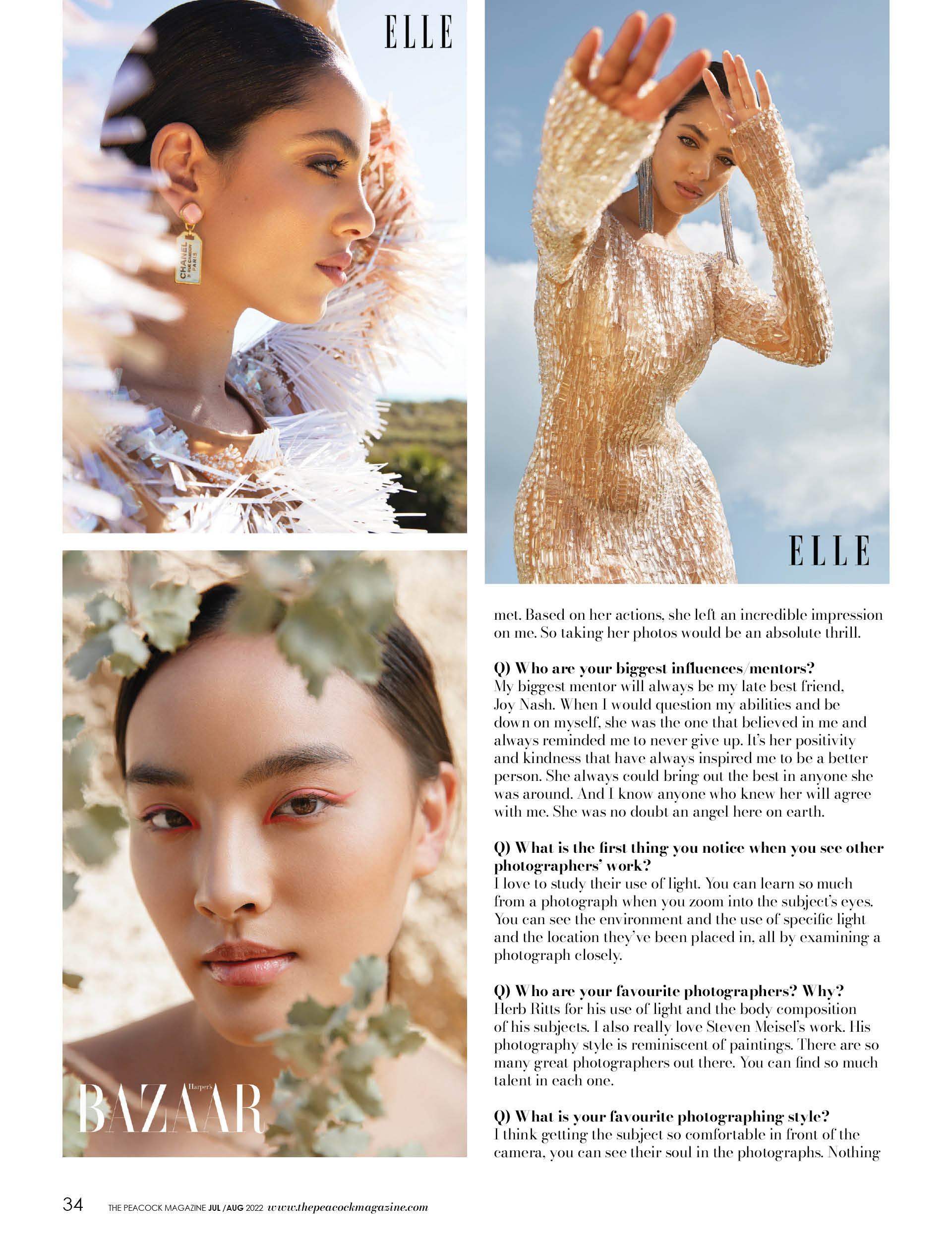 Q) WHO ARE YOUR BIGGEST INFLUENCES/MENTORS?
My biggest mentor will always be my late best friend, Joy Nash. When I would question my abilities and be down on myself, she was the one that believed in me and always reminded me to never give up. It's her positivity and kindness that have always inspired me to be a better person. She always could bring out the best in anyone she was around. And I know anyone who knew her will agree with me. She was no doubt an angel here on earth.
Q) WHAT IS THE FIRST THING YOU NOTICE WHEN YOU SEE OTHER PHOTOGRAPHERS' WORK?
I love to study their use of light. You can learn so much from a photograph when you zoom into the subject's eyes. You can see the environment and the use of specific light and the location they've been placed in, all by examining a photograph closely.
Q) WHO ARE YOUR FAVOURITE PHOTOGRAPHERS? WHY?
Herb Ritts for his use of light and the body composition of his subjects. I also really love Steven Meisel's work. His photography style is reminiscent of paintings. There are so many great photographers out there. You can find so much talent in each one.
Q) WHAT IS YOUR FAVOURITE PHOTOGRAPHING STYLE?
I think getting the subject so comfortable in front of the camera, you can see their soul in the photographs. Nothing draws you in more to a photo than a captivating subject. I think it's all in the eyes.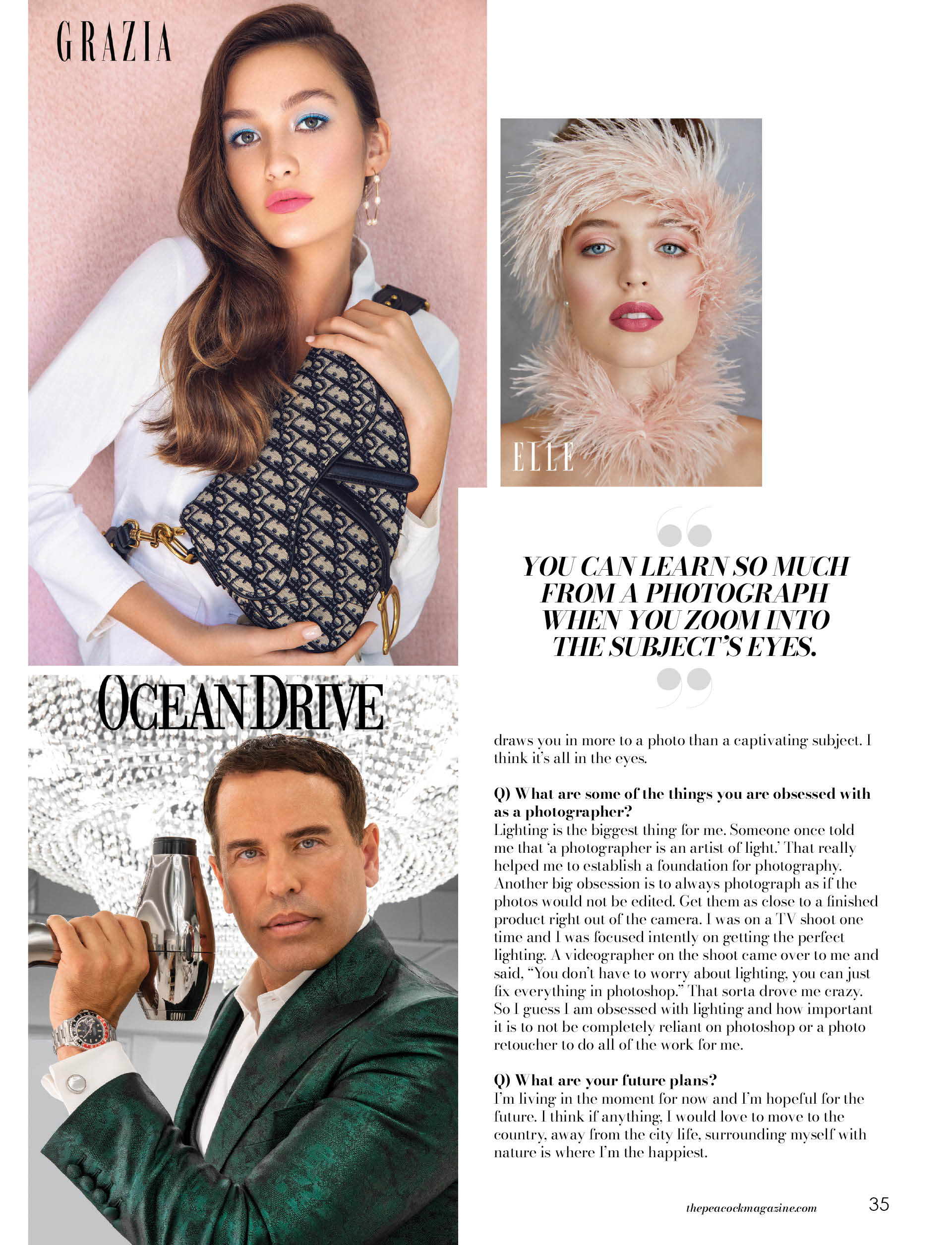 Q) WHAT ARE SOME OF THE THINGS YOU ARE OBSESSED WITH AS A PHOTOGRAPHER?
Lighting is the biggest thing for me. Someone once told me that 'a photographer is an artist of light.' That really helped me to establish a foundation for photography. Another big obsession is to always photograph as if the photos would not be edited. Get them as close to a finished product right out of the camera. I was on a TV shoot one time and I was focused intently on getting the perfect lighting. A videographer on the shoot came over to me and said, "You don't have to worry about lighting, you can just fix everything in photoshop." That sorta drove me crazy. So I guess I am obsessed with lighting and how important it is to not be completely reliant on photoshop or a photo retoucher to do all of the work for me.
Q) WHAT ARE YOUR FUTURE PLANS?
I'm living in the moment for now and I'm hopeful for the future. I think if anything, I would love to move to the country, away from the city life, surrounding myself with nature is where I'm the happiest.