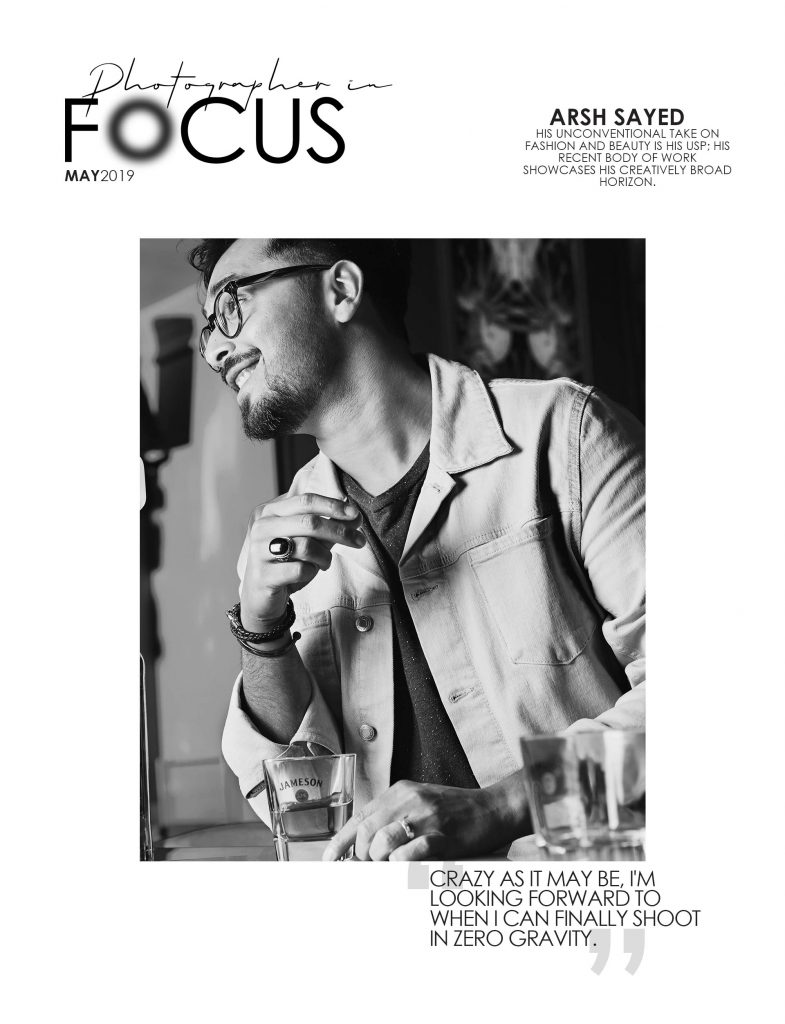 Photographer Arsh Sayed's unconventional take on fashion and beauty is his USP; his recent body of work showcases his creatively broad horizon. Having shot magazine covers, editorials and high-end campaigns, Arsh always manages to bring a fresh perspective to the table. Known for his distinctive aesthetic, Sayed captures the strength, beauty and vulnerability of his subjects effortlessly. His photography style is raw, unapologetic with a sense of newness adding gravitas to his versatile portfolio. In a detailed conversation with The Peacock Magazine, the photographer in focus for the month, Arsh Sayed talks about his best work, muse and what's next for him.
1) HOW WOULD YOU DISTINGUISH YOURSELF/ YOUR PHOTOGRAPHY STYLE FROM OTHER PHOTOGRAPHERS IN THE COUNTRY?
"Fortunately, me living in Mumbai is already beneficial as this city seems more lucrative, business of fashion wise. In terms of photography, it's evident and respectable that people build a style over the years, maybe I'm still comparatively new and haven't yet been able to develop a distinguished style; or maybe that is the distinguishing factor…not having one particular style."
2) HOW DO YOU MANAGE TO DO SOMETHING DIFFERENT WITH CELEBRITIES WHO HAVE ALREADY BEEN PHOTOGRAPHED BY VARIOUS PHOTOGRAPHERS IN VARIOUS DIFFERENT WAYS?
"Each project usually varies in brief and is newly formulated; thereby offers a new perspective even though it may consist of the same celebrity, talent or even team members like a fashion stylist or a makeup artist."
3) TELL US ABOUT A SHOOT THAT ABSOLUTELY DID NOT GO AS PLANNED/ WENT ABSOLUTELY HAYWIRE!
"I recently conducted a test shoot (something I do very often to help give me new ideas and help to understand the execution process). By the time we got to the second shot, I got the news that my car had been stolen and I kind of had to deal with that as well as not give up on the shoot at hand. Although we managed to get really content from the project, it still wasn't what I had in mind, could have been a lot better."
4) WHAT ACCORDING TO YOU HAS BEEN YOUR BEST WORK?
"A recent project for a London, UK based brand called Varana, creative directed by someone I have immense respect and love for, Aishwarya Subramaniam, styled by Kanika Karvinkop, a fashion stylist based in New York that I've had the good fortune of collaborating with a multiple times and one of my most talented of friends and makeup artists, Kritika Gill. We shot the story in a national park with a dense background of abandoned caves. The result of which is still one of my favourite projects."
5) IS THERE SOMETHING YOU REALLY WANTED TO DO BUT STILL HAVEN'T GOTTEN THE OPPORTUNITY TO DO?
"Crazy as it may be, I'm looking forward to when I can finally shoot in zero gravity."
6) WHO DID YOU LOVE WORKING WITH THE MOST?
"Kavya Trehan, It's always been a thrilling pleasure to shoot this young talent house. She's the most pleasant of personalities, nicest human, acclaimed singer, songwriter, composer and a butterfly of a model"
7)WHO ACCORDING TO YOU IS THE MOST PHOTOGENIC PERSON YOU HAVE PHOTOGRAPHED? / WHO WOULD YOU LOVE TO PHOTOGRAPH AND STILL HAVEN'T GOTTEN THE CHANCE TO?
"Kalki is someone I've had the chance to shoot, she is just so sublime. She's effortlessly cool. Someone I'm really looking forward/want to photograph is Sara Ali Khan."
8) WHAT IS YOUR FAVOURITE PHOTOGRAPHING STYLE OF ALL TIMES?
"Platon's imagery, simple, no fuss, subject and communication-based."
9) IF NOT A PHOTOGRAPHER, WHAT WOULD YOU BE?
"Definitely, a chef, the art of giving taste to a visual is just so marvellous"
10) WHICH IS THE MOST PICTURESQUE LOCATION IN THE WORLD?
"From what little I've seen yet, I'd have to say Iceland."
11) WHERE DO YOU SEEK INSPIRATION FROM?
"From the day to day things, everyday life, my surroundings, my moods, situations around me, things that affect me directly or indirectly."
12) ONE THING YOU LOVE AND ONE THING YOU HATE ABOUT YOUR JOB?
"I love the freedom my work offers me, flexible timings, chances to roam about, but it lacks the discipline that comes with a fixed job. I guess the grass is greener on the other side"
13) YOUR FAVOURITE PLACE IN THE WORLD?
"My home in Bombay, lol but apart from that, one place that keeps drawing me back in NYC It's so soulful and positive; I can never get enough of it."
14) THE WORD/PHRASE YOU USE THE MOST?
"FAIR ENOUGH"
15) WHICH PICTURE TAKEN BY YOU "SAYS A THOUSAND WORDS"?
"A picture I shot of my friend Maria in Coney Island. We spent a good 3 hours wandering about the beach, running around the arcade and the amusement park. All along, we'd stop every few minutes and she'd strike a pose, it was the cutest thing, but when we decided to finally leave and the sun finally started to set, it got rather windy and she happened to cover her face only exposing her eyes, and at that moment, I shot her again and it's just a moment that summed up the entire day's goofing around, just a simple gaze, a moment, but priceless."