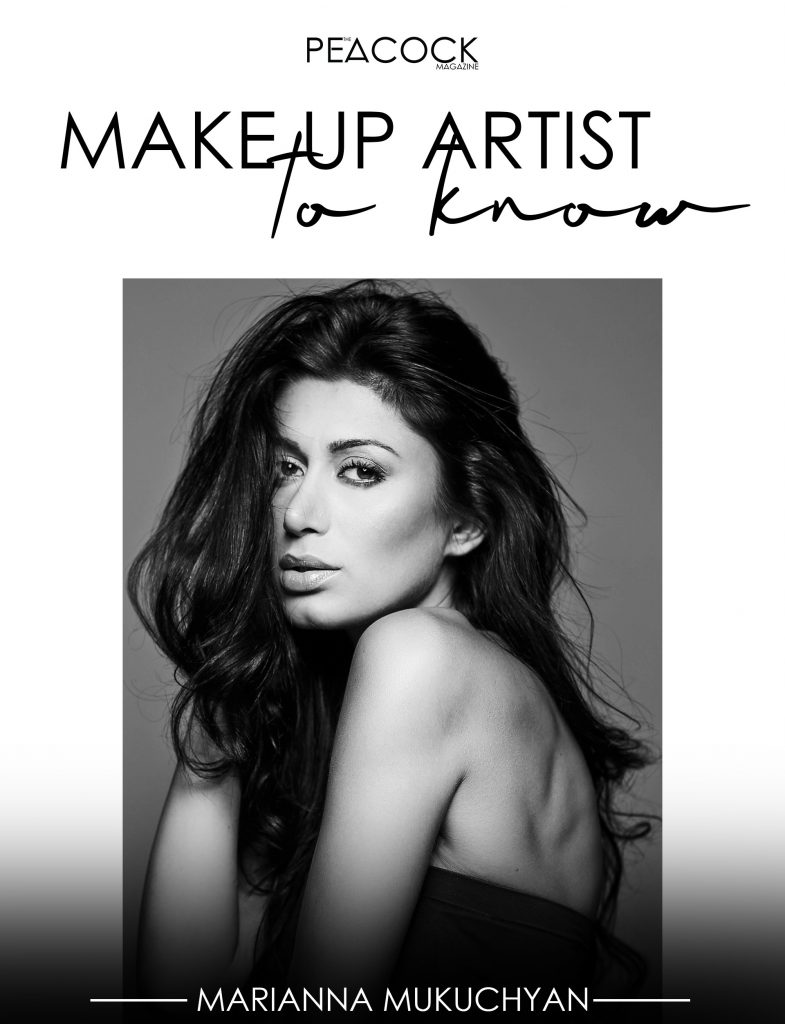 Armenian makeup artist, Mariana started her career in Germany where she was raised after moving at an early age. Her first few stints as a makeup artist included small shows and events in the country, she scored her first big assignment with a New York based publication, after which it was only uphill for the talented makeup artist. Early on in her career, she collaborated with creative geniuses like John Galliano, Dolce & Gabbana along with doing some remarkable work for international magazines like Emirates Woman and Rolling Stones in Dubai. Mukuchyan moved to India where she proved her mettle as a makeup expert by working with print giants like Vogue, Elle, Cosmopolitan and front running brands like Pantene, Nivea and L'Oréal. The internationally acclaimed makeup artist has also helped transform Bollywood heavy-hitter like Aishwarya Rai and Priyanka Chopra with her photo-finish skills. In a detailed interview for the May issue of The Peacock Magazine, Marianna Mukuchyan talks about her best work, go-to products and the makeup artist she personally looks up to.
1. IF YOU LOOK BACK AT YOUR WORK, WHAT WOULD YOU CONSIDER TO BE YOUR BEST TILL DATE?
That's very difficult to say. I can't pick one specific work.I had many achievements and amazing projects I worked on in my career and I am very proud of all the steps that I walked on this path as of now.
2. ONE MAKEUP LOOK/ PRODUCT YOU REGRET TRYING?
I used that HD finish powder to set the concealer of a big celebrity for an appearance and when paparazzi's were clicking pictures of the celebrity, the HD powder was reflecting the flashlight and the under eye of the celebrity appeared white on those pictures that was a mistake but a good learning experience.
3. 7 MAKEUP PRODUCTS YOU CAN'T GET ENOUGH OF?
1. Armani illuminous silk foundation
2. Nars concealers
3. Liquid highlighters
4. volumizing mascaras like the Dior volume pump mascara
5. Bronzers
6. Soft blushes
7. Body shimmer lotions
4. YOUR TOP TIPS FOR PEOPLE WHO WANT TO ACHIEVE FLAWLESS SKIN?
use an illuminatior primer work with concealer only, you will see that you actually don't need the foundation…if after all still needed, then just use a light-based one and apply on the middle of the face and spread from there to the outer corners of the face, no need to apply foundation all over the face like a mask
5. ANY MAKEUP ARTIST YOU PERSONALLY LOOK UP TO?
Pat McGrath, Val Garland, Kabuki
6. WHAT IS THE BEST PART ABOUT BEING A MAKE-UP ARTIST?
Each and every job is a new creative project. I love all the different creations I have been part of as of now, and where all this profession has brought me. From different sets and locations all over the world to the different people that I had the fortune to meet from all over the world. This profession is very adventurous and so versatile. And you can decide which direction you want to go. If you are tired of fashion shootings, you can go and work in movies, or if you want to change it completely, you can create your own platform and teach or if you want you can work in weddings and events, shows, etc. Of course, you can travel the world and work almost everywhere. Of course, it's not easy to get into a market, but that's everywhere like that. If you keep going and focus on one step at the time, it will all work out in its time. Just keep going.
7. AND WHAT IS THE ONE DOWNSIDE TO THE SAME?
It's an unstable profession. Sometimes you have so many queries and jobs that it's all overlapping and you don't know how to manage and sometimes there are times where you have zero queries and have to get along with your savings. It's all very unpredictable. And you can never plan properly, as this market is so unpredictable and so unreliable; dates get pushed and cancelled all the time. I can barely make any plant with friends for anything in advance, as queries come in or get changed last minute, so I can only join any plans on very short notice. Therefore I can never buy flight tickets much in advance either.
8. ONE BEAUTY/ MAKEUP TIP WOULD LIKE TO GIVE TO OUR READERS OUT THERE?
Use your blush on your eyes and lips too or use your lipstick on your eyes and blush as well. It gives a nice complete and fresh look
9. CONTOUR OR HIGHLIGHT?
Both but subtle.
10. NUDE OR SMOKY?
Nude.
11. 5 SKIN CARE PRODUCTS YOU RECOMMEND
Skincare is so important. It's the base to everything, without the right skincare, your make up will never look great. Always wash your make up off before going to bed, use face serums, use sunscreen, do 1 facemask per week, drink water, keep skin moisturized.