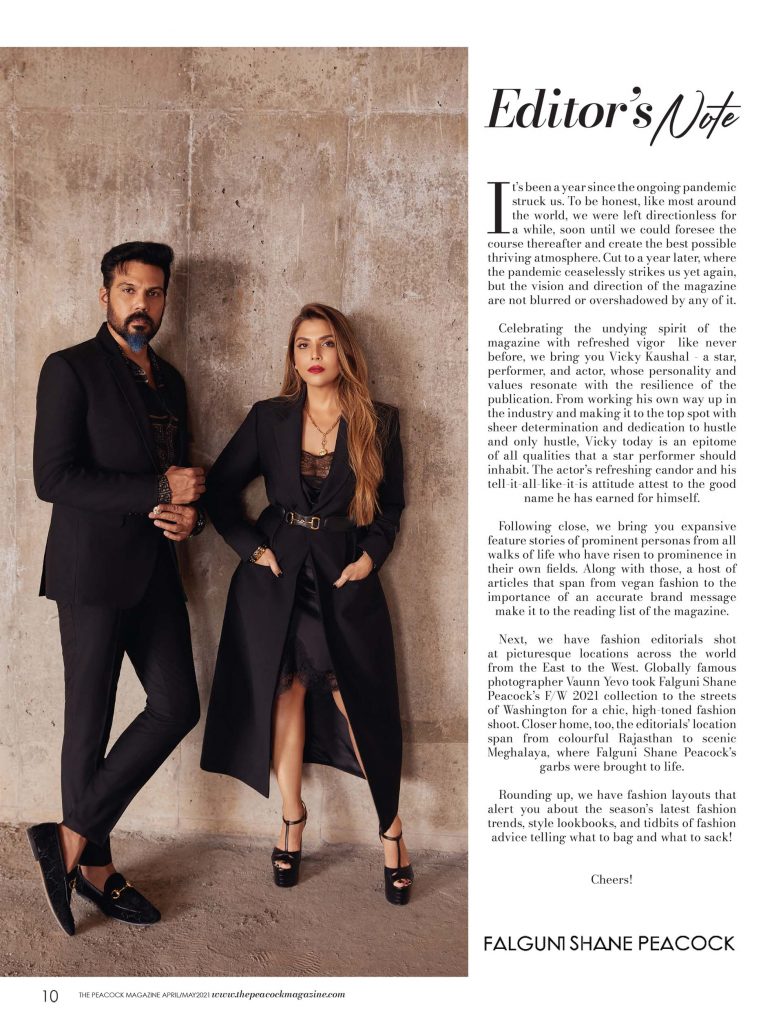 APR 2021 | EDITORS NOTE
It's been a year since the ongoing pandemic struck us. To be honest, like most around the world, we were left directionless for a while, soon until we could foresee the course thereafter and create the best possible thriving atmosphere. Cut to a year later, where the pandemic ceaselessly strikes us yet again, but the vision and direction of the magazine are not blurred or overshadowed by any of it.
Celebrating the undying spirit of the magazine with refreshed vigor like never before, we bring you Vicky Kaushal – a star, performer, and actor, whose personality and values resonate with the resilience of the publication. From working his own way up in the industry and making it to the top spot with sheer determination and dedication to hustle and only hustle, Vicky today is an epitome of all qualities that a star performer should inhabit. The actor's refreshing candor and his tell-it-all-like-it-is attitude attest to the good name he has earned for himself.
Following close, we bring you expansive feature stories of prominent personas from all walks of life who have risen to prominence in their own fields. Along with those, a host of articles that span from vegan fashion to the importance of an accurate brand message make it to the reading list of the magazine.
Next, we have fashion editorials shot at picturesque locations across the world from the East to the West. Globally famous photographer Vaunn Yevo took Falguni Shane Peacock's F/W 2021 collection to the streets of New York for a chic, high-toned fashion shoot. Closer home, too, the editorials' location span from colourful Rajasthan to scenic Meghalaya, where Falguni Shane Peacock's garbs were brought to life.
Rounding up, we have fashion layouts that alert you about the season's latest fashion trends, style lookbooks, and tidbits of fashion advice telling what to bag and what to sack!