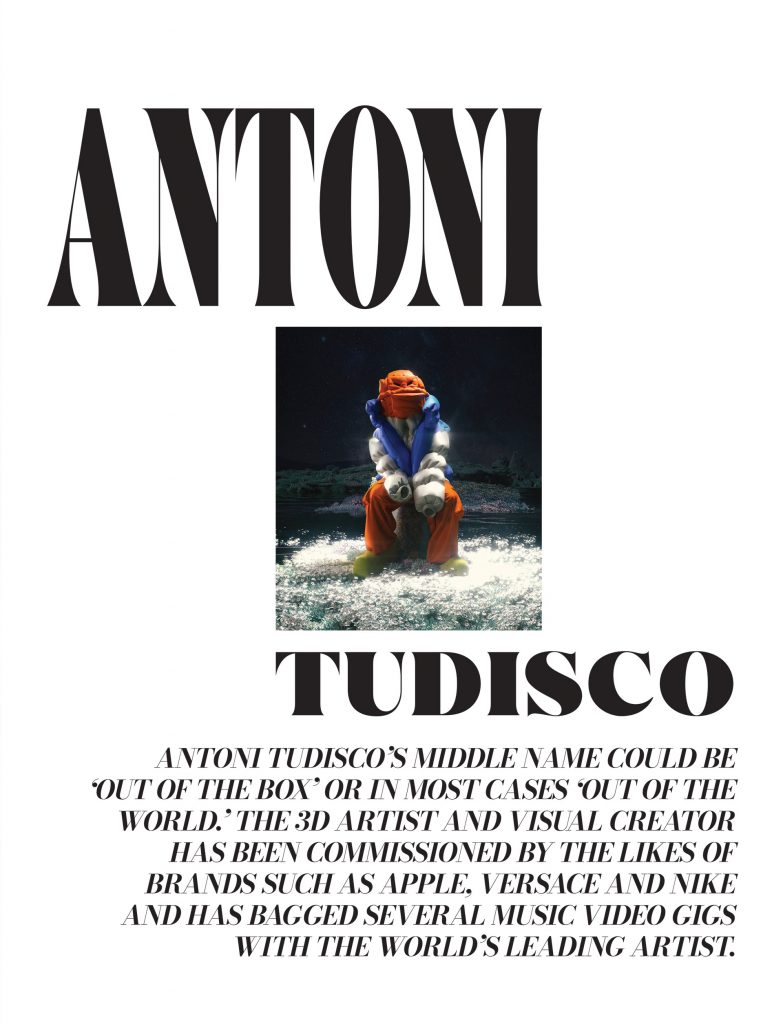 ANTONI TUDISCO'S MIDDLE NAME COULD BE 'OUT OF THE BOX' OR IN MOST CASES 'OUT OF THE WORLD.' THE 3D ARTIST AND VISUAL CREATOR WHO HAS BEEN COMMISSIONED BY BIG BRANDS SUCH AS APPLE, VERSACE, AND NIKE HAS BAGGED SEVERAL MUSIC VIDEO GIGS WITH THE WORLD'S LEADING ARTISTS.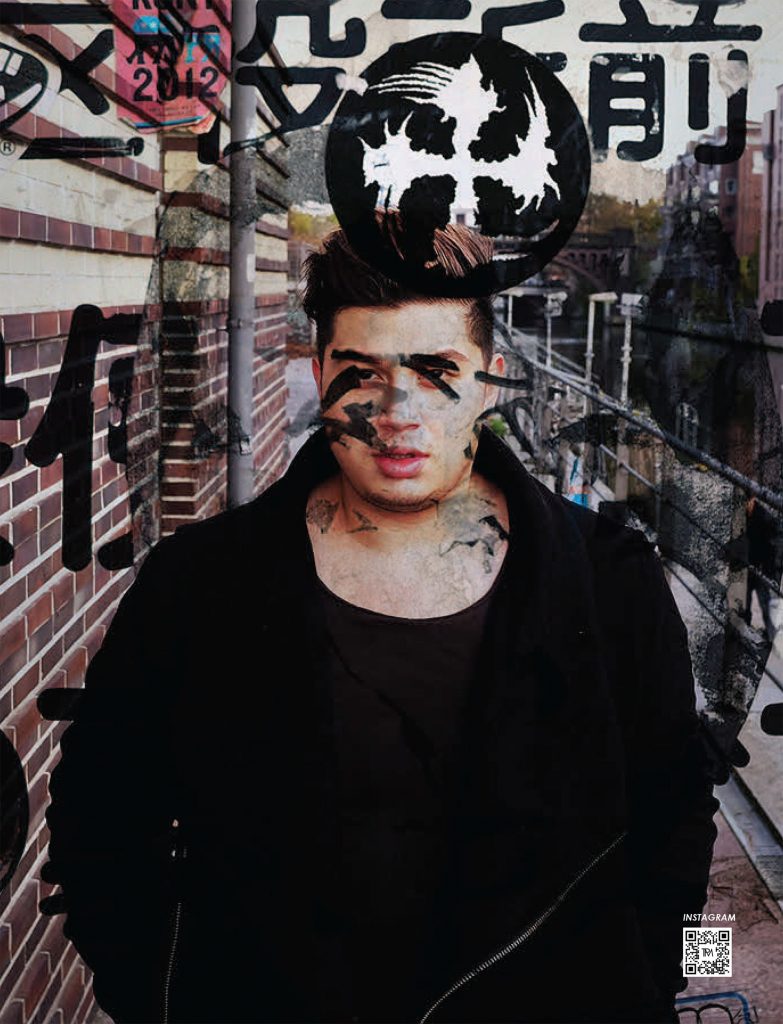 CREDITS-
Images sourced from the artist.

[Q] What were your growing up years like?
I was born and raised in Hamburg, Germany, by my Filipino mom and Italian dad. I barely listened to my teachers in school lessons since I would be busy drawing and sketching Anime characters in my notebooks. After high school, I studied web design and development at the SAE Institute following media management.
[Q] When did you develop an interest in graphic arts?
In my high school years, when Myspace was a thing, you could customize your profile through HTML and PHP. That's what caught my attention and interest in graphic design when I started customizing my own profile with some pretty badly sketched artworks made with GIMP.
[Q] Did you study 3D, or are you self-taught?
I studied web design and development program, but since I wanted to express my visions and imaginations through 3D and CGI, I had to learn it myself.
[Q] Where/ in whom do you find your inspiration?
It is, definitely, my surroundings and daily life.
[Q] Who are your biggest influences/ mentors?
I look up to Takashi Murakami, KAWS, Picasso, Andy Warhol, and George Condo.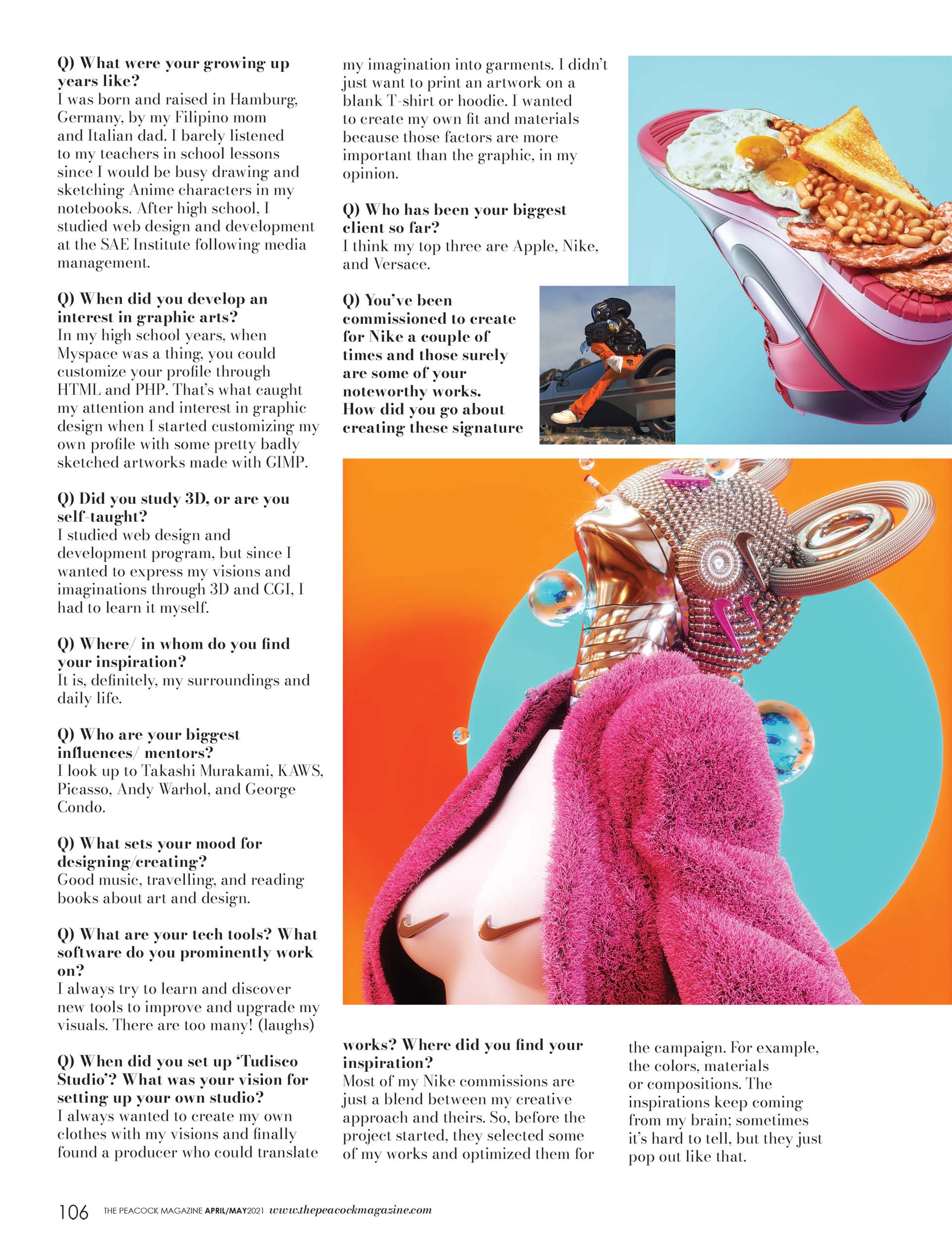 [Q] What sets your mood for designing/creating?
Good music, travelling, and reading books about art and design.
[Q] What are your tech tools? What software do you prominently work on?
I always try to learn and discover new tools to improve and upgrade my visuals. There are too many! (laughs)
[Q] When did you set up 'Tudisco Studio'? What was your vision for setting up your own studio?
I always wanted to create my own clothes with my visions and finally found a producer who could translate my imagination into garments. I didn't just want to print an artwork on a blank T-shirt or hoodie. I wanted to create my own fit and materials because those factors are more important than the graphic, in my opinion.
[Q] Who has been your biggest client so far?
I think my top three are Apple, Nike, and Versace.
[Q] You've been commissioned to create for Nike a couple of times and those surely are some of your noteworthy works. How did you go about creating these signature works? Where did you find your inspiration?
Most of my Nike commissions are just a blend between my creative approach and theirs. So, before the project started, they selected some of my works and optimized them for the campaign. For example, the colors, materials or compositions. The inspirations keep coming from my brain; sometimes it's hard to tell, but they just pop out like that.
[Q] Have you been commissioned to paint for someone of high profile that we don't know of?
Yes, several times, but those are private commissions, so I can't tell too much about the collector.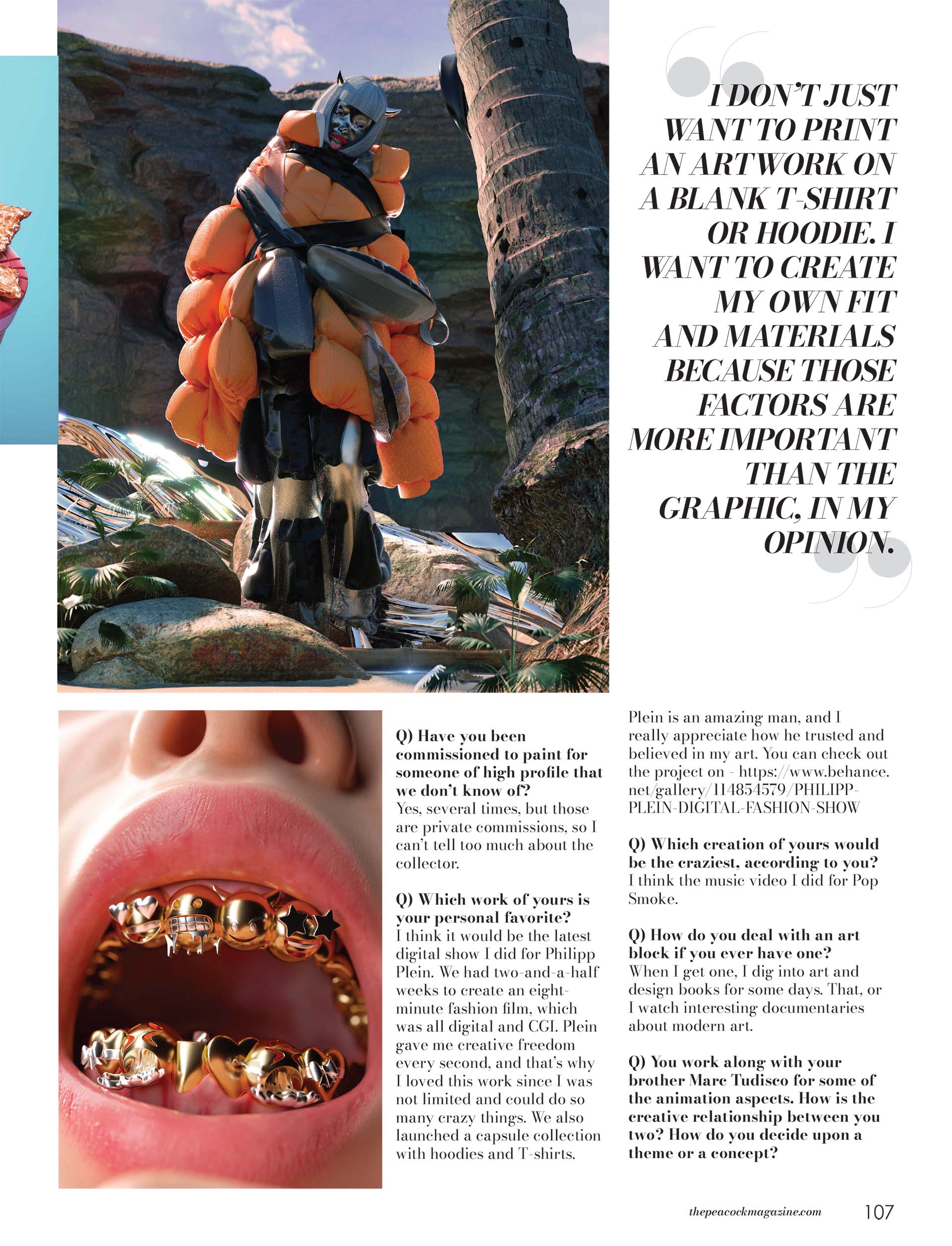 [Q] Which work of yours is your personal favorite?
I think it would be the latest digital show I did for Philipp Plein. We had two-and-a-half weeks to create an eight-minute fashion film, which was all digital and CGI. Plein gave me creative freedom every second, and that's why I loved this work since I was not limited and could do so many crazy things. We also launched a capsule collection with hoodies and T-shirts. Plein is an amazing man, and I really appreciate how he trusted and believed in my art. You can check out the project on – https://www.behance.net/gallery/114854579/PHILIPP-PLEIN-DIGITAL-FASHION-SHOW
[Q] Which creation of yours would be the craziest, according to you?
I think the music video I did for Pop Smoke.
[Q] How do you deal with an art block if you ever have one?
When I get one, I dig into art and design books for some days. That, or I watch interesting documentaries about modern art.
[Q] You work along with your brother Marc Tudisco for some of the animation aspects. How is the creative relationship between you two? How do you decide upon a theme or a concept?
We worked together for Ader Error, Mackage, Madison Beer, and Reebok, but the most fun project was the music video for Fedez – Bimbi Per Strada. We also have creative freedom, and since Marc and I have got the same taste, everything works smoothly on any given project.
[Q] You've collaborated with Steve Aoki and done numerous fun animations for some hit tracks. Do we see yourself getting into music anytime soon?
I tried to rap when I was younger, but I think my strength is in digital art. (laughs)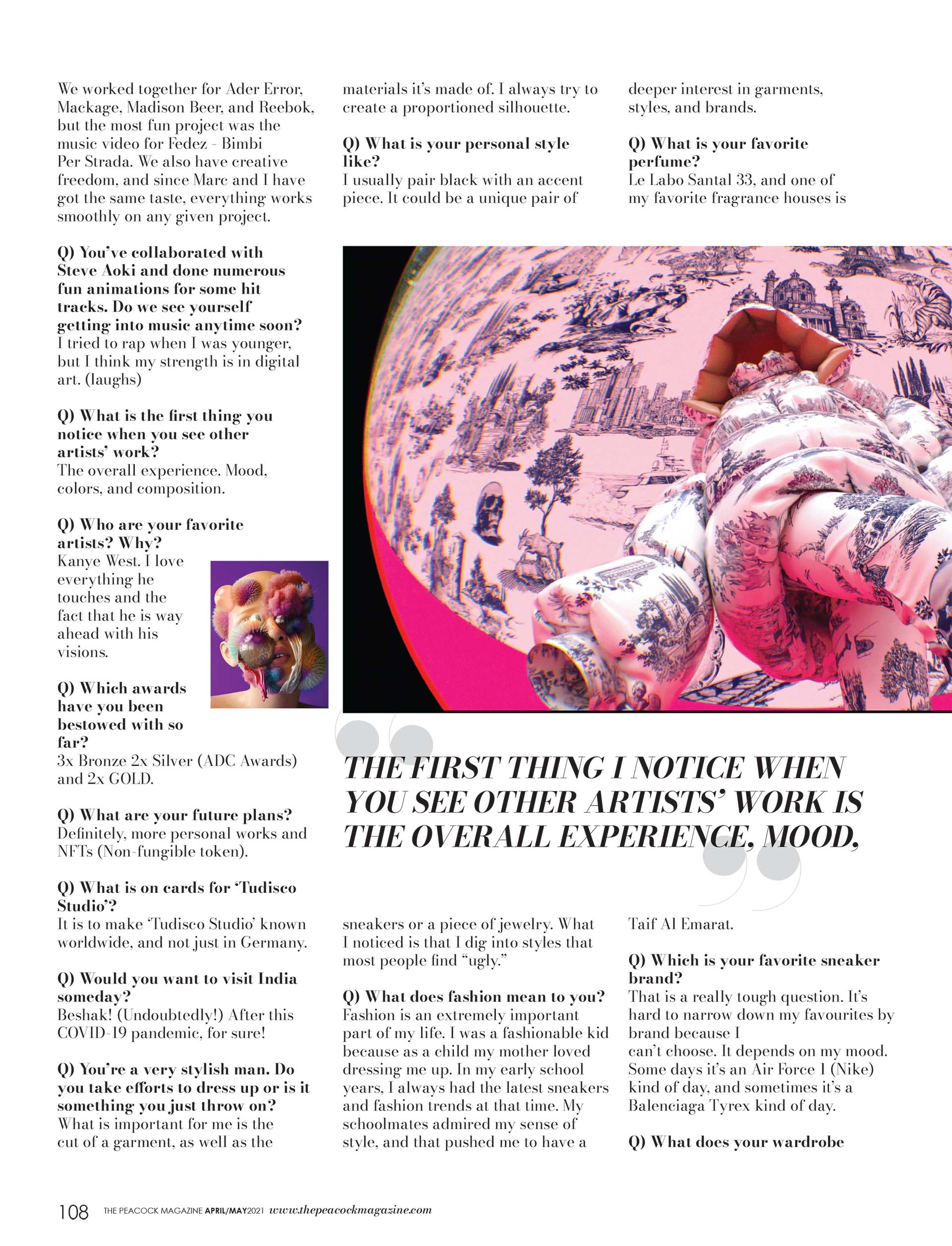 [Q] What is the first thing you notice when you see other artists' work?
The overall experience. Mood, colors, and composition.
[Q] Who are your favorite artists? Why?
Kanye West. I love everything he touches and the fact that he is way ahead with his visions.
[Q] Which awards have you been bestowed with so far?
3x Bronze 2x Silver (ADC Awards) and 2x GOLD.
[Q] What are your future plans?
Definitely, more personal works and NFTs (Non-fungible token).
[Q] What is on cards for 'Tudisco Studio'?
It is to make 'Tudisco Studio' known worldwide, and not just in Germany.
[Q] Would you want to visit India someday?
Beshak! (Undoubtedly!) After this COVID-19 pandemic, for sure!
FASHION QUESTIONS:-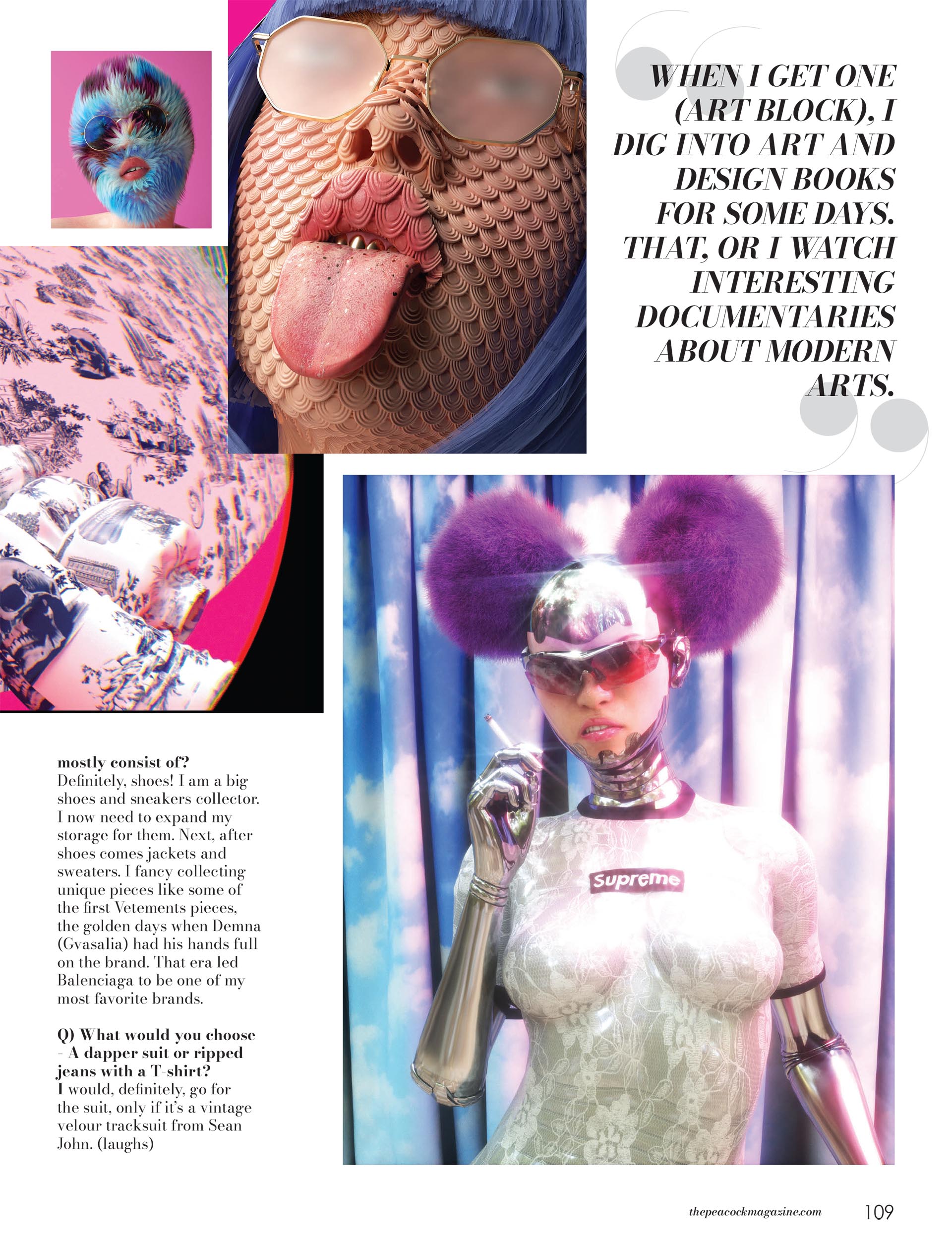 [Q] You're a very stylish man. Do you take efforts to dress up or is it something you just throw on?
What is important for me is the cut of a garment, as well as the materials it's made of. I always try to create a proportioned silhouette.
[Q] What is your personal style like?
I usually pair black with an accent piece. It could be a unique pair of sneakers or a piece of jewelry. What I noticed is that I dig into styles that most people find "ugly."
[Q] What does fashion mean to you?
Fashion is an extremely important part of my life. I was a fashionable kid because as a child my mother loved dressing me up. In my early school years, I always had the latest sneakers and fashion trends at that time. My schoolmates admired my sense of style, and that pushed me to have a deeper interest in garments, styles, and brands.
[Q] What is your favorite perfume?
Le Labo Santal 33, and one of my favorite fragrance houses is Taif Al Emarat.
[Q] Which is your favorite sneaker brand?
That is a really tough question. It's hard to narrow down my favourites by brand because I can't choose. It depends on my mood. Some days it's an Air Force 1 (Nike) kind of day, and sometimes it's a Balenciaga Tyrex kind of day.
[Q] What does your wardrobe mostly consist of?
Definitely, shoes! I am a big shoes and sneakers collector. I now need to expand my storage for them. Next, after shoes comes jackets and sweaters. I fancy collecting unique pieces like some of the first Vetements pieces, the golden days when Demna (Gvasalia) had his hands full on the brand. That era led Balenciaga to be one of my most favorite brands.
[Q] What would you choose – A dapper suit or ripped jeans with a T-shirt?
I would, definitely, go for the suit, only if it's a vintage velour tracksuit from Sean John. (laughs)