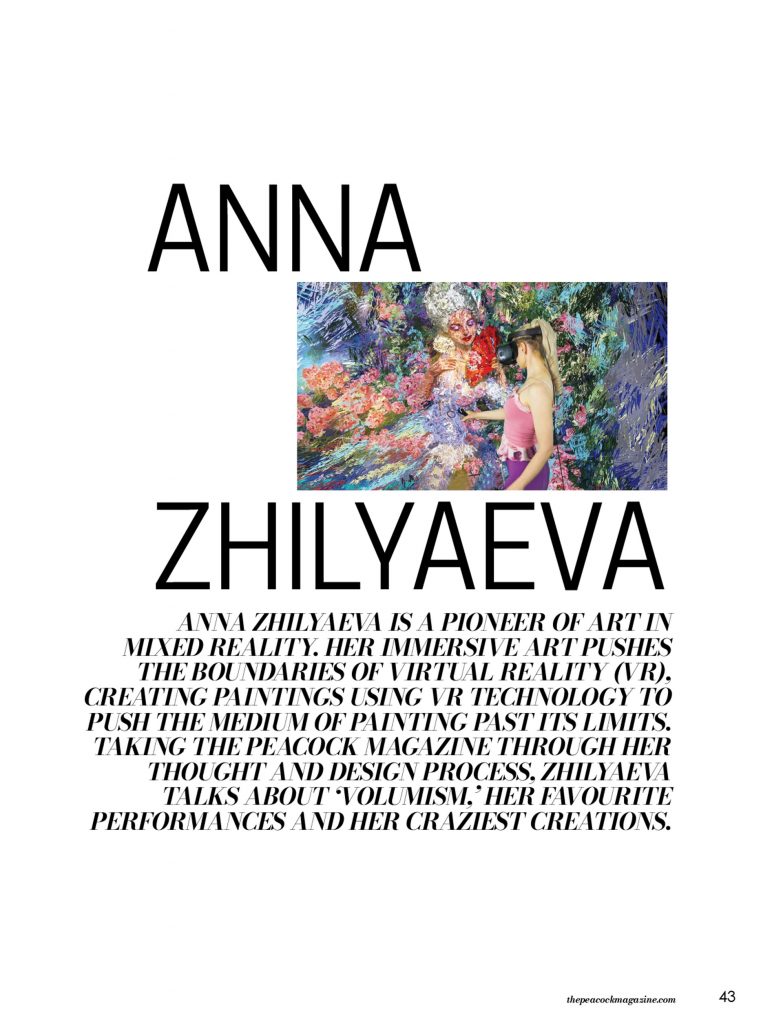 Anna Zhilyaeva is a pioneer of art in mixed reality. Her immersive art pushes the boundaries of virtual reality (VR), creating paintings using VR technology to push the medium of painting past its limits. Taking The Peacock Magazine through her thought and design process, Zhilyaeva talks about 'Volumism,' her favourite performances and her craziest creations.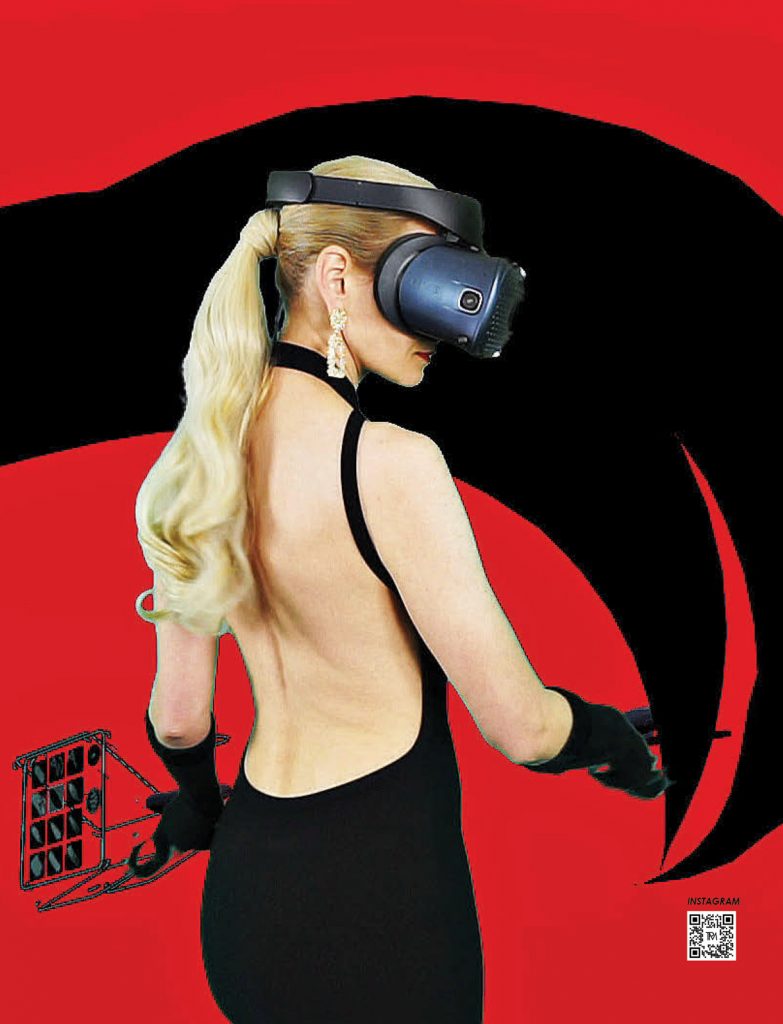 [Q] What were your growing up years like?
It was like a roller-coaster ride. I grew up quickly. At 14, I was already living on my own and going to art school with grown-up young adults in their 20s. My parents couldn't help me much financially. My country was unpredictable; everything was changing so fast. I was born very curious. I was always so eager to learn, to have experiences and to travel. I realized early on, that losing is also winning, and that nothing lasts forever.
[Q] When did you develop an interest in arts?
I have loved to create fantasy ever since I can remember. As a child, I spent many hours alone, making animals, houses and people out of paper. I loved making things up and listening to stories. I think it's very important to spend time alone to get to know yourself and what you like to do.
When I was 10 years old, I took a free art class. My teacher motivated me and other kids during those first four years; we discovered different techniques, and painted plain air in incredibly beautiful places. She got me involved in a lot of international art competitions. It was interesting. She pushed me to continue studying art professionally.
[Q] It is known that you've studied art. But did you study Mixed Reality Arts and Virtual Reality Painting, or are you self-taught?
I have always been interested in new technologies. I was looking forward to virtual reality (VR), and when I heard that a drawing app had been developed, I immediately invested in hardware. I was also interested in mixed reality very early on, experimenting, beta-testing and pushing developers to implement it. The early version of Tilt Brush (the drawing software) was not easy to use; you couldn't erase it, there was no copy/paste (option). I've been also experimenting with my painting application. There was no one to learn from, you just had to try and discover it yourself. It seems obvious now, but at the beginning, it was hard to know what to do with it. After a few drawings, I noticed that some of the brushes had an oil-painting effect. My idea was to create the illusion of painting as if many paintings had been grouped together in sculpture.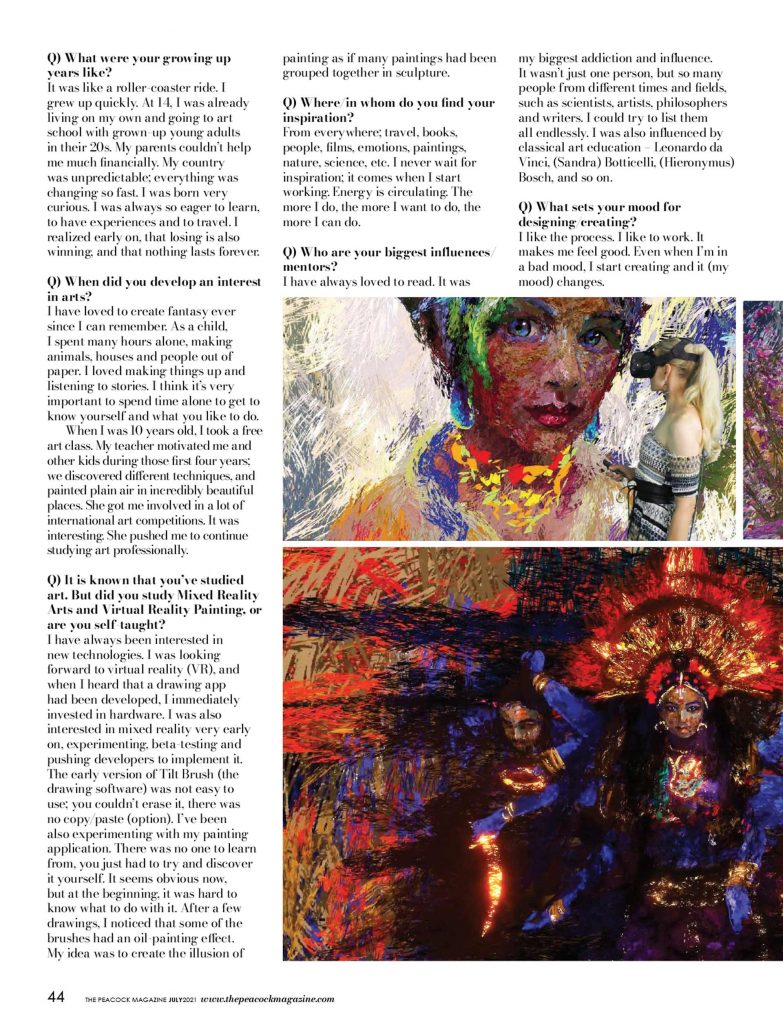 [Q] Where/in whom do you find your inspiration?
From everywhere; travel, books, people, films, emotions, paintings, nature, science, etc. I never wait for inspiration; it comes when I start working. Energy is circulating. The more I do, the more I want to do, the more I can do.
[Q] Who are your biggest influences/mentors?
I have always loved to read. It was my biggest addiction and influence. It wasn't just one person, but so many people from different times and fields, such as scientists, artists, philosophers and writers. I could try to list them all endlessly. I was also influenced by classical art education — Leonardo da Vinci, (Sandra) Botticelli, (Hieronymus) Bosch, and so on.
[Q] What sets your mood for designing/creating?
I like the process. I like to work. It makes me feel good. Even when I'm in a bad mood, I start creating and it (my mood) changes.
[Q] What are your tech tools? What software do you prominently work on?
Over the years, I have tried many tools. Now I mostly work with Tilt Brush, but I've also developed my own app and experimented with it.
[Q] How do you feel about tasting success and managing it at such a young age? Did it set your own and your client's expectations high?
Everything is relative; age and success too. What counts as success? I think waking up and wanting to live, to experience, to explore, to carry on (is success). Appreciating what you have and the people around you, to love and be loved (is important). I believe that happiness is within. It is very important to be kind and share good cheer. When you are kind to others, others respond to you in the same way. We are social creatures, and you get what you sow.
Money and popularity will not make you the happiest person. The best things in the world are free: love, friendship, caring. They cannot be bought. But, yes. Success helps me achieve some of my dreams like those of working all over the world, speaking different languages, meeting amazing people.
[Q] You coined the term 'Volumism.' Can you tell us what it is and how has the meaning of the term evolved with your art?
We call the world around us with words to make it (them) understandable to others and to be able to communicate. At the TEDx conference, I used the term 'Volumism' to describe my immersive sculptural paint creations, because this technology allows you to create any volume and break the laws of gravity.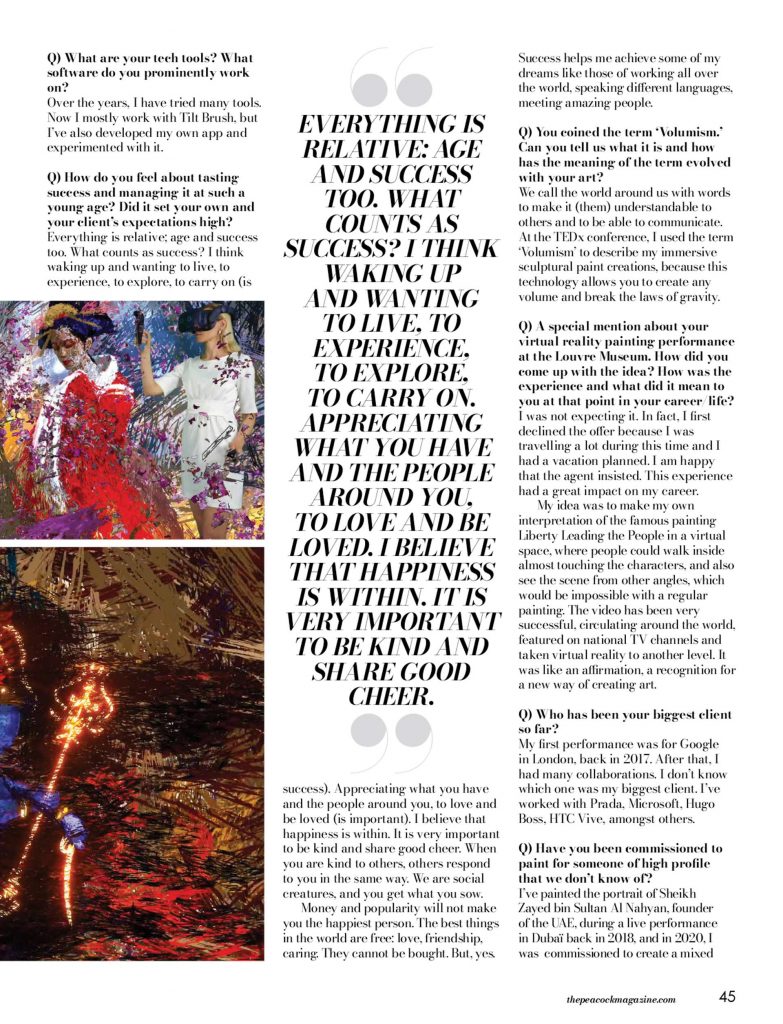 [Q] A special mention about your virtual reality painting performance at the Louvre Museum. How did you come up with the idea? How was the experience and what did it mean to you at that point in your career/life?
I was not expecting it. In fact, I first declined the offer because I was travelling a lot during this time and I had a vacation planned. I am happy that the agent insisted. This experience had a great impact on my career.
My idea was to make my own interpretation of the famous painting Liberty Leading the People in a virtual space, where people could walk inside almost touching the characters, and also see the scene from other angles, which would be impossible with a regular painting. The video has been very successful, circulating around the world, featured on national TV channels and taken virtual reality to another level. It was like an affirmation, a recognition for a new way of creating art.
[Q] Who has been your biggest client so far?
My first performance was for Google in London, back in 2017. After that, I had many collaborations. I don't know which one was my biggest client. I've worked with Prada, Microsoft, Hugo Boss, HTC Vive, amongst others.
[Q] Have you been commissioned to paint for someone of high profile that we don't know of?
I've painted the portrait of Sheikh Zayed bin Sultan Al Nahyan, founder of the UAE, during a live performance in Dubaï back in 2018, and in 2020, I was commissioned to create a mixed reality video of Mustafa Kemal Atatürk, 1st president and founder of the Turkish Republic.
[Q] Which work of yours is your personal favourite?
I think when you are satisfied with your work, you stop growing. Of course, I find some of my work more interesting than others. Especially when I manage to combine painting and dance, to emerge in a performance, to create an atmosphere, to tell a story. Like in The Story of Magical Kindness, or as in the Colorful Souvenirs.
Creating a painting in Tilt Brush is not easy. I worked with many different mediums: oil, acrylic, watercolour, clay, marble, but in my opinion, it's much harder to be predictable in VR, especially when you want to show your creations in mixed reality. I think I've also made more technological progress in one of my last pieces.
[Q] Do you enjoy performing solo or with dancers/orchestra, etc? Which is your most favourite performance to date?
I love performing live. It's always exciting. When I put the headset on, I'm always alone, I don't see anyone. But there is a repetition, to put it all together, where you meet great dancers and musicians, it's amazing.
I performed in a stadium in front of 45,000 people. The stadium was so big I couldn't see anyone. I loved my last performance in India, where I painted Kali with fire. It's an impressive brush that looks interesting on the screen.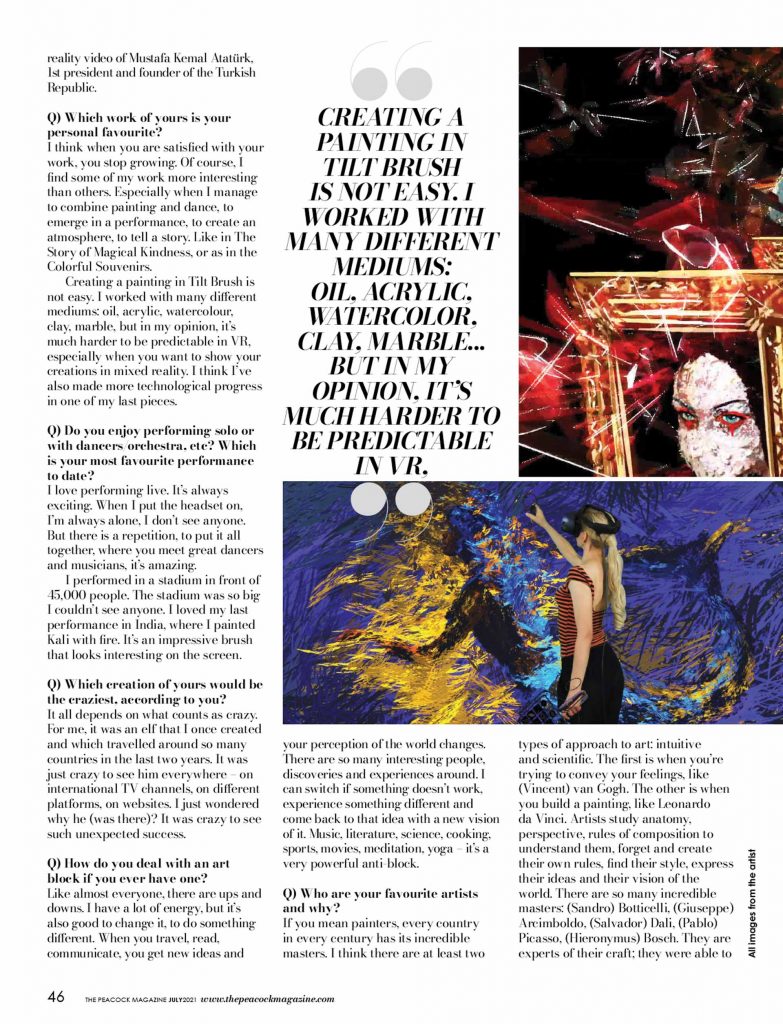 [Q] Which creation of yours would be the craziest, according to you?
It all depends on what counts as crazy. For me, it was an elf that I once created and which travelled around so many countries in the last two years. It was just crazy to see him everywhere — on international TV channels, on different platforms, on websites. I just wondered why he (was there)? It was crazy to see such unexpected success.
[Q] How do you deal with an art block if you ever have one?
Like almost everyone, there are ups and downs. I have a lot of energy, but it's also good to change it, to do something different. When you travel, read, communicate, you get new ideas and your perception of the world changes. There are so many interesting people, discoveries and experiences around. I can switch if something doesn't work, experience something different and come back to that idea with a new vision of it. Music, literature, science, cooking, sports, movies, meditation, yoga — it's a very powerful anti-block.
[Q] Who are your favourite artists and why?
If you mean painters, every country in every century has its incredible masters. I think there are at least two types of approach to art: intuitive and scientific. The first is when you're trying to convey your feelings, like (Vincent) van Gogh. The other is when you build a painting, like Leonardo da Vinci. Artists study anatomy, perspective, rules of composition to understand them, forget and create their own rules, find their style, express their ideas and their vision of the world. There are so many incredible masters: (Sandro) Botticelli, (Giuseppe) Arcimboldo, (Salvador) Dali, (Pablo) Picasso, (Hieronymus) Bosch. They are experts of their craft; they were able to create their own world, (which is) very special and powerful.
[Q] You've donned multiple roles at some point of time in your life, as a painter, art director, teacher, cartoon animator, portraitist, game designer and illustrator. Which role do you enjoy the most and why?
These have been different periods in my life, and I have always enjoyed what I did. I like to change, to discover new things, to have different experiences. I enjoy every moment of my life, no matter how challenging it has been. I like being an artist. I am in love with what I am doing now because it gives me incredible freedom. I have many interesting offers from all over the world and it is very unpredictable what will happen next. For example, this year was a crazy experience with the NFTs (Non-Fungible Tokens). There are so many nuances in my profession. Everything can change in a few minutes. You can be in London in the morning and Berlin in the evening.
I am free to create what I want in any way I can imagine. I can combine all my passions: painting, sculpture, dance, music, filmmaking. I can't say if it's work or leisure. I live intensely through my work, and I am happy.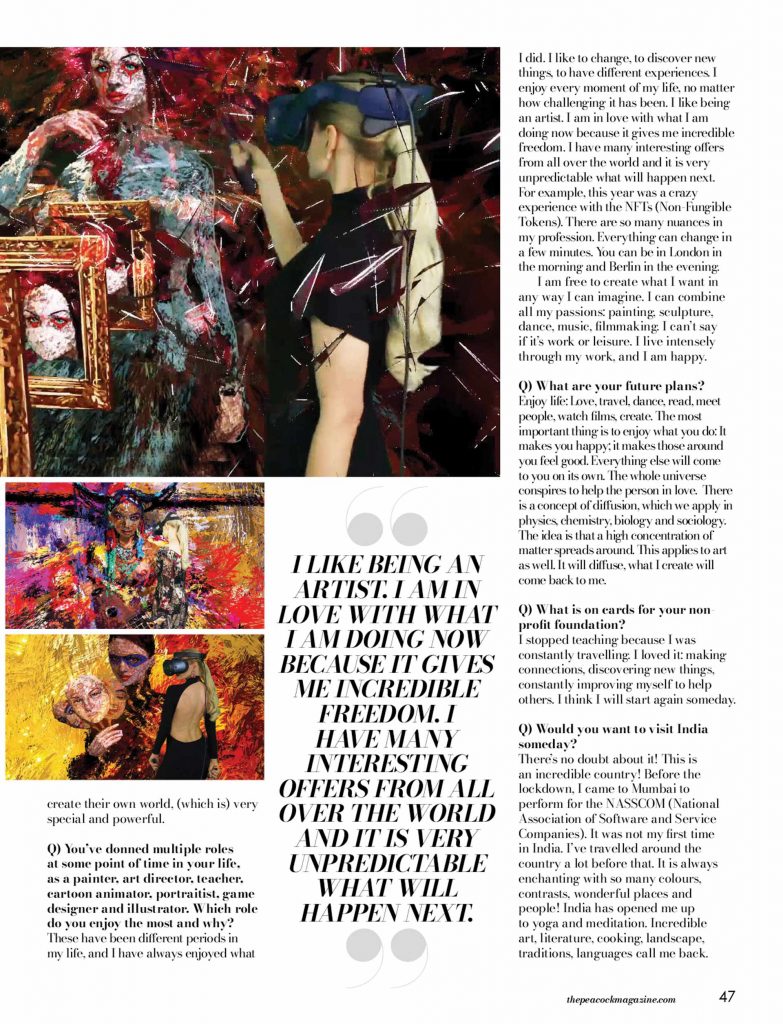 [Q] What are your future plans?
Enjoy life: Love, travel, dance, read, meet people, watch films, create. The most important thing is to enjoy what you do: It makes you happy; it makes those around you feel good. Everything else will come to you on its own. The whole universe conspires to help the person in love. There is a concept of diffusion, which we apply in physics, chemistry, biology and sociology. The idea is that a high concentration of matter spreads around. This applies to art as well. It will diffuse, what I create will come back to me.
[Q] What is on cards for your non-profit foundation?
I stopped teaching because I was constantly travelling. I loved it: making connections, discovering new things, constantly improving myself to help others. I think I will start again someday.
[Q] Would you want to visit India someday?
There's no doubt about it! This is an incredible country! Before the lockdown, I came to Mumbai to perform for the NASSCOM (National Association of Software and Service Companies). It was not my first time in India. I've travelled around the country a lot before that. It is always enchanting with so many colours, contrasts, wonderful places and people! India has opened me up to yoga and meditation. Incredible art, literature, cooking, landscape, traditions, languages call me back.