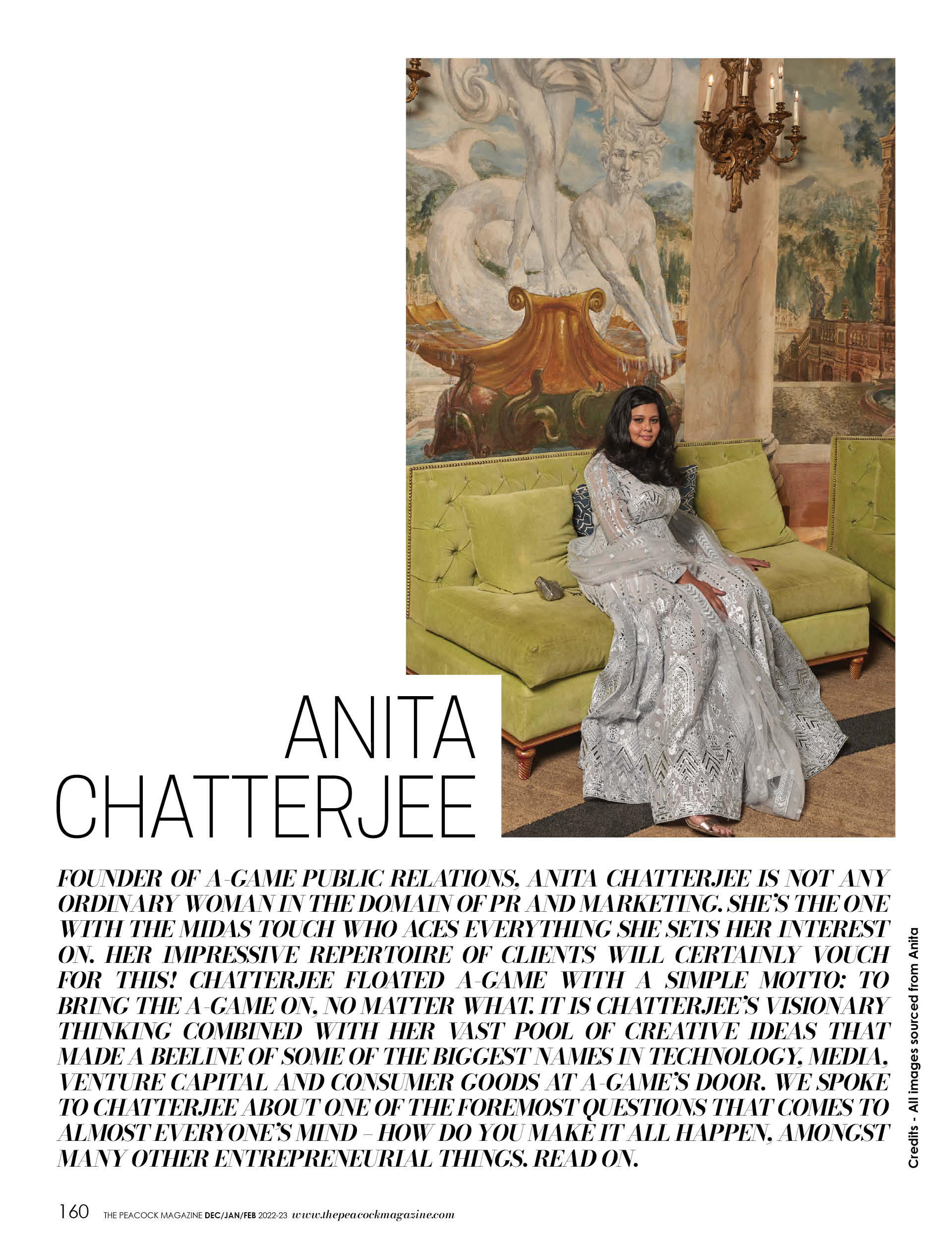 CREDITS: All images sourced from Anita
Founder of A-Game Public Relations, Anita Chatterjee is not any ordinary woman in the domain of PR and marketing. She's the one with the Midas touch who aces everything she sets her interest on. Her impressive repertoire of clients will certainly vouch for this! Chatterjee started her career at Desi Hitz under the wings of her mentor Anjula Acharia. But soon, under Acharia's advice and extended mentorship, Chatterjee floated A-Game with a simple motto: to bring the A-Game on, no matter what. It is Chatterjee's visionary thinking combined with her vast pool of creative ideas that made a beeline of some of the biggest names in technology, media, venture capital and consumer goods at A-Game's door. We spoke to Chatterjee about one of the foremost questions that comes to almost everyone's mind — how do you make it all happen, amongst many other entrepreneurial things. She gets candid about her work, personal life and her future projects in this tell-it-all interview. Read on.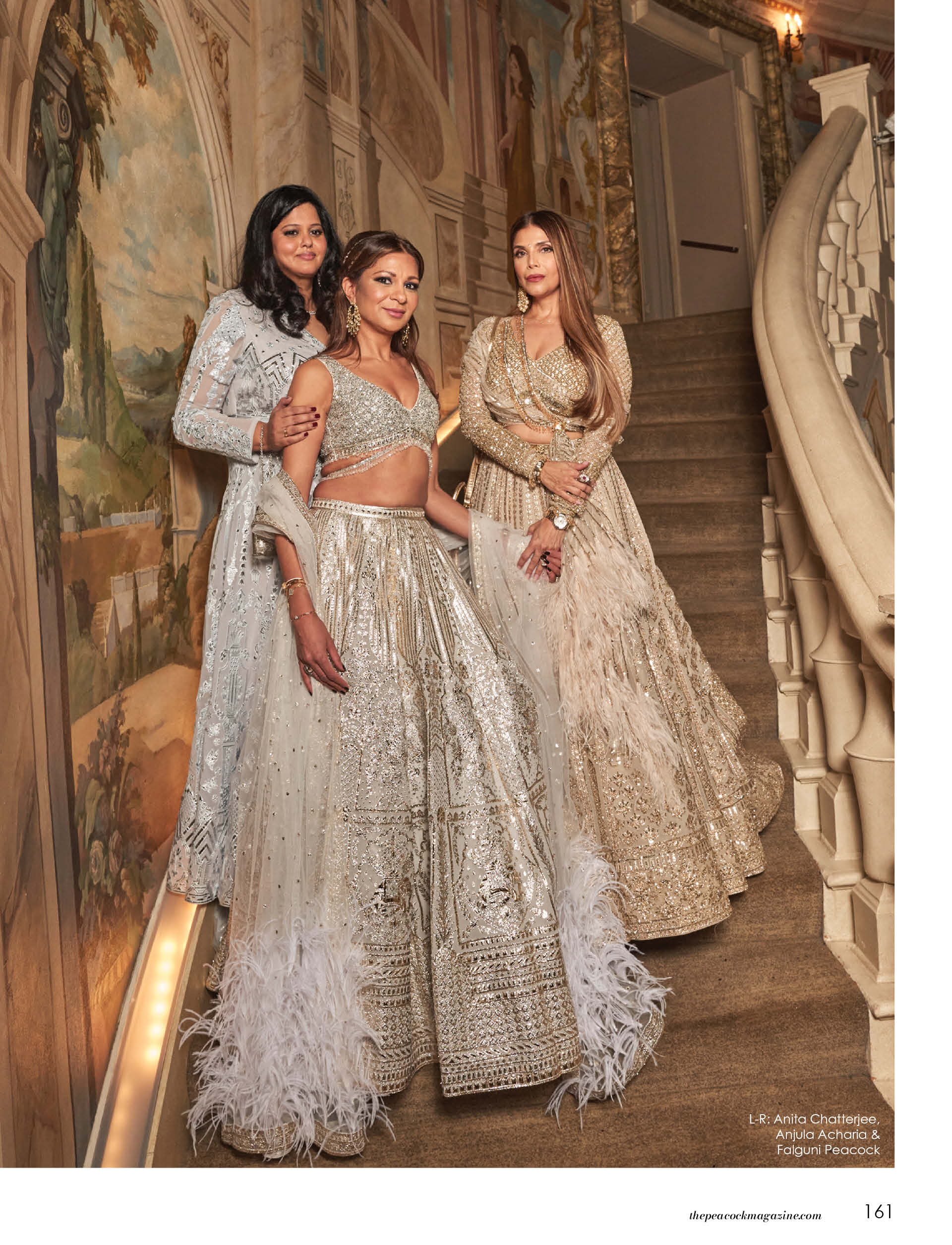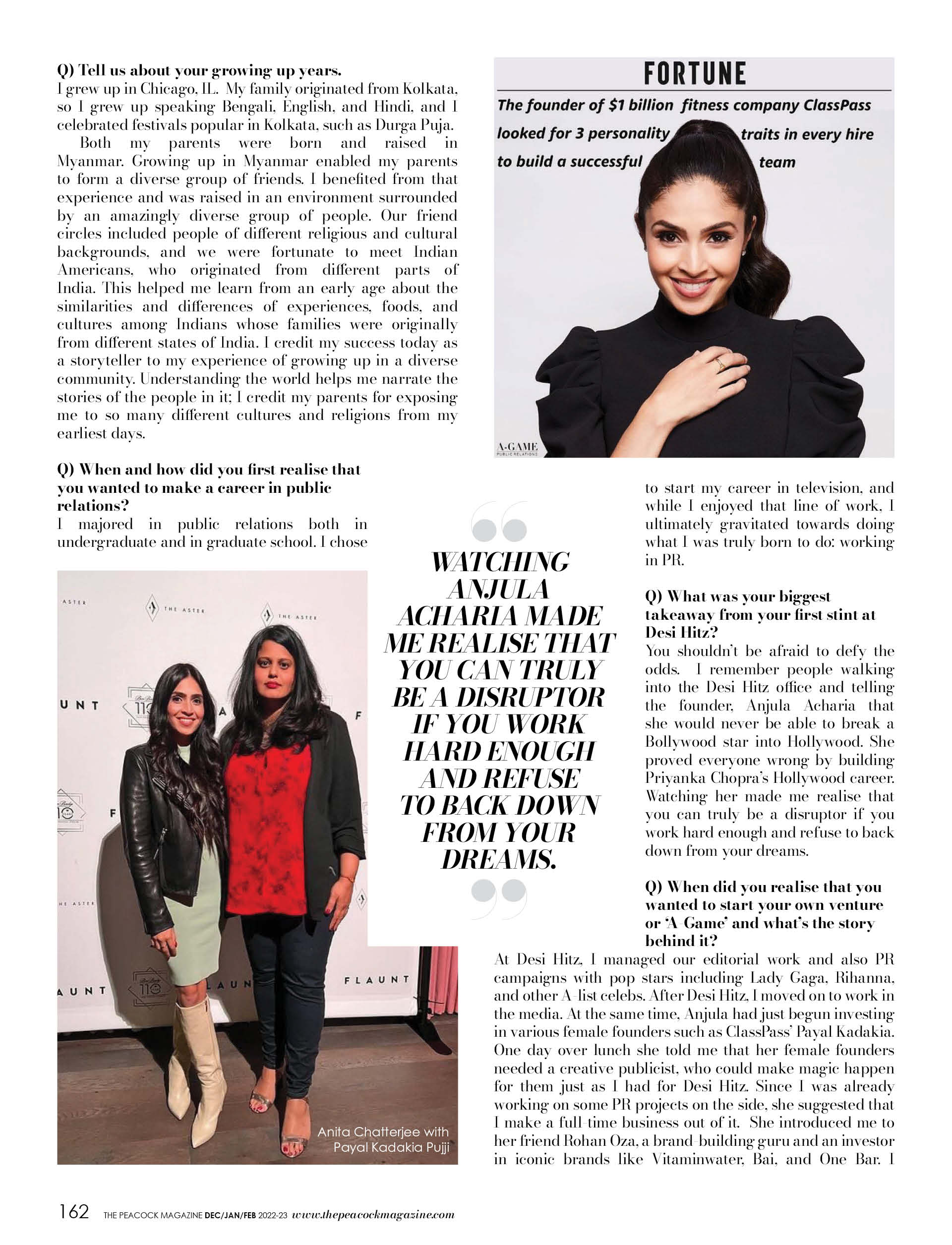 Q) Tell us about your growing up years.
I grew up in Chicago, IL. My family originated from Kolkata, so I grew up speaking Bengali, English, and Hindi, and I celebrated festivals popular in Kolkata, such as Durga Puja.
Both my parents were born and raised in Myanmar. Growing up in Myanmar enabled my parents to form a diverse group of friends. I benefited from that experience and was raised in an environment surrounded by an amazingly diverse group of people. Our friend circles included people of different religious and cultural backgrounds, and we were fortunate to meet Indian Americans, who originated from different parts of India. This helped me learn from an early age about the similarities and differences of experiences, foods, and cultures among Indians whose families were originally from different states of India. I credit my success today as a storyteller to my experience of growing up in a diverse community. Understanding the world helps me narrate the stories of the people in it; I credit my parents for exposing me to so many different cultures and religions from my earliest days.
Q) When and how did you first realise that you wanted to make a career in public relations?
I majored in public relations both in undergraduate and in graduate school. I chose to start my career in television, and while I enjoyed that line of work, I ultimately gravitated towards doing what I was truly born to do: working in PR.
Q) What was your biggest takeaway from your first stint at Desi Hitz?
You shouldn't be afraid to defy the odds. I remember people walking into the Desi Hitz office and telling the founder, Anjula Acharia that she would never be able to break a Bollywood star into Hollywood. She proved everyone wrong by building Priyanka Chopra's Hollywood career. Watching her made me realise that you can truly be a disruptor if you work hard enough and refuse to back down from your dreams.
Q) When did you realise that you wanted to start your own venture or 'A-Game' and what's the story behind it?
At Desi Hitz, I managed our editorial work and also PR campaigns with pop stars including Lady Gaga, Rihanna, and other A-list celebs. After Desi Hitz, I moved on to work in the media. At the same time, Anjula had just begun investing in various female founders such as ClassPass' Payal Kadakia. One day over lunch she told me that her female founders needed a creative publicist, who could make magic happen for them just as I had for Desi Hitz. Since I was already working on some PR projects on the side, she suggested that I make a full-time business out of it. She introduced me to her friend Rohan Oza, a brand-building guru and an investor in iconic brands like Vitaminwater, Bai, and One Bar. I became his publicist and established his reputation as one of the world's leading brand gurus (or "brandfather" as we call him). His success put me on the media map and positioned me to build a thriving public relations business.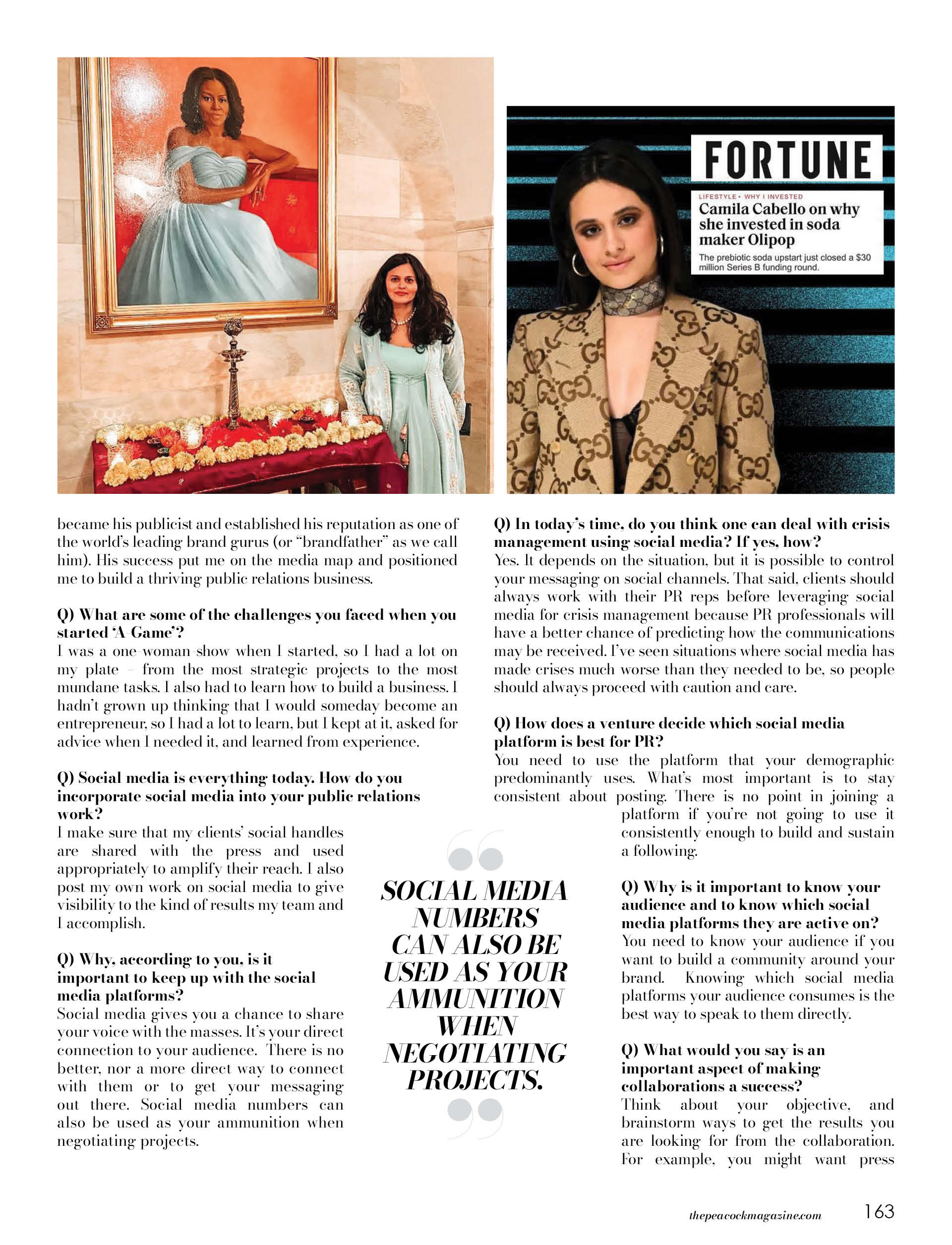 Q) What are some of the challenges you faced when you started 'A-Game'?
I was a one-woman-show when I started, so I had a lot on my plate — from the most strategic projects to the most mundane tasks. I also had to learn how to build a business. I hadn't grown up thinking that I would someday become an entrepreneur, so I had a lot to learn, but I kept at it, asked for advice when I needed it, and learned from experience.
Q) Social media is everything today. How do you incorporate social media into your public relations work?
I make sure that my clients' social handles are shared with the press and used appropriately to amplify their reach. I also post my own work on social media to give visibility to the kind of results my team and I accomplish.
Q) Why, according to you, is it important to keep up with the social media platforms?
Social media gives you a chance to share your voice with the masses. It's your direct connection to your audience. There is no better, nor a more direct way to connect with them or to get your messaging out there. Social media numbers can also be used as your ammunition when negotiating projects.
Q) In today's time, do you think one can deal with crisis management using social media? If yes, how?
Yes. It depends on the situation, but it is possible to control your messaging on social channels. That said, clients should always work with their PR reps before leveraging social media for crisis management because PR professionals will have a better chance of predicting how the communications may be received. I've seen situations where social media has made crises much worse than they needed to be, so people should always proceed with caution and care.
Q) How does a venture decide which social media platform is best for PR?
You need to use the platform that your demographic predominantly uses. What's most important is to stay consistent about posting. There is no point in joining a platform if you're not going to use it consistently enough to build and sustain a following.
Q) Why is it important to know your audience and to know which social media platforms they are active on?
You need to know your audience if you want to build a community around your brand. Knowing which social media platforms your audience consumes is the best way to speak to them directly.
Q) What would you say is an important aspect of making collaborations a success?
Think about your objective, and brainstorm ways to get the results you are looking for from the collaboration. For example, you might want press coverage to gain exposure or to help establish the identity of your brand. The strategy and tactics must flow from your objectives.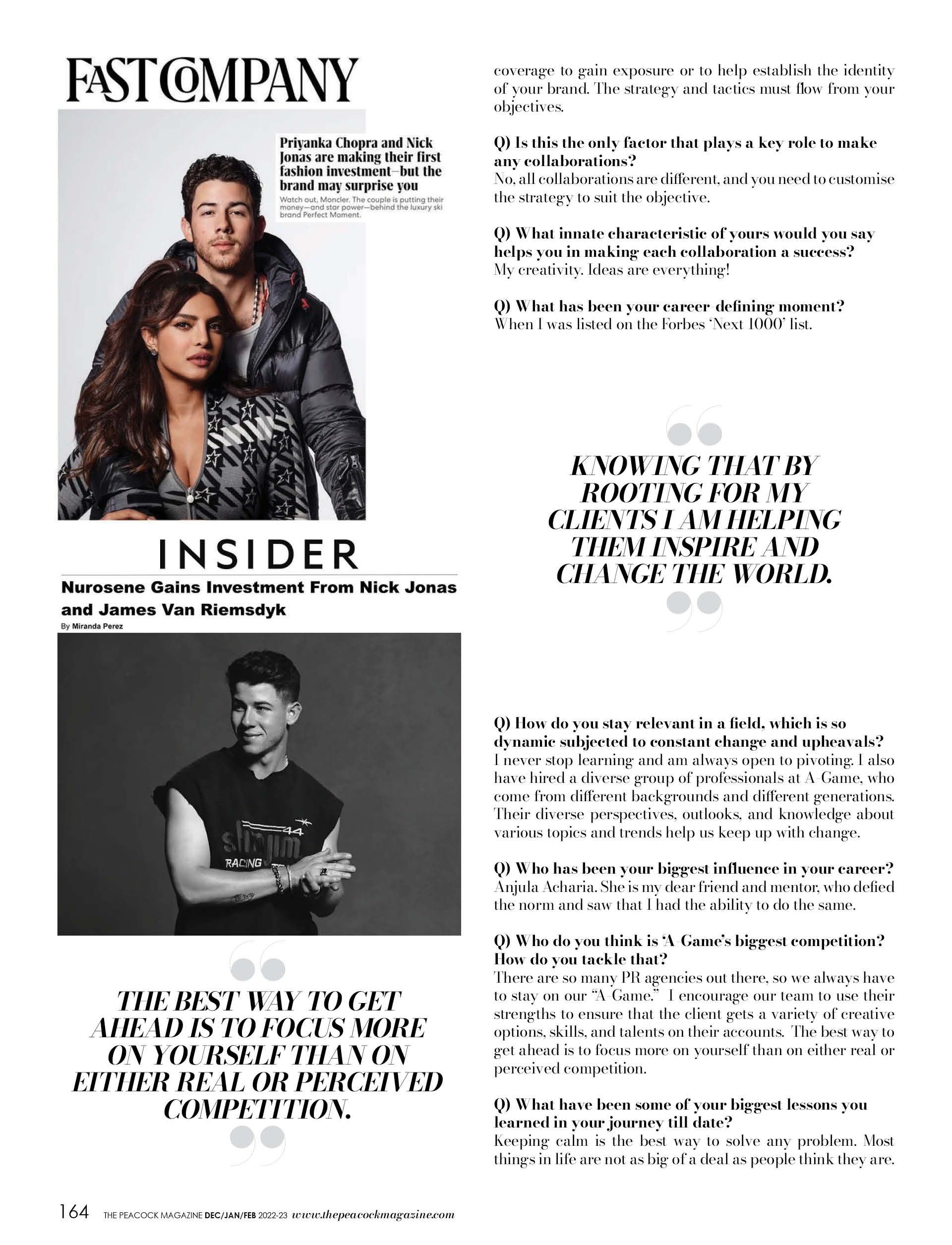 Q) Is this the only factor that plays a key role to make any collaborations?
No, all collaborations are different, and you need to customise the strategy to suit the objective.
Q) What innate characteristic of yours would you say helps you in making each collaboration a success?
My creativity. Ideas are everything!
Q) What has been your career-defining moment?
When I was listed on the Forbes 'Next 1000' list.
Q) How do you stay relevant in a field, which is so dynamic subjected to constant change and upheavals?
I never stop learning and am always open to pivoting. I also have hired a diverse group of professionals at A-Game, who come from different backgrounds and different generations. Their diverse perspectives, outlooks, and knowledge about various topics and trends help us keep up with change.
Q) Who has been your biggest influence in your career?
Anjula Acharia. She is my dear friend and mentor, who defied the norm and saw that I had the ability to do the same.
Q) Who do you think is 'A-Game's biggest competition? How do you tackle that?
There are so many PR agencies out there, so we always have to stay on our "A-Game." I encourage our team to use their strengths to ensure that the client gets a variety of creative options, skills, and talents on their accounts. The best way to get ahead is to focus more on yourself than on either real or perceived competition.
Q) What have been some of your biggest lessons you learned in your journey till date?
Keeping calm is the best way to solve any problem. Most things in life are not as big of a deal as people think they are.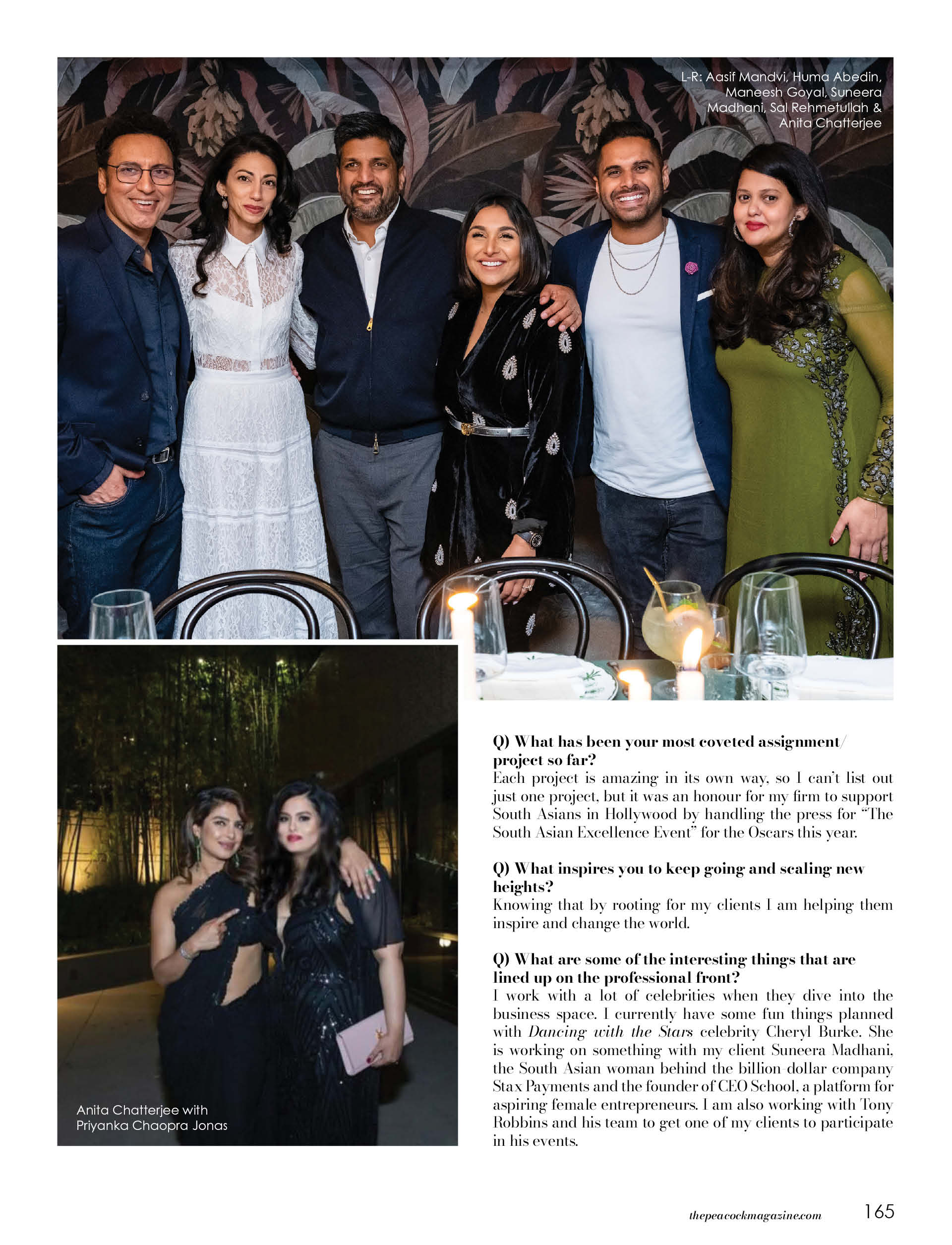 Q) What has been your most coveted assignment/project so far?
Each project is amazing in its own way, so I can't list out just one project, but it was an honour for my firm to support South Asians in Hollywood by handling the press for "The South Asian Excellence Event" for the Oscars this year.
Q) What inspires you to keep going and scaling new heights?
Knowing that by rooting for my clients I am helping them inspire and change the world.
Q) What are some of the interesting things that are lined up on the professional front?
I work with a lot of celebrities when they dive into the business space. I currently have some fun things planned with Dancing with the Stars celebrity Cheryl Burke. She is working on something with my client Suneera Madhani, the South Asian woman behind the billion-dollar company Stax Payments and the founder of CEO School, a platform for aspiring female entrepreneurs. I am also working with Tony Robbins and his team to get one of my clients to participate in his events.