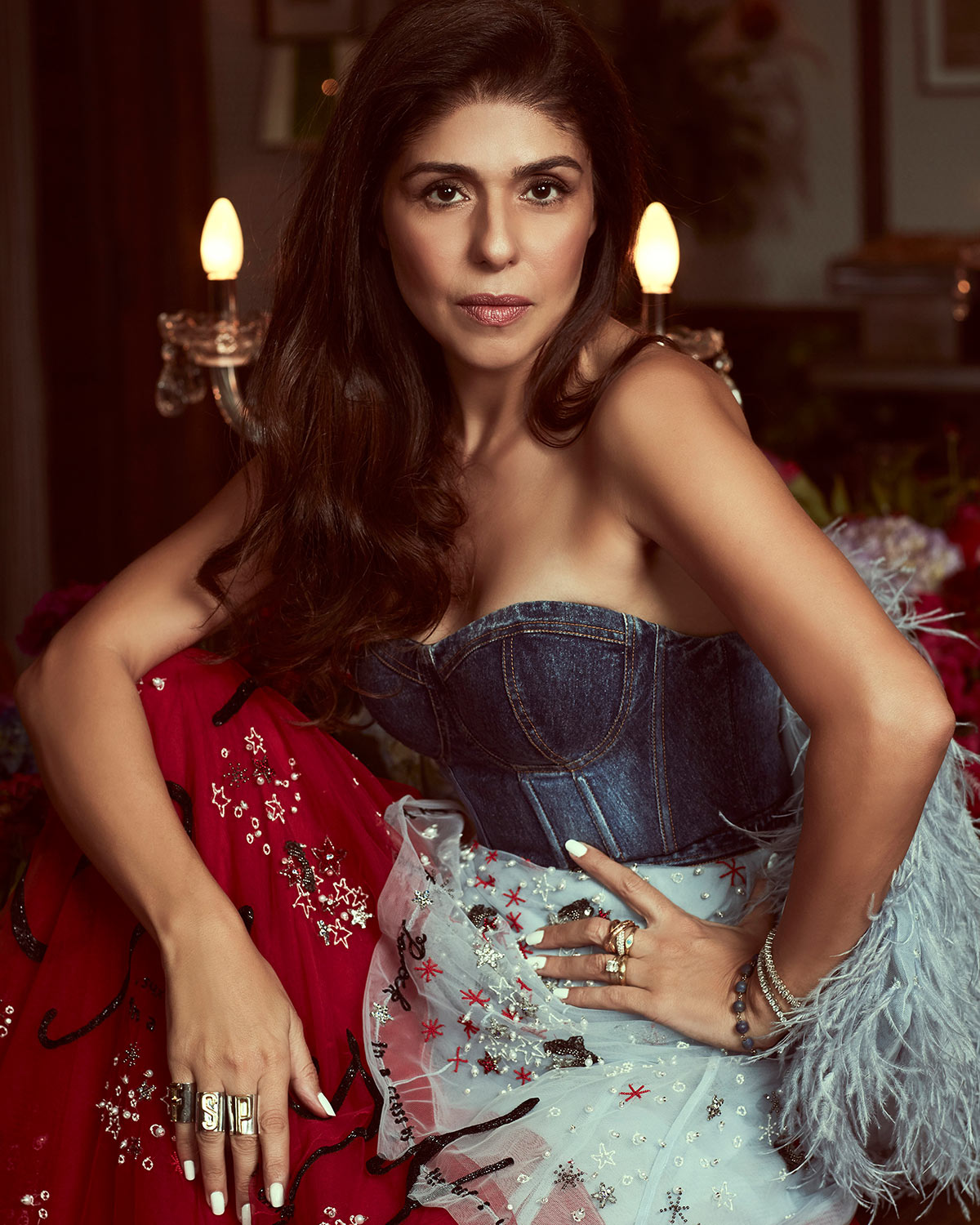 Having seamlessly juggled a multi-faceted styling career in films, advertising and as the Fashion Director of Vogue India, the name Anaita Shroff Adajania is synonymous with Indian fashion. Adajania made styling mainstream in India way before it became a commercial fashion job. Although her career in Bollywood began with her small role in the magnanimous blockbuster that is DDLJ, it was the fashion in the movies which was her ultimate destination. Her first major fashion job as a junior fashion editor dates back to 1996, when the international magazine Elle, was newly launched in India. She further extended her horizon by stepping into the world of advertising, with her styling stint for the cosmetic mega brand Maybelline. Her cross-over with Bollywood officially began when she styled the first edition of the super hit Dhoom series, after which she single-handedly changed the face of fashion styling in Bollywood. Being the ultimate fashion dictator of India's leading fashion publication, that is Vogue India, Anaita has always been way ahead of the curve. Her prolific body of work as a Fashion Director has inspired a whole generation of fashion enthusiasts to step into the world of glamour and style. Her elite clientele comprises of all the heavy-weight Bollywood superstars. From the iconic looks, she curated for Deepika Padukone in the movie 'Cocktail', which sky-rocketed her position as a fashion-forward movie star to the drastic, makeover she gave the vivacious Katrina Kaif in 'Dhoom 3' which revamped her image overnight. Apart from styling for magazine covers, editorials, red-carpets and advertising campaigns, Shroff-Adajanai also has her own styling company called the style cell. As we begin the New Year with fashion, who better than the ultimate fashion maven to grace the January cover of The Peacock Magazine. In a detailed interview, she talked about all things fashion today, while hitting a nostalgic cord by describing an era in fashion before it was all digitalized.
1) CAN YOU TAKE US TO YOUR FIRST SHOOT AS A STYLIST? HOW ARE THINGS DIFFERENT NOW?
"I don't remember my first shoot as a stylist but the one shoot that remains with me is the first cover shoot of Elle. It was the launch of Elle magazine in India. It was the first international magazine in India. We ran a huge model hunt at the famous studio and tested hundreds of girls. Finally, we found a sweet Parsi girl from Pune.
Things are very different now. In those days, we only shot film. It took a week to develop! You had to look through a magnifier. Now everything is digital. Then, what you shot was what you got. Now you can tweak and change things. Overall, people have just gotten more professional. We are a country which is brimming with talent! It is a very encouraging place to be."
2) YOU WERE ONE OF THE FIRST STYLISTS IN INDIA, HOW HAS THE JOURNEY BEEN?
"When I started off, there were no stylists. I was tossing around between being a designer or a hairstylist. I never knew what part I wanted but wanted to be some part of this amazing world. My growth as a stylist just happened organically; From being somebody who made breakfast at a shoot to someone who helped choose the colour of the wall on a set to actually being someone who thinks of an idea, casts the people around it and actually makes the idea come to life. It's been quite an amazing journey and I am so happy that there are so many younger stylists that have worked with me at some point in their lives. I hope that we have shared some happy space."
3) WHAT HAS WORKING AS A STYLIST TAUGHT YOU?
"Working as a stylist teaches you a lot of things. The first thing it teaches you is patience. You are working with a lot of creative people/ energies and you need to give everybody that space to be creative and happy. At some level, we are also psychoanalysts because we are helping people with their problems and making them feel good about themselves. It has also taught me that only hard work, putting in that sweat and learning can make you a good stylist. I don't think anyone can wake up and be a great stylist."
4) WHAT DO YOU THINK WILL BE BIG FOR FASHION IN 2019?
"If I tell you what will be big in fashion, I won't have a job left! I am the fashion director of Vogue and I need to tell you month by month! So you need to wait and be patient."
5) HOW IS IT DIFFERENT TO STYLE IN A PUBLICATION VS. STYLING A CELEBRITY?
"My favourite part of styling is editorial styling. That is when I am the captain of the ship and I call the shots. I think of an idea and make it happen or someone from my team thinks of an idea and I help them nurture it with the right people, location, fashion etc.
Red carpets are fun because they are momentary and it goes away in a day. But there I have to work with celebrities who have a point of view. For me, it is very important that the celebrity's personality to shine through when I am styling them. I don't want everyone to look the same. I work very hard on their fashion sense to come through when I am styling them."
6) WITH INSTAGRAM BECOMING SHOPPABLE AND INFLUENCERS BECOMING A MAJOR PART OF FASHION, HOW IMPORTANT DO YOU THINK SOCIAL MEDIA IS TODAY?
"I think social media is a game changer. It has made fashion extremely democratic. Everybody has a view. It is all there for us to see. It is also easier for me to connect with talent. I have designers, photographers, models reaching out to me and I have made some amazing crossings with them and done some beautiful work together. I can put out what I actually believe, nobody can monitor what I am putting out. I think it is a great medium."
7) WOULD YOU ACTUALLY RATE INFLUENCERS AS A MAJOR SOURCE OF INFLUENCE IN FASHION TODAY?
"I think they are a major source of inspiration today. But I just feel that they have to be sussed out. Not everybody that has a following, has the right following. You need to see whether the person has the right mix of people that you want to communicate with. I don't think it should be blindly on numbers. Sometimes fewer numbers and more quality wins the game."
8) WHAT ADVICE WOULD YOU GIVE SOMEONE WHO IS LOOKING TO FOLLOW IN YOUR FOOTSTEPS?
"Put in the hard work! Work with someone you admire and not someone who is here to just make a quick buck. The money will come! Quality is very important. Even though I didn't study fashion so it sounds weird but I think now the business is so competitive that it would be good to have a sense of history, so you can cross relate things that are happening today with trends that have happened before. Also, be very observant. Being an observant person has made me who I am today. A lot of people spend too much time looking down on their phones and not at the world passing by."
9) A MYTH ABOUT BEING A STYLIST YOU WANT TO BREAK?
"Everyone thinks it is extremely glamorous, we are always dressed up and we hang around with the cool crowd. We do sometimes hang around with the cool crowd. But we work very hard! I think the words missing from styling are production, running around, sourcing and being on your feet! Sometimes when I am on a shopping trip for a film, I leave the hotel at 9 am and I don't come back till 1 in the morning. But go for it, it is a fabulous career!"
Credits-
Photography by- Abheet Gidwani
Clothing by – Falguni Shane Peacock
Hamper Courtesy- Sova, Decleor, Moroccan Oil
Beverage Courtesy- Black Water
Calligraphy By- Dancing Pen & Co
Desserts By- Toujours
Decor- Fiorella India