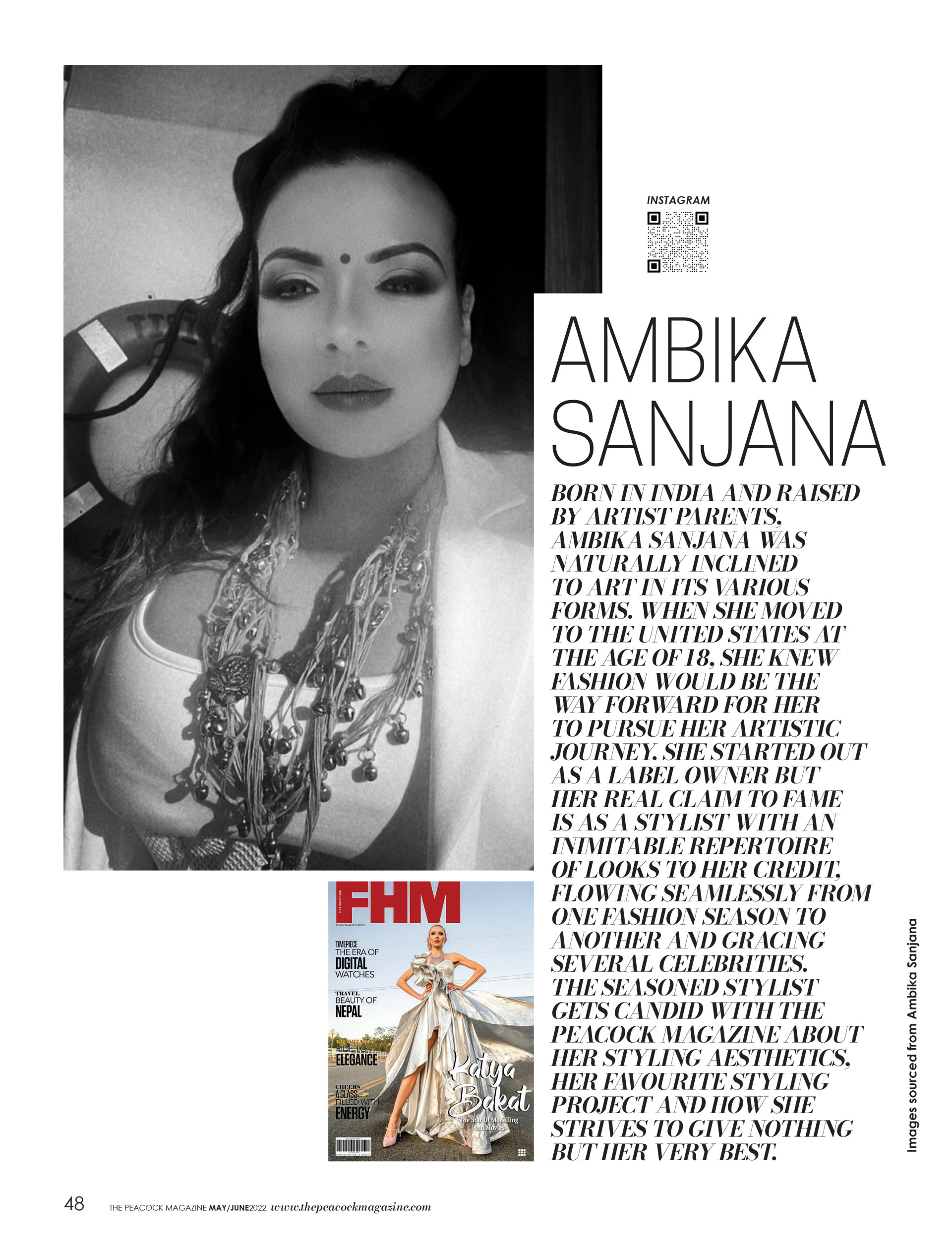 CREDITS: Images sourced from Ambika Sanjana
Born in India and raised by artist parents, Ambika Sanjana was naturally inclined to art in its various forms. When she moved to the United States at the age of 18, she knew fashion would be the way forward for her to pursue her artistic journey. She started out as a label owner but her real claim to fame is as a stylist with an inimitable repertoire of looks to her credit, flowing seamlessly from one fashion season to another and gracing several celebrities. The seasoned stylist gets candid with The Peacock Magazine about her styling aesthetics, her favourite styling project and how she strives to give nothing but her very best.




[Q] How old were you when you realised fashion would be the industry you'd like to work in? Was it always your dream to work in fashion?
I have always been fascinated by fashion since my childhood. Raised by parents who were both artists, I was always around creatives. I always had a huge interest in fashion but after college I opened my first fashion business and have been doing it ever since. It was always my dream to be in the entertainment field and to be an artist. Fashion is an integral part of this industry.
[Q] What attracted you to the creative side of the fashion industry?
I love the imagery created through fashion. My first job in fashion was in the business side and that helped me learn the functionality of running a label and all that goes into creating a brand and growing its platform. Once I started designing my own stuff, I was totally drawn to the endless possibilities within the art of fashion.
[Q] How did you begin working as a stylist? What was your first breakthrough moment?
I used to own a few clothing lines. The last company I owned was a swimsuit line. After deciding to put it on pause for a season, the photographer who used to shoot my lookbooks kept following up about the next lookbook shoot. When I told him I was taking a season off he asked if I was interested in styling a fashion feature for a magazine. It was one of the highest rated responses for that issue. I was offered a position as stylist at the magazine and soon became senior stylist there. I got the opportunity to work with a slew of celebrities. My breakthrough moment was when they started hiring me personally for their appearances and red carpets.
[Q] Growing up did you ever think you would end up working with the bigwigs of the industry?
Growing up I always knew that I was destined to do something big. I grew up in Bombay [Mumbai] and lived there till I was almost 18 before immigrating with my family to America. I used to watch MTV videos and be mesmerised by the styles followed in the US. I would always fantasise about the life that I am living today; something inside me always knew it.
I am super grateful that those fantasies and dreams actually panned out. I was given a platform and I wanted to be an inspiration to other little desi girls with big dreams.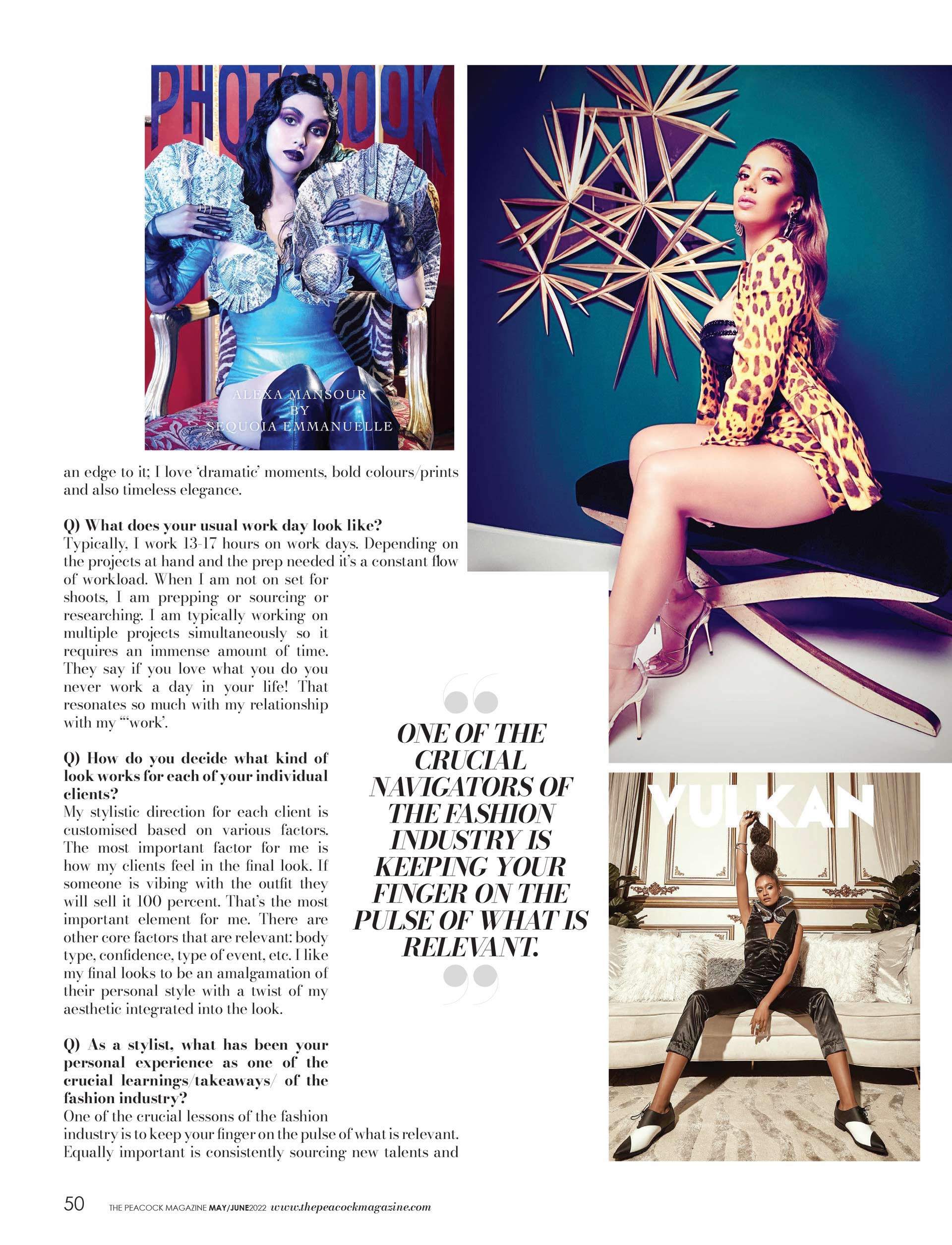 [Q] Could you describe your styling aesthetics?
Unique. I draw inspiration from my travels and various cultural influences I have grown up around. I would say my styling definitely has an edge to it; I love 'dramatic' moments, bold colours/prints and also timeless elegance.
[Q] What does your usual work day look like?
Typically, I work 13-17 hours on work days. Depending on the projects at hand and the prep needed it's a constant flow of workload. When I am not on set for shoots, I am prepping or sourcing or researching. I am typically working on multiple projects simultaneously so it requires an immense amount of time. They say if you love what you do you never work a day in your life! That resonates so much with my relationship with my "'work'.
[Q] How do you decide what kind of look works for each of your individual clients?
My stylistic direction for each client is customised based on various factors. The most important factor for me is how my clients feel in the final look. If someone is vibing with the outfit they will sell it 100 percent. That's the most important element for me. There are other core factors that are relevant: body type, confidence, type of event, etc. I like my final looks to be an amalgamation of their personal style with a twist of my aesthetic integrated into the look.
[Q] As a stylist, what has been your personal experience as one of the crucial learnings/takeaways/ of the fashion industry?
One of the crucial lessons of the fashion industry is to keep your finger on the pulse of what is relevant. Equally important is consistently sourcing new talents and designers globally to incorporate into your styling.
[Q] Do you have an absolute favourite styling project or look in your career so far?
I can't say I have one favourite styling project to look at in my career so far. There are far too many epic moments. One of them that stands out is costume designing the ARDY's. Our opening act alone had 197 looks. Ranging from futuristic looks to avant-garde dancers. It was the show that kept growing! It pushed my creativity to the max. I love working on projects that push my boundaries and teach me new skills.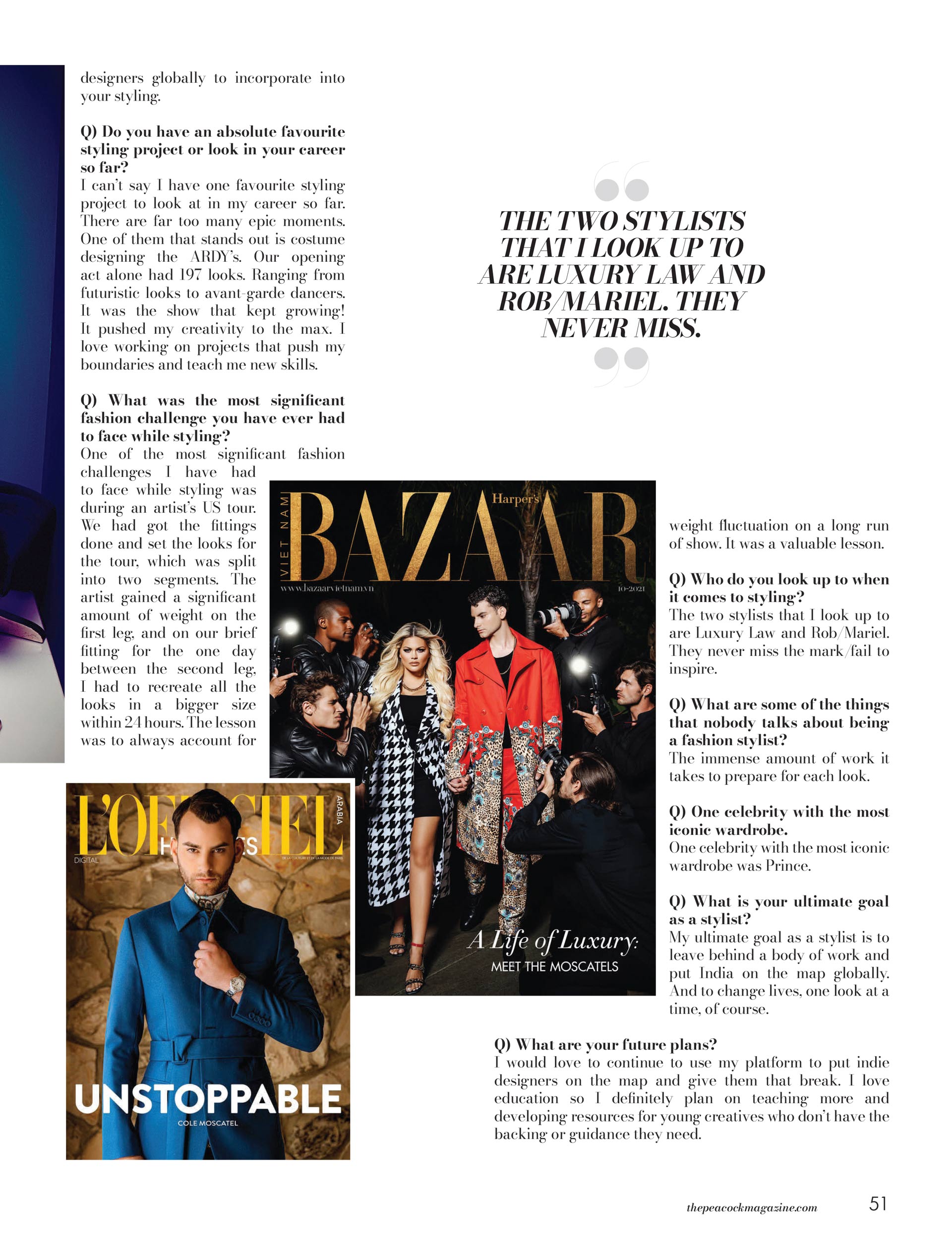 [Q] What was the most significant fashion challenge you have ever had to face while styling?
One of the most significant fashion challenges I have had to face while styling was during an artist's US tour. We had got the fittings done and set the looks for the tour, which was split into two segments. The artist gained a significant amount of weight on the first leg, and on our brief fitting for the one day between the second leg, I had to recreate all the looks in a bigger size within 24 hours. The lesson was to always account for weight fluctuation on a long run of show. It was a valuable lesson.
[Q] Who do you look up to when it comes to styling?
The two stylists that I look up to are Luxury Law and Rob/Mariel. They never miss the mark/fail to inspire.
[Q] What are some of the things that nobody talks about being a fashion stylist?
The immense amount of work it takes to prepare for each look.
[Q] One celebrity with the most iconic wardrobe.
One celebrity with the most iconic wardrobe was Prince.
[Q] What is your ultimate goal as a stylist?
My ultimate goal as a stylist is to leave behind a body of work and put India on the map globally. And to change lives, one look at a time, of course.
[Q] What are your future plans?
I would love to continue to use my platform to put indie designers on the map and give them that break. I love education so I definitely plan on teaching more and developing resources for young creatives who don't have the backing or guidance they need.