1. THERE IS A LOT OF MYSTERY SURROUNDING THE LIFE OF A STYLIST. CAN YOU TAKE US THROUGH HOW YOUR JOURNEY BEGAN AND HOW YOU BECAME THE FASHION DIRECTOR AT COSMPOLITON ?
"When I was in my teenage, I always had the inkling towards doing something creative but I didn't know exactly what, and I was always really interested in fashion. Though one thing was very clear that I didn't want to get into garment design. When I found out about this course at NIFT called fashion communication, it seemed like the perfect path for me, as I always want to do understand the nuances of fashion without having to get into garment construction. 
"A
nd from there on began the story of self exploration and finding out what exactly made me really happy. It turned out that styling made me ecstatic"! 
"I

did multiple internships and projects while in college to get the understanding of the professional world in my field, including an internship at Vogue India, a writing job Hindustan Times and multiple communications related jobs at various design houses.
"From there on I styled couple of smaller magazine editorials, then I joined Marie Claire India as Assistant Fashion Editor and finally after four years of being in the industry I landed the Fashion Editor role at Cosmopolitan magazine".
2. PEOPLE BELIEVE THAT THERE IS A FACADE OF FAKE EMOTIONS AND FALSE SENTIMENTS IN THE FASHION INDUSTRY. MYTH OR TRUTH?
"I think the idea of false emotions and pretense in the industry is more in concept than in reality. I feel that there are enough real people in the industry to make it work. The façade looks more glamorous than it is. Styling is more about physical hard work, coupled with lots of management and communication, than it is about creativity.
3. FASHION SEEMS FRIVOLOUS TO MANY. RECENTLY A LOT OF FASHION HOUSES HAVE TAKEN UP FASHION TO SUPPORT SOCIAL CAUSES HOW DO YOU THINK FASHION CAN MAKE A DIFFERENCE?
"Fashion can seems frivolous to the outside world, but I feel fashion is a means to bring in happiness in people's lives, and anything that brings in happiness cannot be frivolous. When it comes to the important topic that is trending these days – women empowerment, I think fashion industry is the place to talk about it as it is one of the only industries in the world that has more women than men. Where women are entrepreneurs, creative heads, stylists, designers and workers in the factories. It is very women centric industry and I feel it gives a certain sense of power and pride to women involved in it. So it becomes natural for the industry to support a social cause like women empowerment. For other causes, it has become a movement all over the world to use to create advertisements and campaigns as the world is coming on the helm of recognizing the disparities and issues that plague our society and are ready to join forces to eradicate it. This sentiment is now being reflected by fashion houses as well".
4. WHAT WOULD BE SOME OF THE IMPORTANT STEPS THAT ONE SHOULD TAKE IN ORDER TO SUCCEED IN THIS INDUSTRY?
"I
think the key aspect to succeed in the industry is exposure, and exposure to a person can come in any form and shape. One needs to be open and keen towards exposure, be it internships, training programs, watching films, traveling, reading, talking to people, internet browsing etc"
"We need to be better exposed to our history and present, which is going to help shape our future. All this exposure can only help give a platform to new and unique ideas".
5. PEOPLE FEEL DRESSING UP CELEBRITIES AND STYLING EDITORIAL SHOOTS CAN BE DONE EASILY IF YOU HAVE A CREATIVE BEND. WHAT IS IT ACTUALLY LIKE TO BE A STYLIST?
"I feel the creative bend is ofcourse one of the extremely important aspects of being a stylist, but it takes a lot of management, coordination, planning and running around to implement the look that one has in mind".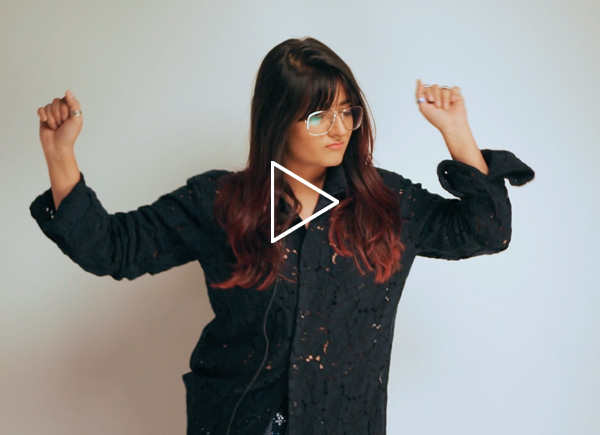 6. HOW WOULD YOU DESCRIBE YOUR PERSONAL STYLE?
"I feel my personal style is a bit eclectic, androgynous, relaxed and sometimes quirky."
7. WHAT IS THE COOLEST/ TOUGHEST PART OF YOUR JOB?
"Coolest part of my job has to be traveling, I have covered parts of the world in my job that I probably would have never traveled otherwise. And toughest part I feel is celebrity ego management".
8. WHICH CELEBRITY HAVE YOU LOVED WORKING WITH?
"There are lots I have loved working with – Priyanka Chopra, Kalki, Taapsee Pannu, Aditi Rao Hydari and the most recent one – Angira Dhar, to name a few".
9. TELL US SOMETHING ABOUT A STYLING EXPERIENCE OR EDITORIAL SHOOT THAT WENT HORRIBLY WRONG!
"I think it has to be the Priyanka Chopra shoot I did a couple of months back when Mumbai was drowning in floods and I had to bring things from various parts of the country and have people willing to travel to the studio in crazy rains. It was a big adventure though, and now I love the memories of it. It's a great story to tell".
10. WHAT HAS BEEN YOUR MOST MEMORABLE WORK TILL DATE?
"One of the most memorable work would perhaps be the multiple shoots I did in Spain, traveling across various world heritage cities, where each city felt like a fairytale world full of castles and cathedrals and gorgeous landscapes that have etched into my brain for a lifetime".