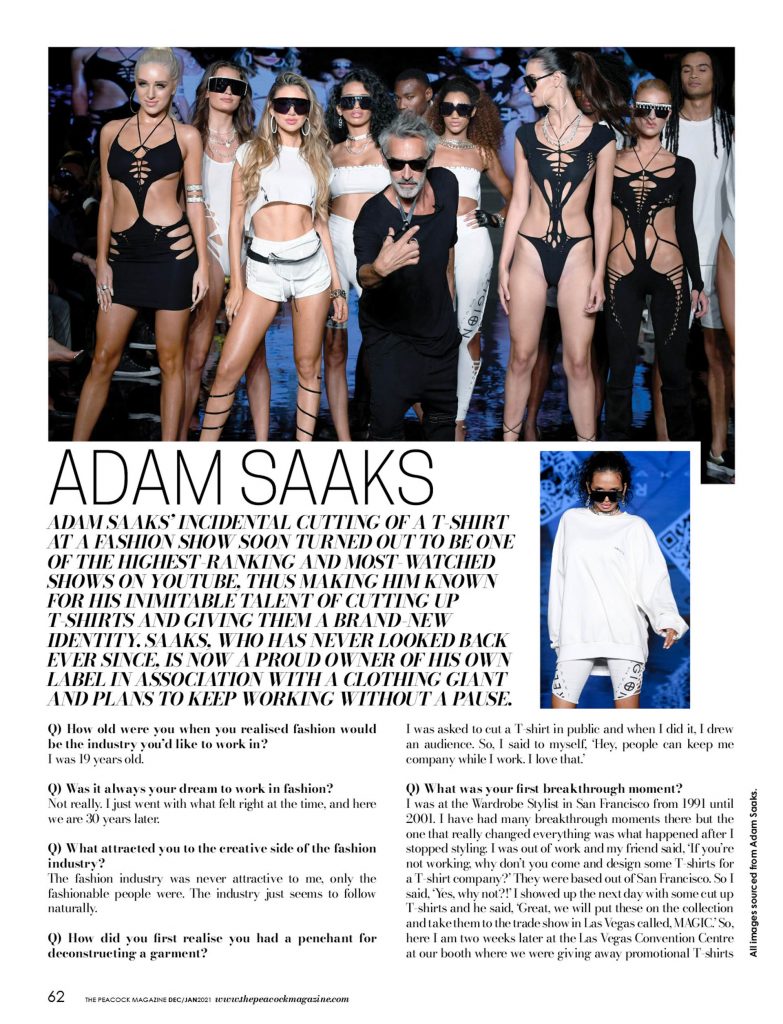 CREDITS – All images sourced from the artist.

Adam Saaks' incidental cutting of a T-shirt at a fashion show soon turned out to be one of the highest-ranking and most-watched shows on YouTube, thus making him known for his inimitable talent of cutting up T-shirts and giving them a brand-new identity. Saaks, who has never looked back ever since, is now a proud owner of his own label in association with a clothing giant and plans to keep working without a pause.

[Q] How old were you when you realised fashion would be the industry you'd like to work in?
I was 19 years old.
[Q] Was it always your dream to work in fashion?
Not really. I just went with what felt right at the time, and here we are 30 years later.
[Q] What attracted you to the creative side of the fashion industry?
The fashion industry was never attractive to me, only the fashionable people were. The industry just seems to follow naturally.
[Q] How did you first realise you had a penchant for deconstructing a garment?
I was asked to cut a T-shirt in public and when I did it, I drew an audience. So, I said to myself, 'Hey, people can keep me company while I work. I love that.'
[Q] What was your first breakthrough moment?
I was at the Wardrobe Stylist in San Francisco from 1991 until 2001. I have had many breakthrough moments there but the one that really changed everything was what happened after I stopped styling. I was out of work and my friend said, 'If you're not working, why don't you come and design some T-shirts for a T-shirt company?' They were based out of San Francisco. So I said, 'Yes, why not?!' I showed up the next day with some cut up T-shirts and he said, 'Great, we will put these on the collection and take them to the trade show in Las Vegas called, MAGIC.' So, here I am two weeks later at the Las Vegas Convention Centre at our booth where we were giving away promotional T-shirts to people walking by and one girl had asked if I could cut it up just like the one hanging on the sample line. I said, 'Sure, no problem.' So, I scrambled around for some scissors, found a pair, started cutting the sides of the T-shirt on top of the table and I looked up and there was an audience watching me. I took the T-shirt off the table and put it on her and walked her into the middle of the walkway and started tying it up and cutting it. Everyone circled me and started applauding. When I finished that design I knew that it is what I wanted to do for a living. I felt the feeling I had never felt before in my life and with every custom design thereafter, I re-create that feeling I felt 20 years ago.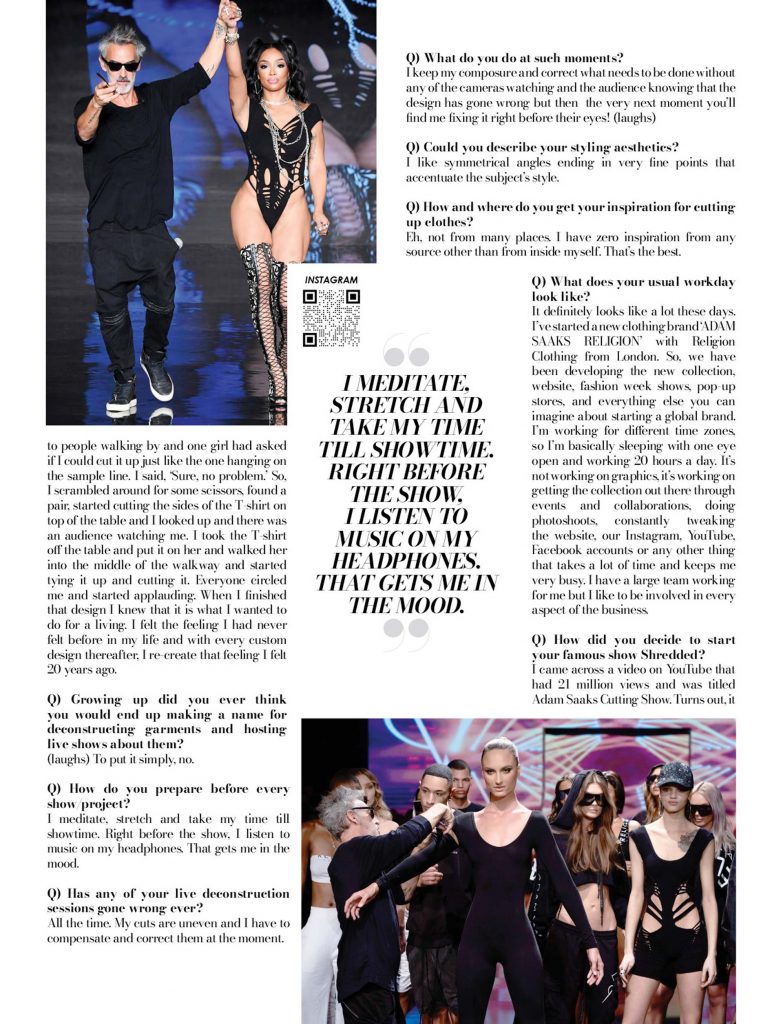 [Q] Growing up did you ever think you would end up making a name for deconstructing garments and hosting live shows about them?
(laughs) To put it simply, no.
[Q] How do you prepare before every show/project?
I meditate, stretch and take my time till showtime. Right before the show, I listen to music on my headphones. That gets me in the mood.
[Q] Has any of your live deconstruction sessions gone wrong ever?
All the time. My cuts are uneven and I have to compensate and correct them at the moment.
[Q] What do you do at such moments?
I keep my composure and correct what needs to be done without any of the cameras watching and the audience knowing that the design has gone wrong but then the very next moment you'll find me fixing it right before their eyes! (laughs)
[Q] Could you describe your styling aesthetics?
I like symmetrical angles ending in very fine points that accentuate the subject's style.
[Q] How and where do you get your inspiration for cutting up clothes?
Eh, not from many places. I have zero inspiration from any source other than from inside myself. That's the best.
[Q] What does your usual workday look like?
It definitely looks like a lot these days. I've started a new clothing brand 'ADAM SAAKS RELIGION' with Religion Clothing from London. So, we have been developing the new collection, website, fashion week shows, pop-up stores, and everything else you can imagine about starting a global brand. I'm working for different time zones, so I'm basically sleeping with one eye open and working 20 hours a day. It's not working on graphics, it's working on getting the collection out there through events and collaborations, doing photoshoots, constantly tweaking the website, our Instagram, YouTube, Facebook accounts or any other thing that takes a lot of time and keeps me very busy. I have a large team working for me but I like to be involved in every aspect of the business.
[Q] How did you decide to start your famous show Shredded?
I came across a video on YouTube that had 21 million views and was titled Adam Saaks Cutting Show. Turns out, it was a video of me designing on a television show from Tunisia. When I showed the video and its views to my friends, everyone was telling me I should be getting paid. So I looked into how that works and came to the realisation that I need to have my YouTube channel and just flood the Internet with my content. That's how Shredded came about. Since then, I have had one billion views on YouTube. I guess you can say that it worked.
[Q] How do you decide what kind of look works for each of your shows or even your episodes of the series Shredded?
Well, I'll start with the location. Usually, an episode formulates by me being out in the world somewhere doing an appearance and having some free time after my gig is done. I will grab a model and a local cameraman and find one of the coolest landmarks that the city might have. Now for the design, there is absolutely no plan on what to cut and how to cut it on them. I do that all at the moment. That's the most fun for me. I love the stress of it.
[Q] What are your go-to tools apart from a pair of scissors?
A pair of tweezers. They help me get the little tiny knots done, kind of like what surgeons use.
[Q] What sort of fabrics do you find yourself reaching out for cutting?
The best fabric for me is 95 percent, lycra and five percent cotton. It cuts like butter and holds its shape at the same time. It's perfect!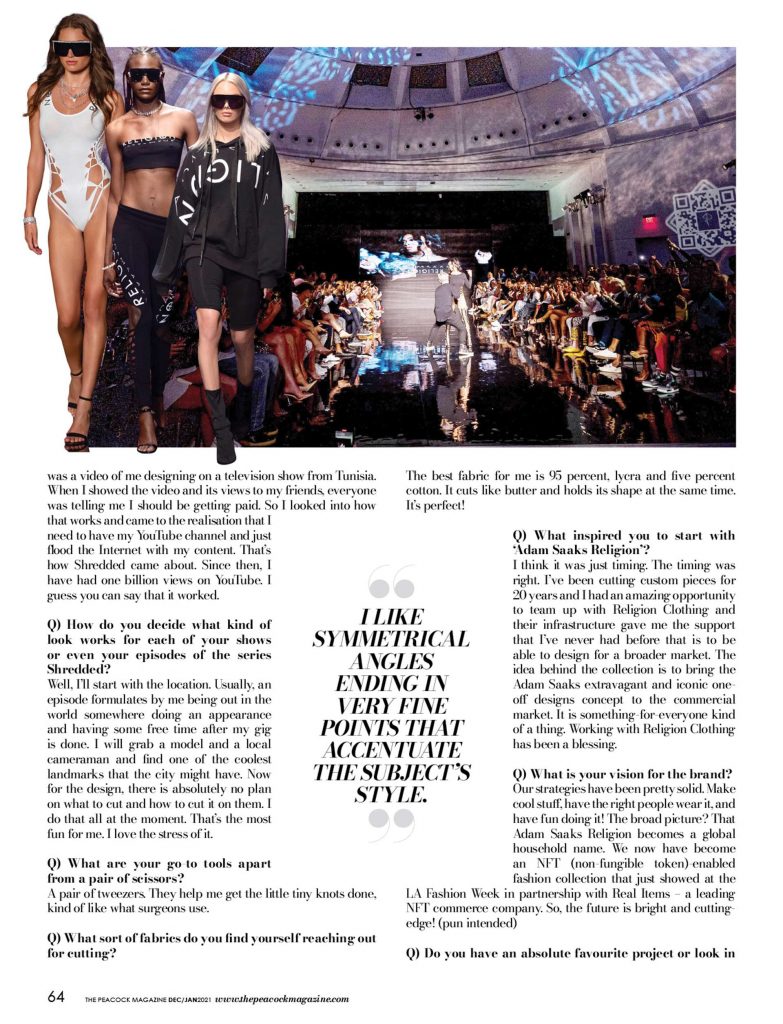 [Q] What inspired you to start with 'Adam Saaks Religion'?
I think it was just timing. The timing was right. I've been cutting custom pieces for 20 years and I had an amazing opportunity to team up with Religion Clothing and their infrastructure gave me the support that I've never had before that is to be able to design for a broader market. The idea behind the collection is to bring the Adam Saaks extravagant and iconic one-off designs concept to the commercial market. It is something-for-everyone kind of a thing. Working with Religion Clothing has been a blessing.
[Q] What is your vision for the brand?
Our strategies have been pretty solid. Make cool stuff, have the right people wear it, and have fun doing it! The broad picture? That Adam Saaks Religion becomes a global household name. We now have become an NFT (non-fungible token)-enabled fashion collection that just showed at the LA Fashion Week in partnership with Real Items — a leading NFT commerce company. So, the future is bright and cutting-edge! (pun intended)
[Q] Do you have an absolute favourite project or look in your career?
If I'm not on stage cutting custom designs live in front of an audience then the answer is — Adam Saaks Religion brand. I love what I'm doing now. It's new fashion for a new era.
[Q] What was the most significant challenge you have ever had in your career?
The struggle is too personal to put out there, but trust me, there have been many of them. That said, I wouldn't change a thing about it. Experience is what builds a character. And God knows, I have character.
[Q] Who has been the biggest influence/mentor in your life?
There have been a few. The first one was a man and Camille Zakkak. In the early '90s, he told me how to dress and shop like a pro. He was my mentor and stylist. He taught me lots of the tricks of the trade. How to dress, how to carry myself in the styling world. Then there was Christian Audigier, who always inspired me to keep pushing and pushing and believing in my product. And finally, Gary Collins, my business partner and the co-owner of Religion Clothing. He has taught me more than I could ever know about manufacturing, running a brand, and all that goes along with that. He has been a bright light on my journey this past year. Without him, Adam Saaks Religion Clothing brand would not exist.
[Q] One celebrity with the most iconic wardrobe?
I have no idea. I don't pay much attention to that. All I can say is some of the rappers have the most insane wardrobes. It's crazy how many designer pieces they wear in one outfit. I love how they put together so many labels into one outfit. It boggles the mind.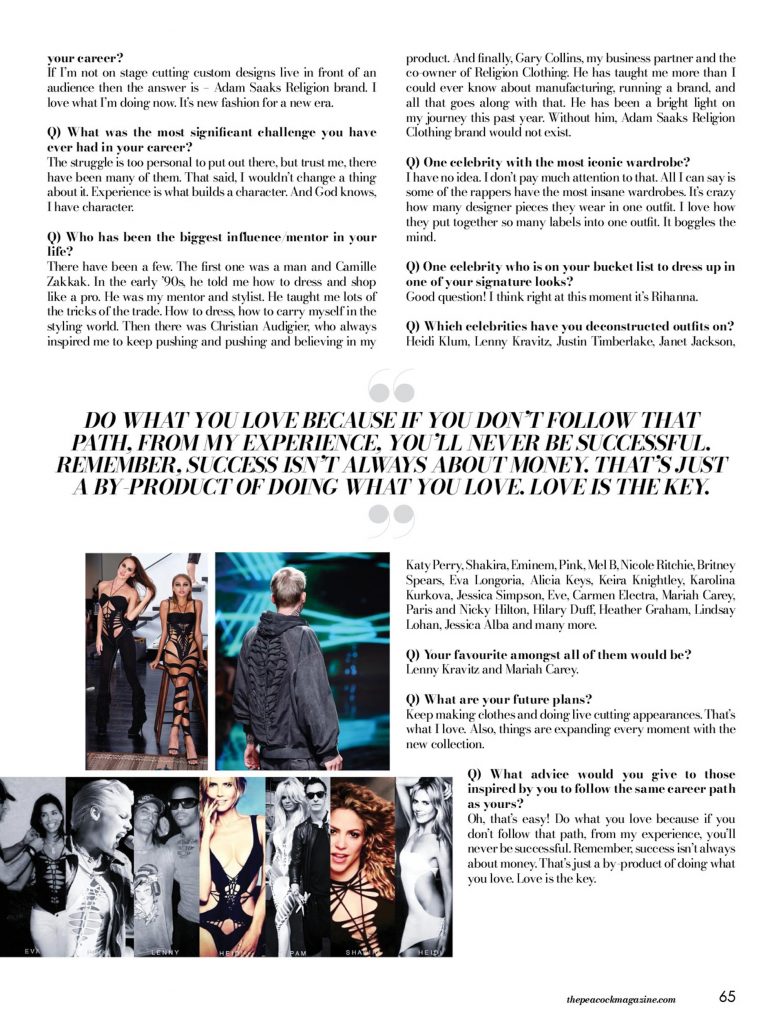 [Q] One celebrity who is on your bucket list to dress up in one of your signature looks?
Good question! I think right at this moment it's Rihanna.
[Q] Which celebrities have you deconstructed outfits on?
Heidi Klum, Lenny Kravitz, Justin Timberlake, Janet Jackson, Katy Perry, Shakira, Eminem, Pink, Mel B, Nicole Ritchie, Britney Spears, Eva Longoria, Alicia Keys, Keira Knightley, Karolina Kurkova, Jessica Simpson, Eve, Carmen Electra, Mariah Carey, Paris and Nicky Hilton, Hilary Duff, Heather Graham, Lindsay Lohan, Jessica Alba and many more.
[Q] Your favourite amongst all of them would be?
Lenny Kravitz and Mariah Carey.
[Q] What are your future plans?
Keep making clothes and doing live cutting appearances. That's what I love. Also, things are expanding every moment with the new collection.
[Q] What advice would you give to those inspired by you to follow the same career path as yours?
Oh, that's easy! Do what you love because if you don't follow that path, from my experience, you'll never be successful. Remember, success isn't always about money. That's just a by-product of doing what you love. Love is the key.