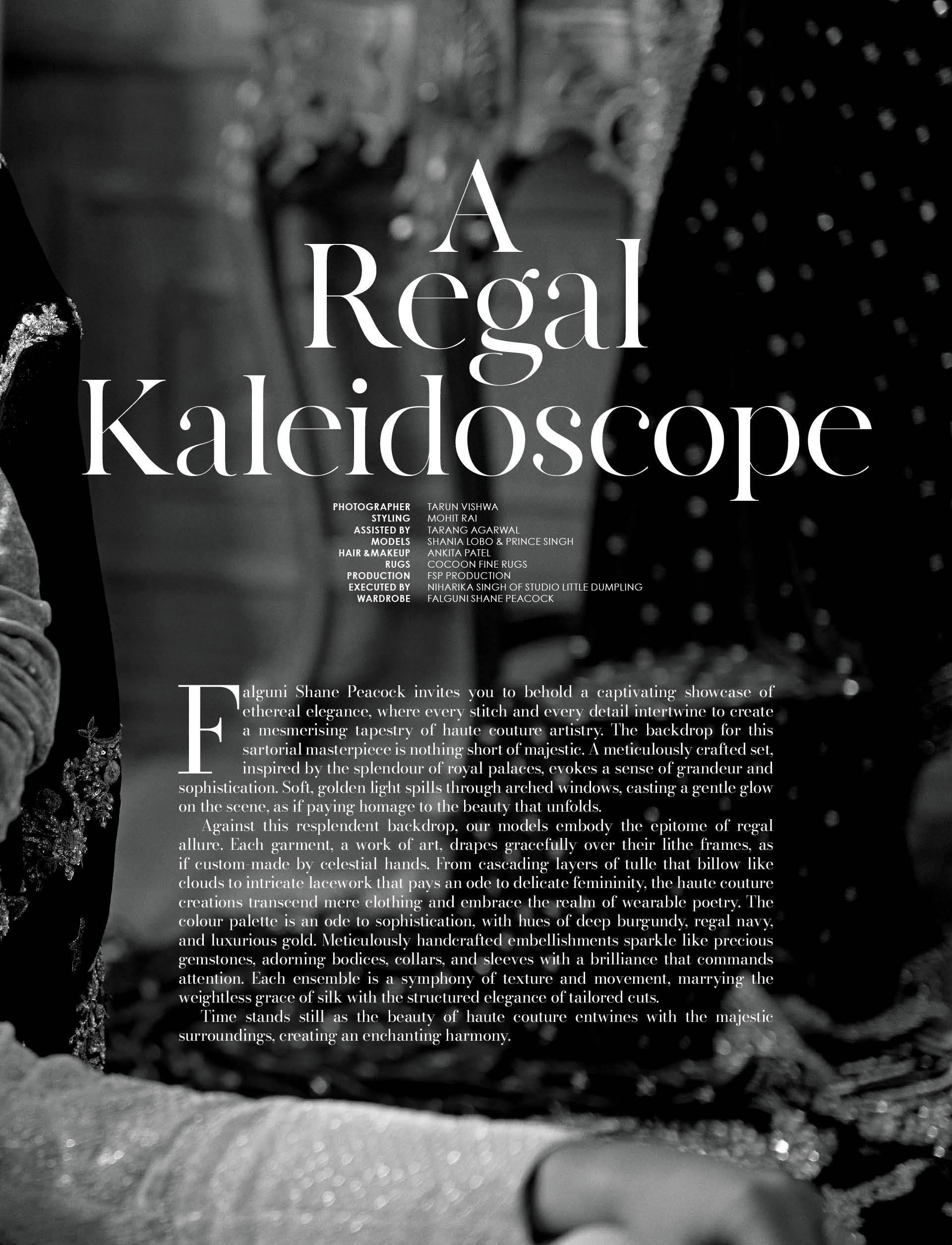 CREDITS-

PHOTOGRAPHER – TARUN VISHWA
STYLING- MOHIT RAI
ASSISTED BY- TARANG AGARWAL
MODELS – SHANIA LOBO & PRINCE SINGH
HAIR & MAKEUP – ANKITA PATEL
RUGS – COCOON FINE RUGS
PRODUCTION – FSP PRODUCTION
EXECUTED BY – NIHARIKA SINGH OF STUDIO LITTLE DUMPLING
WARDROBE – FALGUNI SHANE PEACOCK
A REGAL KALEIDOSCOPE
Falguni Shane Peacock invites you to behold a captivating showcase of ethereal elegance, where every stitch and every detail intertwine to create a mesmerising tapestry of haute couture artistry. The backdrop for this sartorial masterpiece is nothing short of majestic. A meticulously crafted set, inspired by the splendour of royal palaces, evokes a sense of grandeur and sophistication. Soft, golden light spills through arched windows, casting a gentle glow on the scene, as if paying homage to the beauty that unfolds.
Against this resplendent backdrop, our models embody the epitome of regal allure. Each garment, a work of art, drapes gracefully over their lithe frames, as if custom-made by celestial hands. From cascading layers of tulle that billow like clouds to intricate lacework that pays an ode to delicate femininity, the haute couture creations transcend mere clothing and embrace the realm of wearable poetry. The colour palette is an ode to sophistication, with hues of deep burgundy, regal navy, and luxurious gold. Meticulously handcrafted embellishments sparkle like precious gemstones, adorning bodices, collars, and sleeves with a brilliance that commands attention. Each ensemble is a symphony of texture and movement, marrying the weightless grace of silk with the structured elegance of tailored cuts.
Time stands still as the beauty of haute couture entwines with the majestic surroundings, creating an enchanting harmony.