[1] WE WORE WHAT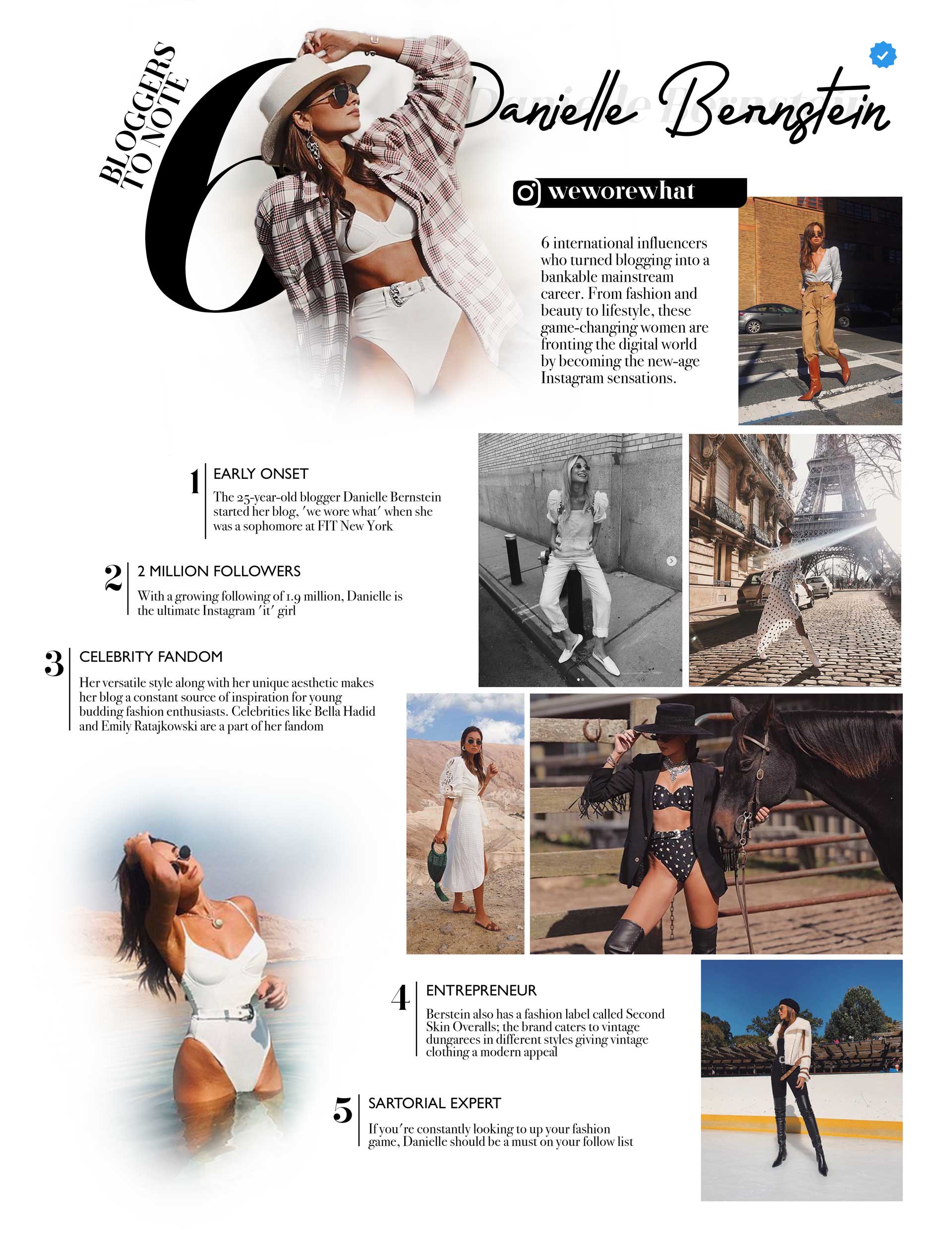 The 25-year-old blogger Danielle Bernstein started her blog, 'we wore what' when she was a sophomore at FIT New York. With a strong following of 1.9 million, Danielle is the ultimate Instagram 'it' girl with celebrities like Bella Hadid and Emily Ratajkowski as a part of her fandom. Her versatile style along with her unique aesthetic makes her blog a constant source of inspiration for young budding fashion enthusiasts. Berstein also has a fashion label called Second Skin Overalls; the brand caters to vintage dungarees in different styles giving vintage clothing a modern appeal. If you're constantly looking to up your fashion game, Danielle should be a must on your follow list.

[2] CHRISELLE LIM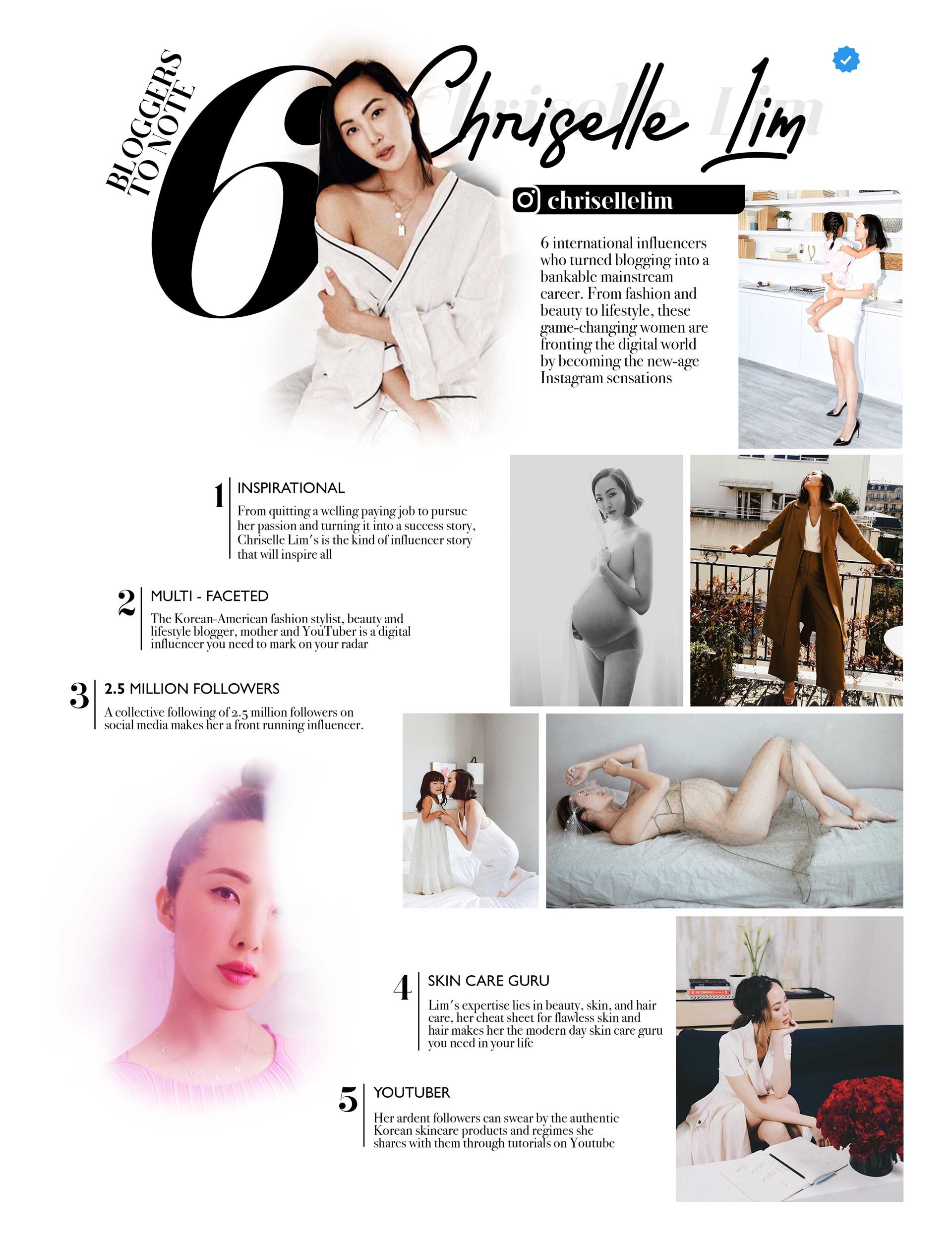 From quitting a welling paying job to pursue her passion and turning it into a success story, Chriselle Lim's is the kind of influencer story that will inspire all. The Korean-American fashion stylist, beauty, lifestyle blogger and YouTuber is a digital influencer you need to mark on your radar. With a collective following of 2.5 million followers on social media, Lim's expertise lies in beauty, skin, and hair care. Her ardent followers can swear by the authentic Korean skincare products and regimes she shares with them through tutorials on Youtube. Her cheat sheet for flawless skin and hair makes her the modern day skin care guru you need in your life.

[3] NEGIN MIRSALEHI/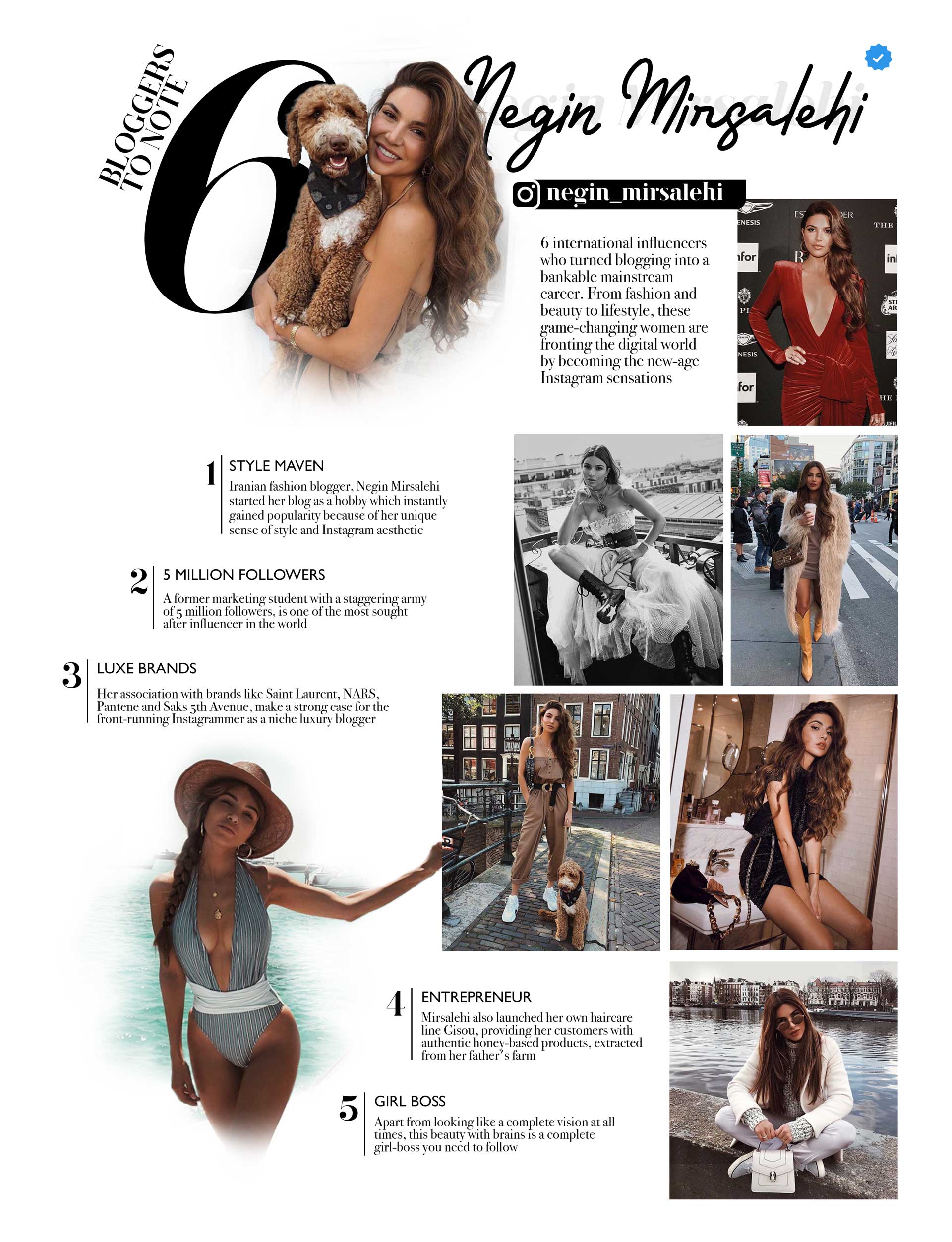 Iranian fashion blogger, Negin Mirsalehi with a staggering army of 5 million followers, is one of the most sorted after influencer in the world. For a former marketing student, what started as a hobby started gaining popularity because of her unique sense of style and Instagram aesthetic. Her association with brands like Saint Laurent, NARS, Pantene and Saks 5th Avenue, make a strong case for the front-running Instagrammer as a niche luxury blogger. Mirsalehi also launched her own haircare line Gisou, providing her customers with authentic honey-based products, retracted from her father's farm. Apart from looking like a complete vision at all times, this beauty with brains is a complete girl-boss you need to follow.

[4] SAZAN HENDRIX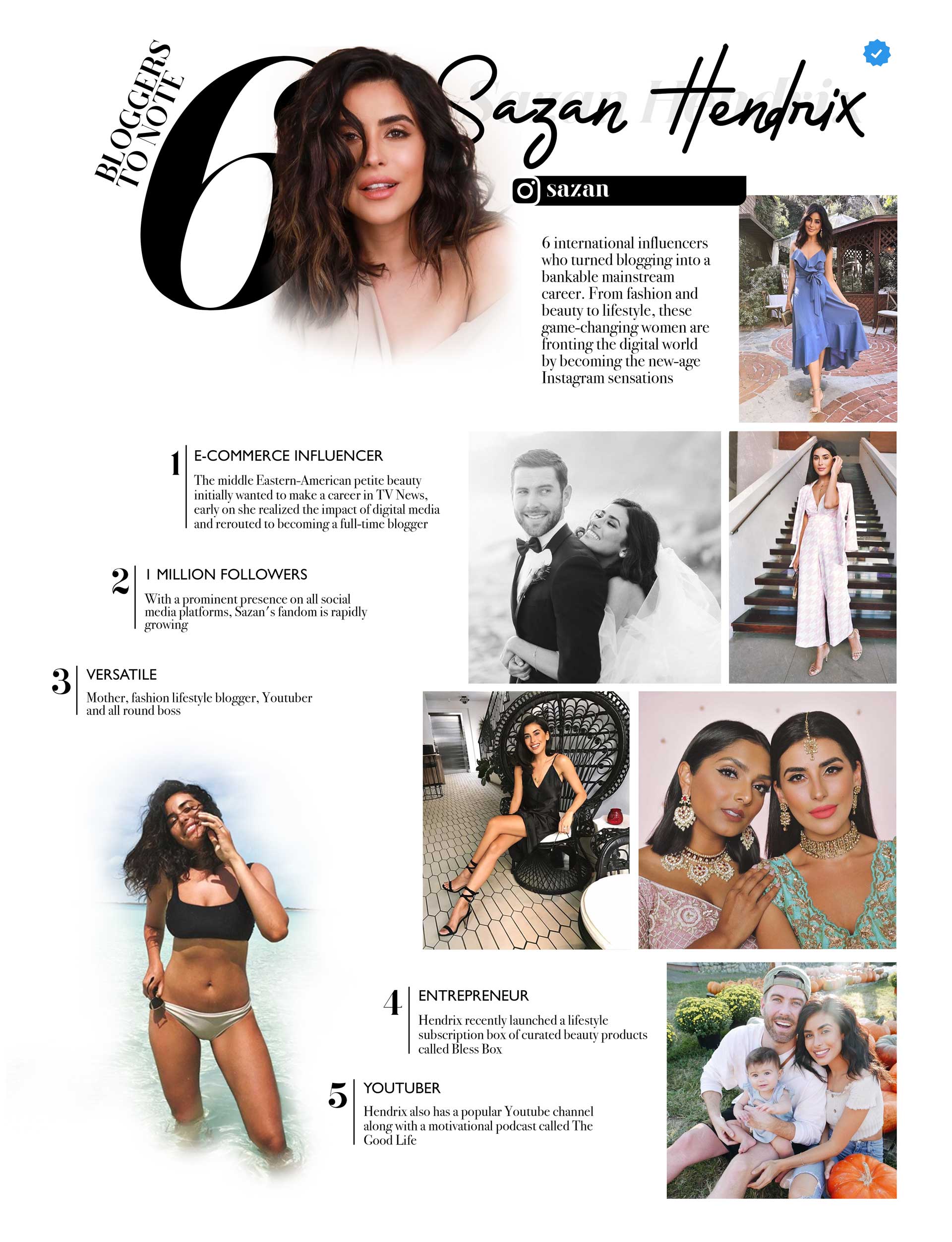 The middle Eastern-American petite beauty initially wanted to make a career in TV New, early on she realized the impact of digital media and rerouted to becoming a full-time blogger. Hendrix also has a popular Youtube channel along with a motivational podcast called The Good Life. With a prominent presence on all social media platforms, Sazan's fandom is rapidly growing. Her feminine-chic style and elegantly curated blog makes her the one to watch out for.

[5] AIMEE SONG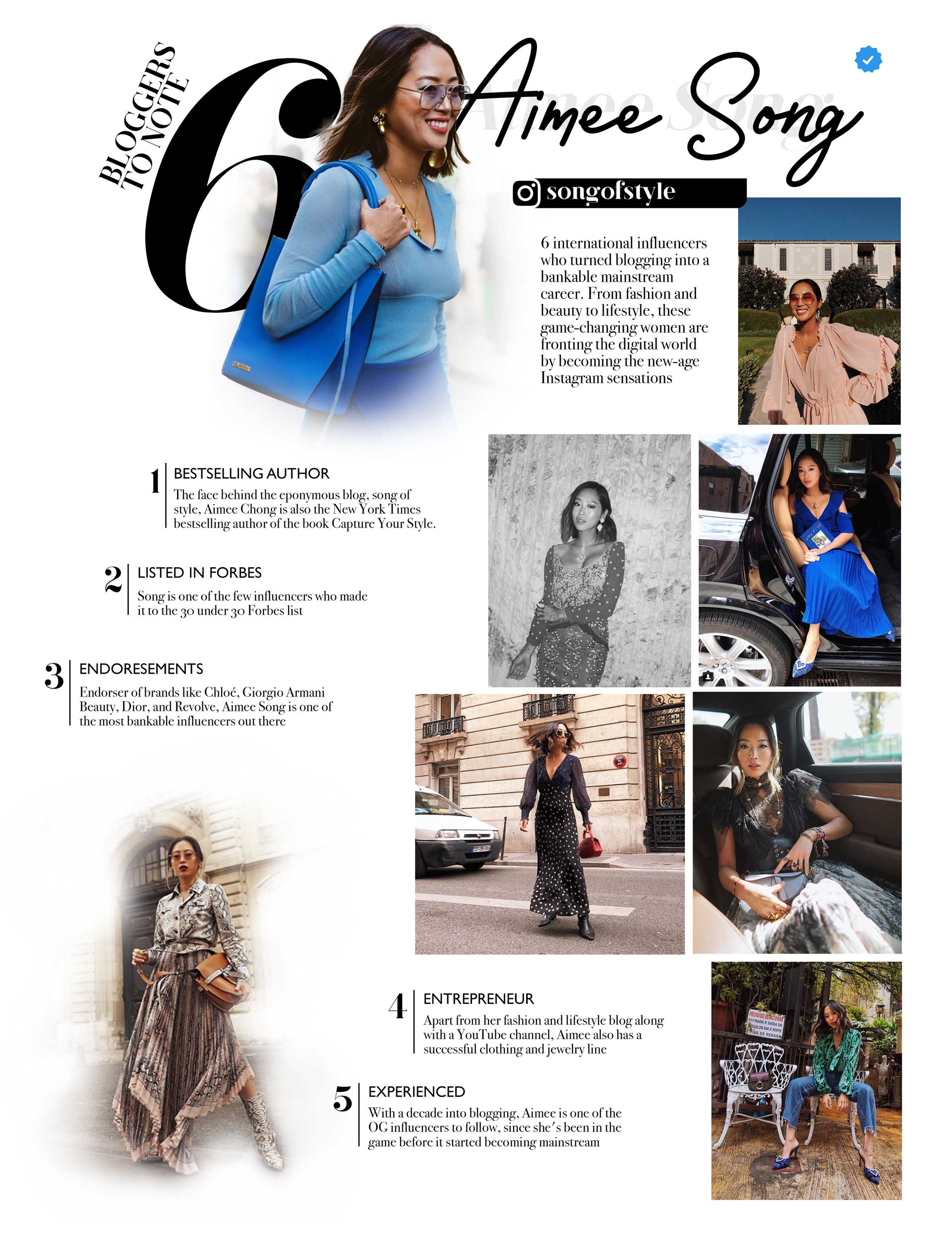 The face behind the eponymous blog, song of style, Aimee Chong is also the New York Times bestselling author of the book Capture Your Style. Song is one of the few influencers who made it to the 30 under 30 Forbes list. Apart from her fashion and lifestyle blog along with a YouTube channel, Aimee also has a successful clothing and jewelry line. Endorser of brands like Chloé, Giorgio Armani Beauty, Dior, and Revolve, Aimee Song is one of the most bankable influencers out there. With a decade into blogging, Aimee is one of the OG influencers to follow, since she's been in the game before it started becoming mainstream.

[6] CAROLINE DAUR




German blogger Caroline Daur can easily pass off as a supermodel, one look at her 1.7 million strong Instagram and you will attest for the same. Daur has walked the runway for Dolce and Gabbana and has created her own lipstick with M.A.C, making them the peaking moments of her career. Her blog is a virtual mix of her extravagant fashion, beauty and travel moments, showcasing the newest trends and hotspots. The-23-year-old fashion starlet is constantly experimenting with her street and couture style, making her one of the top influencers to follow.