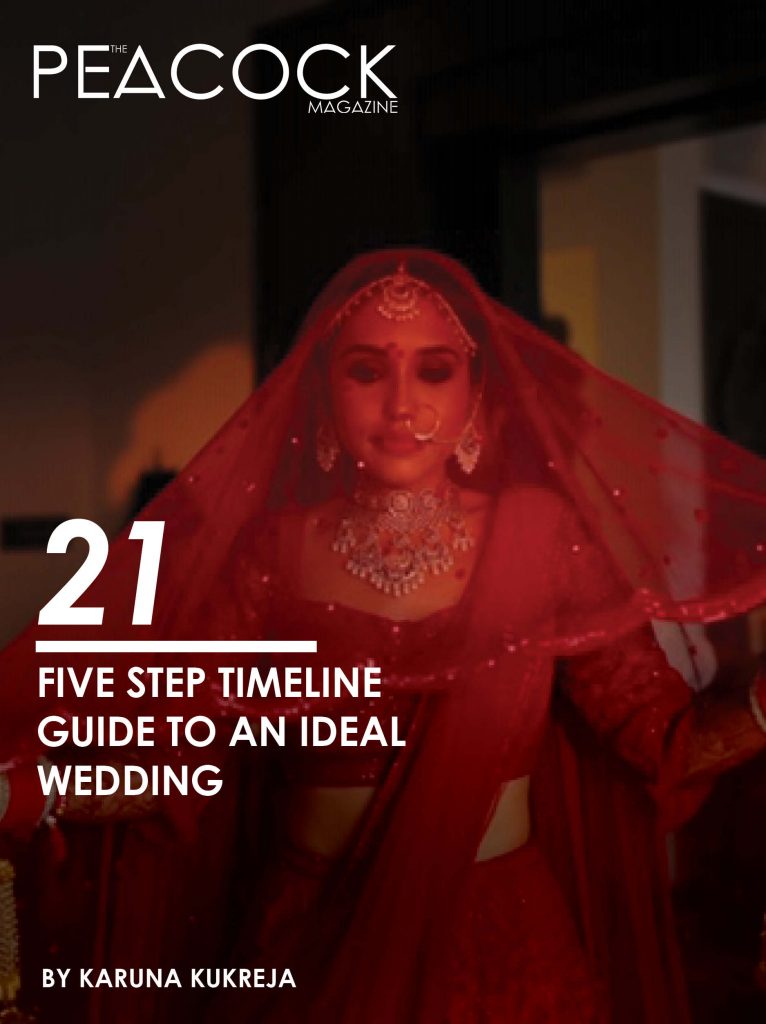 STEP 1 – Select 2-3 options for the theme of your wedding, such as royal or beach or elegant or classic or nature-based, etc. and then browse for the venues accordingly. For our wedding, we narrowed down our options to a royal or a beach wedding. On browsing through multiple options in Goa and in Rajasthan, we decided to go ahead with a royal theme wedding and selected the Fairmont, Jaipur property as our wedding venue.
Now that the property has been finalized, the next important step is to decide the season and dates of your wedding. I believe, it is ideal to go for an off-season wedding without seeing the Mahurat as you would not only get a good deal on the property but also find the event management team, photographers, make-up artists, and other important vendors of your choice to be relatively available and giving their best without hurrying up.
When it came to our wedding, we figured that the wedding Mahurats were going to begin from November-mid of that year. So, we decided on finalizing a date in October-mid, just before Diwali. As we had already selected our property, we went to them and told them to give us a date that went well within our budget as there were no Mahurats to be followed. The property management gave us a date that was available on a great deal and we finalized it. Soon after when we started calling up the vendors for booking, they were all available and agreed without any date hassles. And that is how we got exactly what we wanted!
STEP 2 – According to me, the bride and groom should be invested in their wedding planning and every activity around it, in order to get what they want on their D-day. We have been involved right from speaking to each of our wedding vendors to selecting the menus for every function to being constantly in touch with our event managers, photographers, etc. We even selected the return gifts for every guest and I can certainly say, all of it was sheer fun. I was personally in sync with my lehenga designers Falguni Shane Peacock and my make-up artist to discuss every look for each of the occasions as I wanted it to be completely different.
STEP 3 – Draft a contract and get it signed before handing over any advances to any person, no matter how small the vendor or the amount in consideration will be. It will save you from a lot of hassles at the end of the day. I remember how just two days before my Mehendi, a famous Mehendi artist that we had booked, ditched us for another order because there wasn't any signed contract. Thankfully, my research came handy and I could arrange for another artist just in time and discuss my Mehendi designs with her.
STEP 4 – Since you have decided on your wedding theme, it is necessary to decide if you want to wear real jewellery or artificial ones. If you're opting for real ones, then stick to browsing for just that category as it will take a lot of research to decide on the pieces that you might end up wearing a lot of times again. After you have selected your jewellery pieces, go shopping for your lehenga because you might wear it only once or twice but jewellery, you will wear it a couple of times eventually. Feel free to make changes in your wedding attire keeping your jewellery in mind. For my wedding, I was sure about wearing diamonds for each of the functions. I opted for diamonds with a modern touch for my Sangeet and reception, some diamond jewellery with Meena and traditional work for my wedding, diamond studs for the carnival night, and diamond danglers and bracelet for Mehendi. I ensured all my looks varied for each of the ceremonies.
STEP 5 – It's all about your wedding attire and your make-up and your hairstylist! As soon as your wedding dates and venue are finalized, book the make-up artist and hairstylist of your choice immediately as they get booked 8-10 months prior. For your wedding ensemble, browse the Instagram pages of your favorite designers and go see their collection and work in person eventually. Keep in mind the minute details of what you want in a wedding outfit. 3-6 months prior to your wedding, visit the designers and check out their current collection and finalize our outfit accordingly. I started my research 2-3 years prior as to which designers I want for which wedding function and how I wanted each look of mine to be different in terms of colors, silhouettes, etc. I got a chance to visit Delhi and made it a point to personally visit 'em all and go through their collections. I had almost 2 designer options for each of my wedding functions and that made the process of me selecting my outfits way easy. It took me 2 days to finalize all my outfits and looks and just from the list of designers I wanted to wear on my special day.
These 5 steps made my wedding journey super easy and fun!