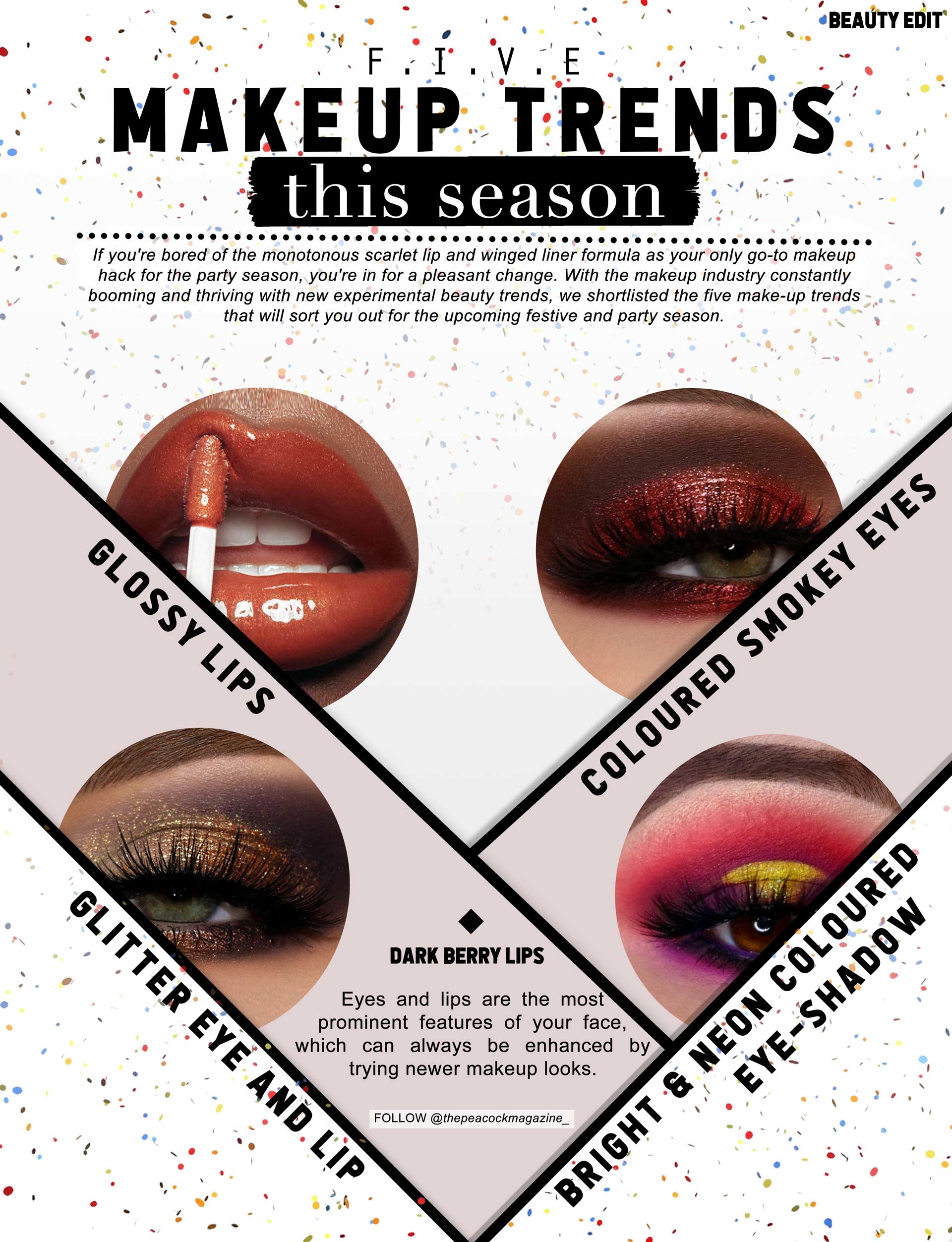 If you're bored of the monotonous scarlet lip and winged liner formula as your only go-to makeup hack for the party season, you're in for a pleasant change. With the makeup industry constantly booming and thriving with new experimental beauty trends, we shortlisted the five make-up hacks that will sort you out for the upcoming festive and party season. Having said that, before you put your skin under the heavy duty makeup, make sure you prep it all the way. Always make sure you're hydrated, begin with moisturizing, and then pamper it a little with a sheet mask that will work the best on your face. Later, finish your prep by investing in a good jade roller that will reduce the puffiness on your face and also tighten your facial muscles and help in blood circulation under your skin. And if you're running late, skip the mask but moisturizing is a key sep you cannot afford to miss if you want your skin to glow through your makeup.
1) COLOURED SMOKEY EYES
"The dark and grunge smoky eye is definitely a mood, but a little reinvention wouldn't hurt. Infuse colours to your regular smudged black and grey smoky eye and take your makeup game up a notch. Speckles of bronze, gold, or bold Tints like emerald green and turquoise, when blended on the edges with a solid dark hue, gives the perfect gradation to your eye."
2) DARK BERRY LIPS
"If you're the kind of person who only shuffles between the stark red and a pop of pink, it's time you're introduced to a whole new range of shades you can experiment with. With the fall season officially here, the berry hues are back in action. Deeper shades tilting towards the darker spectrum will amaze you with the plethora of options there are. From Marsala, plum to elderberry and earthy browns, the shades are sensuously bold and experimental for every skin tone out there.
3) GLITTER EYE AND LIP
"Eyes and lips are the most prominent features of your face, which can always be enhanced by trying newer makeup looks. Glitter on the eye accentuates it in a way by making it more glamorous and dramatic. This trend doesn't limit to your eye, glitter glosses from the 90's are finding a way back into your beauty cabinet. A light coat of shimmering gloss will instantly elevate your look giving it a fresher rendition."
4) BRIGHT AND NEON COLOURED EYE-SHADOW
"If glitter is not for you, this trend might just garner your interest. For the longest time, beauty artists have played safe when it came to the hues applied on the lids. Lately, there has been a breakthrough in the same, makeup artists and beauty bloggers have opted for brighter hues along with a pop of neon, giving it a more millennial makeover. You can match you eye to your lip without looking over the top, thanks to this trend."
5) GLOSSY LIPS
"Just like every popular trend from the 70's is making a comeback, lip glosses are having a major moment too. Even if you're a stern lover of that matte finished lip, you cannot deny the heavy duty dryness it causes. Switch your matte finished look with a fresh and supple glossy lip that will have the right amount of sheen and moisture. The rich pigmented lip is the perfect swap for the upcoming party season."