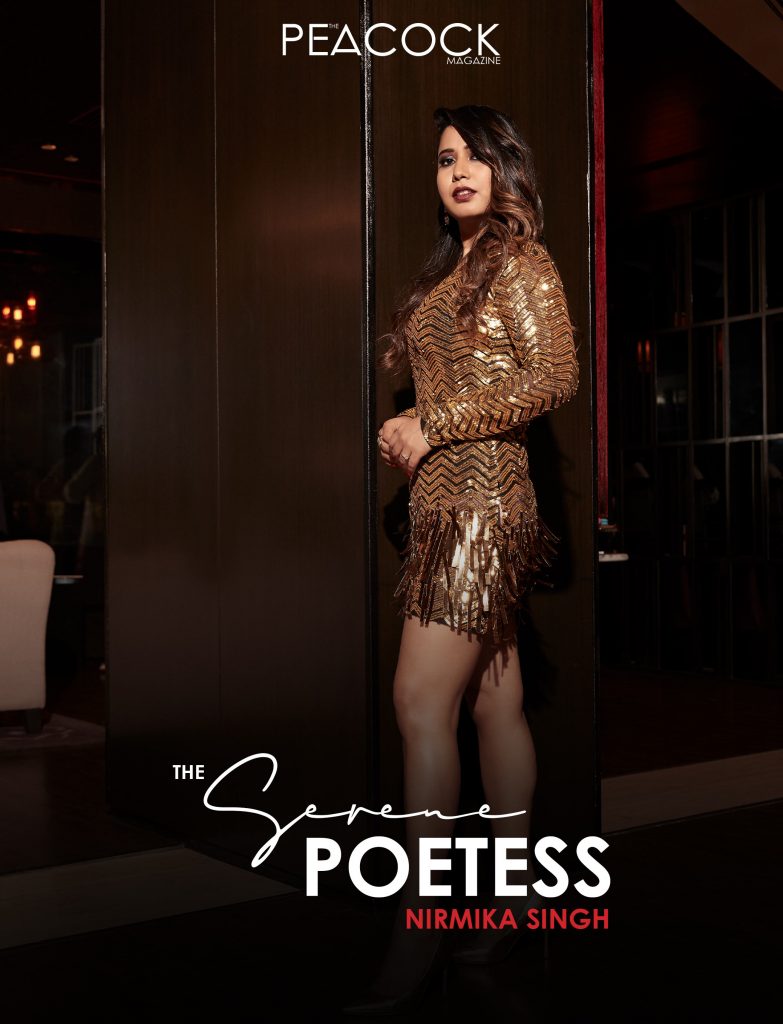 CREDITS-
PHOTOGRAPHY – ABHEET GIDWANI
CLOTHING – FALGUNI SHANE PEACOCK

The multi-faceted Executive Editor of Rolling Stone India is seldom at a loss for words or finding the right lyrics, at the drop of a hat. A creative powerhouse, Nirmika Singh is also a lyricist and a poet, known for her collaborations with famed composers from the music industry. Her Hindi poetry project, titled #AurSuno, comprises poignant yet relevant verses. Clad in her signature style — a sari — for this interview, she talks about her musical journey, her inspirations, and her poetry. For the latest issue, Nirmika speaks to us about music, her stint at Rolling Stone India and her poetry project. Here's an excerpt –
[Q] TELL US ABOUT YOUR CHILDHOOD. WAS MUSIC ALWAYS A PART OF IT?
I was deeply influenced by my older sister. She was actually the music buff and eventually, she turned me into a music buff. She is now an Air Force pilot and a kick-ass person but when she was in her teens, she would listen to a lot of English music and that's where it all started for me. I was about 12-years-old when I got hooked on to MTV and Channel V and all I would do was just watch music videos — I wanted to be a VJ like everybody else. Then at the age of 14, I asked my dad if I could get a guitar for my birthday and he got me one. I have always had the utmost support from my parents. They're both creative people who also wrote apart from holding their government jobs. I had no intention of becoming a writer, but there was always a nice creative atmosphere at home, and they always supported me. They said, "As long as you do well in your studies, you can do whatever you want." From the age of 14, I started learning music. I was learning on and off. I was part of my school's choir — a lot of my induction into music happened there. When I studied at LSR, I would go to college in the morning and would perform at a hotel for three nights every week — that's where my rigorous training began. My love for music, my knowledge of various genres and their history, as well as curiosity about music came from there, because I was performing with people twice or thrice my age. I was 18 and I was playing with musicians over the age of 60; so whenever I spot hotel musicians, I am reminded of my own childhood. Music was always a part of my upbringing and as I got older, it became more and more a part of my life.

I moved to Mumbai in 2011; I didn't know much about the city. I had studied to be a journalist at LSR, before going on to get a degree in political science from JNU. But I knew I had to come back to music. Despite being from an academic background, I came to Mumbai because I wanted to start my own band and I wanted to perform original music. So in Mumbai I started a band and got a job at Hindustan Times. I was writing about music as a journalist and I was also performing music on the side. Eventually, I got an offer from Rolling Stone India to be the Deputy Editor and subsequently, the Executive Editor. Today, I see myself as a songwriter, lyricist, and a culture curator.
[Q] DESCRIBE YOURSELF AS A WRITER.
Well, you could call me a poet and a lyricist. Being a writer is the core skill that I have. Because I am a writer, I can write for a magazine, I can write poems, I can write songs, and so on. So, I think being a writer is at the core of my creative being. It's only the format of writing that changes when I write songs or poems or articles. I enjoy being a writer.
[Q] WHAT IS YOUR PERSONAL CREATIVE PROCESS LIKE WHEN YOU ARE WORKING ON SOMETHING?
I think I am a compulsively creative person. I can't do without creating, I feel restless; I have to have created something every day. So, today's creation could have just been a magazine shoot or just a few verses that I wrote. There is no such thing as a creative process for people who are born creators. I really don't have a method or a plan to share with you. What usually happens, when you're a writer or a poet, is that you just get so deeply impacted by an incident or an occurrence that you feel the need to express it on paper. So, when the emotions are about regret, you actually go and tear your hair out about it and then write about it. This happens on so many occasions. Once, I was in my office, editing a story about Metallica when a thought about something else struck me, and I started writing a Hindi poem about it. It's just so dichotomous. That's how it is. Poems actually do write themselves. If I sit down to write with a pen and paper, it will never come to me. The emotion has to move you. I run a Hindi poetry project called 'Aur Suno' where I write on a bunch of subjects. The poems are mostly about love, feminism and social consciousness.
[Q] WHAT IS THE CREATIVE PROCESS WHEN YOU ARE COLLABORATING WITH SOMEONE?
Oh, it's beautiful! For example, when Mr. [A.R.] Rahman asks me to write a song for him, my creative process is to ensure that I realize his vision in the words, which is the core skill that I bring to the table. Writing is all about rhythm. A lot of people don't realize that poetry is about rhythm and so is writing. If you can find rhythm in writing, you have just cracked the code to everything.
[Q] HOW DO YOU THINK THE INDIAN MUSIC SCENE HAS EVOLVED OVER THE YEARS?
I could write a book about this, but here's a very simplified explanation. I think I would divide it into two parts. One, where we look at Bollywood music and two, where we look at Indie music. Over the past 20 years, things have evolved, and the monopoly in Bollywood has been broken. It is now democratic. Today, if I want to be a singer with the voice that I have, I stand a chance to bag a song. Back in the old days, this was not the case. But now, there is a lot of democracy, there are a lot of markets and a lot of diversity. That's why we have so many young singers in Bollywood. But Bollywood still continues to monopolize the various scenes. In indie music, a lot has happened in the last 10-15 years. It went through a very big high during the 90s, when we had the Indie-pop icons. Then came the business slump and then there was absolutely no scope for you to make it independently. You then had to be a Bollywood singer or musician. But now, you have people like Prateek Kuhad, Divine, Raja Kumari and Naezy whose voices count. This happened only on the back of the mobile revolution. So, music in India and in general has become democratized. Music has become a place where anybody, that has an authentic voice, stands a chance to capture the imagination of the people. Music is a space, today, where nobody is waiting to be given a chance, because you're creating opportunities for yourself.
[Q] HOW DO YOU THINK THE CURRENT GENERATION OF UPCOMING MUSIC ARTISTS DIFFERS FROM THE PREVIOUS ONES? WHAT DO YOU THINK IS WORKING AGAINST OR FOR THEM?
Talent is a constant — that has not changed. During the pre-digital revolution, the period of the 90s and the early 2000s, musicians worked with music companies and the labels were really helping artists to build their brand and release their music. They were putting in a lot of money and they were behind marketing the music. Because of the digital revolution, today, the power to do all of that has come into your own hands. You cannot just be an artist today. You have to be a businessperson, you have to manage your own stuff and you have to market your own brand of music. Now, artists are turning into entrepreneurs. Artists are realizing that they need to have an authentic voice and that they have to do the dirty work, which other people did for them back in the day.
[Q] BEING AT THE HELM OF THE INDIAN EDITION OF AN INTERNATIONAL MAGAZINE, HOW DO YOU COPE WITH THE PRESSURE OF DELIVERING A QUALITY EDITION EVERY MONTH?
I don't have to cope with it, because I believe if you're passionate about your job and if you're doing something that you love, you don't feel any pressure. The good thing is that Rolling Stone India is so 'glocal'. We are influenced by the ethos, the vibe and the values of the international edition, which is cutting-edge, uncensored, free, forthright, candid and rebellious – the Indian edition of the magazine borrows all this from the legacy of the international magazine. But at the same time, we have a free hand in doing whatever we want to do, which is the best thing. It is also the reason why we could have a Hindi cover line on the Indian cover and edition of Rolling Stone magazine. When we put Divine and Naezy on the February 2019 cover, we had a Hindi headline that said 'Apna Time Aa Gaya (Our Time Has Come)' — this had never been done before, which is the beauty of the magazine wherein you can make it as hyperlocal as it is global.
[Q] TELL US ABOUT THAT SIGNIFICANT TURNING POINT IN YOUR JOURNEY SO FAR?
As a creative person, collaborating with Mr. [A.R.] Rahman has been a huge turning point for me. Last year, when I wrote the Avengers Anthem, it went on to become my first film project, which also happened to be for Hollywood. It was just too many firsts, which I couldn't believe. It has been a turning point not just because of this prestigious association but also because Mr. Rehman is a true collaborator. He had no business to collaborate with somebody like me, because he collaborates with the who's who of the industry, right from Gulzar ji to Javed Akhtar ji. But he is somebody who gives opportunities to budding talent. He really values merit and that has become a turning point for me.