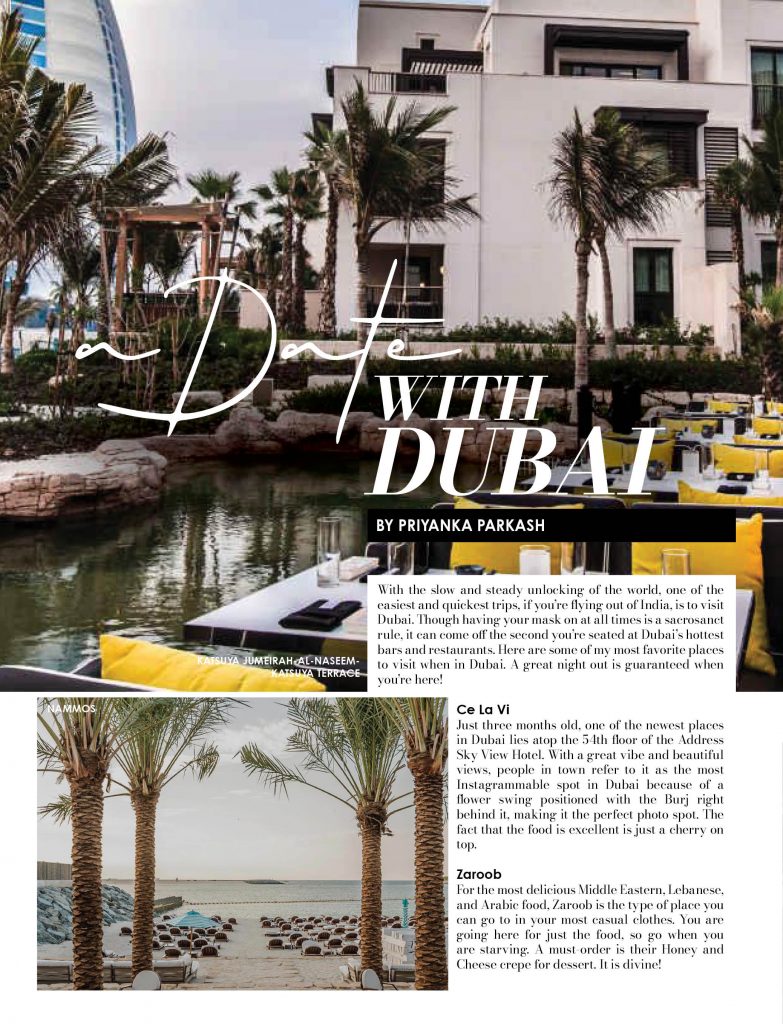 With the slow and steady unlocking of the world, one of the easiest and quickest trips, if you're flying out of India, is a visit to Dubai. Though having your mask on at all times is a sacrosanct rule, it can come off the second you're seated at Dubai's hottest bars and restaurants. Here are some of my most favorite places to visit when in Dubai. A great night out is guaranteed when you're here!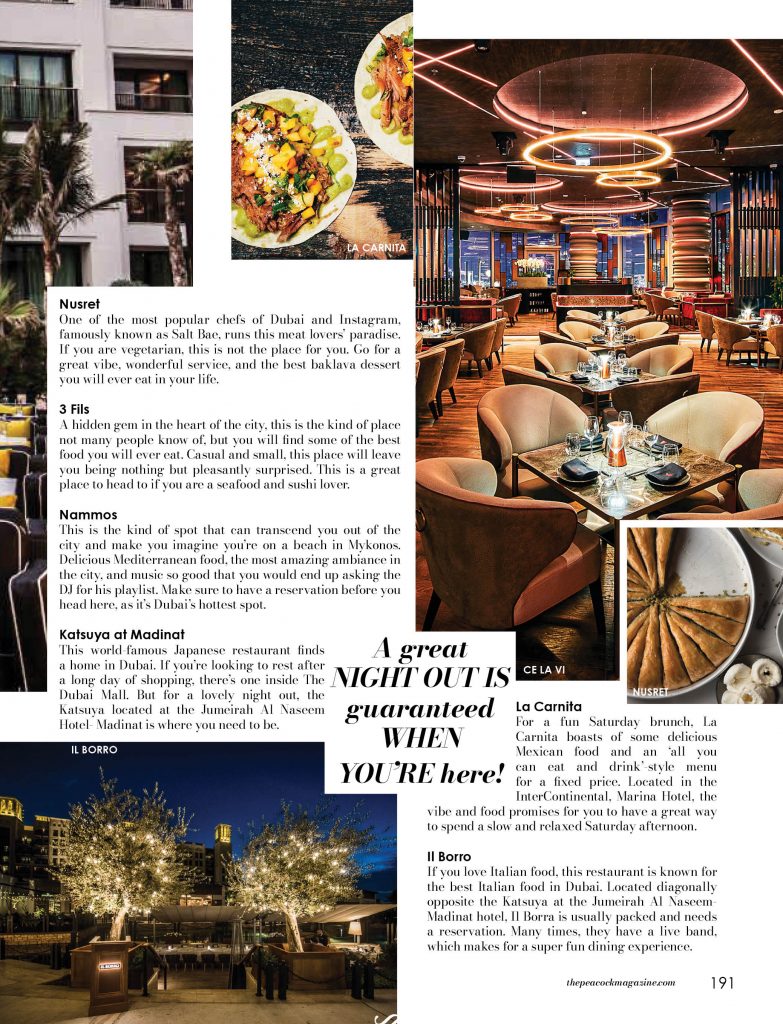 Ce La Vi
Just three months old, one of the newest places in Dubai lies atop the 54th floor of the Address Sky View Hotel. With a great vibe and beautiful views, people in town refer to it as the most Instagrammable spot in Dubai because of a flower swing positioned with the Burj right behind it, making it the perfect photo spot. The fact that the food is excellent is just a cherry on top.
Zaroob
For the most delicious Middle Eastern, Lebanese, and Arabic food, Zaroob is the type of place you can go to in your most casual clothes. You are going here for just the food, so go when you are starving. A must-order is their Honey and Cheese crepe for dessert. It is divine!
Nusret
One of the most popular chefs of Dubai and Instagram, famously known as Salt Bae, runs this meat lovers paradise. If you are vegetarian, this is not the place for you. A great vibe, wonderful service, and the best baklava dessert you will ever eat in your life.
3 Fils
A hidden gem in the heart of the city, this is the kind of place not many people know of, but you will find some of the best food you will ever eat. Casual and small, this place will leave you being nothing but pleasantly surprised. This is a great place to head to if you are a seafood and sushi lover.
Nammos
This is the kind of spot that transcends you out of the city and makes you imagine you're on a beach in Mykonos. Delicious Mediterranean food, the most amazing ambiance in the city, and music so good that you would end up asking the DJ for his playlist. Make sure to have a reservation before you head here, as it's Dubai's hottest spot.
Katsuya at Madinat
This world-famous Japanese restaurant finds a home in Dubai. If you're looking to rest after a long day of shopping, there's one inside The Dubai Mall. But for a lovely night out, the Katsuya located at the Jumeirah Al Naseem Hotel- Madinat is where you need to be.
La Carnita
For a fun Saturday brunch, La Carnita boasts of some delicious Mexican food and an 'all you can eat and drink' style menu for a fixed price. Located in the InterContinental, Marina Hotel, the vibe and food promises for you to have a great way to spend a slow and relaxed Saturday afternoon.
|| Borro
If you love Italian food, this restaurant is known for the best Italian food in Dubai. Located diagonally opposite the Katsuya at the Jumeirah Al Naseem- Madinat hotel, Il Borra is usually packed and needs a reservation. Many times, they have a live band, which makes for a super fun dining experience.